Los Angeles Real Estate Development
Los Angeles New Development Drilldown October 2018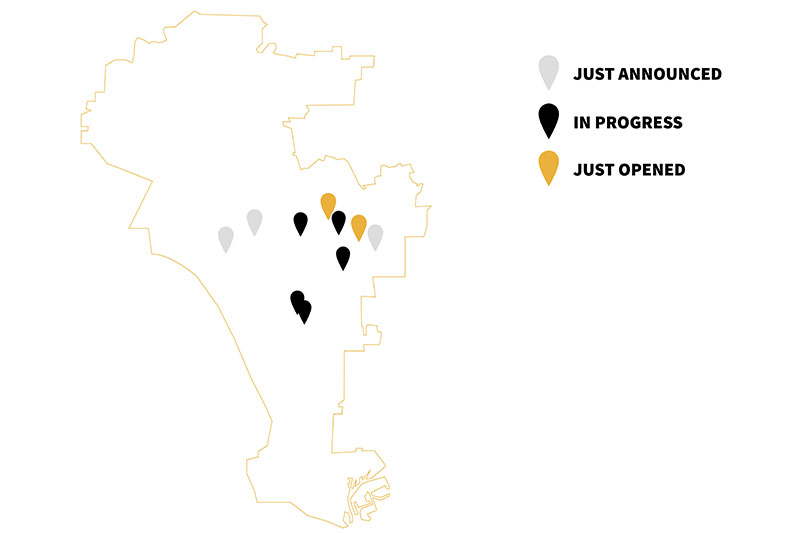 It's no news that development in Los Angeles is booming right now. There are dozens of projects taking place in Downtown Los Angeles (DTLA) alone, and as a result of this development surge, surrounding communities such as Koreatown, East Hollywood, and Westlake are starting to see movement as well. Let's not forget though, LA's eastside isn't the only part of the city with large developments rising. The city's westside, which has experienced a lot more popularity thanks to the rise of tech-dominated Silicon Beach, is also seeing a lot of crane action.
Here's what you need to know about LA's most anticipated developments.
Just Announced
It looks like development happening in the Arts District isn't slowing down anytime soon. According to Curbed Los Angeles, the City Council recently approved a new project slated for a 3.75-acre site at 668 Alameda. The proposed mixed-use development would clear out the site's existing four industrial buildings to develop a new grocery mart, commercial space, and 475 live/work units—24 of those units will be built as affordable housing. The mixed-use development is being designed by R&A Architecture, and the developer attached to the project is AvalonBay. Groundbreaking for this project will start around the end of 2019, and the project's build out is expected to take about three years.
Another major project that was recently announced for Los Angeles is the Martin Expo Town Center project. Although this project received unanimous approval by LA City Council two years ago, it was put on hold after facing lawsuits over "impermissible spot zoning." However, these obstacles were officially cleared this month, according to the Curbed article. This project will replace the site's existing Martin Cadillac and GMC dealership, and the new development is expected to bring new storefronts, over 500 residential units, a grocery store, and a 10-story office tower. The West LA development is now looking at a new timeline, with construction beginning sometime in 2019.
Despite receiving approval three years ago, Century City Center has since remained dormant, according to Bisnow. However, it looks like the development is back on track, and it's currently going through its planning phases before construction officially begins. The new Century City development plans to include a 37-story tower consisting of over 700,000 square feet of office space and over 17,000 square feet of retail and dining space. The development will rise around the Metro's planned Purple Line Station, which is already in its second phase of construction and slated for completion by 2026. When the new development is built, it's expected to bring over 6,000 new jobs and generate about $4.3 million to the city every year as well as generate $400 million in annual economic activity throughout the county.
In Progress
Announced last year, the new Motion Picture Academy's Saban Museum in Miracle Mile is well on it's way to fruition. The futuristic-looking facility will finally give Los Angeles its own movie museum to celebrate the history of television and film production. When renderings were first released last year, the project highlighted two structures connected by a trio of translucent paseos. The first being an impressive main lobby, while the second structure—with a massive dome—would house a terrace and a theater. The museum is set to open sometime in 2019. Once completed, the new development will join the likes of other reputable museums in the community, popularly known as Museum Row.
While Miracle Mile residents are excited about getting a new development, many residents in Inglewood are less than thrilled about the projects rising in their community. Among some of the city's most discussed and controversial development projects include the upcoming $3 billion Rams/Chargers Stadium and $2 billion Clippers Arena. The impact of these two projects will undoubtedly change the city of Inglewood, specifically La Tijera Village, Morningside Park, and Downtown Inglewood. The city is even building a new neighborhood called Hollywood Park for those who want to live near the new facilities. While many locals worry about being displaced from their homes, Inglewood officials are embracing the new projects in hopes they will activate a city that has been long dormant. Although the Clippers Arena is still facing pushback from residents in the community, the NFL stadium is moving forward and steadily rising. The City Council hopes to transform the community into a second DTLA over the next decade.
Residents in Koreatownhave said goodbye to their local Denny's restaurant, which has been cleared to make room for the upcoming 33-story tower called The Wilshire Gate. Construction has already begun for this ambitious development, which will contain approximately 200 hotel rooms, 250 apartments, and about 16,000 square feet of office space. The new tower will be conveniently located by the Metro's Wilshire/Vermont Station, and it's expected to be completed by 2019.
Finally, we can't forget to mention the $1 billion George Lucas museum, which broke ground earlier this year in Exposition Park. Once completed, The Lucas Museum of Narrative Art will join other neighborhood museums such as the Coliseum and The Natural History Museum. Eye-catching renderings first garnered attention after showcasing the project's funky-looking exterior. The non-profit museum is expected to be a go-to destination for entertainment as well as educational opportunities for students of all ages, and it will inevitably bring more tourists into the previously local area. The project is being designed by MAD Architects, and it will feature amenities including multiple theater rooms, a drop-in library, video conference classrooms, dining space, and stores.
Just Opened
Technically, this project is still in the works, with its last tower (out of four) still under construction in Downtown. Per Curbed, Metropolis' Tower II recently opened its doors, welcoming it's first residents. The tower features contemporary luxury dwellings, ranging from studio to two bedroom units with panoramic views of the city. Amenities for Tower II include a fitness studio, a children's playground, and a 1.5-acre sky garden. Upon completion, the four-tower, mixed-use development will feature a 18-story hotel, as well as 38-, 40-, and 56-story condominium towers.
Officially open in South Park, Circa is a two-tower luxury mixed-use complex. Both towers rise 35-stories high, and they're directly adjacent to the popular L.A. Live. The development features a variety of residences, ranging from one-bedroom units to penthouse suites, and amenities include access to shops, eateries, and even a private two-acre rooftop park. The opening of these two major Downtown developments is just the beginning though. There are still many more projects happening throughout the city.