San Diego Neighborhood News
Where to Find Great Ramen in San Diego
There's nothing quite like a tasty bowl of ramen. Everyone has their favorites but there are so many options these days, you owe it yourself to sample each one to find out about flavors you didn't even realize existed. San Diego has some great ramen options available across the city, you just need to know what neighborhoods to visit for your next bowl.
Beshock Ramen & Sake Bar - Downtown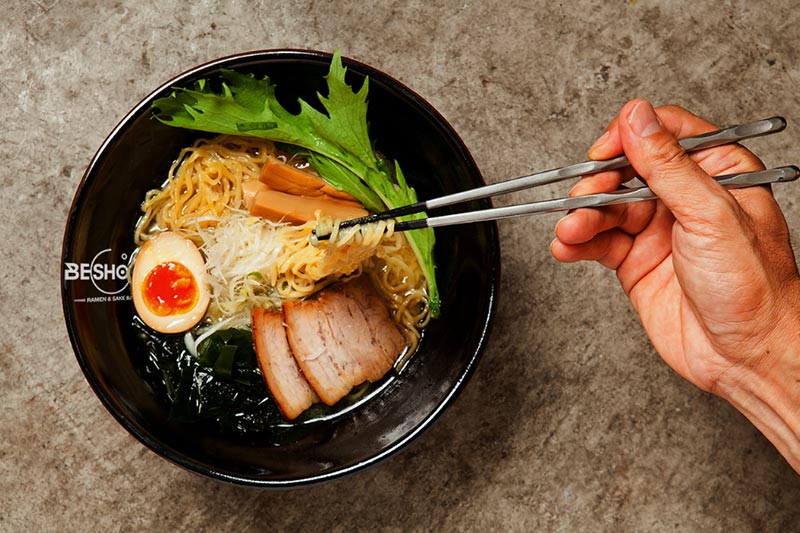 In 2016, Beshock Ramen & Sake Bar in East Village opened its doors and introduced San Diego to their "globalization" cuisine, which combines Japanese and local flavors. After three years of research in Japan and across the U.S., creators Kumi Ito, Ayaka Ito, and Masaki Yamauchi have created dishes that use local vegetables and traditional seasonings that result in deep flavor and a lighter tonkotsu. Some dishes also include familiar Southern California ingredients such as avocado, prosciutto, and gorgonzola cheese.
Sakes are paired with dishes and have the approval of Ayaka, who is Sake Master Certified.
Top picks include Cajun Chicken Karaage, a marinated fried chicken with Cajun sauce, or their signature Beshock Buns, made with homemade pork chashu, lettuce, tomato, fresh onion, and an original sauce. And of course, there's the ramen. They offer a wide variety, including creamy vegan ramen; gorgonzola cheese ramen with slow-cooked chicken chashu, avocado, prosciutto, Tokyo Negi, and gorgonzola; or their tonkatsu ramen made with their signature tonkotsu broth, broiled for hours with vegetables.
Hachi Ramen - Bankers Hill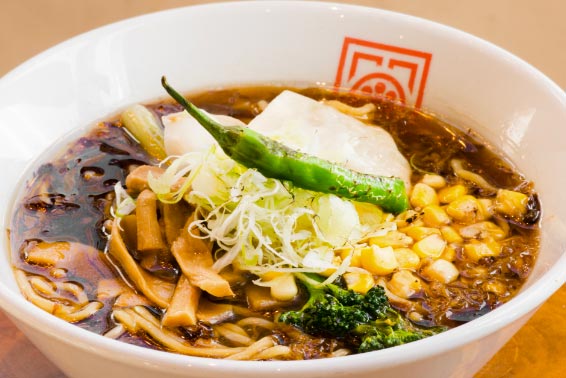 In Bankers Hill, Hachi Ramen uses Japanese technique and ingredients with West Coast-style cooking to create unique bowls, market fresh salads, sushi, and snacks.
Their ramen is created to be visually appealing, following the Japanese philosophy of food being "eaten with your eyes first." Hachi Ramen uses organic in-season vegetables from local farms and worked with manufacturer Sun Noodle to create noodles. Ramens have a diverse flavor profile, like in the Cheezu Ramen, which includes either American cheese or brie, sweet corn, mizuna greens, scallions, red pepper dust, onion strips, with tonkotsu broth. There's even a vegan version, with vegan cheese, creamy mushroom ginger broth, and black garlic oil. Or try their Baja Birria, made with beef shoyu birraia, cauliflower, soft boiled egg, chipotle, onions, and cilantro.
They also have more traditional options, such as the Tonkotsu Pork, which includes pork belly, soft boiled egg, Tokyo scallions, bamboo shoots, onion crisps, tonkotsu pork broth with bonito, and sakura shrimp dashi.
Ramen Yamadaya - Gaslamp District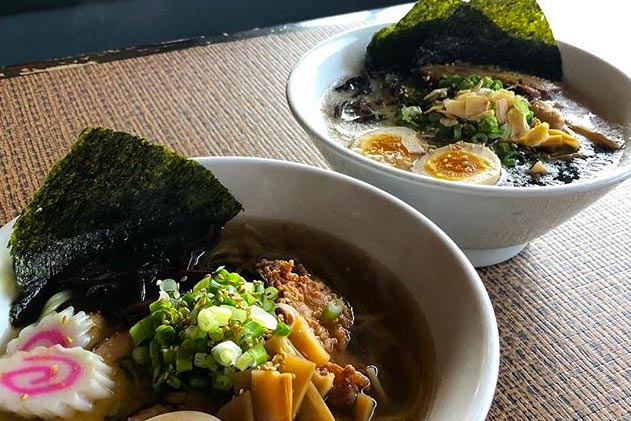 Ramen Yamadaya in the Gaslamp District has built its reputation on its tonkotsu broth, boiled for over 20 hours and flavored with pork bones. The cauldron breaks the bones into flakes with a high-temperature fire for the first 10 hours, then simmered for another 10 hours to extract the pork bone broth.
With beginnings in Torrance, Ramen Yamadaya offers four versions of tonkotsu ramen, including premium shio, premium shoyu, spicy tonkotsu, and kotteri tonkotsu. Ramen toppings include fresh garlic, chili sauce, scallions, large portion noodles, tofu, spinach, and more. In addition to a vegan ramen option, their menu also includes a rice bowl menu and Japanese bento, side dishes, salad, and a green tea cheesecake.
Other Locations: Westwood, Costa Mesa, Culver City, San Francisco, and San Jose
Underbelly - Little Italy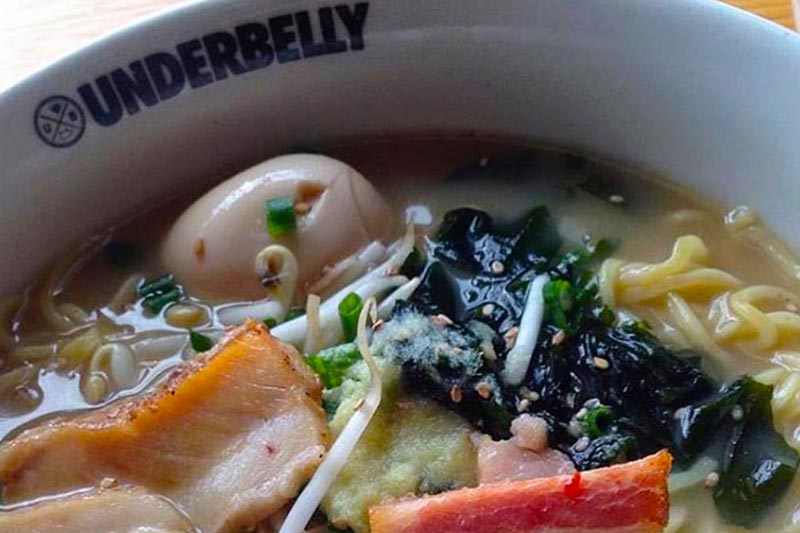 Little Italy's Underbelly offers authentic ramen meant to be sipped right from the bowl, though chopsticks are an accompaniment for noodles.
Their most popular bowl of ramen is the Belly of the Beast, made with oxtail dumplings, smoked brisket, hoisin glazed beef short rib and a soft-boiled egg. Another popular choice is its namesake, Underbelly ramen, which includes chashu pork belly, Applewood smoked bacon, adobo pulled pork and a soft-boiled egg. Other ramen options include vegetarian ramens, classic tonkotsu ramen, and standard toppings of noodles, bean sprouts, scallions, seaweed and sesame seeds. Underbelly also has a variety of appetizers, salads, steamed buns, and mochi ice cream for dessert.
Other Locations: North Park