Miami Real Estate
Where to Find New Construction Homes in Miami
For some homebuyers, finding an older home—and all the quaint features it may have—is paramount. Other buyers, however, may be just the opposite. They're in the market for newly constructed homes with cutting-edge technology or the most contemporary finishes.
If you fall into the latter category, here are the neighborhoods in Miami where you might find new construction homes.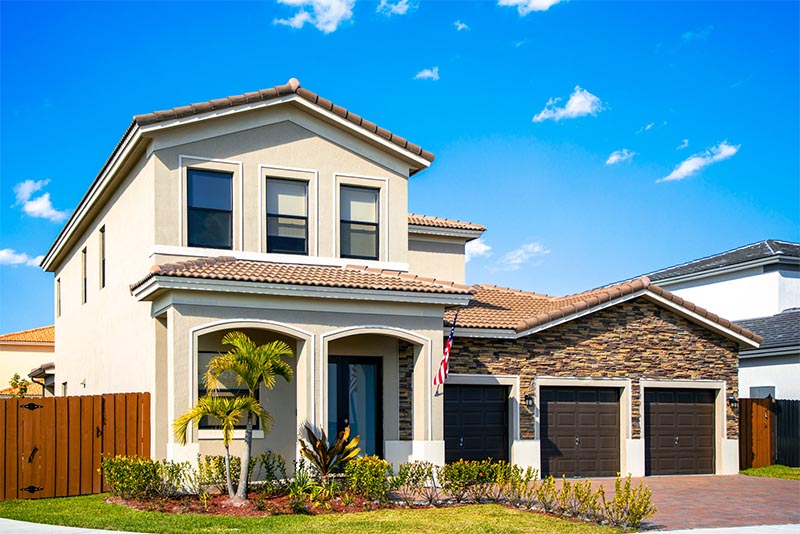 To even the most casual of observers of new construction in Miami, it's hard to ignore all the cranes that have dotted the skyline of Downtown Miami and Brickell in recent years as high-rise condominiums continue to be built. As a result, buyers have a plethora of units from which to choose, which have been built before 2015 or even as recent as 2019. Most are in luxury buildings with the kind of lavish amenities found in magazines, such as rooftop pools, floor-to-ceiling windows, and balconies with panoramic views of Biscayne Bay.
Residents are afforded the best of what the neighborhood has to offer, such as the ability to walk to businesses, restaurants, shops, and other attractions, and proximity to Miami Beach. Due to these factors, it has been attracting young professionals and families with small children in recent times, causing a sharp rise in population. As such, Miami has been constructing new schools to accommodate the growth.
But unless you can afford to pay up to $1 million or more for a property or live in a smaller-sized unit than you would in other areas, this area may not be the right fit for you. There are only a few newly constructed condos priced under $300,000, most of which are studios or small one-bedroom units, in buildings that don't have the same level of amenities as higher-priced alternatives.
Located north of Downtown between Interstates 195 and 395, Edgewater is another neighborhood that has attracted developers with the construction of high-rise condominiums that overlook the water. The offerings here are similar to Downtown in terms of the building amenities as you'll find great views, balconies, fitness centers, and pool areas. However, the neighborhood is much "quieter" with fewer commercial dwellings—but that may be what attracts residents to this area.
It's close enough to shops, restaurants, and clubs in Downtown and the neighboring area of Wynwood that a short drive or Uber ride can take residents to whatever attraction they desire. For those who love the outdoors, the neighborhood has several dog- and people-friendly parks for recreation. While units in this area aren't exactly cheap—penthouse condos can go high as $7 million—you may be able to find more square footage for your dollar with some searching.
Sunny Isles Beach is one of the most northern areas of Miami Beach and has also been a booming area for new condominium construction in recent years. Most of the new buildings are located right on legendary Collins Avenue, with residents having the ability to dip their toes in the sand after a brief elevator ride from their homes.
While far from the party scene of South Beach, this neighborhood has an allure all its own—with high-end restaurants and shops and, of course, the ability to watch the sunrise from your private balcony or on the beach itself. There are also fewer hotels in this neighborhood, so it has more of a community feel than other areas of Miami Beach. Like other areas with new construction, prices in Sunny Isles Beach aren't cheap. Units priced under $1 million are a rare find, and you'll also find condos priced at $10 million or more.
One of the hottest neighborhoods in recent years is Doral, which is located northwest of Downtown and has somewhat of a more suburban feel to it. It's also an area where you'll find single-family homes in addition to condominiums and townhomes. It's a bit more price-friendly than some of the other areas with new construction as you'll find many units priced under $300,000.
Many people choose Doral because of its convenience, with businesses, retail, restaurants, parks, and other attractions nearby. The neighborhood also has a reputation for good schools. Doral has a downtown of its own, Downtown Doral, billed as a live, play, work, and learn environment.
If you're looking to move to an area far from Downtown where there's more open space and a greater variety of housing types, then Homestead might be an option. In years past, this neighborhood—one of the last communities you drive through on your way to the Florida Keys—was known as a rural haven consisting mainly of farmland. In recent years, however, there has been a surge in residential development.
As a result, homebuyers have a range of housing types from which to choose, including condos, townhomes, and single-family homes. It's also an area where you can get more "bang for your buck" as the price of homes per square foot is lower than in other areas.