Where to Find the Best Thrift Stores in Dallas
Where to Find the Best Thrift Stores in Dallas
Dallas is a city obsessed with shopping. While a lot of this shopping occurs at the city's shopping districts and upscale malls like NorthPark Center, there's also a good scene for thrift shopping.
Thrifting in Dallas is a bit more underground than it is in other cities like Chicago but that doesn't mean you can't find it. Dallas is a charitable city, with its residents donating to local organizations at a greater than average rate, which means you can get good bargains on discounted secondhand clothing. While you can find great thrift stores with a little bit of searching, here's a beginner's guide on where to start.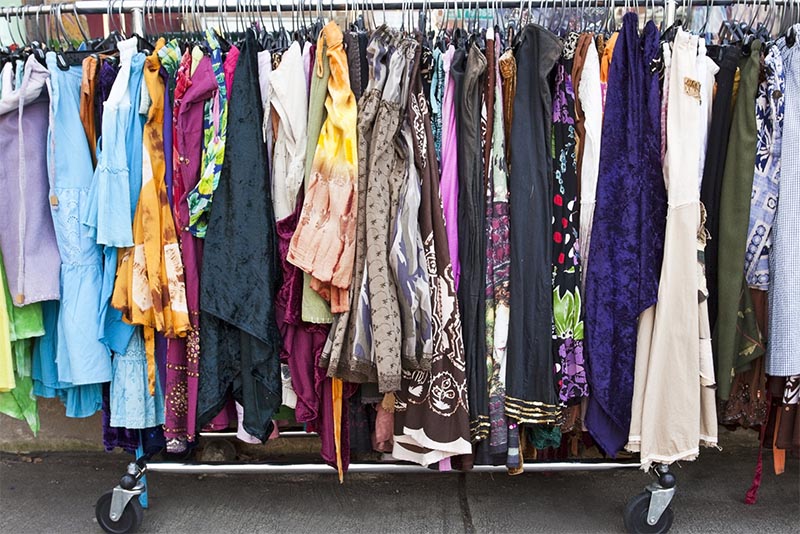 This neighborhood is known as a nightlife destination, but during the day locals flock to Oak Lawn's commercial corridors, which include some great secondhand shops that reflect the neighborhood's eclectic spirit.
Neighborhood Thrift Stores
This store supports the Genesis Women's Shelter, so you know your thrifting habit goes toward a good cause. The friendly employees are helpful as you browse—and you can easily spend a long time (and a lot of money) here.
It's not the cheapest thrift store in DFW but the selection is top-notch. You'll find everything from lightly-used upscale clothing to home furnishings. Some items are even still new with tags. This is a great place to furnish your home on the cheap or find some affordable pieces for your wardrobe.
Out of the Closet is not just a great place to find some amazing deals but it's also a shop that serves the LGBTQ community in a meaningful way. Ninety-six cents out of every dollar are donated to the community, and they even have free STD testing and health services in the back.
As for the deals, you can often find shockingly great prices (like barely used Ugg boots for $10). Like any thrift store, you have to search for the deals and learn which days offer bargains on which items. But there's a good selection of men's and women's clothing, as well as home furnishings. The shop is dog-friendly, too.
This shop on Fairmount in Oak Lawn is where you want to go for vintage finds. Although it's open for fairly limited hours, if you stop in when they're open, you're sure to find items from other eras. This shop sells vintage items from the 1920s through the 1970s, so it's a great place to go for items to wear to a costume party or just to mix up your wardrobe. This store is packed to the brim so you might have to dig for a while through their selection, but you just might be rewarded by finding some vintage 501s.
Another hot Dallas neighborhood with a thriving bar and restaurant scene, you're bound to find some treasures among the castoffs of Lower Greenville's hip residents.
Neighborhood Thrift Stores
This is not your average vintage shop. The owner, a Los Angeles native, has curated a one-of-a-kind selection of high-end designer items, including jewelry and purses. It's less a place to find bargains than it is where you go to build a wardrobe of truly unique pieces. When you don't want to look like everybody else, Jack Retro is a good place to create your look.
This Lower Greenville outpost of the secondhand store chain is not the kind of shop where you'll find a random assortment of eclectic goods. Instead, it's a pretty curated type of store, due to the fact that they buy gently used items and are selective about what they get. If you're looking to round out your wardrobe with recent designer items at an affordable price, you'll definitely want to check out this store.
This consignment shop carries high-end designer fashions from the past through the present. Note that it's not a place to find a good bargain; this is the place to go when you want to find a truly unique place for your wardrobe, whether you're looking for a cocktail dress or a high-end designer handbag at a fraction of its new price. Vintage lovers: Make sure you ask to see the back room, where the store owners have clothes dating back to the 1800s. This shop really cares about vintage fashion as an art.
This sprawling community is known for being home to Baylor University Medical Center and lots of entertainment options, which bring a lot of energy to the neighborhood. The neighborhood also contains some historic enclaves featuring beautiful old houses.
Neighborhood Thrift Stores
This is a true thrift shop in every sense of the word. Whether you're looking for housewares, clothing, or antiques and collectibles, you'll find something unique at a bargain price. There's an awesome selection of vinyl records, too. Another unique feature of this shop is that you can also get some delicious barbecue to go. Owner Ken has been serving the needy in the community for years and recently decided to offer his tasty barbecue for sale to customers on weekends, too—you bring the meat and he'll smoke it. The thrift store also functions as a charity for the Native American community.
This shop is located on Live Oak in East Dallas and is packed full of finds. You might have to do some digging to find the gems but isn't that a big part of the fun of thrifting? You can find 70s lounge chairs or some antique tables that need a little TLC. This is a great place to find items that you can't find anywhere else. Tip: the prices might seem a little high, but the owner is totally willing to haggle.
You'll find a little bit of everything at this eclectic shop. This store features vintage clothing and artwork and has a large selection of vintage vinyl for record collectors. This is the kind of place that really has to be seen to be believed, with a cornucopia of one-of-a-kind items. The main location is on Haskell, but they also have a new second location in the Bishop Arts District, which naturally has its own completely unique collection of items.