Dallas-Ft. Worth Local Life
Where to Find the Wineries of Dallas-Fort Worth
Texas has been producing wine since the 1650s and it continues this tradition today, making it one of the largest producers of wine in the United States. Of the 310 wineries in the Lone Star State, there's a handful of wineries in the suburbs of Dallas-Fort Worth. Some can be found on charming properties with vineyards and others right in the middle of a downtown district. Check out our DFW winery guide so you know the suburbs where red and white vino reign.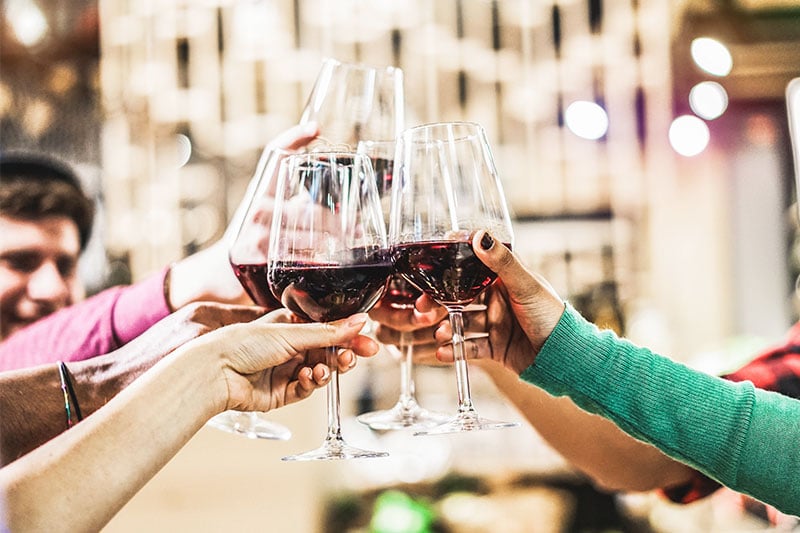 By far the most wine-heavy area of the Dallas-Fort Worth metroplex is Grapevine. In addition to being known for its historic downtown and blossoming real estate north of the Dallas-Fort Worth International Airport, it's also home to the Urban Wine Trail and GrapeFest, the largest wine festival in the Southwest. Even its name indicates how wine-worthy of a destination it is—Grapevine was named after the wild mustang grapes that grew in the area.
Most of the wineries are located in Downtown Grapevine, a historic neighborhood that centers around Main Street. This avenue is filled with 19th and 20th-century brick buildings, charming restaurants, live music, small boutiques, and of course, wineries. Here you'll find the first wine-tasting room of Grapevine, Bingham Family Vineyards. Homestead Winery is in an 1890s Victorian home, while Messina Hof Grapevine Winery is in a replica of the 19th-century Wallis Hotel. These are just a few examples of the wineries in Downtown Grapevine, a walkable neighborhood that allows for residents and visitors to hop among the wineries for tastings.
Some wineries in Grapevine are located outside of Downtown Grapevine, like Cross Timbers Winery. It is set within one of the oldest structures in Grapevine in the Silver Lake neighborhood, an area known for their large and mostly modern homes. There's also Delaney Vineyards & Winery, the largest vineyard in North Texas, which can be found in the Shadow Glen neighborhood on a 120-acre vineyard.
Bedford is a suburb in DFW that's smack dab between Fort Worth and the Dallas-Fort Worth International Airport. It has a range of mostly affordable homes that attracts residents who want a close-knit, family-friendly neighborhood that's still within a reasonable driving distance to the bustling cities of Dallas and Fort Worth. While it's not as wine-centric as Grapevine, Bedford does have its own winery, the Silver Dollar Winery. With a rustic style and a down-home vibe, Silver Dollar Winery fits the atmosphere of Bedford. They offer reds, whites, and snacks in their tasting room and even wine-flavored ice cream for those hot Texas days.
Burleson is a small suburb on the south side of Dallas where I-35 runs through. It's home to two scenic wineries, Lost Oak Winery and Sunset Winery. Like much of Burleson, these wineries are surrounded by more greenery and nature than what you'd find on the Urban Wine Trail of Grapevine, yet they're only about 50 minutes from Downtown Dallas. For instance, Lost Oak Winery has a 53-acre property full of vineyards, oak trees, walking paths, and a tasting room. They both offer winery tours and tastings with limited hours. Sunset Winery is open on the weekends, while Lost Oak winery is open Wednesday through Sunday.
Lavon is a northeast DFW suburb with a population of only 2,219 people. The suburb has a rural setting next to Lavon Lake, and despite its small city status, Lavon is home to mostly large modern homes with spacious yards. In the mix of this small suburb is San Martino Winery & Vineyards. It's a family-owned winery with tours of the production areas and vineyards on specific days. The tasting room is set in a charming chateau-like building. There's a stage for musical acts and a small patio where visitors can enjoy a great red or white surrounded by the vines and greenery of the property.
McKinney is a blossoming suburb of Dallas that's similar to Grapevine. It's a mix of neighborhoods with midrange and high-end homes and a popular historic downtown area, which is where you can find Landon Winery in a red brick building with a small patio. Its location is perfect for the walkable historic Downtown McKinney, as residents or visitors can try Texas reds and whites before heading to dinner or out in the neighborhood to shop. They also have a few other locations in the downtown districts of Dallas suburbs Greenville and Wylie, making Landon Winery a favorite among DFW suburbanites.