National Local Life
Where to Find Waterfalls Near Charlotte
With hundreds of thousands of acres of national forests and both the Blue Ridge and Great Smoky Mountains, North Carolina is a prime location to find some of the most stunning waterfalls on the east coast. A number of the Tar Heel State's waterfalls have even caught the eye of major Hollywood producers and made their big screen debuts in blockbuster hits like "The Last of The Mohicans" and "The Hunger Games."
Though the list of waterfalls across the state is seemingly endless—just the county of Brevard alone is home to more than 250 falls—we've put together a list of the most visited falls within a few hours of Charlotte.
Here are six waterfalls near Charlotte that you won't want to miss.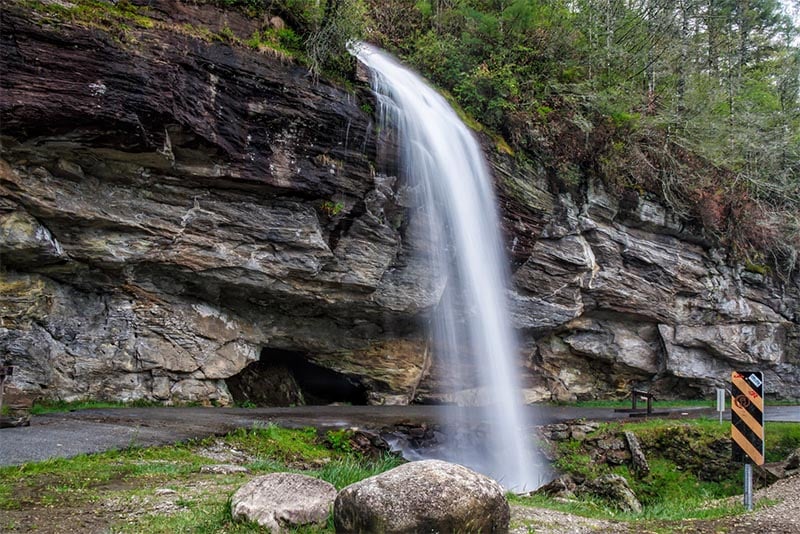 DRIVING DISTANCE FROM CHARLOTTE: 3 Hours, 20 Minutes
While Bridal Veil Falls is over three hours from the Queen City, it's a must-visit when it comes to N.C. waterfalls. Also, if you're a fan of "The Last of The Mohicans" or "The Hunger Games," it may even look extremely familiar as it was featured in both films. For many years, visitors were able to drive under the 120-foot overhang that makes up Bridal Veil Falls and take in the sights from behind the curtain of water, which made it a universal crowd-pleaser. Today, the road has been rerouted, but you can still get fantastic views of the falls from its base or an observation deck.
During the winter, the Bridal Veil is quite the sight as it often freezes into one big column of ice. While Bridal Veil is impressive enough to make the three-hour journey from Charlotte worth it on its own, the waterfall is located in Brevard, which has been nicknamed "The Land of Waterfalls" because of the more than 250 different falls that can be found within its county lines.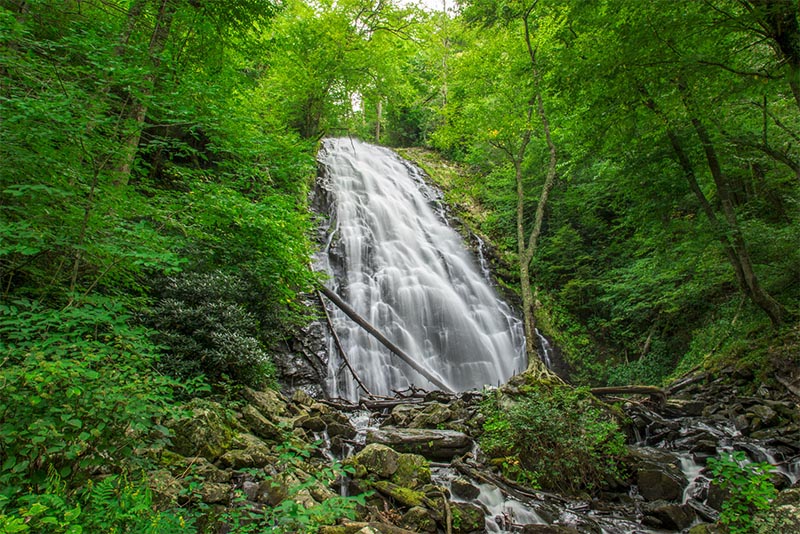 DRIVING DISTANCE FROM CHARLOTTE: 2 Hours, 15 Minutes
If you're looking for an outdoor adventure, add Crabtree Falls to your destination list. Two hiking trails lead to the 60-foot falls—a moderate 2.5-mile hike that's suitable for most skill levels and a 3.5-mile loop that's more strenuous and takes hikers on a path that goes above the falls. No matter which trail you choose, the postcard-worthy reward at the end is definitely worth the effort.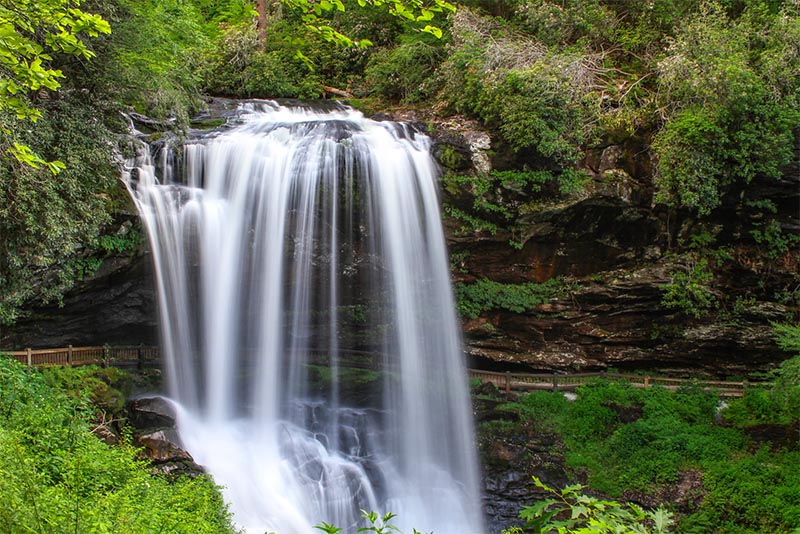 DRIVING DISTANCE FROM CHARLOTTE: 3 Hours, 20 Minutes
Tucked in the Nantahala National Forest, the 75-foot Dry Falls cascades over a cliff that juts out far enough for visitors to walk behind the waterfall without getting wet—which is how it got its name. A well-marked trail leads down to the falls, and depending on where you stand along the trail facing the waterfall, you can often catch a glimpse of a rainbow. Admission is $3 per car.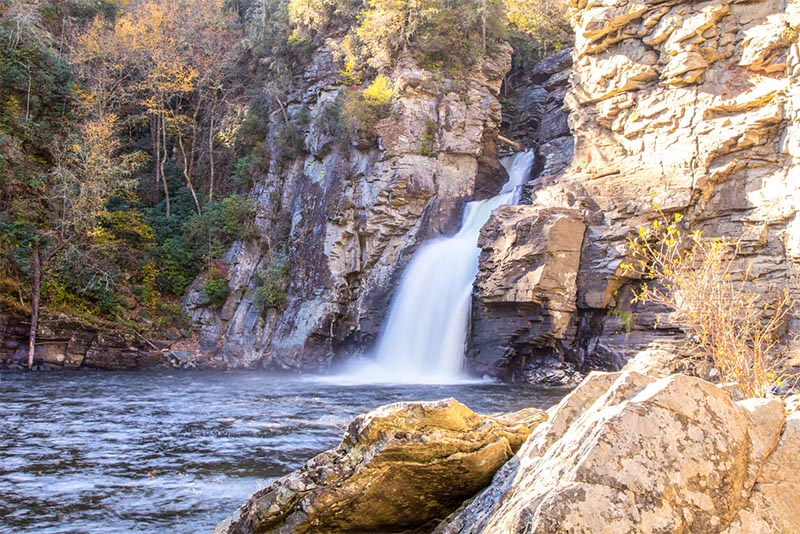 DRIVING DISTANCE FROM CHARLOTTE: 2 Hours
Situated along the famous Blue Ridge Parkway, near milepost 316, the three-tiered Linville Falls is a spectacular sight to see. Not only is it mesmerizing to watch and listen as the water forcefully plummets into the craggy Linville Gorge—nicknamed the Grand Canyon of the Southern Appalachians—from the base of the falls, but its unspoiled, natural surroundings, made up of lush forest and colorful wildflowers make the real world seem far away.
For those who want to take in the falls from a variety of vantage points, there are a number of different overlooks with sweeping views that can be reached by hiking along two main trails. During peak leaf season you can always expect big crowds.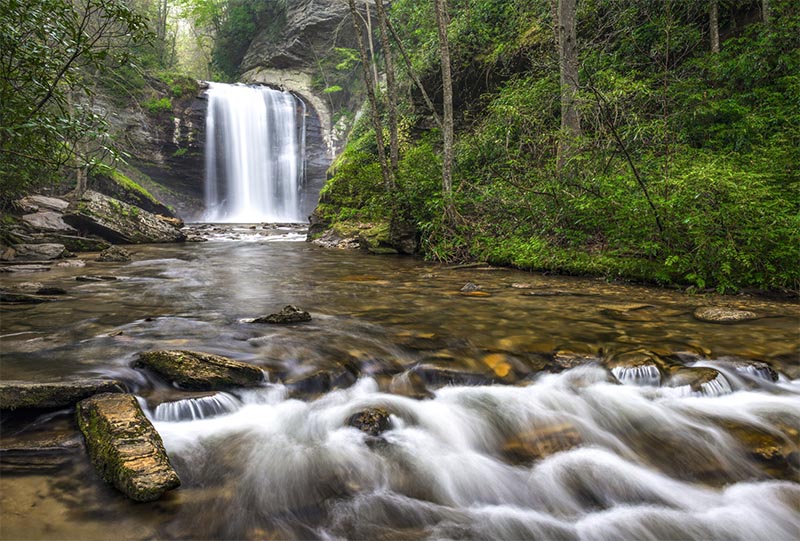 DRIVING DISTANCE FROM CHARLOTTE: 2 Hours, 20 Minutes
Arguably one of the most popular—and most photographed—waterfalls in the state, Looking Glass Falls offers sightseers a huge payoff without any work. The 60-foot falls are roadside, directly off of U.S. 276, and can easily be seen by taking just a few steps from your car. If you want a closer look, you can take the stairs down to the base of the falls. There, you'll often see people taking a dip when the weather is warm, and you can always expect to see photographers set up hoping to get the perfect shot.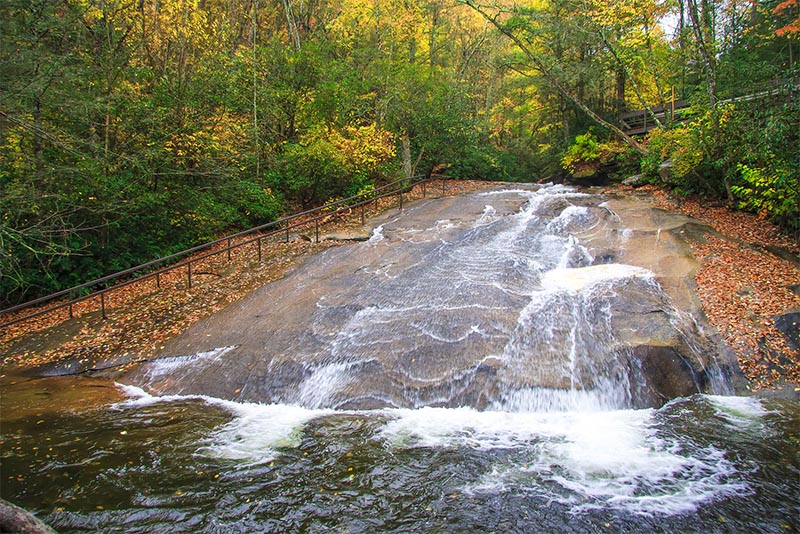 DRIVING DISTANCE FROM CHARLOTTE: 2 Hours, 25 Minutes
For a unique waterfall experience that will get your adrenaline pumping, visit Sliding Rock. Every year, countless visitors flock to the Pisgah National Forest to take a ride down this 60-foot natural slide that drops into an eight-foot deep swimming hole. It's the perfect way to cool off after a hot day, and even if you don't want to take a plunge, it's fun to watch others slide down the rock's smooth surface, from one of two observation decks. Admission is $4 per person.