Houston Local Life
Where to Go Hiking Near Houston
Houston's status as one of the nation's most diverse cities also applies to its landscapes, which range from coastal waterfronts to prairie preserves. While the city has a reputation for skyscraper skylines in Downtown Houston and the Galleria area, even the inner loop has nature trails along Buffalo Bayou Park, White Oak Bayou in the Heights, and the Houston Arboretum and Nature Center near Memorial Park. But to really immerse yourself in the varieties of flora and fauna, here are six suburban sojourns ideal for hiking near Houston.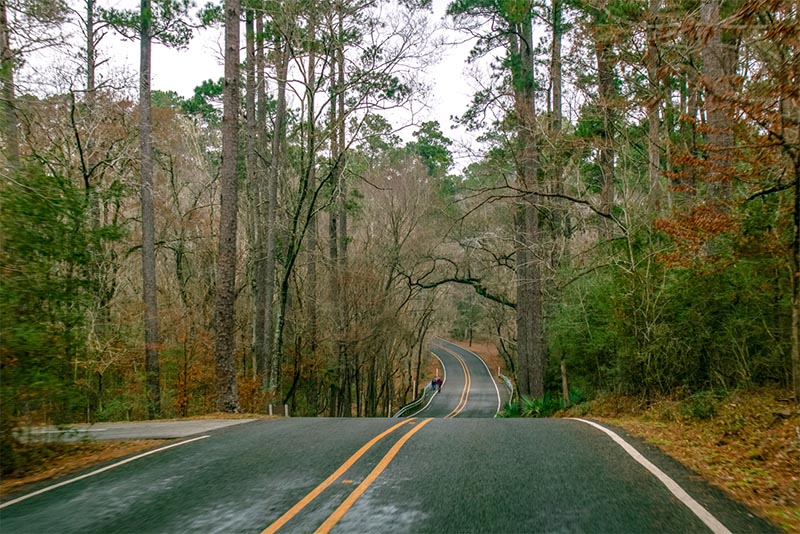 East Texas is home to four National Forests in an area known as the Piney Woods. Residents of the rural town of Cleveland, 50 miles north of Houston, enjoy the "Pine Curtain" backdrop located in master-planned communities like Grand Oaks Reserve where there's resort-style amenities and easy access to the Sam Houston National Forest covering 163,037 acres.
For Houstonians, the short drive from the city and neighboring suburbs of Conroe and The Woodlands rewards outdoorsy types with the 129-mile Lone Star Hiking Trail, the longest wilderness footpath in Texas, which takes hikers through the forest's rivers, lakes, and streams. The trail also offers occasional bald eagle sightings during the winter.
Houston residents usually head to Baytown on I-10 for water sports, given its coastal location just 30 minutes away with multiple launches for boating and kayaking. However, there are also hiking opportunities along the Goose Creek Stream Trail which offers waterfront vistas, city parks, and fishing piers along the path. The trail, which began development in the 1990s, is popular with residents of nearby Baytown neighborhoods: Evergreen Fairways and the new Goose Creek Landing master-planned community featuring spacious cul-de-sac lot designs.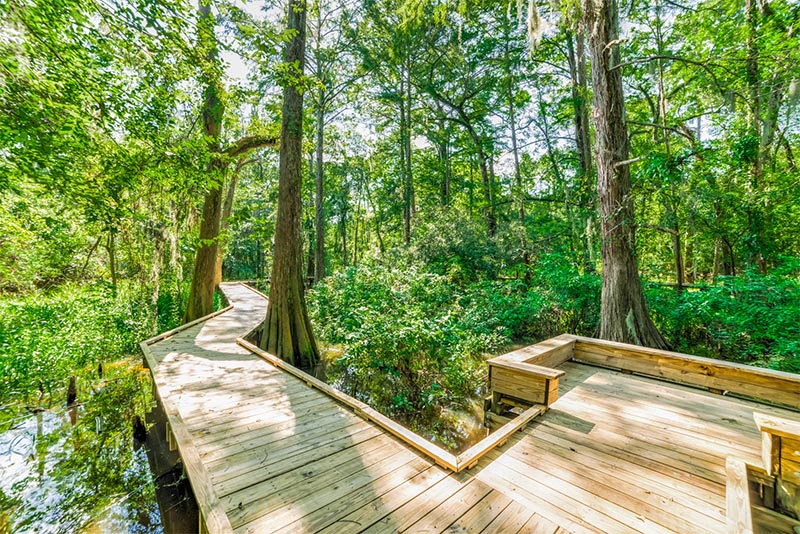 The growing suburb of Humble (pronounced with a silent "H") is a 20-minute commute from Houston's downtown. This area entices homeowners who prefer neighborhoods with plenty of parks and outdoor recreation like the Fall Creek community offering a tournament golf course that's open to the public.
City dwellers also venture north on I-69 to Humble's Jones Park and Nature Center, but residents of Humble's Kenswick subdivision can bike over for a nature break. The park has paved, handicap-accessible trails, biking routes, and primitive paths on its 312 acres. Sunbathing turtles can be seen along the Cypress Boardwalk Trail which leads to the beach-like setting of Spring Creek. Birders arrive early to catch views of Carolina Chickadees nesting in the loblolly pines and oak trees while deer can be spotted on the park's Homestead Trail.
Bellaire operates as an independent city within Houston, creating a small-town vibe that attracts young families and retirees alike. Nestled among the area's spacious homes, large landscaped lawns, and scenic boulevards is Russ Pitman Park, an old farm estate transformed into a small nature preserve and discovery center.
This mini-arboretum's nearly four acres of woodlands is jam-packed with local flora and fauna and features a pocket prairie, a wetland, a sensory garden, an aviary, walking paths, picnic tables, and a play area. Informative plaques throughout the park help explorers learn about the birds, insects, trees, and plants all around them, while the center's educational programming and events supply kids and adults with ecological fun facts to impress family and friends.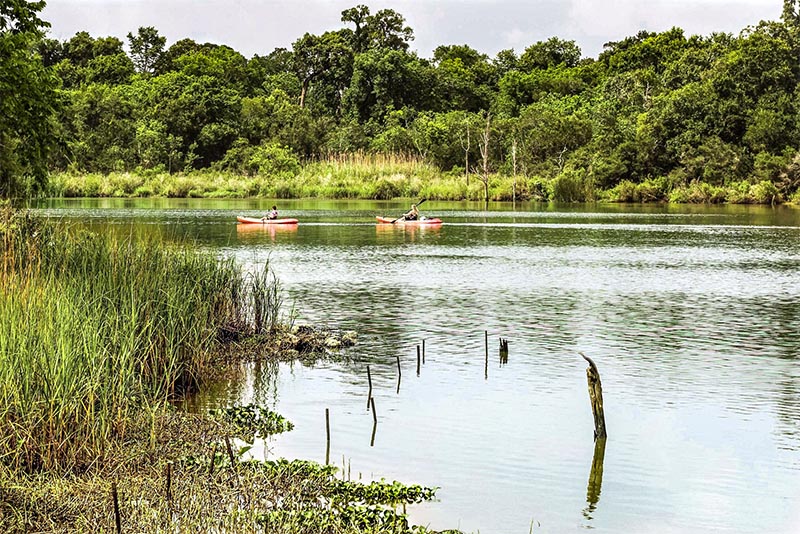 Approximately 25 miles southwest of Downtown, Clear Lake offers residents a short commute to the city while living a waterfront lifestyle. The area's namesake Clear Lake and nearby Gulf Coast towns provide ample opportunities for boating, fishing, and beach outings.
Urbanites can escape the concrete with a visit to the Armand Bayou Nature Center. As one of the largest urban nature preserves, its 2,500 acres of wetlands, marsh, and prairie are home to over 370 native species, including herons, alligators, deer, armadillos, snakes, and even bison, which are best seen from their personal viewing platform.
For a short, easy walk through the preserve, take the Discovery Loop, a boardwalk that meanders through all the major highlights, including the 1800's farm site. With plenty of viewing platforms for bird watching, the five miles of hiking trails are popular with birders who hope to catch sight of an osprey or roseate spoonbill.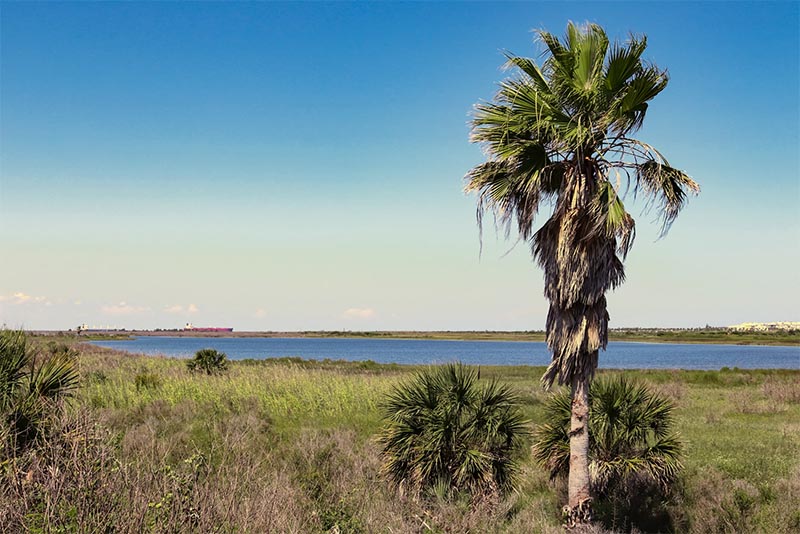 From grand Victorian homes to beachfront vacation properties, Galveston's permanent and part-time residents enjoy the wide variety of real estate available in this historic port city, roughly an hour drive south of Houston. While this popular weekend beach getaway seems an unlikely destination for hiking, Galveston Island State Park provides over 2,000 acres of undeveloped habitat on the barrier island for exploration.
Four miles of hike and bike trails allow visitors to soak in the picturesque seascape and observe the multitude of plants and animals populating this unique coastal environment. Between the beach and the dunes, you can explore the prairie with its tall native grasses which give cover to coyotes, opossums, and rabbits.
On the bay side of the island, you'll discover the salt marsh wetlands where the herons come to hunt for fish hiding in the murky waters, while on the beach side, seagulls and pelicans soar over the waves. The park is a must-visit destination for birders in the spring and fall when thousands of migratory birds stop by along their seasonal journey.