Where to Go Hiking Near San Francisco
Where to Go Hiking Near San Francisco
With its reliably temperate climate and variety of terrain, San Francisco is known for its outdoor recreation, athletic population, and easy-to-access hiking trails. However, hikers looking to distance themselves from the crowded trails within the city often find it beneficial to explore one of the regional parks or preserves a short distance from the city limits.
Get to know Bay Area geography by heading across the Golden Gate Bridge to Marin, crossing the Bay Bridge to the "East Bay," or driving south to Silicon Valley to explore these six Bay Area parks. (If you don't have access to a car, hopping on the BART, MUNI, or a combination of the two can often get you to your destination.)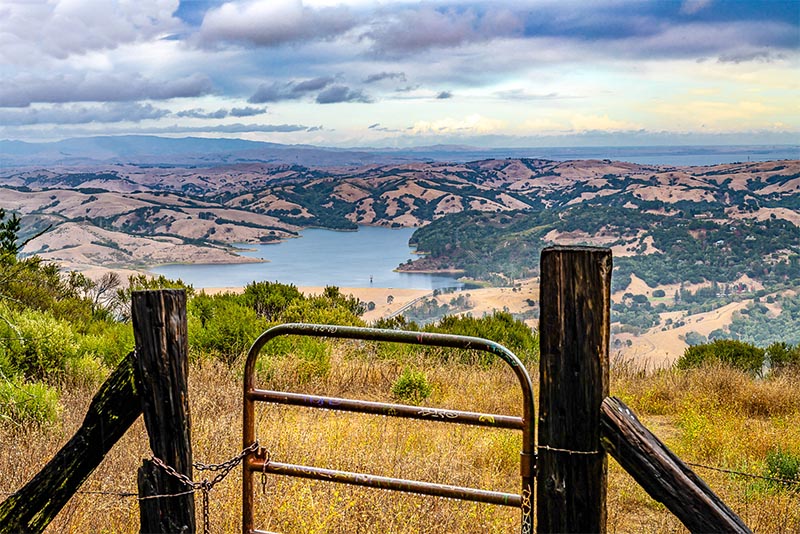 Located near the Berkeley Hills, Tilden Regional Park is a hiking hotspot for locals and tourists alike. The park, one of many in the East Bay Regional Parks system, provides easily accessible trails of a variety of lengths, skill levels, and views. Check out Inspiration Point for a moderate 4-mile hike with views of the bay or the Seaview Trail for a little more of a challenge.
For post-hike fun, take a ride on the Tilden Steam Trains, explore the botanic garden, or visit the Environmental Education Center. Additionally, feeding the animals at Little Farm or spending the rest of the day at the golf course within the park are popular activities. Locals recommend bringing your own food and water, as options are limited in the area.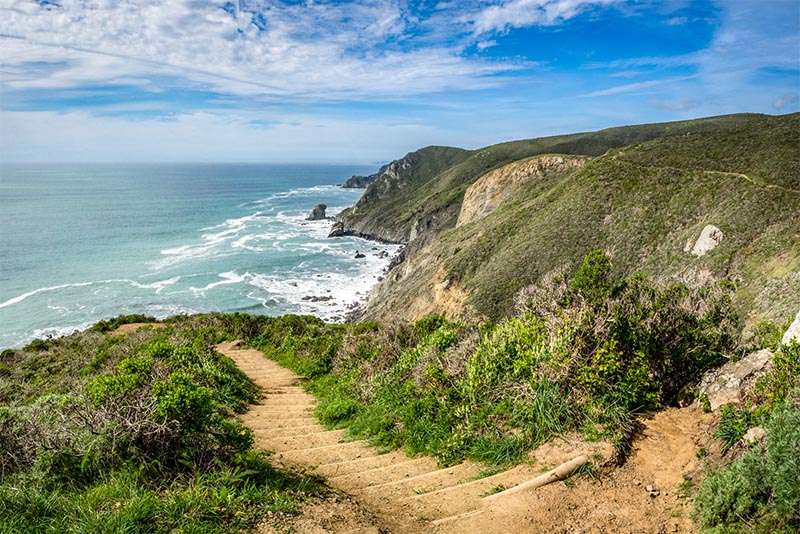 The Marin Headlands, located just north of San Francisco in Marin County, are a favorite for those looking to hit the trails outside of the city. The landscape is home to wildlife including coyotes, owls, bobcats, and a variety of wildflowers that bloom every spring. Popular trails include those at Tennessee Valley, the Rodeo Beach Coastal Trail Loop, and the Gerbode Valley Loop. Keep your eyes peeled for unique changes in the landscape or the Golden Gate Bridge in the distance. If you don't have access to a car, 511.org has your back on weekends.
For post-hike food and drink, nearby towns Mill Valley, Sausalito, Larkspur, or San Anselmo offer a variety of options, whether you're in search of a full-fledged meal or just a coffee to get your day started.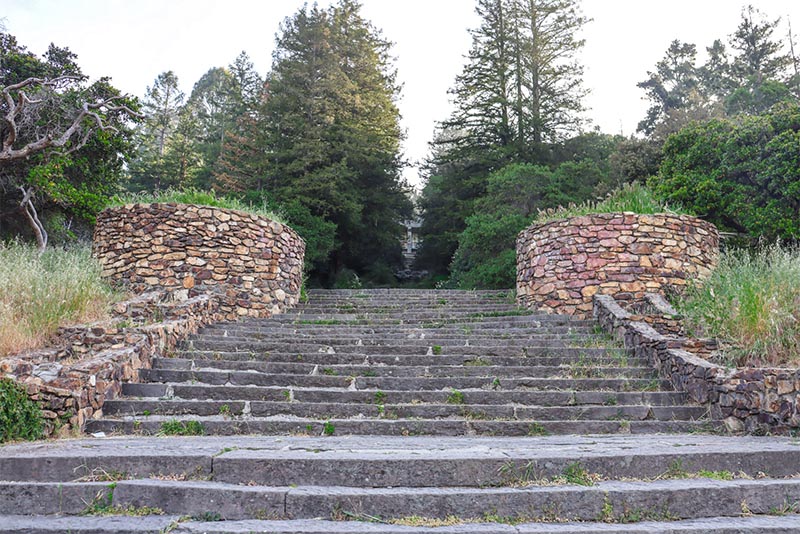 Another in the East Bay Regional Parks system, Joaquin Miller Park is 500 acres of land dedicated to recreation of all types. The massive spread of land is nestled up in the hills of Oakland with trails that can be connected to Redwood Regional Park and Tilden Regional Park for those looking for a challenge.
Joaquin Miller is heavily forested and showcases redwood trees, meadows, and creeksides. Hop on the Sequoia Bayview Trail for an easy 2.8-mile jaunt with rewarding views or the Redwood Peak Trail for a more moderate hike. Locals recommend watching out for mountain bikers, who are often going downhill in the opposite direction as hikers.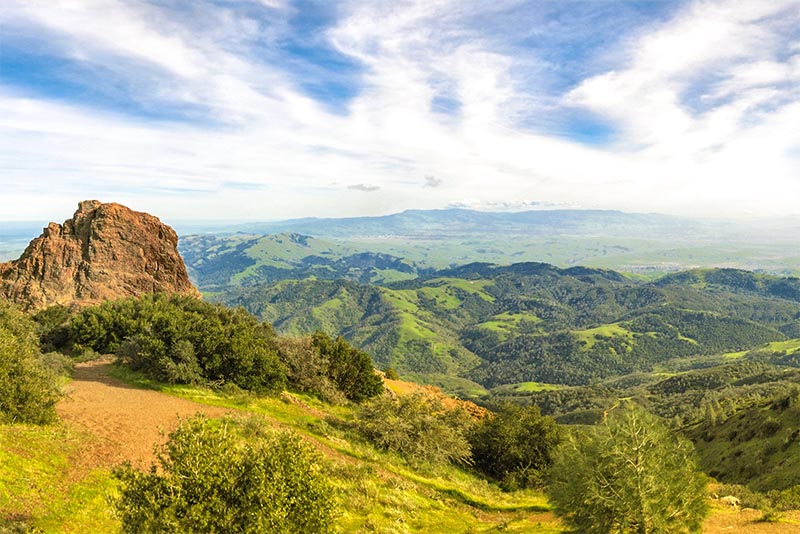 Located east of Joaquin Miller and Tilden, Mount Diablo State Park in Walnut Creek is home to some of the Bay Area's best views. Climb Mount Diablo itself for views of the bay, the Santa Cruz mountains, the Farallon Islands, and sometimes, Lasson Peak in the Cascades Region. When you get to the top, check out the Mount Diablo Summit Museum to learn more about the region.
For hikers looking for a less challenging climb, Mount Diablo is surrounded by rolling hills that are equally as inviting. Juniper Trail is a 1.9-mile hike that appeals to hikers of all skill levels. For a more moderate hike, check out Back Canyon for a 5.9-mile loop with 1,230 feet of elevation.
For post-hike activities, check out downtown Walnut Creek for numerous restaurants, shopping, and much more.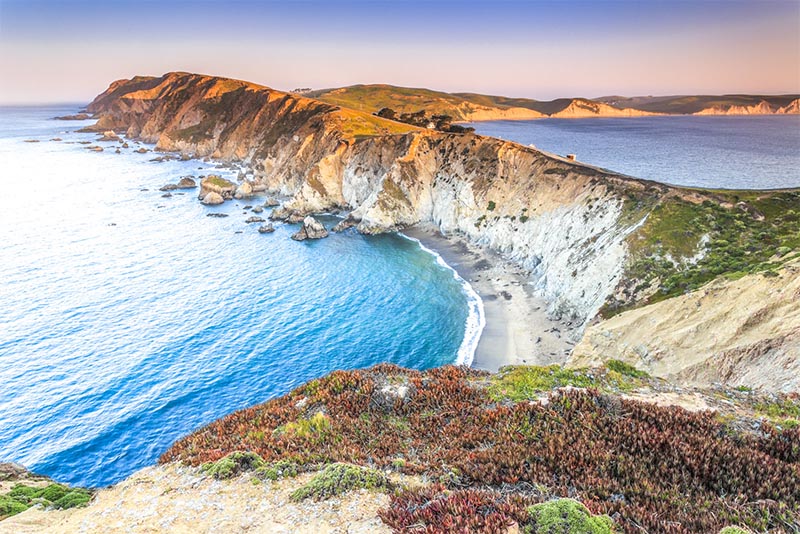 Located about an hour from San Francisco near Point Reyes Station, Point Reyes National Seashore feels like it's a world away from the city. The remote town is home to over 1,500 species of plants and animals, historic landscapes, and stunning beach views. Hike the Mount Wittenberg Trail for a moderate hike with steep elevation or the Sunset Beach Trail for beautiful wildflowers.
For post-hike activities, grab lunch at one of the many restaurants in Point Reyes Station or look for wildlife at Abbott's Lagoon or the famous Sea Lion Overlook. For hikers looking to stay the night, there are numerous lodging opportunities available from camping to the HI Point Reyes Hostel.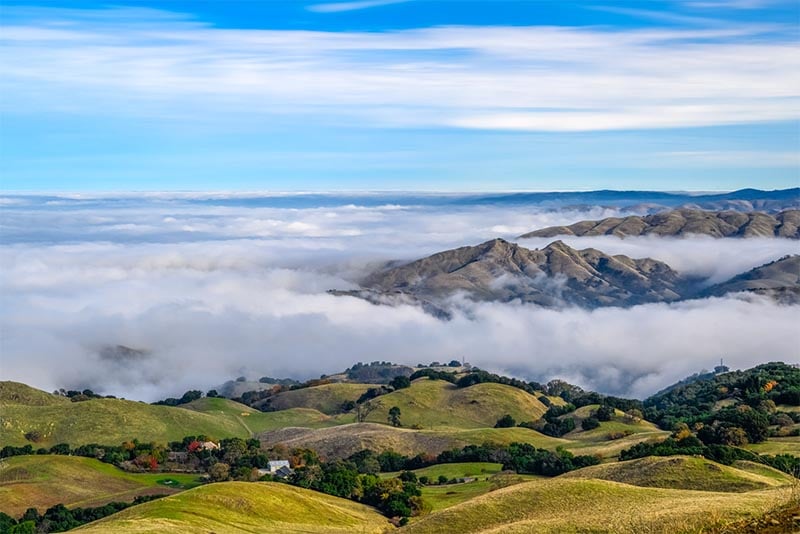 Located in the South Bay city of Fremont, Mission Peak Regional Preserve is popular for outdoor enthusiasts of all skill levels. The park is known for views that extend all the way from San Jose to Mount Tamalpais. Locals recommend getting an early start, as the park tends to get hot towards the middle of the day.
While the classic 5.8-mile Mission Peak Loop is by far the most popular hike within the park, there are plenty of climbs for those looking for something shorter or at a different skill level. The 6.1-mile Hidden Valley Trail is a favorite for hikers in search of less climbing, while the 4.8-mile Panorama Trail is great for those seeking 360-degree views.