Why are there so many odd street names in Las Vegas?
Why are there so many odd street names in Las Vegas?
In 1988, the combined population of the entire Las Vegas Valley hovered just over 660,000, which was the year the board of commissioners for Clark County adopted street name restrictions. To keep emergency response teams from going to the wrong addresses, Clark County began enforcing laws that protect the city from having street name duplications, among other regulations.
For example, county law prevents the use of homonyms, which are words that are pronounced the same but spelled differently. It also requires that there are no more than 10 streets in the Valley that use the same word if it's a compound. In another odd twist, foreign language street names aren't allowed "unless their meaning is polite and reasonable." Although North Las Vegas has its own laws, it's unusual that two of its residential cross streets are named Wild Thing Court and Hanky Panky Street.
Today, about 2.2 million people live in Las Vegas, and the Valley has seen a recent influx of master-planned communities being built. This means developers need to be more creative when naming residential streets within their developments in order to avoid duplicate street names.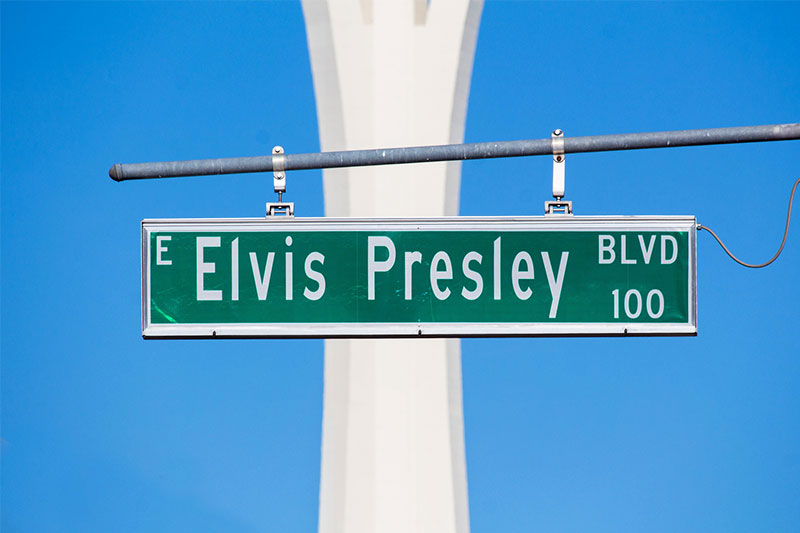 Typically, there isn't a formal process for naming streets. Developers simply select a theme or hold a contest among employees to name the area. Local government officials have to approve the map with street names but often just check that these names follow standard regulations.
The New York Times published an article in 2015 that shines a spotlight on this issue and draws a connection between street names and home values. In the article, streets with names are worth two percent more than those with numbers. Courts and lanes are also seen as more valuable because there aren't many streets that include them.
While Nevada's most popular street names include Park, Canyon, and Cottonwood along with numbers like First, Second, and Fifth, Las Vegas has no shortage of unusual names.
Odd names like Elvis Alive Drive and Anchorman Way are just a few examples. In the past, casino owners lobbied to get the street in front of their hotels changed so tourists would know when they arrived.
When looking at a map of Las Vegas, it's easy to spot themed neighborhoods. The Valley is home to streets named after popular films such as "Star Wars" and "Lord of the Rings" as well as famous bands like The Beatles. There are even streets in the Valley named after fairy tale characters. Enchanted Village on South Decatur Boulevard, built in 1963, includes names like Aladdin Lane, Thumbelina Circle, Matterhorn Way, and Cinderella Lane.
Although there aren't any naming trends prevalent among new developers, these days less street names are named after people. Instead, these street names in new developments are often named after faraway places or abstract ideas.
In Cadence, a master-planned community off Lake Mead Boulevard in Henderson, street names include Ambitious Street, Vibrance Drive, Highspot Street, and Possibilities Street. Similarly, Inspirada includes several art-themed streets like Romanesque Art Avenue, Blue Palette Avenue, Brush Stroke Street, and Self Portrait Street. In Summerlin, the master-planned community of Providence includes a variety of street names, but one neighborhood in particular is tortoise-themed with names like Sandy Turtle Avenue and Tortoise Shell Street. In Anthem, a space-themed neighborhood includes street names like Binary Stars Street, Flare Star Drive, Gamma Ray Place, and Sun Gazer Street.
For the most part, developers appear to be sticking with traditional street names. But when a developer gets stuck on a theme, it's reflected in the entire neighborhood and adds a unique style.