Bay Area Market Trends
Why does the Bay Area have so many Eichler homes?
For those who grew up in the Bay Area, thoughts of home often conjure up images of streets upon streets filled with what locals call Eichler homes. But what are these ubiquitous homes exactly?
Designed and built by Eichler Homes, they are a distinctive style of residential housing constructed in the 1950s and 1960s that generally include post-and-beam construction, slab floors with radiant heating, a second bathroom, floor-to-ceiling glass doors leading to the backyard, and an entrance foyer that feels like it's both indoors and outdoors. Even to the untrained eye, they're immediately recognizable from the outside due to their flat or low-sloped roofs and blank street facades.
Eichlers were first built after World War II, the vision of Bay Area businessman Joseph Eichler. Eichler had rented the Bazett House in Hillsborough, which was designed by famous architect Frank Lloyd Wright. Eichler loved the home and hired architecture firm Anshen and Allen to build him something similar. The nation was in desperate need of more housing at the time, and Eichler began thinking about building homes for other people as well. Thus, Eichler's entry to the real estate world.
Eichler's goal was to create relatively affordable homes that would be available to people of all ethnicities (he had a non-discriminatory policy that few tract developers at the time shared). He loved the idea of building homes close together on winding streets and cul-de-sacs, as these locations would encourage more interactions among neighbors.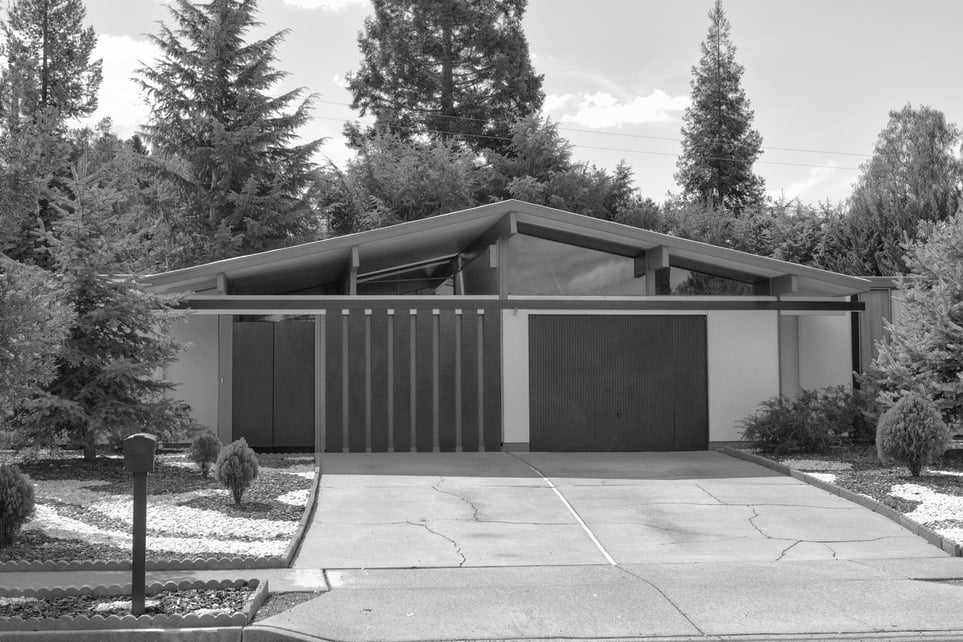 The first homes Eichler built were in Sunnyvale, and according to KQED, this first batch wasn't great on the eyes. But Robert Anshen, of Anshen and Allen, convinced Eichler to hire architects and designers for his tract houses, which most of his contemporaries weren't doing. As development continued, Eichler and his team were always looking for new ways to utilize space more effectively and experimenting with new building techniques. They channeled the entrepreneurial spirit of the Silicon Valley decades before the startup boom had even begun.
Eichler died in 1974. Between 1949 and his death, he and his team built 11,000 homes in California, most of which were in the Bay Area. You can still find some in San Francisco within the Diamond Heights neighborhood. But no city has more than Palo Alto, which is home to 2,700 Eichlers. Today, an Eichler home in Palo Alto can cost as much as $3 million. Green Gables is one of the more prominent Eichler neighborhoods.
Recently, Bay Area cities such as Cupertino and Sunnyvale have changed local laws or rezoned neighborhoods in order to preserve the identity of the Eichler homes located within them.