Chicago Real Estate Development
Wicker Park's Polish Triangle to Undergo Redevelopment
The Polish Triangle is a section of Wicker Park created by the intersection of Ashland, Division, and Milwaukee avenues. The concrete plaza is expected to be transformed into a neighborhood gathering place, according to Chicago Magazine.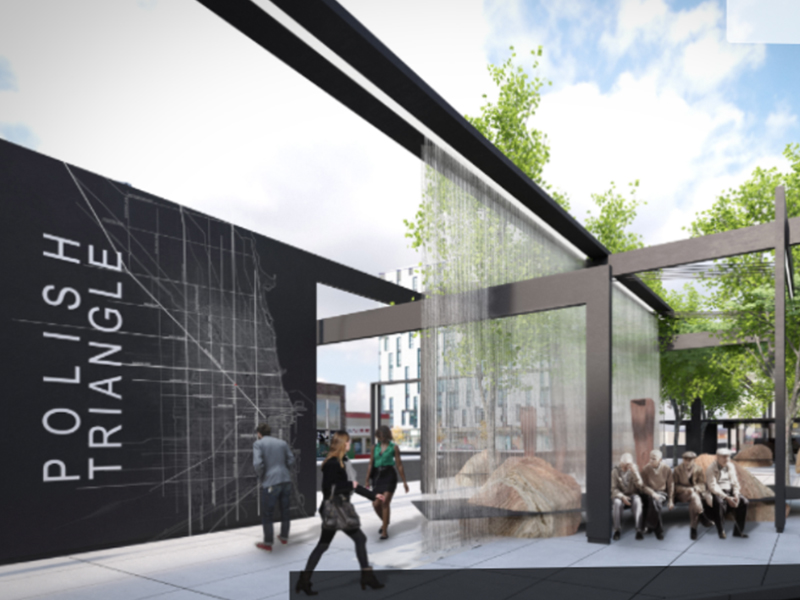 The Polish Triangle Coalition, a nonprofit community organization that has been working to upgrade this area since 2011, is leading the way for redevelopment. The organization is working with Bugaj Architects to create a new vision for the Polish Triangle.
The triangular space in question, also known as Polonia Triangle, has unofficially borne the name of the Polish Triangle for years, but the moniker became official in 2013. A City Council committee came together to formally name the area five years ago, DNAinfo reported.
The Polish Triangle Coalition hopes the overhaul will make the area an inviting community area, particularly as more development in the area makes open space a rare commodity. For example, 23 proposed townhouse units near the Polish Triangle are expected to begin construction late this year or in 2019, according to Curbed Chicago.
"We've got more and more density happening in the area and almost no open space. And here we've got a plot of land that's an entryway into four different communities," says Polish Triangle Coalition member and Our Urban Times publisher Elaine Coorens, according to Chicago Magazine.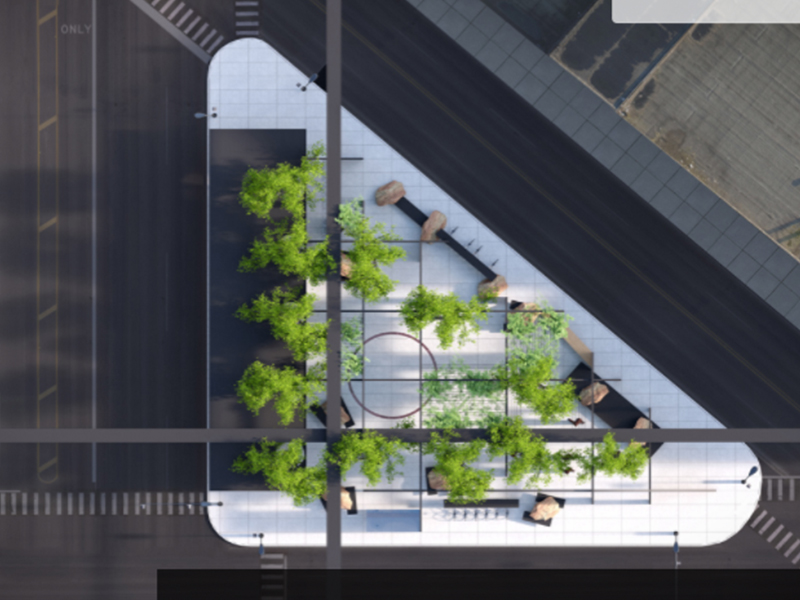 Bugaj Architects, based in Wicker Park, has released several renderings of what the new Polish Triangle could look like. The space would offer a view of Wicker Park, East Village, Noble Square, and Pulaski Park. A large metal trellis would arch overhead and light up at night. Community residents would have access to amenities like display panels of nearby attractions and transit schedules. The existing Nelson Algren Memorial Fountain would be removed, but a waterfall would take its place and the Nelson Algren quote would remain.
"It's like the gateway and how the triangle connects the neighborhoods … the grid will become a place to grab a coffee, meet a friend, and take a break," says Bugaj Architects principal Anna Bugaj, according to Chicago Magazine.
The CTA also has a role to play in the redevelopment. Design concepts from Bugaj Architects show a reduced Milwaukee Avenue bus lane, which would allow more space for the plaza. The Polish Triangle Coalition intends to work with the CTA and the Chicago Department of Transportation on the logistics of the redevelopment plan, according to Chicago Magazine. Additionally, the CTA plans to add an elevator to the nearby Division Blue Line station.
The Polish Triangle Coalition is trying to draw visitors to the space this summer with its Tuesdays at the Triangle events. The series, planned for Tuesday evenings from June 5 to Aug. 28, will feature live music, dance, and poetry.