Will out-of-state investors change the character of Deep Ellum?
Will out-of-state investors change the character of Deep Ellum?
Ask a local where to find the music scene in Dallas and chances are good that they'll point you to Deep Ellum. As one of Dallas' oldest and most iconic neighborhoods, Deep Ellum has experienced a lot of ups and downs in its history. But over the past few years, this artsy Dallas neighborhood is being bought up by out-of-state investors from places like Chicago and Charlotte. Will it still retain its quintessential Dallas character if many of the buildings are owned by non-residents? Or is this a step toward the corporate homogenization of one of the area's few funky enclaves? The truth is that the city of Dallas and Deep Ellum have a long, complicated history with each other.
The History of Deep Ellum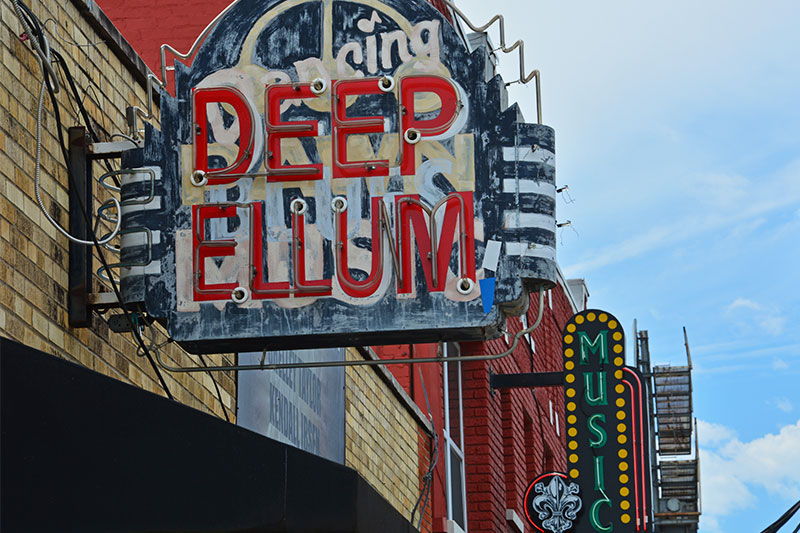 The history of Deep Ellum (a mispronunciation of its real name, Deep Elm) goes back as far as the 1870s. The location just east of Downtown Dallas was a settling place for both African-Americans and European immigrants and was the site of many factories. At one time, the neighborhood was a thriving business district for the most successful black businessmen in the city. Deep Ellum's reputation as the city's music center really began in the 1920s, when it was the local showcase for famous blues musicians like Blind Lemon Jefferson and Robert Johnson.
Deep Ellum's history has a bit of a dark side, however. There was a "red-light district" and a period of high crime. So in the decades between the 1950s and the early 1980s, many abandoned the area in favor of the growing Dallas suburbs. The music scene went dormant along with everything else.
The music started coming back in the 1980s and the people began to follow. Punks who didn't mind the neighborhood's neglect started a scene. More mainstream acts like Edie Brickell and the New Bohemians got their start in Deep Ellum as well and went on to national fame.
Clubs started coming back, and by the early 90s, Deep Ellum was again the music center of the city. Neighborhood boosters started painting murals on Good Latimer Tunnel, which served as the unofficial gateway welcoming visitors to Deep Ellum. The 90s music scene in Deep Ellum showcased both alternative and hip-hop artists, with a total of more than 50 bars and nightclubs. Local musicians including Erykah Badu and Toadies got signed to national labels.
Investors Take Interest
After shaking off the bad reputation of its earlier years, Deep Ellum was firmly established as the neighborhood where all the artists and musicians wanted to be. Tattoo shops, coffee bars, and eclectic boutiques moved in to serve the artists and musicians. Those golden days lasted for about 10 years, but the neighborhood started to die down again.
When it came time for a revival, the corporate interests moved in. Many say that the corporate takeover of Deep Ellum was only beginning in the early 2000s and hasn't stopped ever since.
Zoning changes allowed the construction of new high-rise apartment and office buildings. The Deep Ellum Community Association, a cooperative neighborhood organization, created the annual Deep Ellum Arts Festival. Popular new clubs like the Double Wide and restaurants like Cane Rosso opened.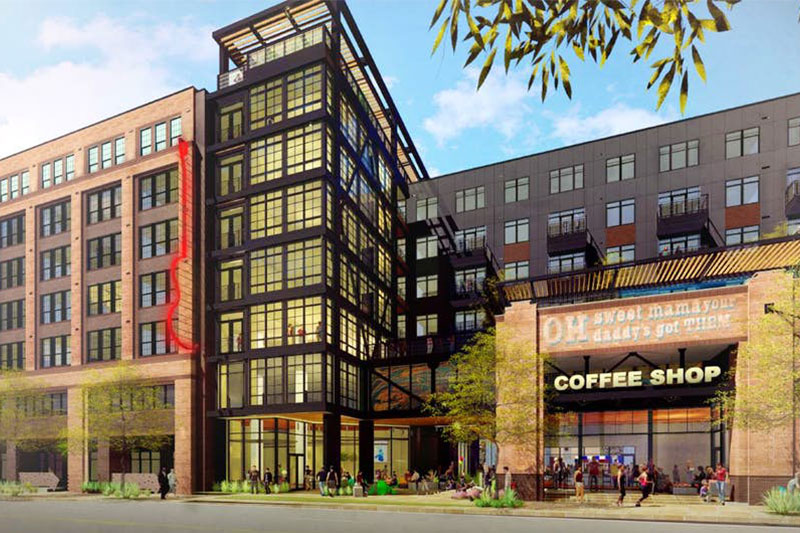 Last year, Crescent Properties purchased a strip of former industrial buildings in Deep Ellum with the intent to convert them into a mixed-use development. Long-time Deep Ellum landlord 42 Real Estate sold off 36 properties in the area.
Deep Ellum Brewing recently sold a majority stake in their business to Storied Craft Breweries, a Chicago-based company. The brewery's business will remain in Dallas, but the majority ownership will now be in Chicago.
Last year, Charlotte-based Asana Partners purchased 28 buildings and eight parking lots in Deep Ellum, including popular local businesses like famed barbecue joint Pecan Lodge and High and Tight, a barbershop/speakeasy. The property owner is reportedly looking to buy even more property in the area.
Even though the investors claim that they're going to maintain the neighborhood's indie spirit, it's not hard to see the shift already taking place in the neighborhood. No longer a neighborhood to find a cheap beer in a dive bar, it's become the kind of place where $14 drinks are common — like a less-polished but equally-priced sibling to Uptown. Rent prices are similar to Uptown, too, with units in a new high-rise ranging from $1,300 to over $4,000 per month. There's only one home for sale in the area currently, according to Neighborhoods.com, and it's going for $699,900.
Deep Ellum looks like it may be spared from another downturn, but it may not be as affordable again for young musicians, either.