Your Guide to Savannah Neighborhoods
Your Guide to Savannah Neighborhoods
Savannah is the epitome of low country living, where marshes and live oaks spring from the dreamlike coastal plain. Year after year, Savannah gains national recognition for its historic, cultural, and modern landmarks that are peppered through Savannah's squares, cobblestoned streets, and vast and diverse neighborhoods.
For its historic architecture intertwined with contemporary offerings, Savannah was recently named a top U.S. city by Travel+Leisure, and other publications praise Savannah for its charm and hospitality. And while tourists have the privilege of experiencing Savannah's charming hospitality whenever they visit, residents across the city's neighborhoods have sites and scenes that can make them tourists in their own backyard.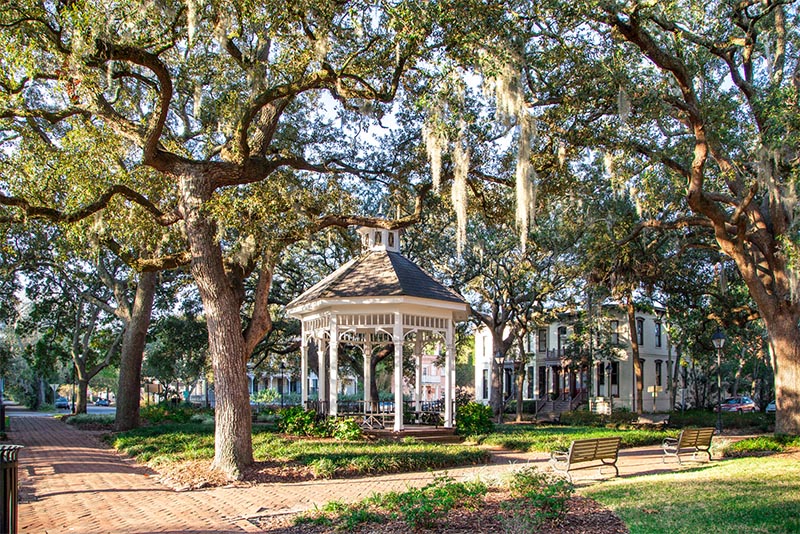 The Lay of the Land
Because Savannah has the Savannah River to the north and the Atlantic Ocean to the east, it's fairly easy for people to get their bearings. Entering Savannah from the west on I-16 gives residents sweeping views of the west side of the Historic District, a National Historic Landmark which features museums, the civic center, the visitors center, and quaint cafes.
From the river, the city maps out a lively downtown centered around the Historic District. South of downtown, there are thriving neighborhoods with hubs that spotlight artists, cultural centers, and restaurants. East of downtown, there are some of the nation's best nature trails and wildlife refuge offerings—and even farther east is Tybee Island, lovingly known as Savannah's beach, where residents can experience the Atlantic Ocean up close.
Savannah Neighborhoods to Know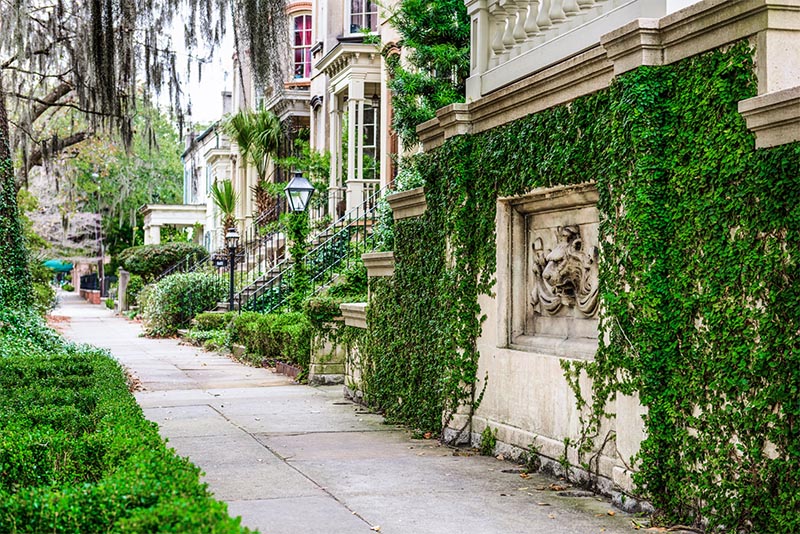 Savannah's Historic District is the city's heartbeat and hosts a thriving business center and the seat of government. The district receives national and international recognition for its architecture, squares, and riverfront, and it has a distinct grid plan that was laid out by James Oglethorpe for the British colony of Georgia in the 1700s.
The grid remains today and is marked by lush squares defined by Georgian, Greek Revival, and Gothic-style architecture. Because of its location, newer developments, and grand architecture, homes in the Historic District are typically more expensive than most areas of Savannah, with home prices that can reach the multi-millions.
The Historic District has plenty of landmarks worth seeing, but River Street has it all—exquisite views of the river, convention center, the bridge that connects Savannah and South Carolina, local shops, delicious seafood (and candy!), bars, hotels, lofts, monuments, and more. River Street gives locals the opportunity to feel like tourists in their own city.
In the Lamara Heights neighborhood, residents get easy Savannah living without the cost of the Historic District; the median home price for this Midtown neighborhood is in the low $300s. Here, residents enjoy multiple public and private school options, shops, and suburban life within the city limits.
Don't Miss: Habersham Village
This neighborhood shopping center offers convenience and world-class experiences. From local eateries like The 5 Spot, Bar Food, and Hirano's to the grocery Red & White Food Store to nail salons, convenience stores, and national chains like Walgreens and Barberitos, Habersham Village is the shopping epicenter of Lamara Heights and several neighboring communities—and because it's not too far from downtown, it's the desired area to grab a bite on lunch hour and make it back to work on time.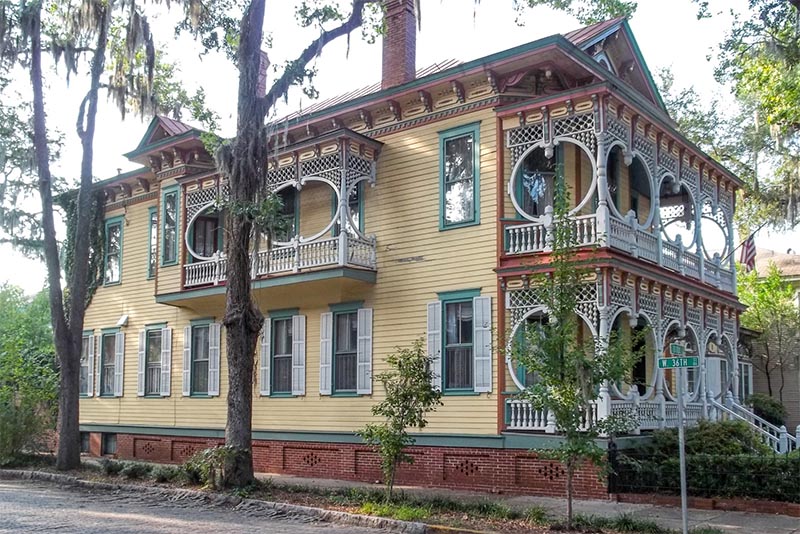 For boutiques, art museums, and some of the best restaurants in the city, the Thomas Square neighborhood is the place to be. All within less than one mile, Savannahians have access to a variety of food including sliders, soul food, tacos, seafood, pastries, and sandwiches—and with a walk score of 86 and a bike score of 82, residents can hop from home to store to restaurant and back again in a snap.
Right on the edge of Thomas Square sits the fairly new construction of Starland Yard, a fast-rising star of Thomas Square and surrounding neighborhoods. Constructed from repurposed cargo containers, Starland Yard offers a variety of rotating food trucks and events each week that are family friendly. The yard gives the area a truly unique vibe and is flanked by a popular Savannah beer company Two Tides Brewing and Vittoria Pizzeria.
The Oakdale neighborhood in Savannah is quiet yet surrounded by big-box stores, making the neighborhood's convenience unmatchable. Adding to Oakdale's livability are healthcare options, athletics clubs, and schools within an area that's quite affordable for many, with a median house price that rarely tops $300,000. What may be one of Oakdale's most special features is its location—there's easy accessibility from Oakdale to downtown and the islands.
On the border of Oakdale, the Savannah Botanical Gardens offer 10 acres of scenic flora, a two-acre pond, an amphitheater, nature trails, and the historic Reinhard House.
A 15-minute drive from historic downtown just south of Oakdale is Wymberly, a suburban community of Savannah. Here, residents live among long stretches of marshes and creeks, making the neighborhood quintessential low-country living. The median home price in Wymberly is in the high $200s, so for people looking for an affordable home just footsteps away from waterways, Wymberly is ideal.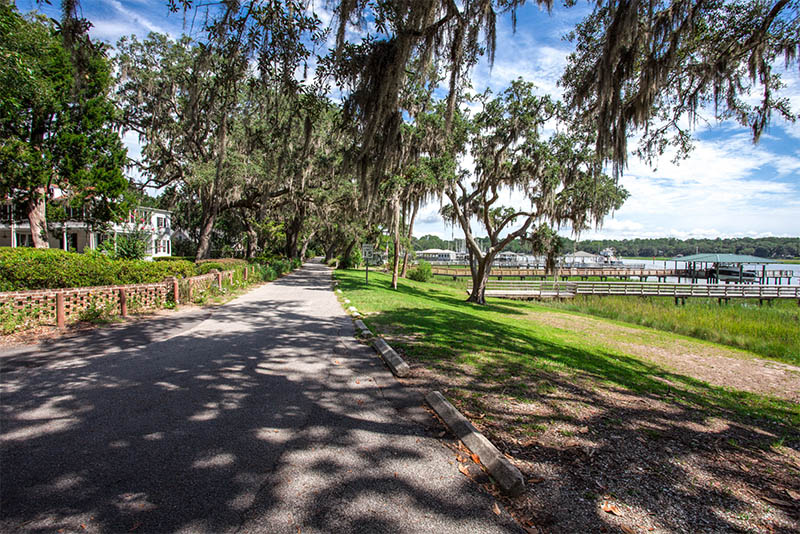 Skidaway River, which borders several Savannah neighborhoods including Wymberly on the Isle of Hope, is part of the 3,000-mile Atlantic Intracoastal Waterway. Find a spot on the Isle of Hope Marina to view boats, ships, and coastal wildlife.
Added bonus: Pin Point Heritage Museum is close by and a place where guests can experience Gullah/Geechee culture firsthand. The museum is located in a community that was founded by freedmen in 1896.