National Local Life
10 Hidden Gems in Orlando to Explore
When it comes to Orlando, most people assume they know what it has to offer—theme parks, roller coasters, and overpriced hot dogs. But in between all of the world-famous tourist haunts is a whole new world to explore. Discover these 10 hidden gems in Orlando.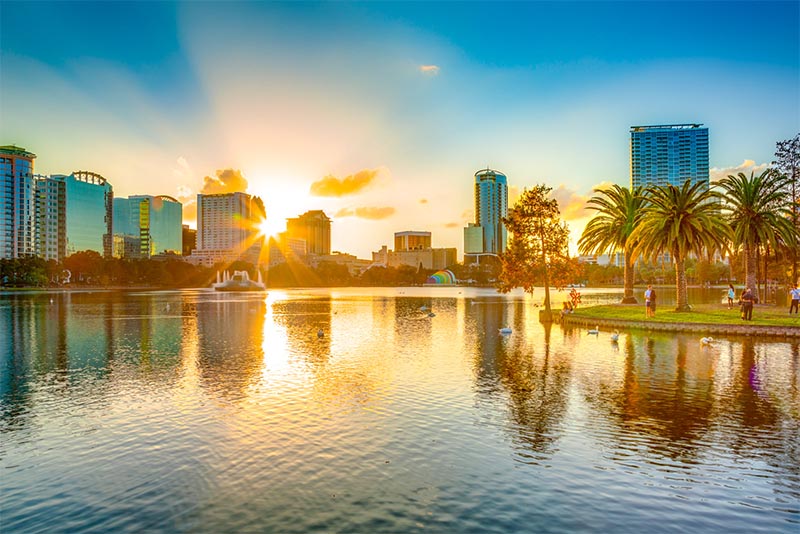 1. Boxi Park in Lake Nona
Lake Nona, an up-and-coming neighborhood that offers a suburban feel with all of the amenities of urban living, is home to Boxi Park, a beautiful park that boasts live events, great restaurants, and unique ways to play. Take the family to Boxi Park for a day of fun. As the kids play on the playground, your pups can run around the fenced-in dog park. Or, spend the afternoon playing volleyball on one of the twin professional sand volleyball courts.
After a day of play, treat yourself to a meal out at one of the many outdoor restaurants designed specifically for Boxi Park. Head to Claw and Order for a seafood sandwich, or visit Fowl Play for their take on the classic fried chicken sandwich.
2. Wekiwa Springs in Apopka
Located in Apopka, Wekiwa Springs is just a 20-minute drive from Downtown Orlando. This state park is a great place for hiking and offers both cabins and primitive sites for those looking to spend the night camping. However, what really sets Wekiwa Springs apart isn't the miles of trails, abundant wildlife, or tropical foliage; what really sets Wekiwa Springs apart (and makes it Orange County's longest-running tourist attraction) is the crystal clear springs. Whether you decide to kayak, canoe, or swim, the year-round 72 degrees water always makes for a refreshing and fun afternoon.
3. The Void in Disney Springs
Lake Buena Vista houses Disney Springs, Walt Disney World's outdoor shopping, dining, and entertainment complex. With so much to offer, Disney Springs isn't immune to having some of its attractions overlooked. The Void is an immersive virtual reality destination built for Star Wars fans. Fight against Stormtroopers on a secret mission as you dodge blasts from enemies. This immersive game is perfect whether you're a fan of the Star Wars franchise or just looking for a unique afternoon.
4. Harry P. Leu Gardens in Audubon Park
Audubon Park has a lot to brag about. This award-winning shopping and dining ecodistrict is proud to describe itself as fiercely independent and hosts a range of experiences you can't find anywhere else in Orlando. Among those is Harry P. Leu Gardens, three miles of paved scenic walkways, a butterfly garden, a museum, and more. The garden is meant to inspire and educate visitors and even hosts a variety of events, including art installations and more.
5. East End Market in Audubon Park
After spending a day in Harry P. Leu Gardens, it's impossible to not head up the street and hit up East End Market. A neighborhood market and culinary food hub, East End Market is home to several fan favorites in Orlando. Pick up a fresh loaf of bread at Olde Hearth Bread Company, get some uniquely Florida decor at Freehand Goods, or grab a cult classic cookie at Gideon's Bakehouse. Offering a variety of dining and shopping experiences, East End Market is a must-stop if you want to experience the "real" Orlando.
6. Split Oak Forest in Lake Nona
Located just a few minutes away from Lake Nona, Split Oak Forest offers miles of trails that snake back and forth across the protected area. Discover gopher tortoises, fox squirrels, and scrub jays, Florida's only endemic bird species. What really sets Split Oak Forest apart from other hiking trails, however, is its namesake—a 200-year-old oak tree that was split in half by lightning and is still alive.
7. Hanson's Shoe Repair in Downtown Orlando
Downtown Orlando is a great spot to grab a unique drink. From the Halloween-themed Cocktails and Screams to Shots, which lives up to its namesake by offering over 100 unique shots, no night out is ever the same, especially if you visit Hanson's Shoe Repair. Located in The Hanson Building, thought to be one of Downtown Orlando's oldest buildings, this speakeasy requires a password to get inside. Once inside, you'll find yourself in a rooftop bar with panoramic views of the city.
8. Chicken Fire in Mills 50
The food truck scene in Orlando has always been competitive, but in 2019 Chicken Fire blew the competition away. In one year, this soulful Nashville hot chicken concept took Orlando by storm, selling out almost every single day. Chicken Fire now has a brick and mortar location, located on Colonial Drive. Open 12 p.m. to 8 p.m., Monday through Wednesday, Chicken Fire has four levels of heat on their menu, but if you're looking to say goodbye to your taste buds, just ask about their off-menu heat options.
9. Clear Bottom Kayak Tours in Winter Park
No matter how you explore it, the Winter Park Chain of Lakes is a beautiful site to see, however, nothing can match seeing these lake's beauty in a 100 percent clear kayak. These guided tours are appropriate for all skill levels. Go during the day and let the sunlight guide you, witness spectacular views on a sunset tour or light up the night during a glow-in-the-dark tour.
10. Oldtown in Kissimmee
Step back in time when you visit Old Town in Kissimmee. With over 50 unique shops, restaurants, and bars, this unique park celebrates classic and retro pop culture. Attend one of their free weekly car shows, try your luck at the Rootin & Tootin's Shootin' Alley, or try to keep your wits about you in Mortem Manor, one of America's Scariest haunted attractions.