Chicago Neighborhood News
4 Things to Know About the Entertainment District Planned for Lincoln Yards
Lincoln Yards, developer Sterling Bay's ambitious project for 70 acres of land bordering Bucktown and Lincoln Park, is expected to cost as much as $10 billion. The sprawling mega-project includes retail space, residential towers, office buildings, and amenities such as a dog park, sledding hill, and climbing park. If that weren't already eye-catching enough, the development is now getting its own entertainment district.
Here are four things to know about the entertainment district.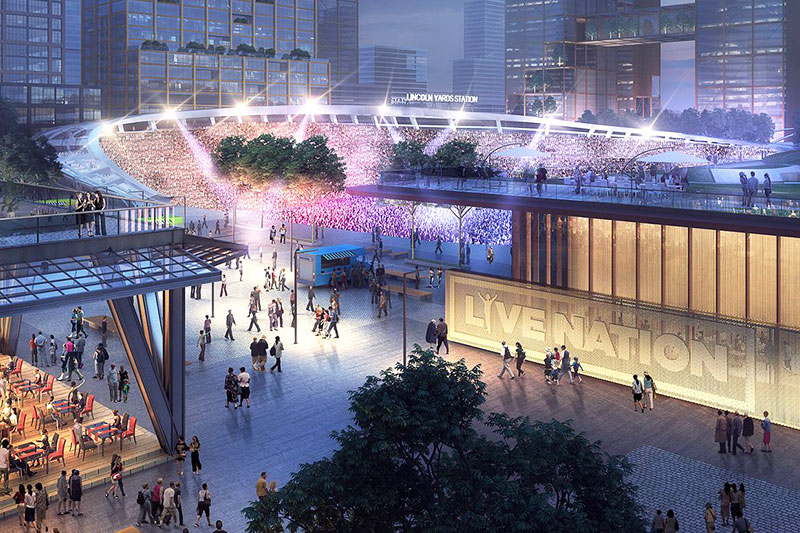 Live Nation is Leading the Entertainment District Plans
Live Nation, a giant in the concert ticket business, has partnered with Sterling Bay and plans to bring up to five entertainment venues to Lincoln Yards, according to the Chicago Tribune. The venues could include a smaller amphitheater with 100 seats, while a larger venue could have up to 8,000 seats, according to the report.
"As the exclusive entertainment partner for Lincoln Yards, we look forward to bringing even more live entertainment to the great city of Chicago," said Mark Campana, COO of Live Nation Concerts, in the Chicago Tribune report.
The Venues Are Expected to Cost North of $200 Million
Just how much investment Live Nation is bringing to the table has yet to be announced. The smaller entertainment venues could cost a combined $50 million. The larger venue with thousands of seats could cost upwards of $200 million, according to the Chicago Tribune.
Construction Could Start Within 18 Months
The project still needs to make it through the zoning and city approval processes. Depending on that timeline, ground could break on the entertainment venues within the next 18 months, according to The Architecture Newspaper. Thus far, no other retail partners have been announced for the entertainment venues, according to the report.
The Live Nation Venues Will Join the Development's Soccer Stadium
Just before the announcement of the Live Nation deal, news broke that Chicago Cubs owner Tom Ricketts will be working with Sterling Bay to bring a new United Soccer League team to the planned, 20,000-seat Lincoln Yards stadium. The new soccer team could begin playing by 2021.
"This is all part of making this a live-work-play recreation district," Dean Marks, principal and general counsel at Sterling Bay, told the Chicago Tribune.
The Lincoln Yards project is set to make a big impression on the city, an impression that could be extremely attractive to Amazon as it makes its HQ2 campus decision. Jay Carney, Amazon's senior vice president of corporate affairs, recently emailed Rahm Emanuel to express the company's bid to land the campus, according to a Chicago Tribune report.
Lincoln Yards is one of 10 sites included in Chicago and Illinois's official bid to land the ecommerce company's new location and the accompanying slew of new jobs.