Chicago Real Estate
5 Chicago Suburbs for Green Living
Chicago is known for its beautiful parks and its commitment to green development. City dwellers may be able to eschew car ownership in favor of public transit, but urban living isn't automatically greener than the suburbs.
Homebuyers looking to be conscious of the environment may be pleasantly surprised what the suburbs of Chicago have to offer. These five communities have embraced initiatives like alternative energy, open space, recycling, and the farm-to-table movement.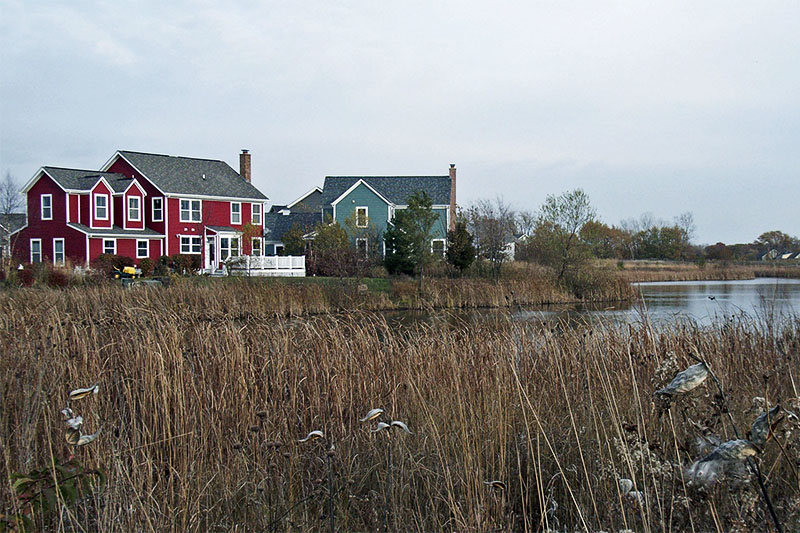 Grayslake, a far north Chicago suburb, feels far removed from the dense nature of city living. Rollins Savanna, one of the largest forest preserves in Lake County, offers residents a trail for walking and biking, a native seed nursery, and an ideal place to watch for native birds.
In addition to this extensive open space, the suburb's Prairie Crossing neighborhood is an ideal spot for homebuyers who prioritize sustainability. Prairie Crossing is known as a "conservation community." It was designed with guiding principles like energy conservation, natural landscaping, environmental protection, and economic viability.
Residents of the nighborhood can enjoy Lake Aldo Leopold, which is filled with runoff stormwater that is purified from the wetlands and prairies nearby. In addition to the environmental benefit, people can swim, canoe, fish, and ice skate (in winter, of course) on the water.
Sustainable living does not have to be prohibitively expensive. Prairie Crossing is an affordable option for homebuyers, with a median home sale price of $349,500, according to Neighborhoods.com data.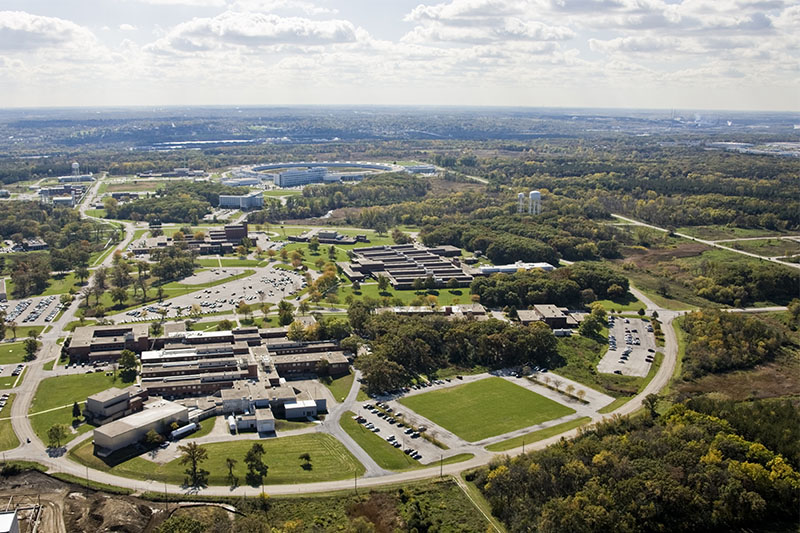 The Metra's Heritage Corridor line will take you from Union Station to the southwestern suburb of Lemont in about 40 minutes, offering a greener transit option for those who work in the city. Closer to home, Lemont has three large green spaces that commit to sustainability initiatives.
The Argonne National Laboratory campus in the suburb focuses on projects to reduce pollution, improve energy conservation, and divert waste. Argonne also has an environmental protection program dedicated to renewable energy and a natural resources program focused on the preservation of local wilderness.
Argonne is located near Waterfall Glen Forest Preserve, which has 11 miles of trails for hikers, bicyclists, and horseback riders. This preserve is also home to hundreds of native species of flora and fauna.
The suburb's Cog Hill Golf and Country Club also aims to improve sustainability in its community. The golf course has introduced native wildflowers and an apiary, a compost bin, and farm-to-table events.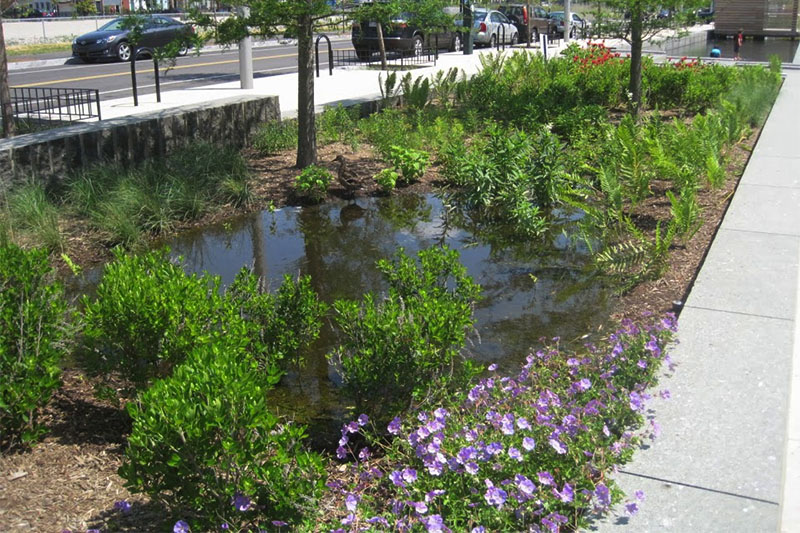 Lisle, located southwest of the city, has some major pros for those seeking green living. Commuters who work in the city can skip the drive (and the traffic) thanks to the Metra BNSF line that takes residents directly to Union Station in the West Loop.
Lisle also has a comprehensive recycling program. In addition to the standard curbside service for your typical household goods (paper, cardboard, glass bottles, plastic containers, etc.), the suburb has options for recycling electronics, batteries, fluorescent light bulbs, latex paint, hazardous waste, and more.
Residents can also cut down on holiday waste with programs for pumpkin composting, Christmas tree collection, and holiday light recycling. Lisle also facilitates a program for establishing rain gardens and rain barrels that can help decrease homeowners' water usage and bills.
The suburb is also home to the Morton Arboretum, an outdoor museum dedicated to plants and trees. In addition to being a beautiful place to live near, the arboretum also supports significant conservation and research efforts.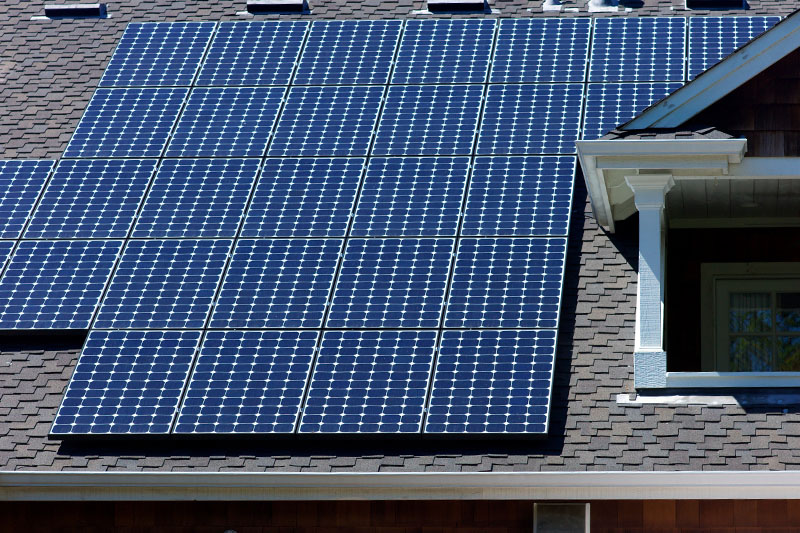 The northwestern suburb of Schaumburg is a part of the Greenest Region Compact, a collaborative group pushing to improve sustainability and quality of life in Chicago communities. Of all the communities participating, Schaumburg has had the greatest increase in solar power for residential and commercial properties.
In addition to embracing renewable energy, Schaumburg's park district cares for approximately 300 acres of natural land. Among the largest areas is Spring Valley, which consists of 135 acres of forests, marshes, and more. Residents can also visit Volkening Heritage Farm, which harkens back to the suburb's roots as rural farmland. Heritage Farm has local market days during the summer where residents can buy local produce, meat, and dairy products.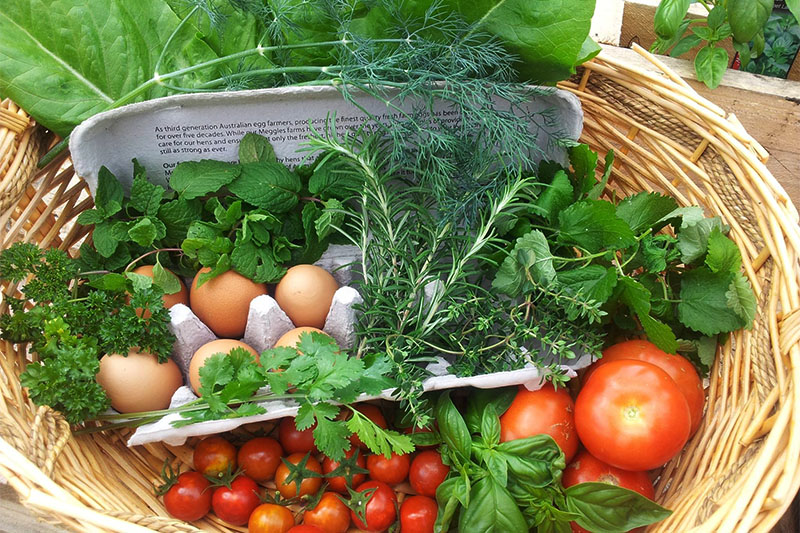 Western Springs is a western suburb of Chicago with a Metra line that will get you into the city in just under an hour. Foodies with an eye for sustainability will be pleased to learn that the city's suburbs aren't all about chain restaurants.
Western Springs has two restaurants that feature menus that lean heavily on the farm-to-table movement. Vie is an upscale restaurant located near the suburb's Metra stop. The restaurant specializes in multi-course meals crafted from local ingredients. You can also order a la carte from the large dinner menu. Expect the menu to change with the seasons.
For a more casual farm-to-table experience, try Solstice, which partners with local farms, greenhouses, and butchers to create its breakfast, lunch, and brunch menus. The local commitment fits with the restaurant's promise of "cuisine for the seasons."