Los Angeles Real Estate
5 Family-Friendly Neighborhoods in Claremont, California
Claremont is a suburb in California that's known for its rich history and its rather catchy nickname, "The City of Trees and PhDs" due to the city having about 24,000 trees of varying species and a large population of residents with doctoral degrees.
Claremont is towards the eastern corner of Los Angeles County, and like its nickname suggests, it's home to several prestigious educational institutions, including Pomona College, Scripps College, Claremont McKenna College, Harvey Mudd College, and several others.
What stands out about Claremont when compared to other cities in LA County is its many city awards and recognitions. Claremont has received the Arbor Day Association's Tree City USA Award for over 30 years, and it was listed as one of the "Best Places to Live in the Nation in 2007," by CNN Money Magazine. The city was also named the "Best Suburb in the West" by Sunset Magazine.
Home to some of the finest Italian restaurants, happy hours, hotels, museums, art galleries, shopping centers, and recreational facilities, Claremont has plenty of amenities to offer families. Every year, families look forward to the suburb's popular Springtime Folk Music Festival, Mid-Summer Shakespeare Festival, and many other kid-friendly events.
Below are five of Claremont's most family-friendly neighborhoods.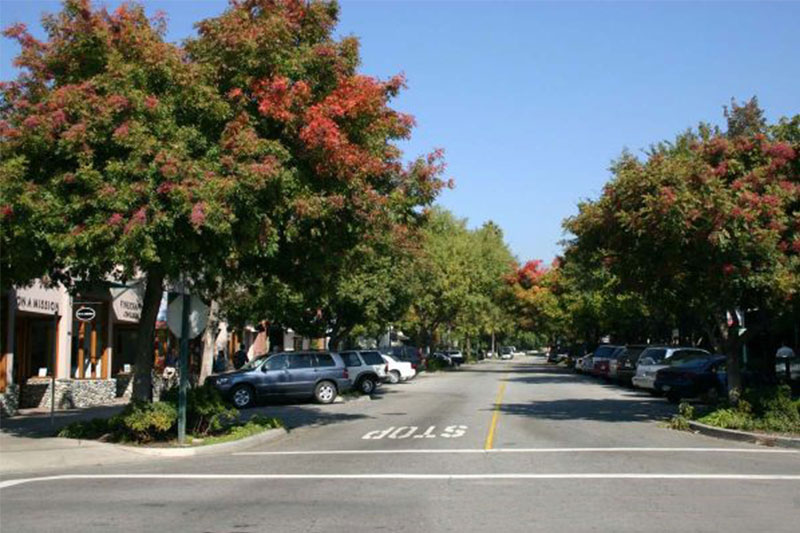 Old Claremont Village, more popularly known to locals as simply The Village, is a family-friendly neighborhood in Downtown Claremont. The community is filled with hundreds of quality shops, bakeries, galleries, and restaurants.
Thanks to The Village's proximity to the Claremont Colleges, it's not only a hotspot for families and children, but also students and professionals in academia. The Village remains one of Claremont's most sought-after neighborhoods, with pristine tree-lined streets, proximity to commercial areas, and many large residential estates.
There's a wide array of homes throughout this community, many of which are either historic or custom-built, with a variety of styles, including English Colonial Revival, Southern Colonial, and Spanish Colonial Revival. Many of the homes in The Village are registered on the Claremont Heritage Registry, with a median home sale pricein the low $900s, according to Neighborhoods.com data.
Blaisdell Ranch is a tranquil and upscale neighborhood known for its manicured lawns, tall trees, stone walls, and old-town charm. It sits towards the northeastern edge of Claremont, with the popular Mount Baldy Road located slightly north.
A local hangout spot for residents is the recreational area Braisdell Ranch Preserve at the corner of Grand Avenue and New Orleans Court. The park's picturesque backdrop makes the preserve a great place for family photos.
This affluent neighborhood is also known for being Claremont's first community of estates and mansions, many of which showcase homes with Mediterranean and Tudor-style architecture. One of the neighborhood's most famous estates is Snoop Dogg's mansion, which was first featured on the popular show "MTV Cribs."
Homebuyers looking to purchase a home in this neighborhood will find a median sale price just over $1.6 million.
The scenic neighborhood of Claraboya sits at the peak of Mountain Avenue towards the northwestern corner of Claremont. Located on the rolling hillside, homes in the Claraboya neighborhood enjoy some of the city's best views. The community sits towards the border of Claremont and Diamond Bar, and it's adjacent to Diamond Bar's Sycamore Canyon Park, which is ideal for family hikes, camping trips, and other outdoor activities.
There are a wide range of residences in this neighborhood, many of which are large single-family homes and estates. The median sale price in this neighborhood is about $1.6 million.
With highly attractive homes, pristine streets, as well as its proximity to Downtown Claremont, the neighborhood of Towne Ranch is another highly desirable family-friendly community. It was once nicknamed "Pill Hill" thanks to having so many doctors as residents.
A variety of homes can be found in this neighborhood, including custom ranch homes designed by architects and builders such as Theodore Criley and Fred McDowell. This neighborhood is great for homebuyers looking to raise a family in a single-family home, but there are also condos and townhomes available. Many of the dwellings in this community are either contemporary, modern, or traditional-style architecture. Towne Ranch has a median sale price in the mid $700s.
Pitzer Ranch is a neighborhood filled with a mix of both historic and modern homes. The neighborhood's main residential development at Citrus Glen features residences ranging from new construction condo units to three- and four-bedroom attached homes starting in the $400,000s.
Out of all the communities on this list, Pitzer Ranch offers one of the most affordable family-friendly housing options in Claremont thanks to its median sale price in the low $500s.
Not to mention, this neighborhood is also home to the historic Pitzer Ranch, which served as the headquarters to Lee Pitzer in the 1920s. Residents in Pitzer Ranch also have easy access to Pitzer College, one of the region's top-ranked liberal arts and sciences colleges.