5 Luxurious Neighborhoods in San Diego
5 Luxurious Neighborhoods in San Diego
Luxury properties these days surpass Champagne wishes and caviar dreams. Now, it's all about the infinity pools, lavish master suites, and spacious home designs that include more bedrooms and bathrooms than you can imagine. If you're looking to buy in San Diego, there are plenty of affluent neighborhoods with luxury homes priced in the millions.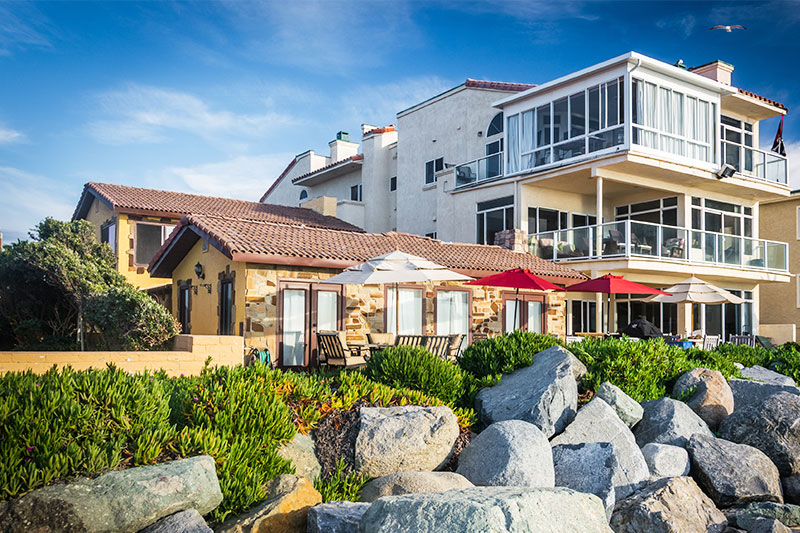 Median home price: $3,795,000
Known as "The Jewel" of the West Coast, La Jolla is situated along pristine coastline, providing some of the best views San Diego has to offer. Some of the most expensive listings in La Jolla have up to eight bedrooms and 11 bathrooms, and offer more than 12,000 square feet. In addition to luxury real estate, this neighborhood also has top-notch fine dining and shopping. The Shops at La Jolla Village has luxury shops alongside numerous eateries and services. With a stunning location along the Pacific Ocean, it's no wonder many celebrities call this hilly seaside community home.
Median home price: $1,080,000
Located on the peninsula that's bordered on the east by the San Diego Bay and on the west by the Pacific Ocean, Point Loma exudes luxury thanks to its prime location. This bayfront community offers stunning views of not only the Pacific and surrounding marinas, but of the Downtown San Diego skyline as well.
Though a bit quieter with a suburban vibe, Point Loma is only about five minutes from Downtown, making it easy for residents to enjoy the city's amenities and attractions. Point Loma is one of the most expensive areas in San Diego with many homes priced over the $1 million range. Some of the luxury homes in Point Loma offer over 13,000 square feet, up to six bedrooms, and up to 10 bathrooms. These lavish residences typically come with private pools and spas, a guest cottage, indoor or outdoor sports courts, and multiple garages with enough space for limo parking.
Median home price: $1,310,000
Directly north of Point Loma is the quaint neighborhood of Sunset Cliffs, with many mid-size homes that date back to 1935. Named for the sharp cliffs that border the neighborhood and ocean, Sunset Cliffs offers scenic views, walking trails, and popular surfing areas. According to Neighborhoods.com data, this luxurious neighborhood has a median sale price of $1.2 million with many of the lavish homes offering spectacular views of the coastline as well as spacious master suites, multiple bathrooms, and top-notch finishes like marble fireplaces, dramatic entrance halls, and wrought iron staircases.
Median home price: $1,018,200
This suburban-style planned community offers hiking and equestrian trails, a recreation center, and a number of community parks and open spaces. Carmel Valley also has a great selection of wineries, art galleries, and resorts. Some of the most expensive homes in Carmel Valley feature up to eight bedrooms and eight bathrooms. Some houses also feature luxurious amenities like pools with a swim-up bar, a full basketball court, rich wood finishes, marble floors, and a secluded rose garden. It's no wonder some of these homes are priced in the $5 million range.
Median home price: $2,534,100
Rancho Santa Fe, sometimes referred to as The Ranch or even just Rancho by locals, is a neighborhood in the northern inland portion of San Diego just east of Solana Beach. The quiet neighborhood is the perfect spot for anyone who loves to spend time outside enjoying the California sunshine as this area is known for its miles of hiking trails—many with equestrian access—and the Rancho Santa Fe Golf Club.
Homes in Rancho Santa Fe often offer a more rural feel as they are situated on large lots with sprawling lawns, tennis courts, and swimming pools. Purchasing one of these opulent homes will cost anything from $1.3 million for a more modest property to an astounding $98 million for any buyers looking for a 15,00 square foot-home on more than 70 acres complete with numerous guesthouses, private riding trails, and multiple barns for keeping horses on site.