Phoenix Real Estate
5 Reasons Homebuyers Should Consider Sahuarita Over Tucson
Although Tucson remains a popular city in Southern Arizona, many homebuyers enjoy the benefits of living in nearby cities and suburbs that provide the same amenities of The Old Pueblo but without the surging home prices. And with no sign of Tucson's market slowing down, it may be difficult for new homebuyers to find an affordable home in this growing city.
This is why homebuyers should shift their focus towards Sahuarita, located just 20 minutes away from Tucson. Sahuarita has gained recognition due to its numerous parks and recreational activities, affordable homes, arts and culture, and attractions. Its prime location also allows residents to be just 40 minutes north of the Mexican border and 20 minutes from the Tucson International Airport, giving them easy access to everything Tucson has to offer. Combine that with new residential communities, good schools, and plenty of greenspace, and Sahuarita becomes a haven for homebuyers in the area.
Here's a list of reasons why you may want to consider Sahuarita instead of Tucson for your next home purchase.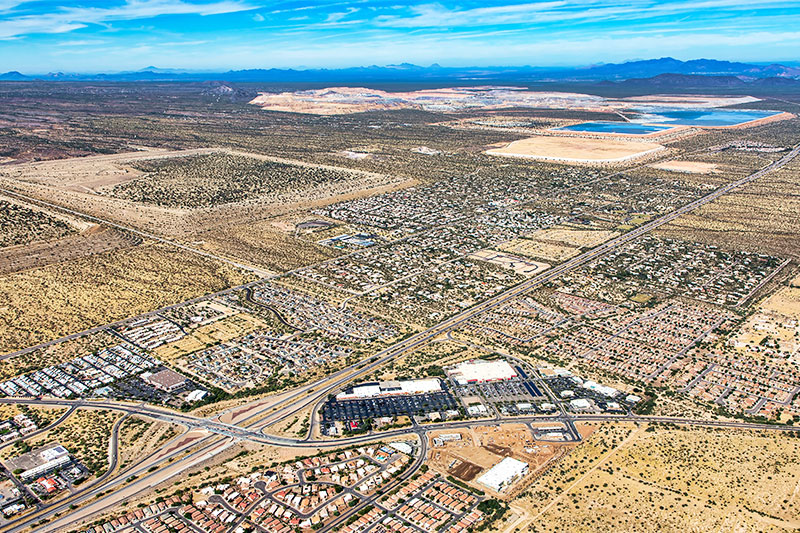 Home Prices
Sahuarita continues to attract a wide range of homebuyers, from families and professionals to millennials and retirees. This town is also seeing more residential development. This area offers homebuyers a variety of options, styles, prices, and amenities throughout its 11 neighborhoods as well as its master-planned community Rancho Sahuarita. In this master-planned community, homebuyers will find both single-family homes and attached homes, in contemporary or Mediterranean styles, priced from the low $100s to mid $300s.
For the first time, Tucson's median home price soared above $300,000, according to Arizona Daily Star. On the other hand, according to Best Places, Sahuarita's average home price is in the high $100s, making it much more affordable for homebuyers. Along with lower home prices, the median household income in Sahuarita ($69,425) is much higher than Tucson ($40,021), which means residents can live more comfortably.
Proximity to Major Employers
The Town of Sahuarita is home to some of the largest employers including Freeport-McMoRan, Farmers Water Co., and Green Valley Pecan Company. But the area also offers an easy commute to some of the area's biggest regional employers including Raytheon Missile Systems and The University of Arizona Science and Technology Park. Many residents find the short commute to major employers an added bonus to living outside of Tucson. Sahuarita's labor force concentrations are greater than those in Southern Arizona in higher paying occupational categories and in important 'high-tech' occupations,per theSahuarita Economic Development Quickfacts report.
Taxes
In addition to affordable homes and close proximity to major employers, Sahuarita does not levy a property tax. Also, the town doesn't have an income tax, however, the state of Arizona does collect income taxes. Homeowners living in this town also only pay two percent in local sales tax, while the state of Arizona has a 5.6 percent sales tax.
Greenspace
Sahuarita has retained a generous supply of open space despite its population and residential growth. Under the Town Of Sahuarita General Plan, Sahuarita seeks to preserve open space as a valuable recreational asset. And thanks to its well-kept Sahuarita Lake Park, Sahuarita was recognized as one of the best places to live in 2015, according to Money. The park offers a 10-acre lake and amphitheater surrounded by lush landscape and walking paths. Several other parks and miles of trails can be found throughout the town as well, and master-planned communities like Rancho Sahuarita offer multiple pocket parks and larger neighborhood parks where residents can enjoy outdoor recreational activities. These neighborhood amenities and parks include pools, playgrounds and play structures, open greenspaces, and picnic areas.
Best U.S. Small City
Sahuarita was also listed as one of the best U.S. small cities in WalletHub's study, last year. The town, which is just 30 square miles in area, earned high rankings in categories like affordability, economic health, education and health, quality of life, and safety. And there's something to be said about the dynamics of a smaller town. According to The Balance website, small-town living has many perks that larger cities just can't offer, including a slower pace, close-knit environment, less traffic, and fewer crowds. With Sahuarita committed to economic growth and preservation, and with affordable homes and a low cost of living, the area offers a balance between a small-town vibe and big-city amenities.