San Diego Local Life
5 San Diego Neighborhood Festivals of 2019
It's summertime in San Diego, and with the season comes countless events and traditions that capture the true essence of the city. Here in San Diego, there's so much authentic culture for both residents and visitors to celebrate.
From multicultural celebrations to pride festivals and more, California's second-largest city is hands-down a festival town. From now until October, here's a list of San Diego's festivals that anchor their neighborhoods.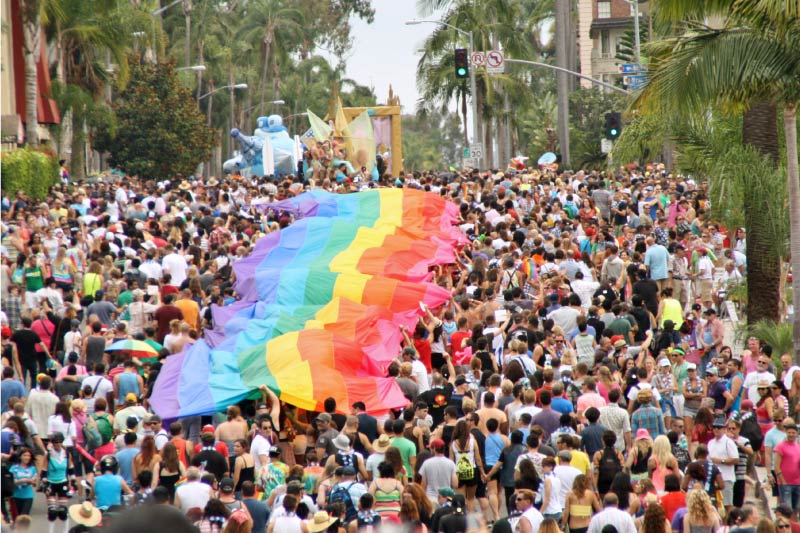 Pride of Hillcrest Block Party — Hillcrest
Date: July 12
This signature party kicks off San Diego's pride weekend with urban style and flair. As a prelude to the LGBT Pride Parade and Festival events, an evening block party in Hillcrest offers patrons live entertainment food, cocktails, merchandise, dancing, and the all-important flag-raising ceremony. This year's theme is "Free to Be You," which resonates with many San Diegans who work and play in one of the country's most LGBT-friendly communities.
Every year, people from all over the U.S. make their way to this free event. This year the Hillcrest Block Party features a diverse lineup of both local and international talent as well as a gigantic Ferris wheel for attendees to ride and catch sight of Hillcrest's 65-foot-high rainbow flag.
San Diego Pride Parade & Festival — Hillcrest
Date: July 13
One of the largest pride events in the United States takes place right here in the vibrant and colorful Hillcrest, a community that celebrates every day of the year its history, culture, diversity, and LGBTQ community.
Every year, Hillcrest comes alive with community spirit as the San Diego Pride Parade brings over 250,000 people together with more than 200 floats and parade groups. The pride festival includes multiple stages for entertainment, cultural presentations, dozens of exhibits and vendor booths, and tasty food.
Imperial Avenue Street Festival — Logan Heights
Date: August 17
This street festival celebrates the rich culture, history, and arts of the Greater Logan Heights community, a unique and historic San Diego neighborhood known for colorful murals, authentic Mexican food, and lively nightlife.
The Imperial Avenue Street Festival, held on Imperial Avenue between 25th and 27th streets, is a multicultural street scene offering up three blocks of local artists, crafts, food and beverages, and multiple stages of live music. This neighborhood is known for its diversity and style, and every year, the community shares its neighborhood spirit with all of San Diego at this festival.
Fiestas Patrias — Old Town
Date: September 14
Fiestas Patrias commemorates the day Mexico declared independence from Spain in 1821 and Alta California became part of a new nation. People come from all around to celebrate Mexican Independence Day in Old Town while experiencing the rich and diverse culture of Mexican California. Festivities include traditional music and dance groups, equestrian displays, crafts, games, and demonstrations of the activities of early San Diego settlers in the 1800s.
Before the historical activities kick off, there's a "changing of the flag" ceremony when a cannon is fired off inside Old Town San Diego Historic Park. After the ceremony, there's a parade around the plaza with dancers, horses, and paraders dressed in historical costumes. This free event is an independence day celebration like no other.
Date: October 5
San Diego is still warm in October which makes for a great time at Pacific Beachfest, San Diego's best beach festival located right in the heart of Pacific Beach. This family-friendly event is jam-packed with live music, arts and crafts, a kid's zone, a beer garden, and sports on the beach as well as in the water.
Before the festivities begin,there's a 5K run on the beach for the adults, which is the essence of San Diego beach life, followed by a 1K for kids. The Pacific Beachfest also features a Best Of The Beach Fish Taco contest. Six local restaurants battle it out to see who wins the title and bragging rights of having the best fish tacos. The beachside event is a fun-filled day that's sure to offer its visitors the best San Diego beaches have to offer.