San Diego Real Estate
6 Suburban Cities With Easy Commutes to San Diego
San Diego has many things to offer — a lively downtown, nightlife, culture, tourist attractions, entertainment, festivals and events, and the bustling vibe of city life. In addition to that, many people find their careers in the city. However, that doesn't mean that they also live there.
Studies have shown that while some people enjoy city living for a time, most millennials prefer a home in a quiet suburb over a downtown condo. Even more than that, home building has slowed down in the city of San Diego in recent years. Suburban options are becoming more commonplace and offer more affordable options not too far from the city.
If the suburbs are calling you, here are some nearby options you can hang your hat and call home while still being close to San Diego.
Coronado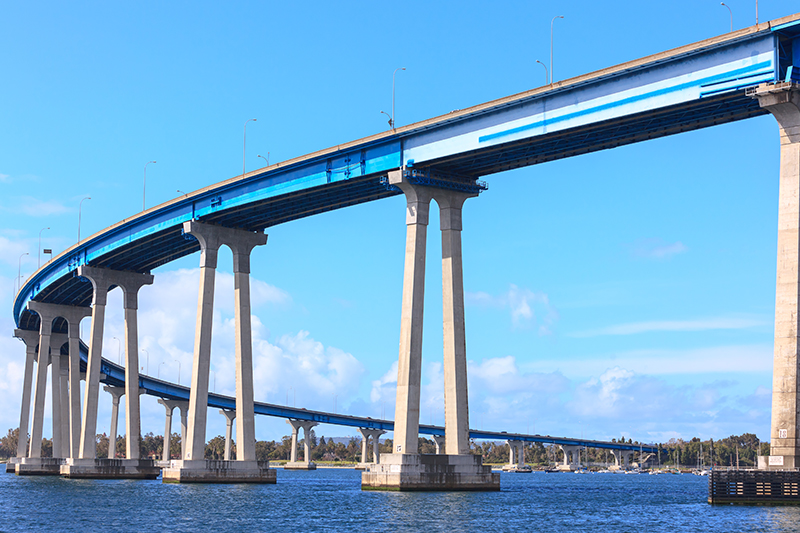 The peninsula resort city of Coronado is right across from Downtown San Diego via the San Diego Bay. A frequent tourist stop, it's home to three major resorts, including the historic Hotel del Coronado. The city is also full of theaters, shops, and high-end restaurants. Coronado has a median home value of $1,301,100, so it's not the place to find your starter home. It offers a few avenues of travel to the city, including the Coronado Ferry, bus route, and the Orange and UC San Diego Blue Line. Or, if you're feeling up to it, it's only a three-mile walk down Orange Avenue to get to Downtown San Diego.
National City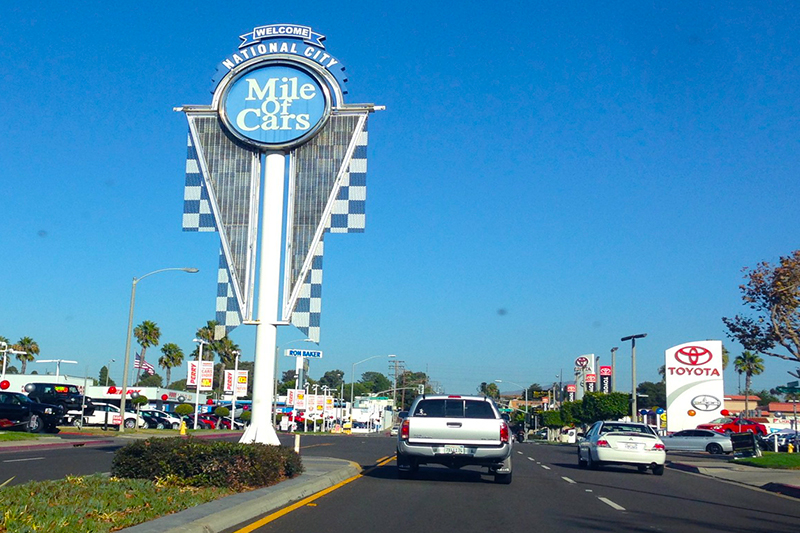 Located in the South Bay region, the second-oldest city in San Diego County, National City, offers many attractions in arts, culture, and nature. From the Sweetwater River to the ridges and canyons full of wildlife on its eastern border, National City provides a solid view of nature. It is also home to one of the first "auto malls" of the world — The National City Mile of Cars and has one of the only enclosed malls in the county with Westfield Plaza Bonita. This suburb has a median home value of $290,500. It makes for a quick and easy commute to San Diego by taking the UC San Diego Blue Line or via a 12-to-15-minute drive.
Santee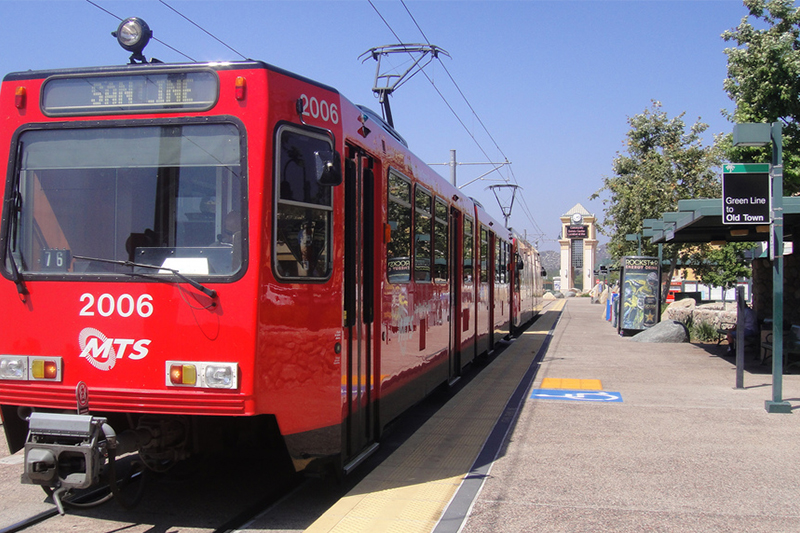 Less than 20 miles from the Pacific Ocean, Santee thrives with Californian foliage. Bisected by the San Diego River, it contains trails, parks, and over 1,100 acres of natural riverside habitat. Santee also offers many recreational attractions, such as its 15-acre sportsplex, the Santee Boulders, the Santee Lakes Regional Park and Campground, and the Carlton Oaks Golf Course. With a median home value of $348,100, Santee is friendly to first-time buyers while offering small-town vibes. One can travel from the suburb to San Diego in about an hour by using the Sycuan Green line.
Chula Vista
The second largest city in the San Diego area, Chula Vista is just 7.5 miles from Downtown San Diego. It's known for its small business community and has many shopping, dining, and film attractions, as well as many golf courses. The median home value here is $375,700. Homebuilders have been lining up to construct new communities here in recent years. This suburb makes commuting accessible with the UC San Diego Blue Line or via fifteen-minute drive.
Lemon Grove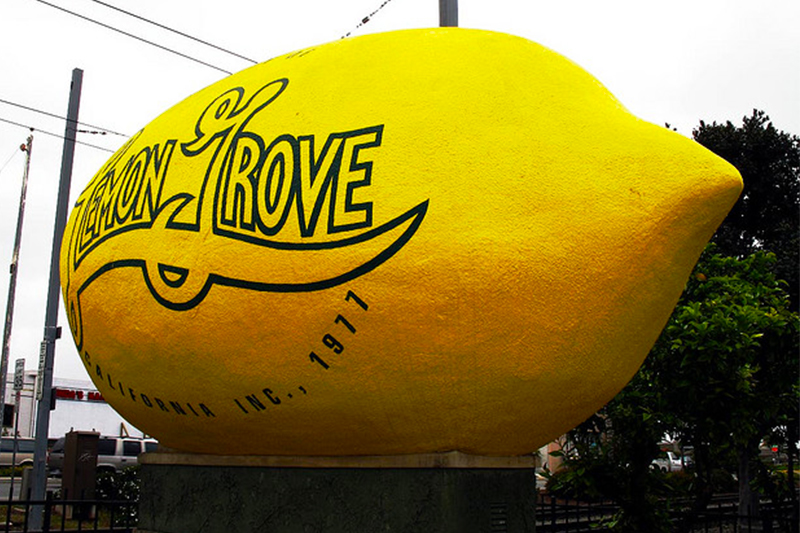 Home to the "world's biggest lemon" and boasting a distinctive urban feel, Lemon Grove is a suburb undergoing some serious revitalization. Served by the San Diego Trolley's Orange Line, keep an eye out on your commute for, you guessed it, a small lemon grove. And if you'd rather make the drive, it should only take you around 15-20 minutes. The suburb has a median home value of $316,500.
Solana Beach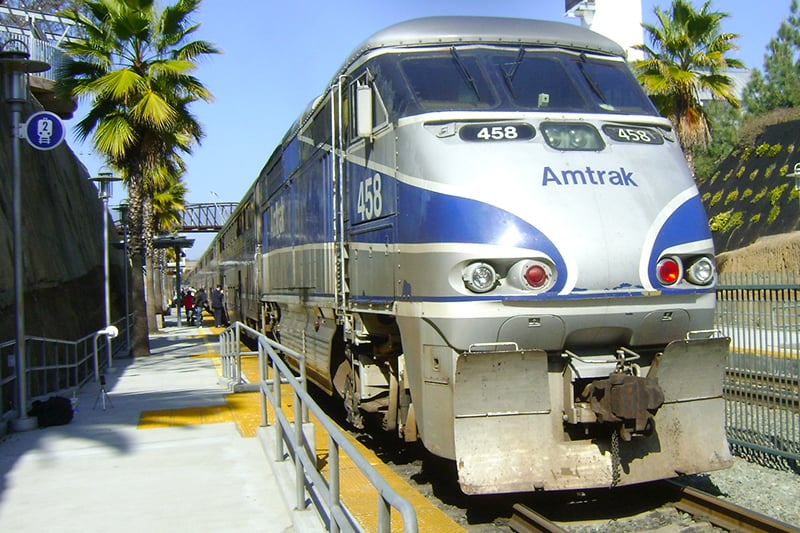 A coastal city in San Diego County, Solana Beach is a small beach community right on the water. A huge part of this suburb is its Cedros Design District, made up of over 85 art galleries, boutiques, antique stores, and cafes. Solana Beach also offers a great farmers market, open each Sunday, as well as a live music space called Belly Up. With a median home value of $974,100, this suburb offers a commute just under an hour to San Diego via the Pacific Surfliner Amtrak.