Las Vegas Local Life
7 Innovative Local Libraries in Las Vegas Neighborhoods
Contrary to popular belief, Las Vegas is a thriving center for libraries. The Las Vegas Clark County Library District (LVCCLD) is among the 25 largest library systems in the U.S. LVCCLD has 29 libraries across Clark County with two more underway, and in neighboring Henderson there are four libraries across the city. Whether you're looking for the latest novel, a children's reading program, museum, or just a quiet place to study with free wi-fi, the Valley is home to several innovative local libraries with state-of-the-art facilities, cutting-edge designs, and unique programming.
Green Valley Ranch - Paseo Verde Library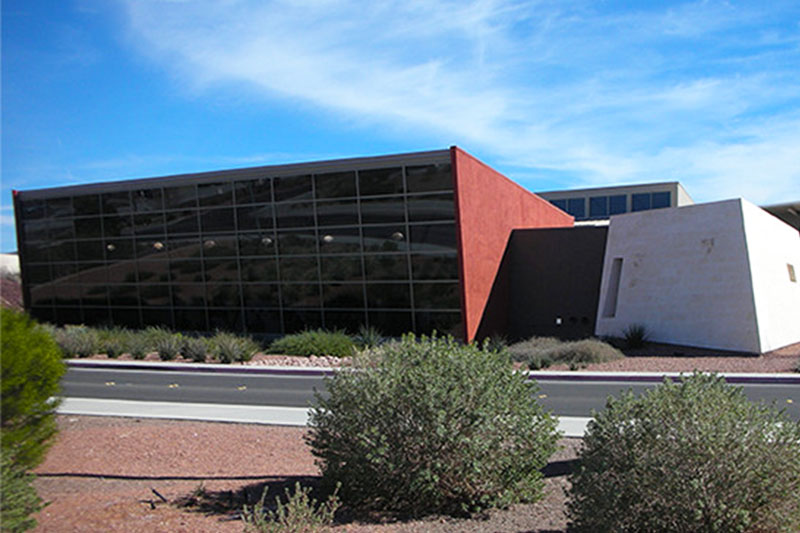 Near the Henderson Pavilion just off the 215, Paseo Verde Library in Green Valley Ranch is part of the Henderson Library system. Unlike a typical library, Paseo Verde Library has a modern design and unique facilities including its 1,000-square-foot, glass-wall reading room and staffed genealogy room. In addition to hosting regular book sales and fundraising events for the library system, Paseo Verde also has a dedicated teen area with desks and charging stations as well as a local coffee shop at its entrance.
Enterprise - Windmill Library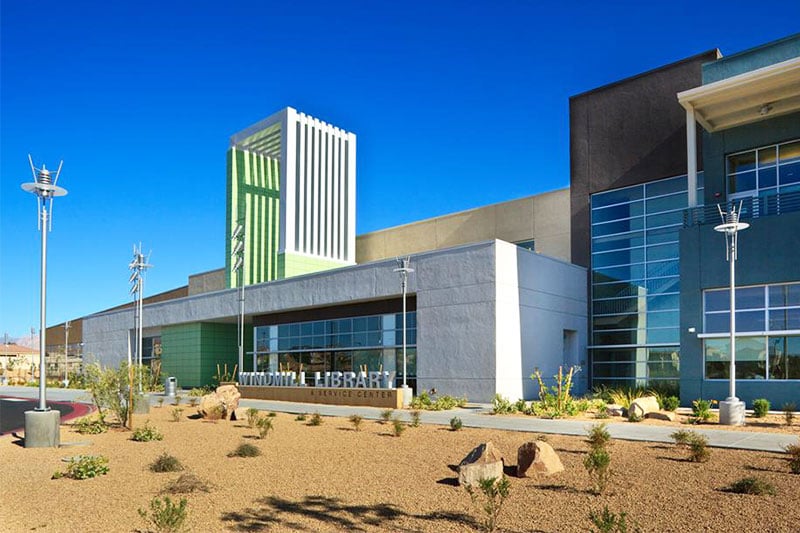 Windmill Library in Enterprise is LVCCLD's headquarters for good reason—the 29,000 square-foot library has an art gallery, used book area, 300-seat auditorium, children's story room, study rooms, and a 22-seat adult computer lab along with a catalog of over 130,000 books. Not only does this library offer a vast amount of resources that meet the community's needs, but it also features a modern design with high ceilings and open spaces that make you feel like you're not in a library at all. The building is also energy-efficient and was built with sustainable designs and practices.
Summerlin - Sahara West Library & Summerlin Library and Performing Arts Center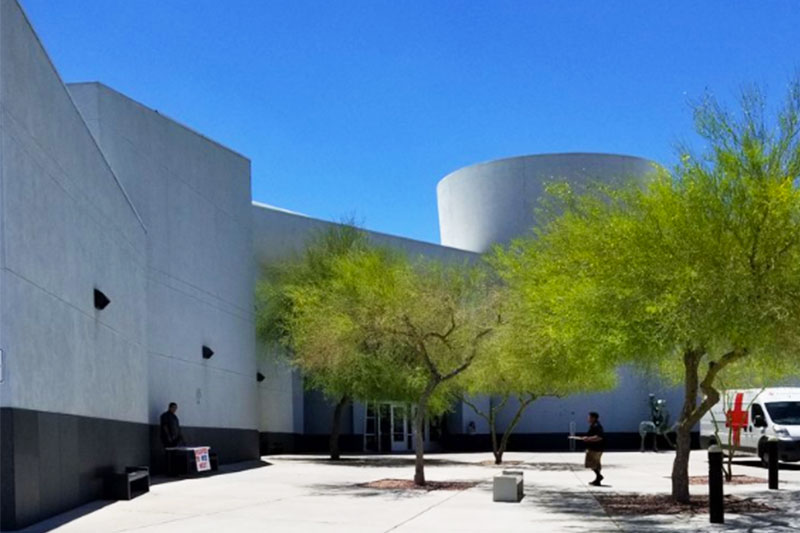 Like other libraries in the Valley, Sahara West Library in Summerlin has a sizable book collection, but what this library is known for is its 4,427-square-foot gallery space. The former art museum space folded in 2009 and the LVCCLD repurposed the empty space into a gallery within the Sahara West Library. The gallery, which is called The Studio, features about three to four rotating exhibits each year from professional artists. In addition to the gallery space, the library also hosts a 160-seat multi-purpose room, 60-seat glass room, 45-seat boardroom, and a used bookstore.
Summerlin's other library, Summerlin Library and Performing Arts Center, offers 40,000 square feet of space and has over 130,000 items. This library isn't your usual library because it is also a performing arts center that is home to a 284-seat theater that regularly hosts events. The library's Facebook page often announces free events, which include local groups like Sin City Opera and Dance in the Desert.
Paradise - Clark County Library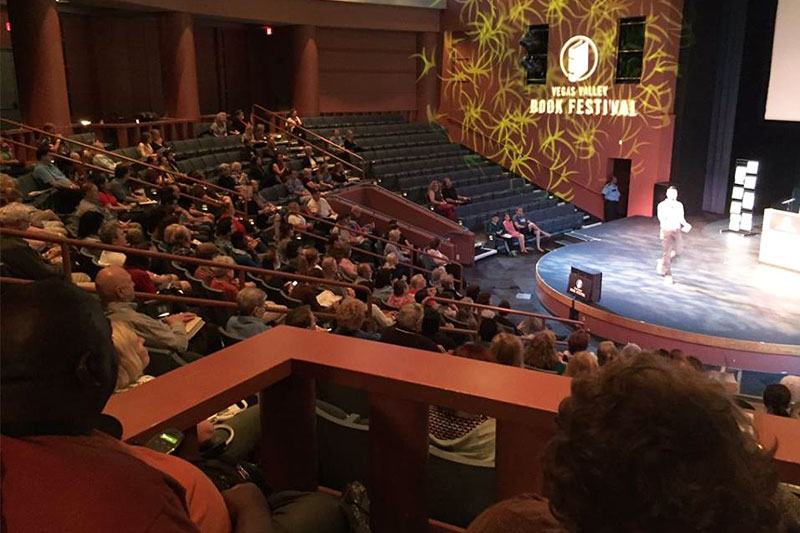 Just around the corner from the University of Nevada Las Vegas, Clark County Library in Paradise regularly hosts author readings that tie into the Las Vegas writing scene. In addition to its two theaters, Clark County Library is known for its teen programing since the library recently launched a free program that allows teens to use software for video editing, coding, graphic art, and recording. The library also has a 3-D printer, robotics resources, and fashion design equipment like sewing machines exclusively for teens.
Downtown - Las Vegas Library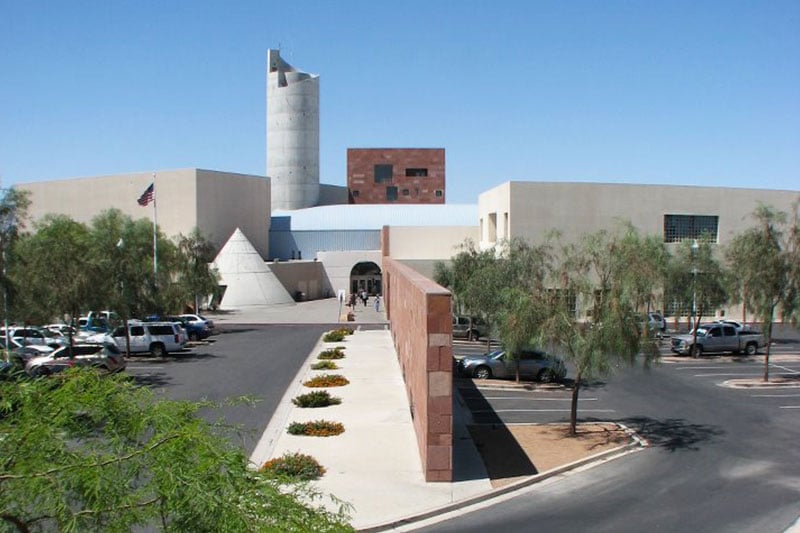 Centrally located in the Cultural Corridor, Las Vegas Library in downtown has some of the most comprehensive collections of gaming and Las Vegas history in town, along with topographical maps of Nevada and other western states. Las Vegas Library is also home to one of the largest Spanish language collections. The library has three outdoor patios in addition to a microfilm scanner, private study rooms, conference rooms, a computer lab, and a teen zone.
Whitney - Whitney Library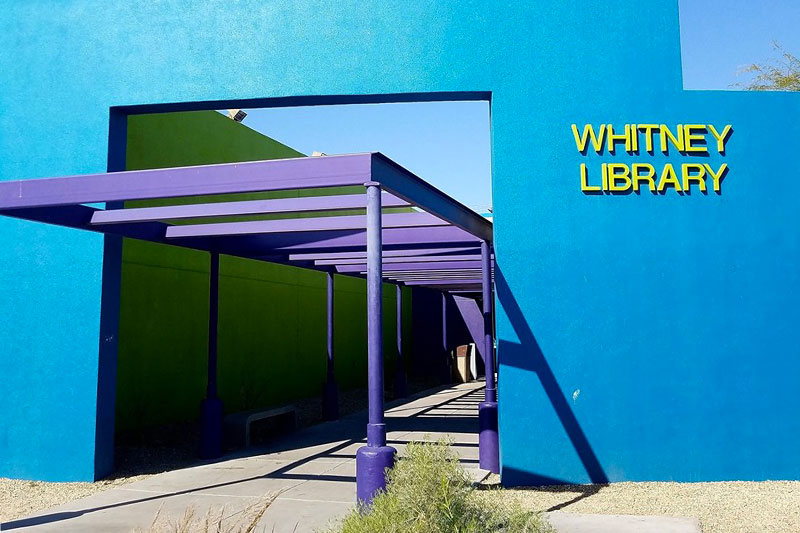 Whitney Library is known for its 520-square-foot conference room, used bookstore, and art gallery with regularly circulating exhibits, but it also offers a variety of community resources. In addition to a monthly book club, public computers, and weekly children's story times, the library in Whitney also has a large collection of CDs and DVDs along with a teen room partitioned from the regular library space.