Chicago Local Life
7 Neighborhoods Where You Can Swim for Free at Chicago Park District Pools
Chicago is heating up. You could head to the beach and cool off in Lake Michigan, but if you want to play in the water without getting sand everywhere, one of the city's pools is the way to go. You could try your luck sneaking into a luxe hotel rooftop pool, or you could check out these fabulous outdoor pools run by the Chicago Park District. Go ahead and dive in.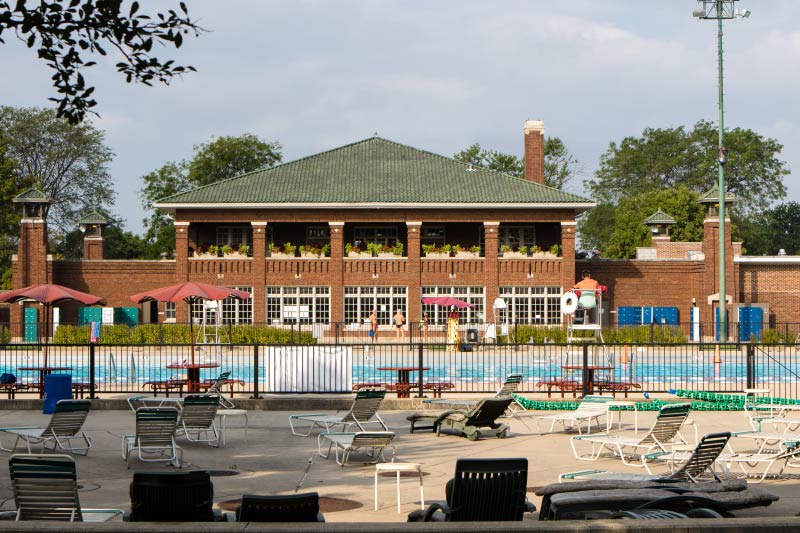 California Pool at California Park is right by the North Branch of the Chicago River in the Irving Park neighborhood. This big, beautiful outdoor pool is open seven days a week from 11 a.m. to 7 p.m., so you can hop in after work or on the weekends. The pool is 50 yards in length with depths of three to nine feet. With six lanes, California Pool is great for swimming laps on less crowded days.
Humboldt Park Pool is the ideal pool for families with kids or anyone looking to relive their waterpark glory days. This pool in Humboldt Park has a large, winding waterslide. If you prefer a more sedate swimming experience, this 25-meter pool has six lanes. You can hang out in the shallow end, just four feet deep, or swim over the deep end, which reaches 10 feet. Be sure to check the pool's rotating schedule, which you can find online, to find times for open swim, family swim, lap swim, and adult swim.
Palmer Pool is a Southside summertime staple. Located at Roseland's Palmer Park, this outdoor pool has not one, but three waterslides. The pool is 50 meters in length with six lanes. It is one of the park district's shallower pools with depths between two feet five inches and seven feet nine inches. While you're there, you can take advantage of the park's playground and junior baseball fields. Like other Chicago Park District pools, Palmer Pool is open seven days a week.
Portage Park has been generating quite a bit of buzz lately. The small North Side neighborhood has the Six Corners, delicious restaurants, and a couple of its own parks. You'll find Portage Pool at the park that shares its name with the neighborhood. The Olympic-size swimming pool has eight lanes for swimmers, plus a smaller, separate pool with heated water. Another section of the pool has diving boards and water slides. Sunbathers will also love the big poolside deck and misting sprays—all of the poolside fun without getting soaked.
The 3.8-acre Pulaski Park is located in the heart of the neighborhood that shares its name. Pulaski Park Pool is pretty shallow, only three to five feet deep, and has five lanes. The 30-meter pool still has plenty of space for play and swimming. Families will love the interactive spray feature located right by the pool. Be sure to check out the rotating schedule for family swim, lap swim, adult swim, and open swim hours. Some time slots will be blocked out for team sports.
Riis Pool, located at Riis Park in the Belmont-Cragin neighborhood, is 40 meters long and has six lanes. Splash around in the 3-foot shallow end or swim in the nine-foot deep end. Kids will love playing in the water playground right by the pool. Plus, the pool has plenty of space to spread out your towel and re-apply your sunscreen. The 56-acre Riis Park also has plenty of other activities perfect for summertime. You can fish off the pier at the casting pool or walk by the park's lagoons and play on one of the sports fields.
Washington Pool is a zero-depth entry pool, so it gradually goes from zero feet deep to 10 feet deep. The pool stretches 50 meters in length, includes six lanes, and has a waterslide. The pool is a fabulous way to cool off before you explore more of the huge, 366-plus acre Washington Park in the neighborhood of the same name. The park has a lagoon, a ton of greenspace, multiple playgrounds, basketball courts, tennis courts, baseball fields, football fields, and more.