Nashville Local Life
A Nashville Cardiologist Discusses Why He Lives in the West Meade Neighborhood
While many know Nashville as Music City, one of the first things that becomes apparent to new residents is the number of hospitals and healthcare facilities peppered across town. There's Meharry Medical College, a legacy HBCU located near Osage-North Fisk, St. Thomas Hospital with locations in Midtown and West End, and perhaps the area's most sprawling and prestigious complex, Vanderbilt University Medical Center in the heart of Hillsboro Village. The Nashville Business Journal reports that, according to 2017 data from the commercial real estate and investment firm CBRE, healthcare has become Nashville's largest industry with over 400 companies providing 250,000 jobs and accounting for $40 billion in revenue.
To get a human perspective on this growing industry, Neighborhoods.com spoke to Dr. Frank Fish, a pediatric cardiologist and professor of pediatrics and medicine at Vanderbilt with over two decades of experience, about why he chose his Nashville neighborhood. He's a widely respected professional, but like many Nashville residents he also is a musician who plays bass in multiple bands that perform around town on a weekly basis. Dr. Fish is a longtime resident of West Meade where he's found balance amid a rigorous schedule at the Monroe Carell Jr. Children's Hospital at Vanderbilt.
Away From the Hustle and Bustle
Dr. Fish lives on a wooded lane up in the rolling hills of West Mead, a neighborhood where lots often range from one to five acres—large in comparison Hillsboro Village where his hospital is located.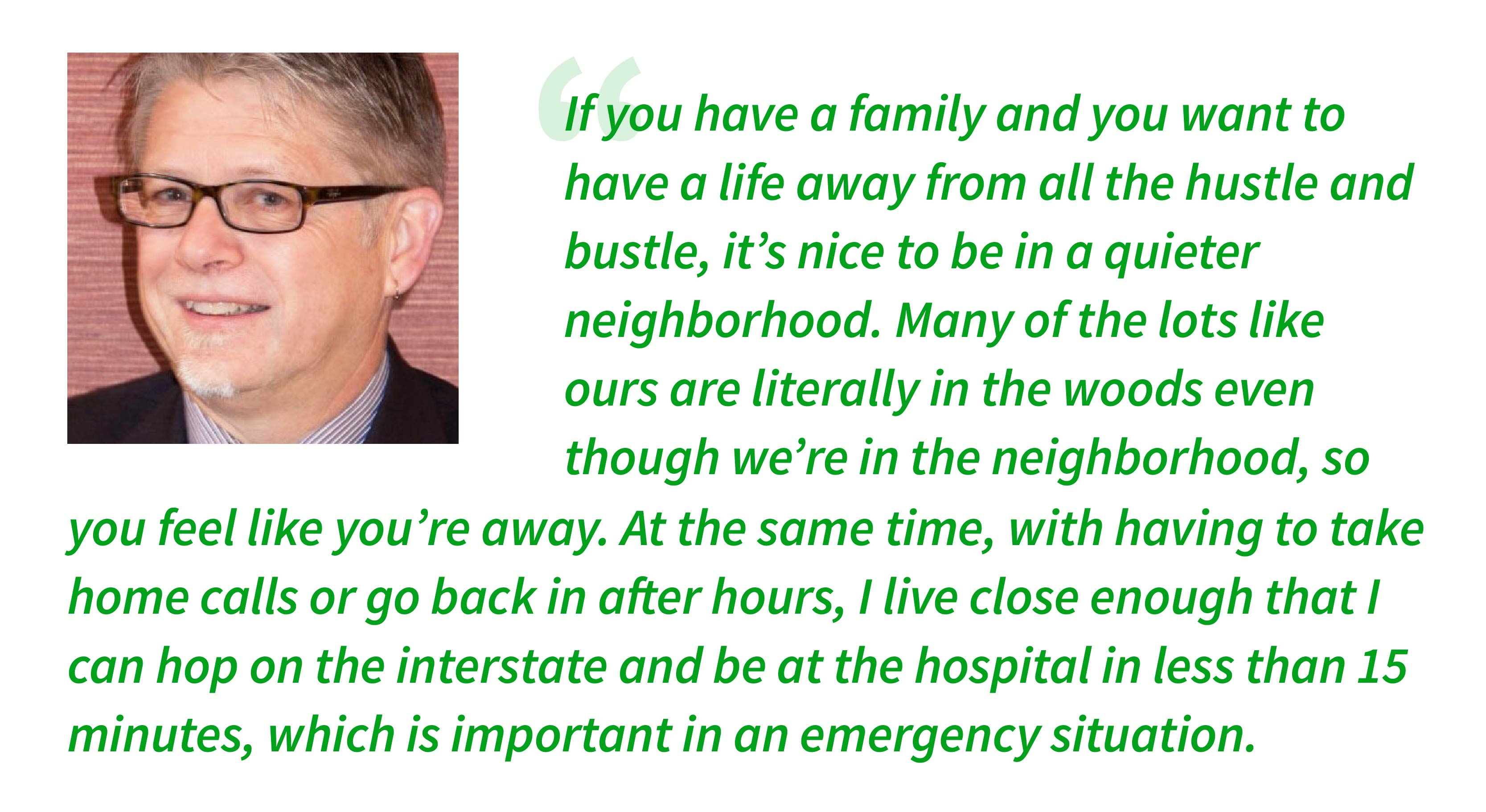 Proximity
Many residents and new doctors often find proximity to be a larger factor in their choice than the escape of a wooded lot. While it may be too expensive for doctors who are just starting out and tackling student loans to buy in areas like West End or Hillsboro Village, the option to buy a condo in a more dense urban neighborhood can be alluring.
"There are certainly times that being in a lively, busy neighborhood has its appeal. Hillsboro Village, Belmont, East Nashville, Germantown—that's all exciting, there's always lots going on," says Dr. Fish. "As a physician though, I feel like there are times when you need to get away from all the stimulation and relax and decompress after a hard day."
Fish goes on to say:
We lived in the Vandy (Vanderbilt) area when we were first in Nashville, then we moved to Evanston in Chicago, but when we moved back, one of the things we really sought was what we ended up with—something with trees and woods and a feeling that you weren't in the middle of the city, but close enough to be available for emergencies.
Balance
While Dr. Fish admits that he and his family considered moving years ago, he says that the convergence of factors—quiet, proximity, and affordability—made West Meade the most reasonable choice for his family. "We looked at a lot of homes in a lot of neighborhoods, and we could find lots that we liked better than ours, but they tended to be further away. And we found homes that we liked better than ours, but on smaller lots in much busier areas."
Reflecting on the qualities of West Meade that have made it a welcome escape, Fish says:
I think it's remarkable for us that we live in a home where we see deer in our yard more days than not. We have groundhogs, we regularly have owls—even mating pairs of owls—foxes, coyotes, and the occasional snake. It's just amazing to have all this nature around us, yet be less than 20 minutes from work. It's a nice nature getaway in the city.