Las Vegas Local Life
A Neighborhood Guide to Unique Drinks in Las Vegas
When you're in Las Vegas, you're never too far from a bar, cocktail lounge, or local watering hole. The bar and cocktail scene in the city is anything but average, with numerous spots where you can find some pretty outrageous cocktails. No matter what neighborhood you're in, there's a chance you'll find a unique drink worth trying. Here's a neighborhood guide to where you can find some of the most unique drinks in Las Vegas.
The Strip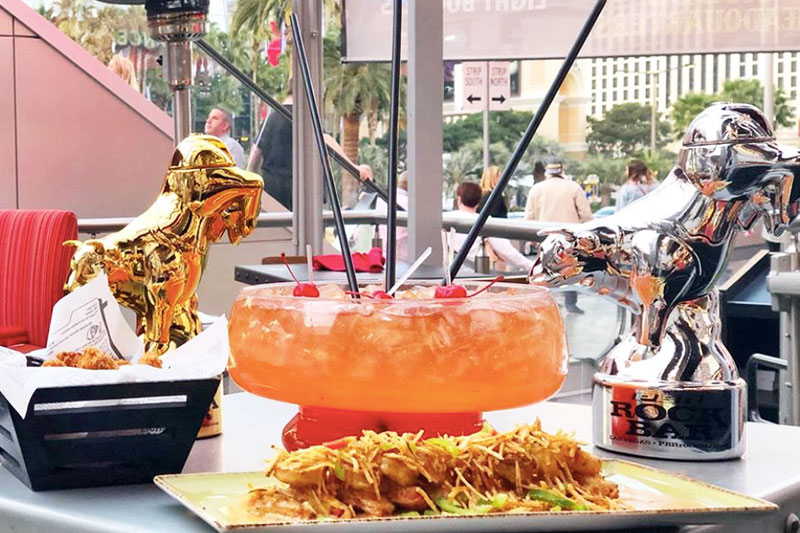 The Strip is the most famous neighborhood in Las Vegas, and it's also the one place in town where you'll find a wide selection of unique drinks to try. The Strip is known for its eccentric and excessive vibe, and PBR Rock Bar & Grill lives up to that reputation. One of their most popular specialties, which you'll see all over their Instagram page, is their 100-ounce cocktail bowl. Yes, you read that correct, this special drink holds 100 ounces of liquor and comes in five varieties: The Real Deal Margarita, Southern Hospitality, Wild Thing, Peach Punch, and Caribbean Sunset. With 100 ounces of this mixed cocktail, we're sure you'd be happy to share it with friends.
In business for more than 40 years, the Fireside Lounge inside the iconic Peppermill is another establishment offering a unique bar experience. This combination of an old Las Vegas-style coffee shop/diner and 24-hour cocktail lounge is what makes the Fireside Lounge a comfortable place to eat a hearty meal and try some of the most unique drinks in Las Vegas. Listed as one of the city's most unique bars by Vegas.com, this 24-hour spot is known for its iconic and oversized Scorpion. This 64-ounce specialty cocktail consists of Myer's dark rum, vodka, cherry brandy, sweet and sour mix, grenadine, and vanilla ice cream. Come for the food, stay for the drinks.
Downtown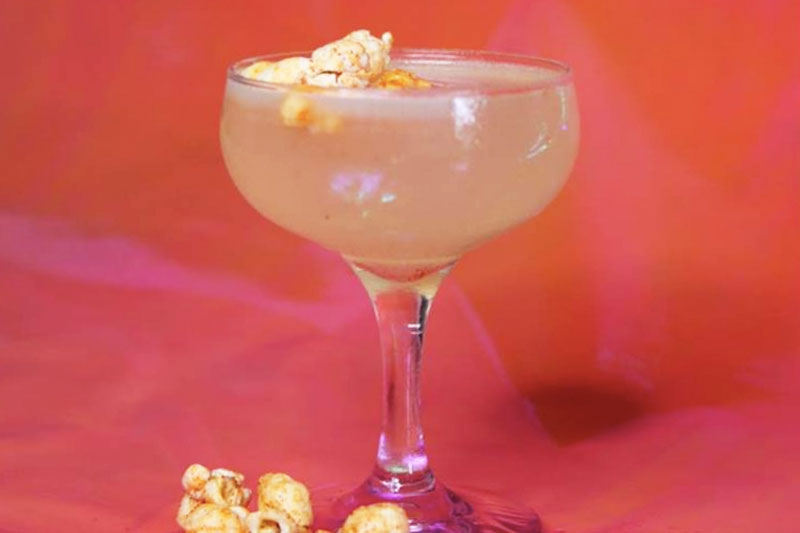 If you're in the mood for an exotic drink but not in the mood for The Strip, one neighborhood to consider is Downtown Las Vegas. For something unconventional, the Velveteen Rabbit takes the cake. This craft beer and cocktail lounge is located in the Arts District of downtown and features a long list of unique cocktails. All of their creations are one-of-a-kind thanks to their unusual combination of ingredients that somehow mix well together. Velveteen Rabbit was awarded the "Most Unique Libations" by Las Vegas Weekly in 2016. Some of their notable drinks include the Bong & A Schlitz with butter and cream cheese-washed bourbon, blueberry-hemp syrup, and American lager. If you enjoy popcorn then you might like the Pop's Secret specialty drink, which has popcorn infused mezcal, Strega, lemon fennel bitters, and paprika. And if you want something spicy with a hint of sweet then try the Beatriz & Juana, which has cachaca, mezcal, New Mexico spiced honey, lemon, grapefruit, and bee pollen.
With locations in downtown, Summerlin, and The Strip, Nacho Daddy is another well-known spot in Las Vegas for unique drinks. Their most talked-about beverage on their menu is the Scorpion shot, which is indeed a shot of liquor with a real scorpion inside of it. The best part about this shot isn't the souvenir glass it comes in, but the fact that the scorpion is so big that it needs to be chewed to go down. But if you can't handle eating a real scorpion with your shot, you can always choose from their food menu, which includes a wide selection of Mexican fare from burritos and enchiladas to nachos and tacos.
Spring Valley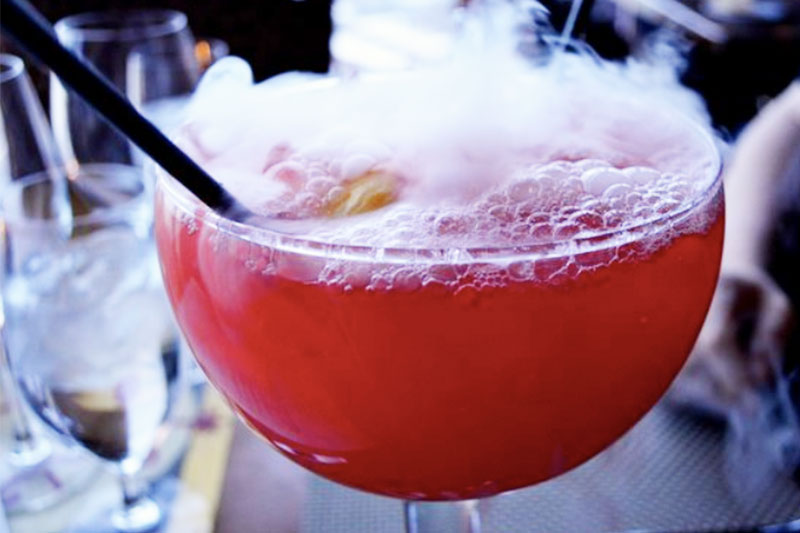 Spring Valley offers a little bit of everything within its 34 square miles of land. Within Spring Valley, you'll find Chinatown which is full of excellent food and hangout spots, as well as a number of casinos that attract both locals and tourists. The Rio All-Suite Hotel and Casino, is home to the Voodoo Lounge that has an extensive and fun drink menu, including their most popular drink called the Witch Doctor. It has Bacardi, Captain Morgan, Malibu, Peach Schnapps, Cruzan pineapple rum, and Cruzan raspberry rum, all mixed with sour and pineapple juice. But what makes this drink appealing is that it's served in a colossal glass filled with dry ice, which makes the presentation even more entertaining.
Paradise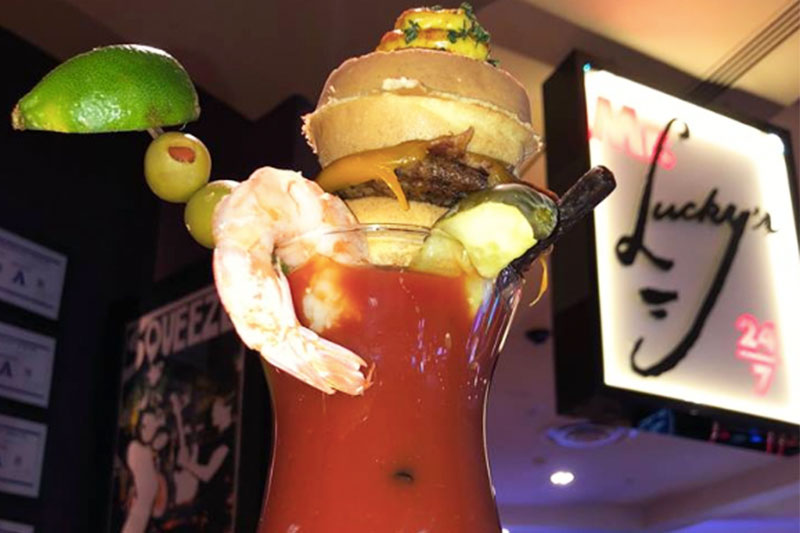 Paradise features numerous bars, cocktail lounges, and restaurants offering a myriad of specialty drinks. If you live in this area and want to try something different, one place to consider is Mr. Lucky's, which is located inside The Hard Rock Hotel & Casino. Mr. Lucky's has a large selection of beverages, but one of the most unique is the Mr. Lucky's Breakfast Bloody Mary. It contains vodka, bloody mary mix, shrimp cocktail, beef jerky, a deviled egg, celery, pickles, olives, pepperoni, and it's topped off with a waffle breakfast slider, which has sausage, bacon, and cheese. It's basically an entire meal in a 22-ounce glass that you can enjoy for breakfast or brunch.
Another spot in Paradise and just one block south from the Hard Rock is the Double Down Saloon, where you can find some interesting and unusual drinks. This hole-in-the-wall dive bar is famous in the city because of its punk vibe and live music featuring local musicians and artists. It's also home of the legendary drink called Ass Juice. P Moss, the owner and creator of this unusual drink, discussed his invention in this Vegas Seven article and explained that it started out as a liquor promotion gone wrong that just stuck and has now gained popularity. As if the Ass Juice shot couldn't get any better, you can also order it in a souvenir toilet shot glass.