National Local Life
Atlanta Music Venues That Anchor Their Neighborhoods
Atlanta has a special culture that's extremely varied but tied together by its Southern identity while being uniquely Atlantan. Atlanta's vibrant diversity is expressed through the local music scene, where hip-hop, metal, singer/songwriter, and many other genres thrive.
Because of this dynamic music scene, there are many home bases for live music shows spread throughout the city, providing wide access to every style of music produced in Atlanta. The mega amphitheaters and stadiums excluded, these are the top destinations for local and touring music performances in Atlanta.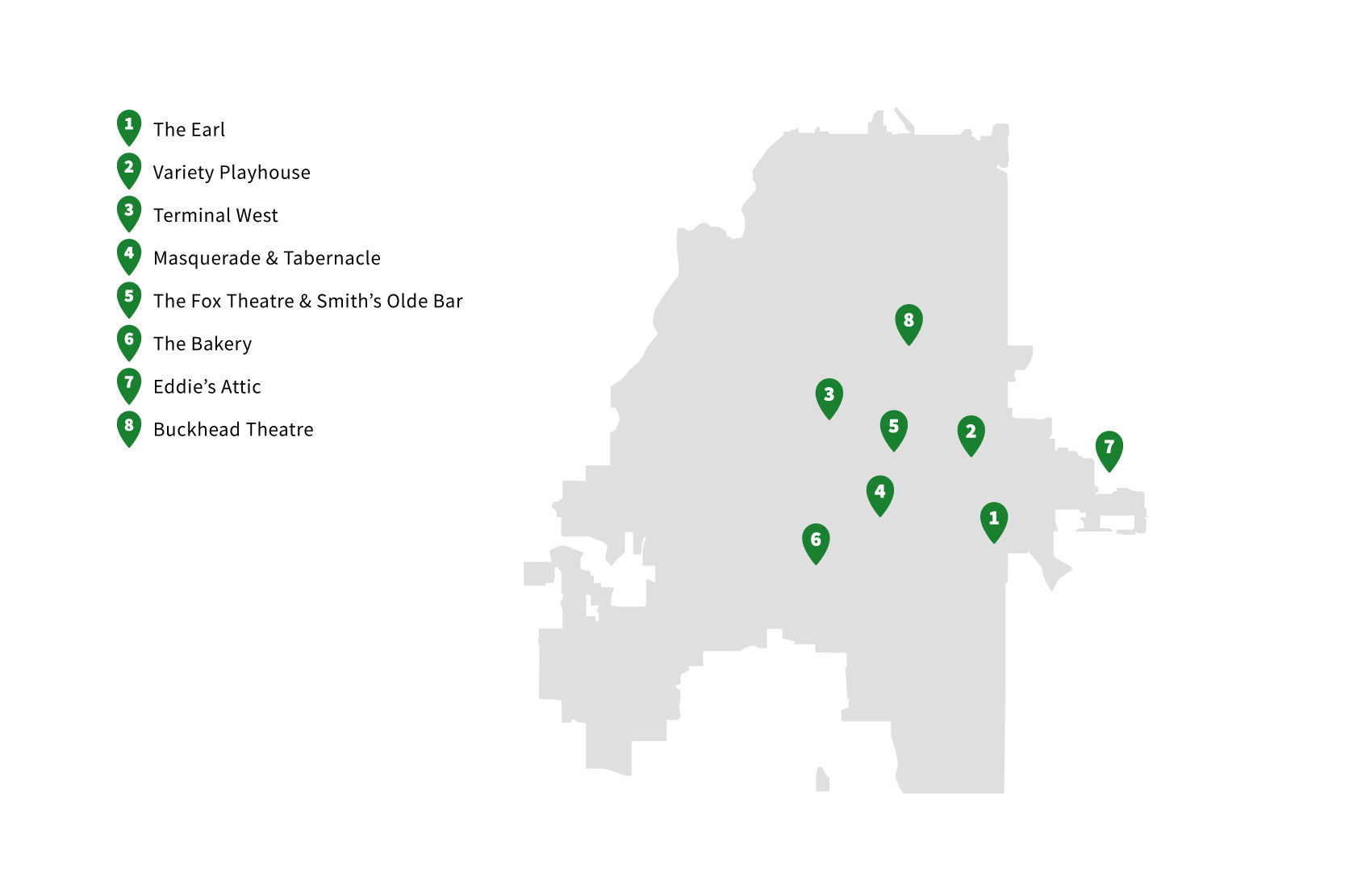 The Earl is an Atlanta rock and roll institution in the heart of East Atlanta Village. This grungy club has a bar with great food in the front and a music venue in the back. It's a favorite among locals to see small, mid-level, and some larger artists, usually of the rock, punk, metal, indie or experimental ilk.
Variety Playhouse is an Atlanta venue with a lot of history, originally built in 1940 as a movie theater, it transitioned to a music venue in 1984 after almost being demolished. In 2016, it was fully renovated and teamed up with fellow music venues Terminal West and The Georgia Theater to develop its own booking and marketing company, Zero Mile.
Variety Playhouse is now one of the top music venues in Atlanta, featuring prominent local bands, large touring bands, and comedians.
Another Atlanta music venue with a storied history behind its walls, Terminal West was originally a plow factory in the early 1900s. It was then converted in 1990 by the original proprietary family into artist studios and living spaces as it still functions today, known as the King Plow Arts Center.
As an extension of the arts center, Terminal West opened in 2012. It's a state-of-the-art music venue with great acoustics, hosting medium to large scale artists focusing largely on indie, rock, electronic, and folk genres.
Formerly operated in a different part of town since 1987, the Masquerade opened its Downtown Atlanta location in the complex known as Underground Atlanta in 2016. This unique Atlanta music venue is divided into three sub venues varying in size, known as Heaven, Hel,l and Purgatory.
The Masquerade is known for its epic dance parties and a diverse range of performers, like rock, pop, metal, punk, electronic and hip hop artists. Seeing a show or going dancing at Masquerade is always an experience.
Another Downtown venue is the Tabernacle located in Centennial Olympic Park, the site of the 1996 Olympic Games. Opened in 1910 as the Georgia Baptist Medical Center and Third Baptist Church, the Tabernacle building laid vacant from the mid-1980s until the 1996 Olympics. Since then, it's been the performance space locals know and love today, hosting a range of acts from comedians to national artists spanning a variety of musical styles.
A night out at the "Fabulous Fox" is a definite must-do—nearly a right of passage—for any Atlantan. The Fox Theatre was established in 1927 and is one of Atlanta's nicest venues to see a major performance.
Located in the heart of Midtown, the Fox is in the thick of all the action, next to hotels, upscale restaurants, and bars. The Fox hosts the biggest shows and names in entertainment, from Broadway plays to internationally known artists, bands, and stand-up comedians.
Smith's Olde Bar is a legendary Atlanta music club opened in 1994 by two partners with a love of music and a connection to Southern rockers like The Allman Brothers. It's a casual, weathered joint with a lot of character that's seen its share of famous and up-and-coming artists over the years. Smith's is the kind of place that comes with a lot of stories.
The Bakery is a special, nontraditional mixed-use space and performance venue in Southwest Atlanta neighborhood Adair Park, a neighborhood with a lot of culture that continues to develop.
The Bakery is an arts complex and community space with a D.I.Y. approach that hosts workshops, community meetings, classes, and live performances several nights of the week. It's an all-inclusive environment that encourages visitors of any background or identity. The Bakery hosts many independent, creative, and experimental artists representing a wide range of musical styles.
Since 1991, Eddie's Attic has attracted up-and-coming singer/songwriters to its intimate performance space with top-quality acoustics. It's appropriately placed in Decatur, a separate little liberal arts town connected to Atlanta. Many successful musicians got their start playing to audiences at Eddie's Attic and it continues to be an incubator for aspiring artists.
Originally opened in 1931, Buckhead Theatre was beautifully restored in 2010, reopening with some major decorative and structural enhancements after renovations. This venue was purchased by Live Nation, which also owns the Tabernacle and the Roxy in Atlanta. Buckhead Theatre regularly sells out national touring musicians and comedians.