National Local Life
Atlanta Neighborhoods for Serious Foodies
Atlanta is big, busy, and ambitious, which accounts for some of its best qualities but also its shortcomings—like high turnover for poorly executed restaurant concepts. The successful Atlanta restaurants—and there are a lot in this food-driven city—are run by genuine, authentic chefs in established neighborhoods with strong, supportive communities. These are the places that outlast the competition and define the Atlanta food scene.
The best Atlanta restaurants show off the high level of talent and skill in their kitchens and the fresh, locally sourced ingredients in their dishes. If you love amazing dining experiences, head to these Atlanta neighborhoods for serious foodies.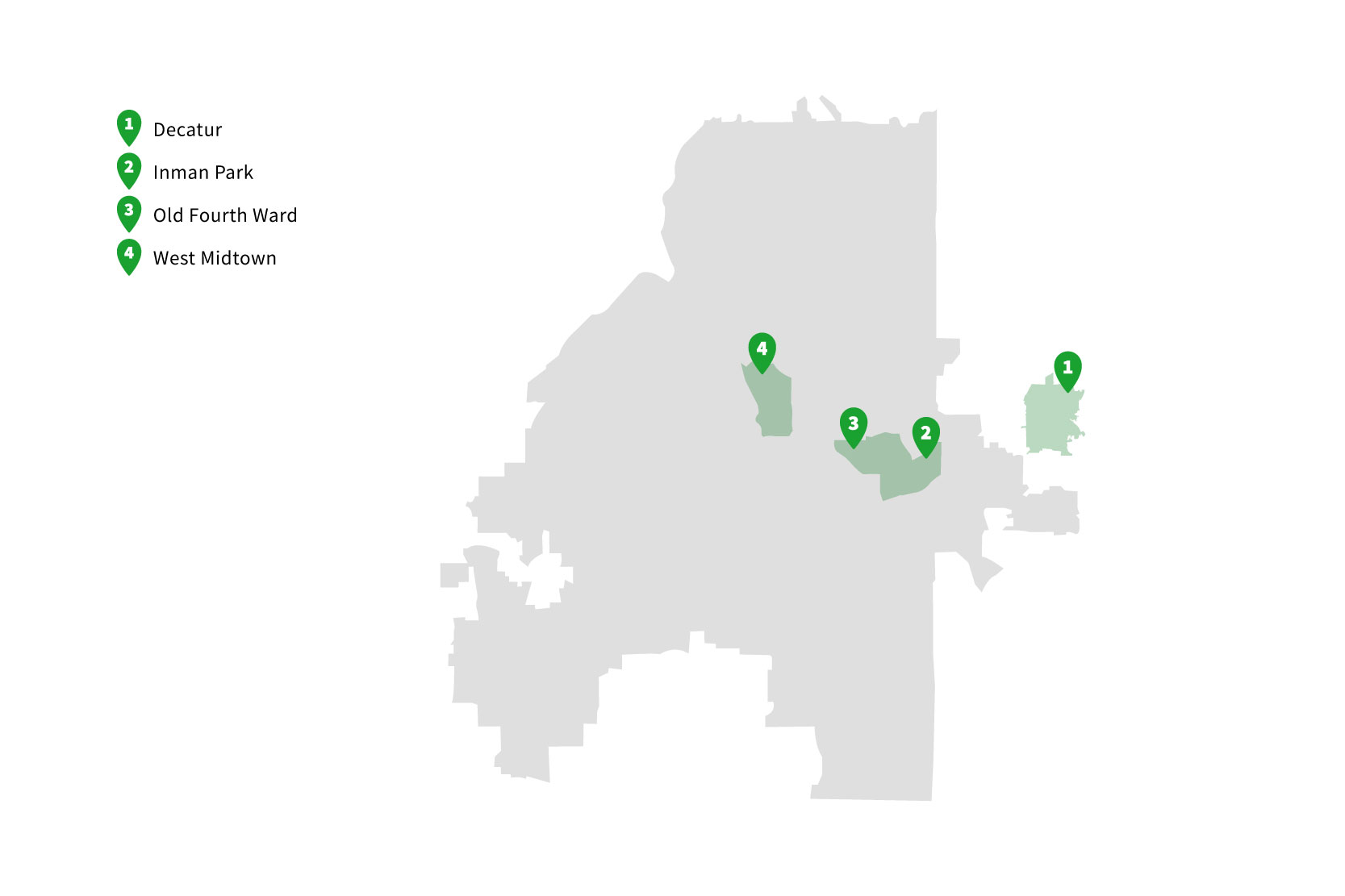 The City of Decatur is both separate from Atlanta and a part of it at the same time. This little town within a city is inside the Atlanta perimeter but has its own government and school system. Decatur has a strong community that's family-friendly, and its downtown happens to have some of the best restaurants in Atlanta that people from all over the city flock to.
Located in a former train depot, this sleek Decatur restaurant has earned much-deserved praise for its food and cocktails since opening. Much more than a seafood restaurant—though their oysters, caviar, and fish dishes are ultimately the star of the show—Kimball House also offers steak, lemon pepper chicken skins, venison, duck, and revamped Southern sides.
The Deer and the Dove serves rustic new American fare in a bright spot along the downtown Decatur square. In their wood-burning oven, they cook duck, venison, and rabbit alongside local fruit and root vegetables. If you're not feeling particularly adventurous, they have a burger, fried shrimp sandwich, pasta, roasted chicken, and other comfort foods. Their beverage selection includes craft cocktails, a variety of natural wines, and microbrews.
Although Buford Highway is the destination for plenty of authentic, delicious Indian restaurants, the best Indian restaurant outside of the international dining corridor is Chai Pani in Decatur. Here, you'll find Indian street food staples in a colorful, bright atmosphere with creative cocktails infused with Indian spices and flavors.
While Downtown Atlanta looks and feels like a bustling metropolis with six-lane highways and skyscrapers, you wouldn't know it in Inman Park.
This beautiful, tranquil neighborhood is one of Atlanta's most historic with large, ornate Victorian-style mansions and grand oak trees creating a canopy over the small, residential streets. Contributing to the high appeal of this Atlanta neighborhood is the selection of amazing quality restaurants.
Ticonderoga Club is where chefs and other food and beverage industry workers go to dine when they're off the clock—so you know it's the real deal. This is one of the many excellent restaurants in the hip Krog Street Market just off the BeltLine Eastside Trail.
Ticonderoga Club has one of the best cocktail programs in the city, a bangin' wine list, and an extremely thoughtful menu of seasonal, shareable dishes featuring fresh seafood, South Asian flavors, and the famous Chuck Wagon: a 48-ounce black Angus chuck roast with sauces, toppings, and sides.
BoccaLupo is a pasta lover's dream, offering a smorgasbord of handmade pastas at their casual, welcoming neighborhood restaurant. In addition to their classic Italian sauces and preparations, the American influence shines on entrees like Southern fried chicken parmesan with creamy collards and fusilli. Besides their pasta, their antipasti and wine selection play strong supporting roles.
Another outpost of the Krog Street Market, Watchman's is the smaller, more casual concept from the Kimball House team. They focus on fresh, sustainable Gulf seafood and craft cocktails. The beautifully appointed restaurant also has an excellent happy hour seven days a week from 5-7 p.m.
For a neighborhood with such rich history (it's the birthplace of Martin Luther King Jr.), it's continually on the cutting edge of Atlanta culture, dining, and entertainment. O4W is where creative, innovative, and daring minds thrive, which translates in its neighborhood restaurants.
If you could only go to one restaurant in Atlanta, it should probably be Staplehouse. The team is doing something very special there, from their artfully crafted plates to their restaurant industry charity, The Giving Kitchen. Their tasting menu changes with what's in season locally and is sure to expand your mind and palate.
In a city with exceptional Italian restaurants, A Mano is among the best. Their classic dishes like carbonara, bolognese, cacio e pepe, and ravioli conjure comfort food bliss in a hip, modern setting that makes for a dynamic dining experience. Don't miss their regular pop-up dinners to try food from some of Atlanta's most exciting rising chefs.
Ammazza is a top contender for the best pizza in Atlanta. They serve Naples-style thin crust pizza with a wide selection of fresh toppings and delicious Italian cheeses. In addition to their pizza, they have fresh salads and a complete wine, specialty cocktail, and Amaro list.
Once, not terribly long ago, Atlanta's Westside was nothing but factories and warehouses. Now, much of this industrial neighborhood has been converted to shopping, dining, and work spaces. We're seeing the growing potential of this neighborhood with some of Atlanta's highest regarded restaurants.
Miller Union proves that Southern food can fall into the fine dining category with the strong vision of owners Steven Satterfield and Neal McCarthy who oversee the food and wine, respectively. For both the wine and the food, they source from sustainable, small-production producers and farmers.
Aziza is an exciting newcomer to the Atlanta restaurant scene, making its case since its opening in summer 2019 in the hip Westside Provisions District. Their modern Israeli cuisine features house-made hummus, whole-roasted vegetables, and grilled fish and meats. Their twist on traditional Israeli food suits the industrial exposed brick, light fixtures, and overall Westside design vibe.
While there are plenty of other stylish and trendy Westside restaurants that could round out the list, Nuevo Laredo requires a ranking. It's arguably the best Mexican restaurant in Atlanta with no frills—just straight up delicious Tex Mex. We're talking queso, margs, and entrees like burritos and enchiladas where no cheese or sauce is spared.