Houston Real Estate Development
Balmoral Master-Planned Community to Include First-of-its-Kind Crystal Lagoon
When it comes to master planned communities in northeast Houston, one of the first places that comes to mind is Kingwood. However, for anyone who wants to live a little closer to the heart of the city, Balmoral may make for a better location — especially since it'll be home to a massive lagoon.
This Humble master planned community, which opened in 2017, is the product of Land Tejas, a developer that has built properties from northern Houston to southern Pearland and beyond.
Land Tejas originally purchased the land almost a decade ago, but the company let it sit undeveloped for years as it waited for a better time to begin construction on the property. It acquired additional land in the area in 2016 as it continued to buy up new property for Balmoral. Part of the reason the developers waited on building homes was that they were trying to create one continuous tract of land to start construction. Eventually, the developers acquired a total of 580 acres.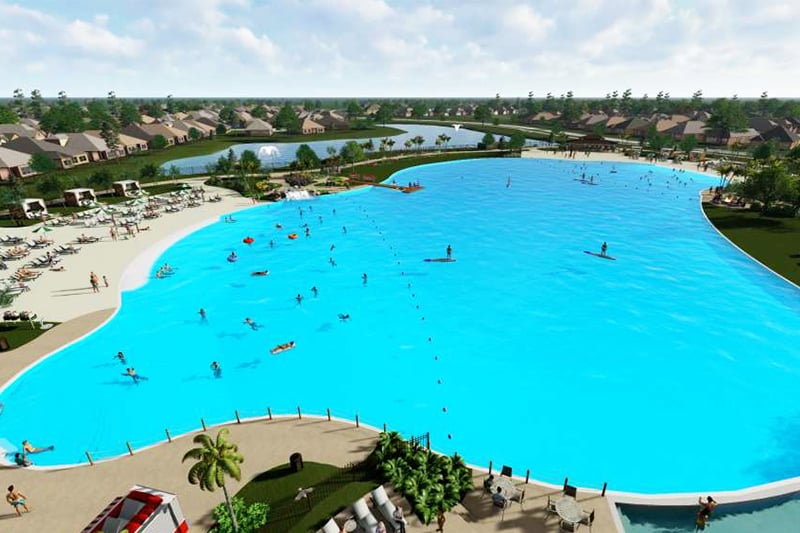 The original intention was for the property to include 1,700 homes. The name Balmoral itself was taken from Balmoral Castle, a holiday home in Scotland favored by the Queen of England. However, while the community carries a royal name, the prices remain very down to earth, with homes starting at the low $200,000s. The developers conceived of a community filled with lakes, trails, and parks. As they continued to develop the property, Land Tejas began to integrate new ideas into their plans. These new amenities included a sand beach, fitness center, clubhouse, resort style pool, splash pads, volleyball courts, and playgrounds.
However, the amenity that might be the most attractive to potential residents is the Crystal Lagoon that Land Tejas has planned for its residents. The developers first broke ground on the lagoon in 2017 with the intent of completing development by the summer of 2018. The lagoon will be centered in the middle of Balmoral's "Amenity Village," an 8-acre stretch of land that will include most of the community's amenities, such as the clubhouse. Guests will also be able to look forward to an area where food trucks sell a range of food for anyone visiting the village
As for the lagoon itself, it will eventually encompass two acres of land with white sand beaches and waters that go as deep as eight feet. The developers intend the lagoon to be used by not only swimmers but also kayakers and guests on paddle boards. When completed, the crystal lagoon will be the first of its kind around Houston. Using Crystal Lagoon technology, a "pulse-based disinfection system" allows for 100 times less chemical disinfectant than a typical swimming pool. This technology also keeps the lagoon bluer as the water gets deeper.
The lagoon is going to be an amenity that no other community around Houston currently offers, and it's likely to be a big draw for homebuyers looking for a suburban retreat.