Dallas-Ft. Worth Local Life
Best Neighborhoods to Watch College Football in the Dallas Area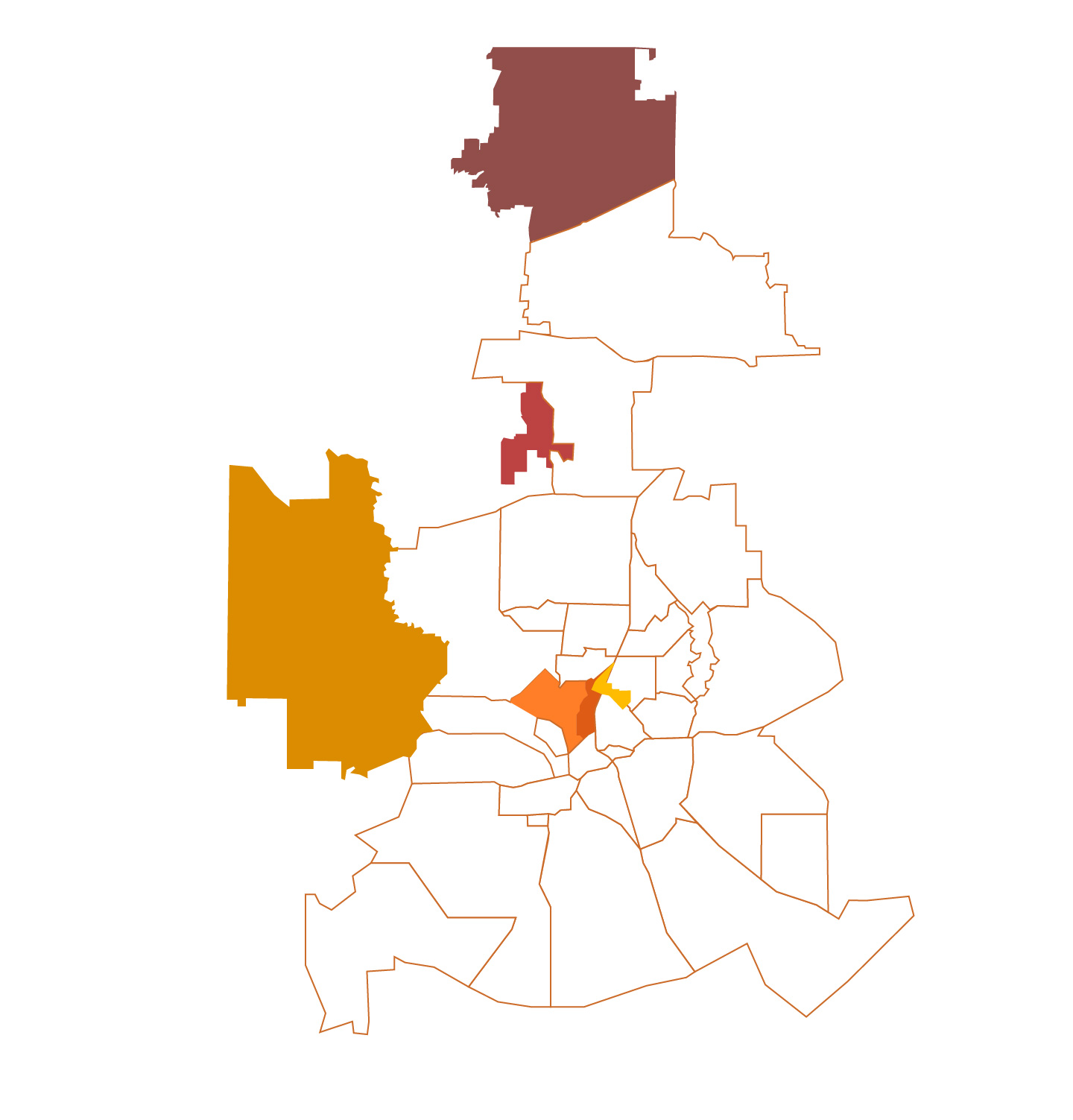 Let's be clear about one thing: Texas is a football state. It's home to two NFL football teams, high school football teams that influence the culture (see "Friday Night Lights"), and a slew of top-ranking D1 football teams at University of Texas, Baylor University, Texas Tech, and TCU. Dallas residents love football as much as any other Texas city; they come out in droves during college football season to enjoy games at one of the many sports bars and restaurants in town. Find out which neighborhoods in the DFW are the best to catch a college football game—because if you can't be at the game, you might as well be surrounded by other fans.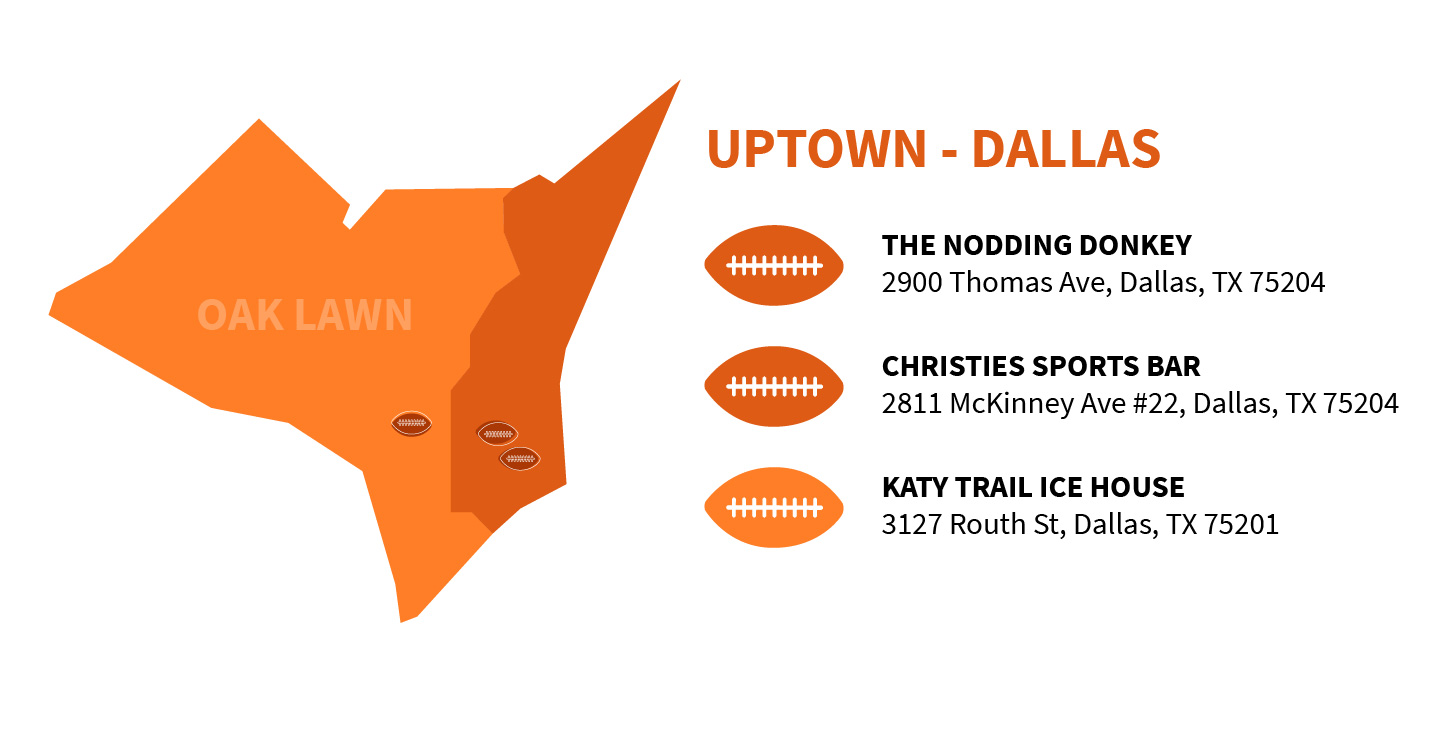 College football lovers are drawn to the central Dallas neighborhood on game days and there are lots of reasons why. Uptown has many sports bars and restaurants with flat-screen TVs tuned into the biggest games of the day. Some popular spots include the The Nodding Donkey and Christies Sports Bar, as well as Katy Trail Ice House which has a lively patio. It also doesn't hurt that Uptown is very walkable, making it easy to bar hop between restaurants and bars if you're looking for a particular game.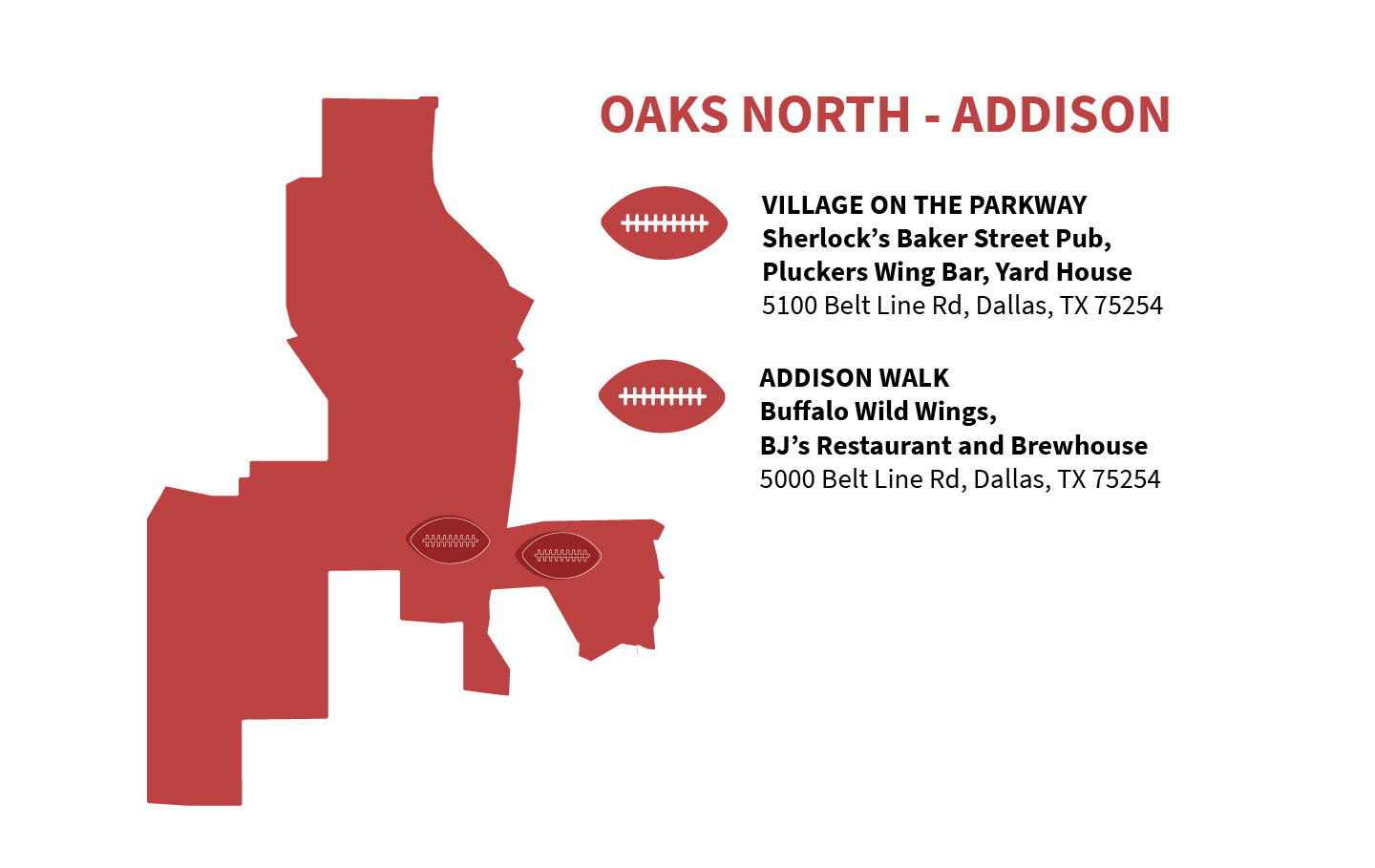 Addison's Village on the Parkway, an outdoor shopping plaza with a lot of bars and restaurants filled with flat-screen TVs, is a go-to for college game days—especially for Oaks North residents. Some of the spots in the plaza include Sherlock's Baker St. Pub, Pluckers Wing Bar, and Yard House. Just next door is Addison Walk, a similar plaza with a number of other sports bars like Buffalo Wild Wings and BJ's Restaurant and Brewhouse. In this neighborhood, it's pretty easy to visit a different restaurant for every college game of the season.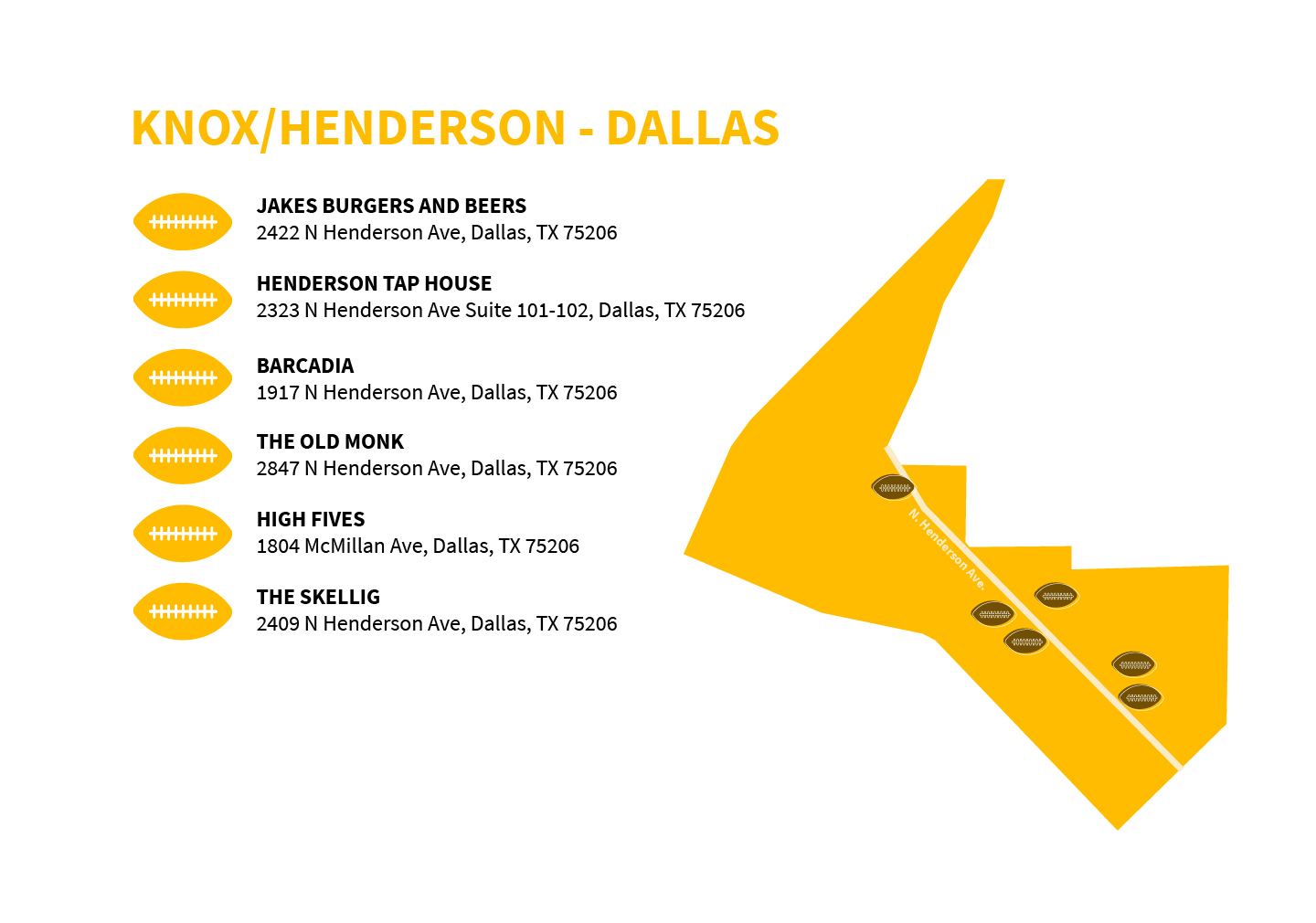 The Knox/Henderson area is home to a lot of low-key sports bars and restaurants that make for some of the best college football watching opportunities in Dallas. Henderson Avenue is your best bet to find these places. Henderson Tap House is a favorite sports bar with delicious pizza and tons of TVs. Jakes Burgers and Beers is a similar sports bar a block down the street. Barcadia, The Old Monk, High Fives, and The Skellig may not be sports bars per say, but they have TVs and understand the need for residents to watch a game on college football days.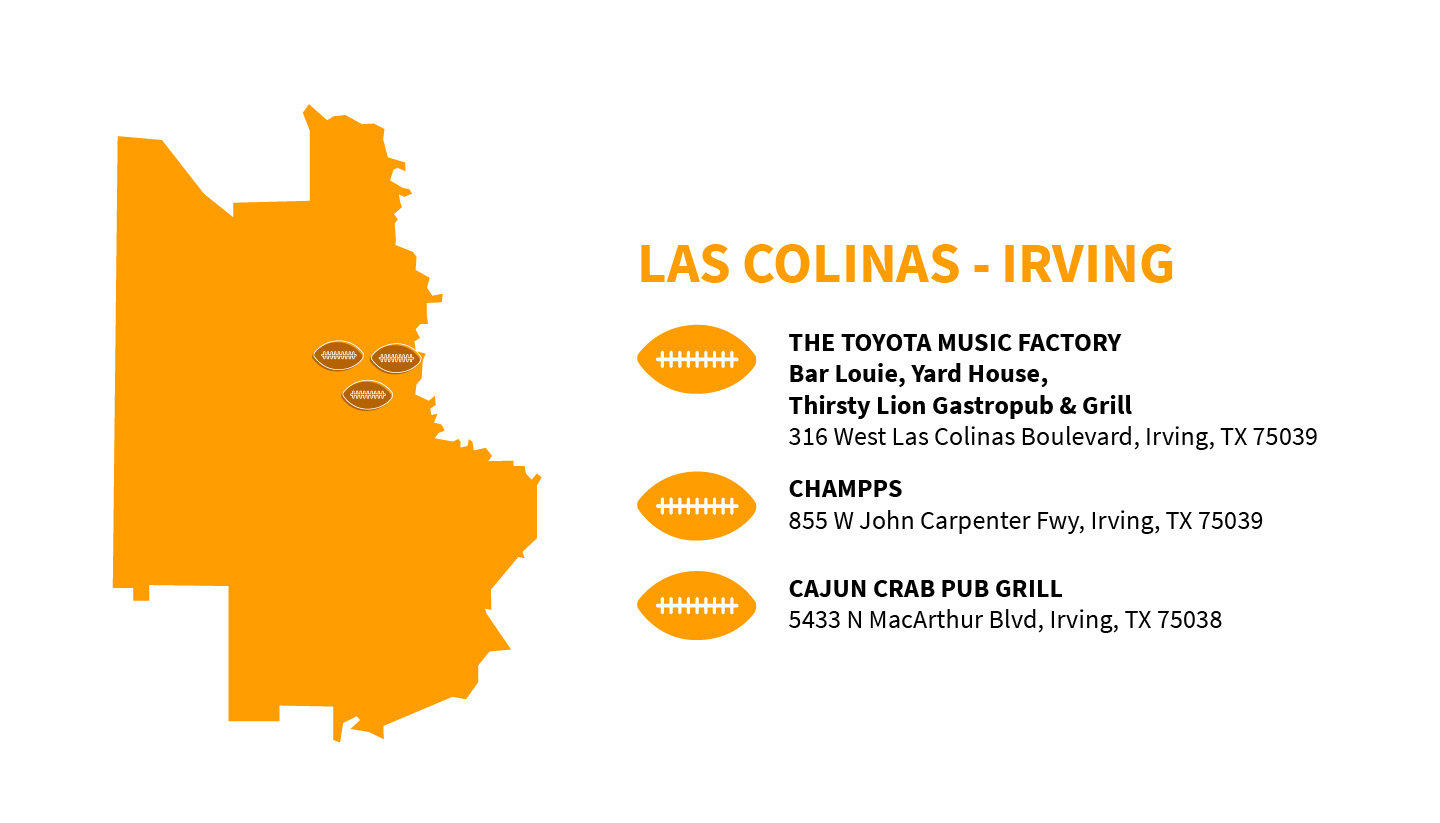 Irving used to be the home of the Dallas Cowboys Stadium, but even after it moved to Arlington, the folks in Irving didn't give up their love for football. Irving's main entertainment destination is also the place to catch college sports. The Toyota Music Factory entertainment complex is a good jumping off point to catch a college game with sports bars like Bar Louie, Yard House, and the Thirsty Lion Gastropub & Grill. Though they're not in the Toyota Music Factory, Champps and Cajun Crab Pub Grill are also worth checking out on college football game days.
Frisco is home to the Dallas Cowboys Training Facilities, so it only seems right that there are plenty of places nearby where college football excitement will be thriving on game days. Presmont is one of the closest neighborhoods to The Centre at Preston Ridge, an entertainment area with chain restaurants like Buffalo Wild Wings, Twin Peaks, and Applebee's, many of which will have TVs playing college football games. For something that feels a bit more local, check out Mash'd or the nearby City Works.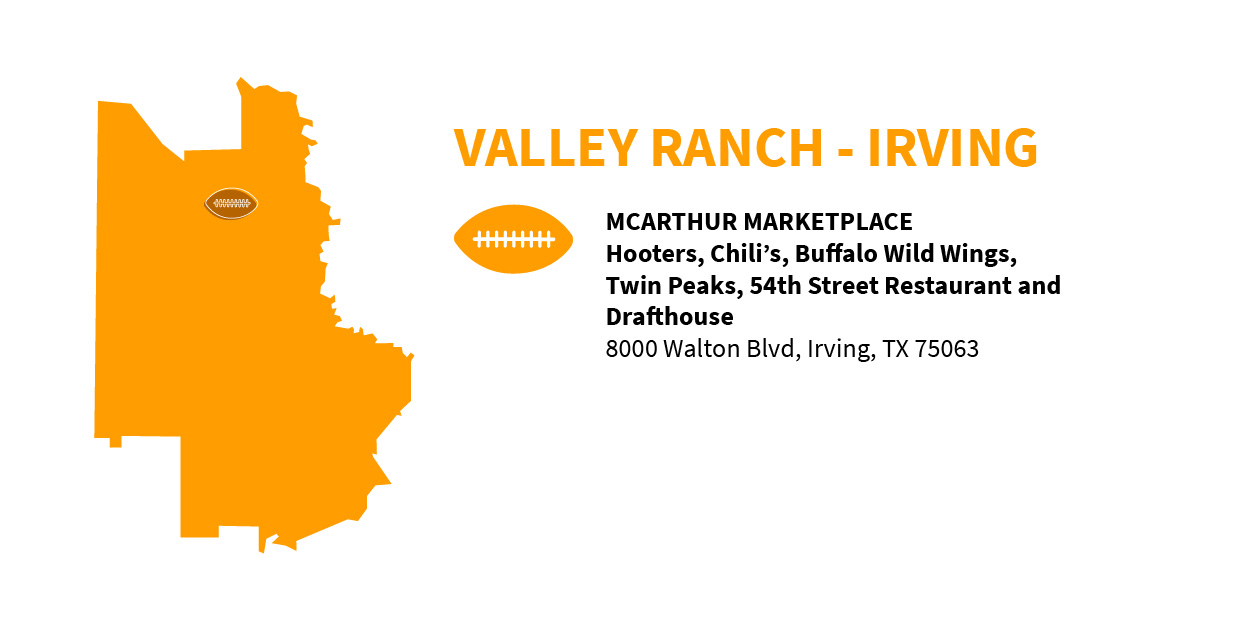 College football fans who live in Valley Ranch, Irving, have it made being next to MacArthur Marketplace, where Hooters, Chili's, Buffalo Wild Wings, Twin Peaks, and 54th Street Restaurant and Drafthouse all line the lower end of the marketplace right next to the Lyndon B Johnson Freeway. You can bet all these places will have their TVs set to the biggest college games in the region while serving plenty of food and alcohol to enjoy during.