Dallas-Ft. Worth Real Estate Development
Builder Takes Frisco Buyers to the Future With Nation's First Self-Sufficient Homes
Frisco is a site of innovation, including flying cars and smart-city technology, and there's even more exciting progress coming to the growing suburb.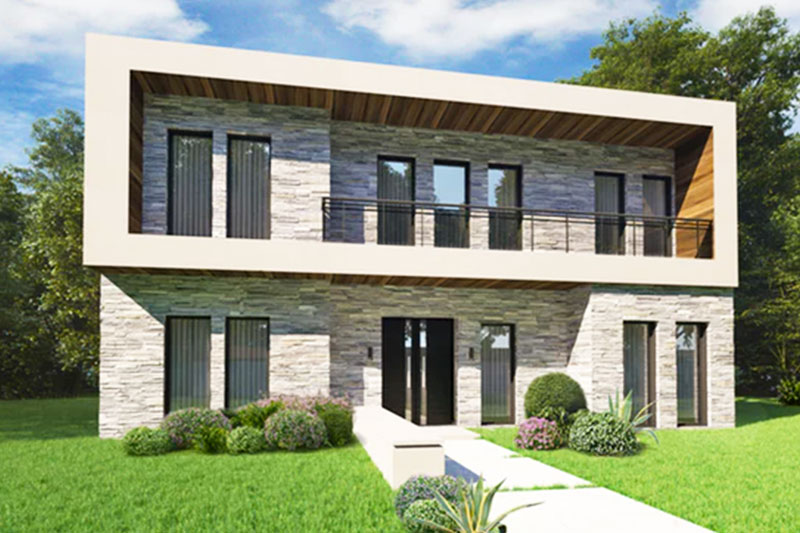 The Texas Modern
Builder Jimmy Tanghongs is offering homebuyers a peek into the future with his new single-family home community located west of the intersection at Sunset Drive and Preston Trace Boulevard in Frisco: The first neighborhood of self-sufficient houses in the United States. The Texas Modern homes will not only generate their own power with dozens of hidden solar panels, they'll contain maintenance-free exteriors constructed with brick and stone facades and commercial grade roofs.
You won't find any Craftsman, Southwestern, English Tudor, or other traditional home designs here because there's nothing traditional about this neighborhood. The Texas Modern home motif, a product of Tanghongs' The New Modern Home company, offers an ultra-contemporary look to match state-of-the-art functionality.
Though Tanghongs just broke ground on the 22-home development, he's already pre-sold the first two houses. While charging stations for electric cars are standard features, homes come in five floor plans that range from 2,000 to 5,000 square feet, and price points run from below $500,000 to over $800,000.
Eliminating Electric Bills
With Tanghongs' passion for conservation, his background in electrical engineering and technology, and his love of real estate, he was a natural at creating the Texas Modern home concept.
While working in the telecom industry in Collin County, Tanghongs started dabbling in real estate by purchasing, renovating, and flipping fixer-uppers. But after sinking thousands of dollars into building materials for a decade, he opted to explore more durable homebuilding ideas, which led him to his brainchild and the founding of his Plano-based company The New Modern Home, where he serves as president and CEO.
Though energy-efficient, green building practices used by other home builders help minimize electric costs, Tanghongs' homes can eliminate electric costs. And homes that generate excess energy can also generate profit for the homeowners.
Compared to traditional green building techniques, the key to Tanghongs' success at jettisoning electric bills is a methodical formula of home design, construction, and building materials.
"It's not as simple as installing a few solar panels on any home to make a $0 electric bill possible each month of the year," Tanghongs told Neighborhoods.com. "In fact, some cities don't even allow solar panels installed on the roof of homes if [they] would be visible from the street."
Though a short parapet wall around the roofs of Tanghongs' homes adds depth and dimension to each modern design, it also hides the solar panels from street view and makes these houses code-compliant in any city.
"We can cover the roof of the home with 60+ typical sized solar panels—producing huge amounts of power," Tanghongs said. "Additionally, it really takes a combination of materials that we use to achieve $0 electric bills."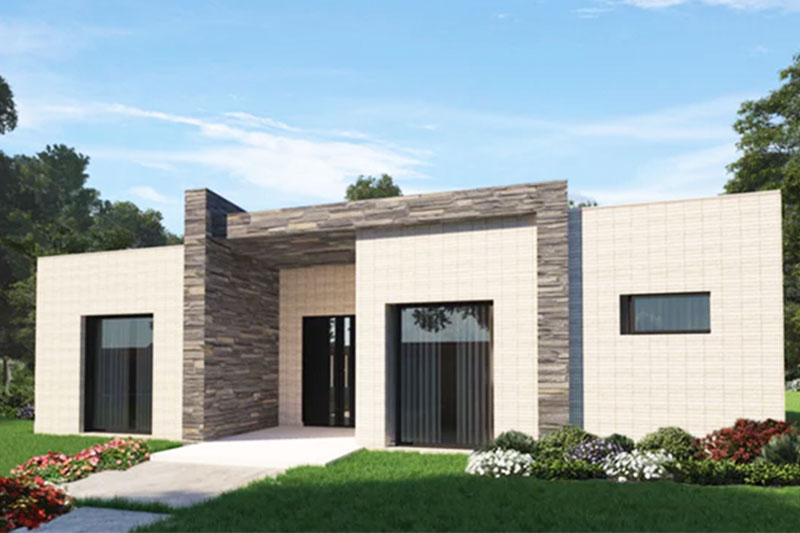 Reinventing Homebuilding
Besides installing top-quality, energy-efficient windows and doors throughout each house and spraying nearly 6.5 inches of foam into exterior walls and under the roof, the highly reflective white roof reflects 90 percent of the sun's rays away from the home.
"I am here for the long run," Jimmy Tanghongs said in a televised NBC DFW interview. "I plan to be building homes for the next 20 years, and I think over the next five years, 10 years, 15 years, this is how all homes will look, and this is how they will provide value for their homeowners."
Tanghongs has gotten an up close and personal view of the energy savings and value proposition of his new homes. Besides being the mastermind of The New Modern Home, he is likewise the company's first customer. In late 2017, the company built its first house in North Frisco, and that 3,600-square-foot prototype with four bedrooms and 40 hidden solar panels is where Tanghongs and his young family have since called home.
This year's hot Texas summer was the ideal scenario for Tanghongs to test the maximum effectiveness of the solar panels, especially in July when a string of days with temperatures of over 100 degrees added challenges to the D-FW power grid. Despite the scorching heat that month, Tanghongs' prototype home produced enough electricity to qualify for a $27 credit from its energy provider.
"Typically, you might have a $200 electric bill per month [in a house this size], but not only are we able to eliminate the electric bill and to have zero electric bill, but we can also charge our electric cars we are producing that much power," Tanghongs told NBC DFW.
He plans on building a model home in the development soon, and he's working with Thrive Mortgage and Origin Bank to provide financing on the homes.
Since announcing his new neighborhood, Tanghongs and The New Modern Home have been the talk of the town around Frisco and in media coverage throughout Dallas-Fort Worth.
"This is a great new development," Tony Felker, president of the Frisco Chamber of Commerce, told the Dallas Morning News. "These homes are state of the art. It's something that hasn't been seen anywhere else."