Los Angeles Neighborhood News
Commuter Ferry Floated as Potential Solution for Los Angeles Traffic
Traffic is one of the Los Angeles area's defining traits and perhaps no freeway in the region is more synonymous with gridlock than Interstate 405, running (generally) north to south through the county. Billions of dollars have been dumped into making the busy thoroughfare more manageable, but no one's ever really noticed much of a difference.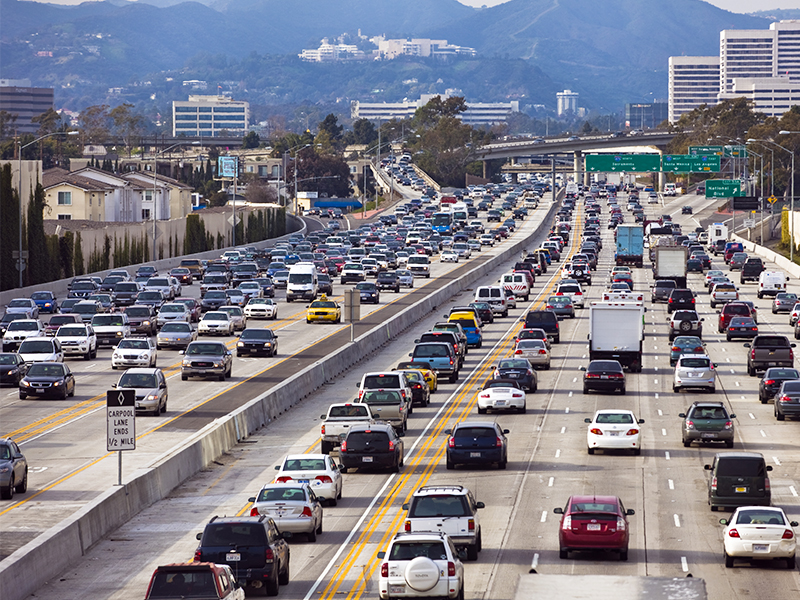 The 405 also isn't the only packed roadway on the Westside, with Lincoln Boulevard/Pacific Coast Highway, Santa Monica Boulevard, The 105, and Vista Del Mar (among others) all getting their fair share of cars each and every day. Solutions like congestion pricing might address the major freeways, but not those roads that run straight through the cities.
Recent expansions to Los Angeles County's rail system have broadened its abilities to service passengers from east to west, though it's still among the country's most expensive to operate. And its north-to-south options are limited to El Segundo's Green Line, which is too far inland to help many coastal commuters.
The latest solution potentially gets around a lot of that, however. Curbed LA recently discussed the logistics of a ferry for the Westside, running from Malibu all the way down to Redondo Beach. One proposed plan, from former USC student David Bailey, saw four main ferry terminals running from existing piers in Malibu, Santa Monica, Manhattan Beach, and Redondo Beach. At 27 knots, it would take just under an hour to get from Malibu to Redondo Beach, versus an hour and a half (at best) driving during rush hour.
LA's other major ferry idea is the Ocean Ray, which would include stops at Paradise Cove, Malibu, Santa Monica, Venice, Marina del Rey, Manhattan Beach, Hermosa Beach, and Redondo Beach. Connecting shuttles could also run from the Malibu, Santa Monica, and King Harbor (Redondo Beach) piers to nearby rail transportation. One notable difference with the Ocean Ray proposal, however, is that it would only go about five knots, with an eye on more energy efficiency. Ferries typically use a lot of fuel so the team aimed to alleviate some of this concern.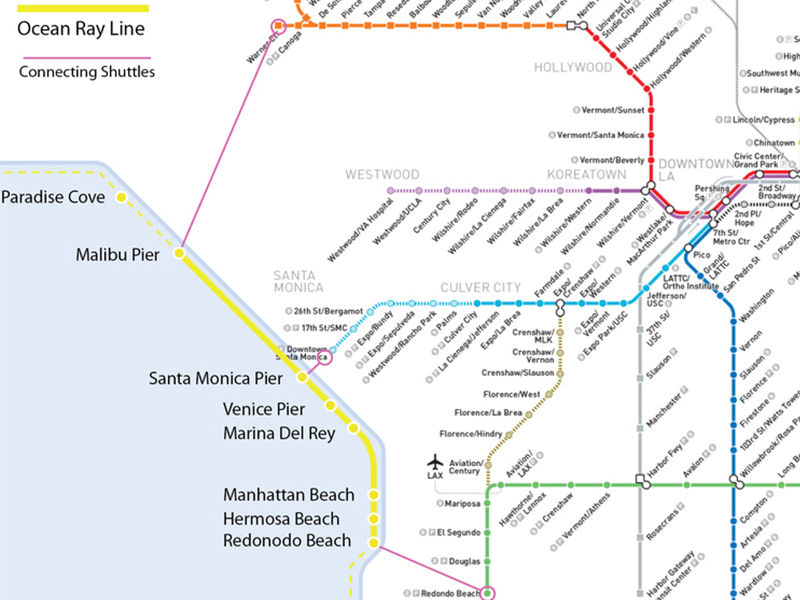 Nothing is officially in motion yet, but the introduction of ferries — already in use in cities like New York and San Francisco — would obviously need to come with some sort of guarantee on ridership. LA Metro ridership was down 19 percent in 2017, as cars were still the preferred method of transportation for Angelenos. A ferry would need a significant number of riders to make the expense worth it to the county and various affected cities.
The Westside and its roughly 1.9 million residents just might be the right audience for it. Given the bike use up and down the coast, many residents may already be used to the idea of foregoing a frustrating drive from one beach city to the next.
Playa Vista, for example, is a burgeoning community for tech firms and supports marketing and advertising agencies, leading to a housing boom of sorts. Avoiding the crowded intersection of Lincoln Boulevard and Jefferson Boulevard alone could be enough to encourage some of those commuters to switch to sea travel.
Given the limited office presence in parts (Hermosa, Redondo) of the South Bay, and this author's personal experience with taking any road northbound from there during rush hour, anything that could even make a marginal dent in the number of cars on the road would be a huge relief for all.
Since most of the neighborhoods that would be involved in a ferry project completely independent of the city of Los Angeles, there's a chance any advancement wouldn't have to wait on the long list of transportation priorities being rushed for 2028. But if there's any county involvement funds-wise (and there likely has to be), a ferry may be taking a backseat until over a decade from now.