Dallas-Fort Worth New Development Drilldown February 2019
Dallas-Fort Worth New Development Drilldown February 2019
While a cooldown does exist, it isn't a dramatic "sky is falling" event. To the contrary, in the Dallas-Fort Worth market, it's the equivalent to a much-needed stock market correction that's normalizing overheated price gains.
Since the Great Recession, median-priced homes in North Texas have skyrocketed 68.5 percent, which continually drew red flags from CoreLogic, Fitch Ratings, and other analysts for unsustainable price growth. In 2018, however, prices rose about 5 percent instead of the double digit and near double digit gains in recent years.
All eyes are on Dallas-Fort Worth for 2019, which is projected to be the second-best year on record for home sales. But besides new homes, massive mixed-use developments—many centered around sports or backed by big names in the Dallas development world—are in the works across the Metroplex.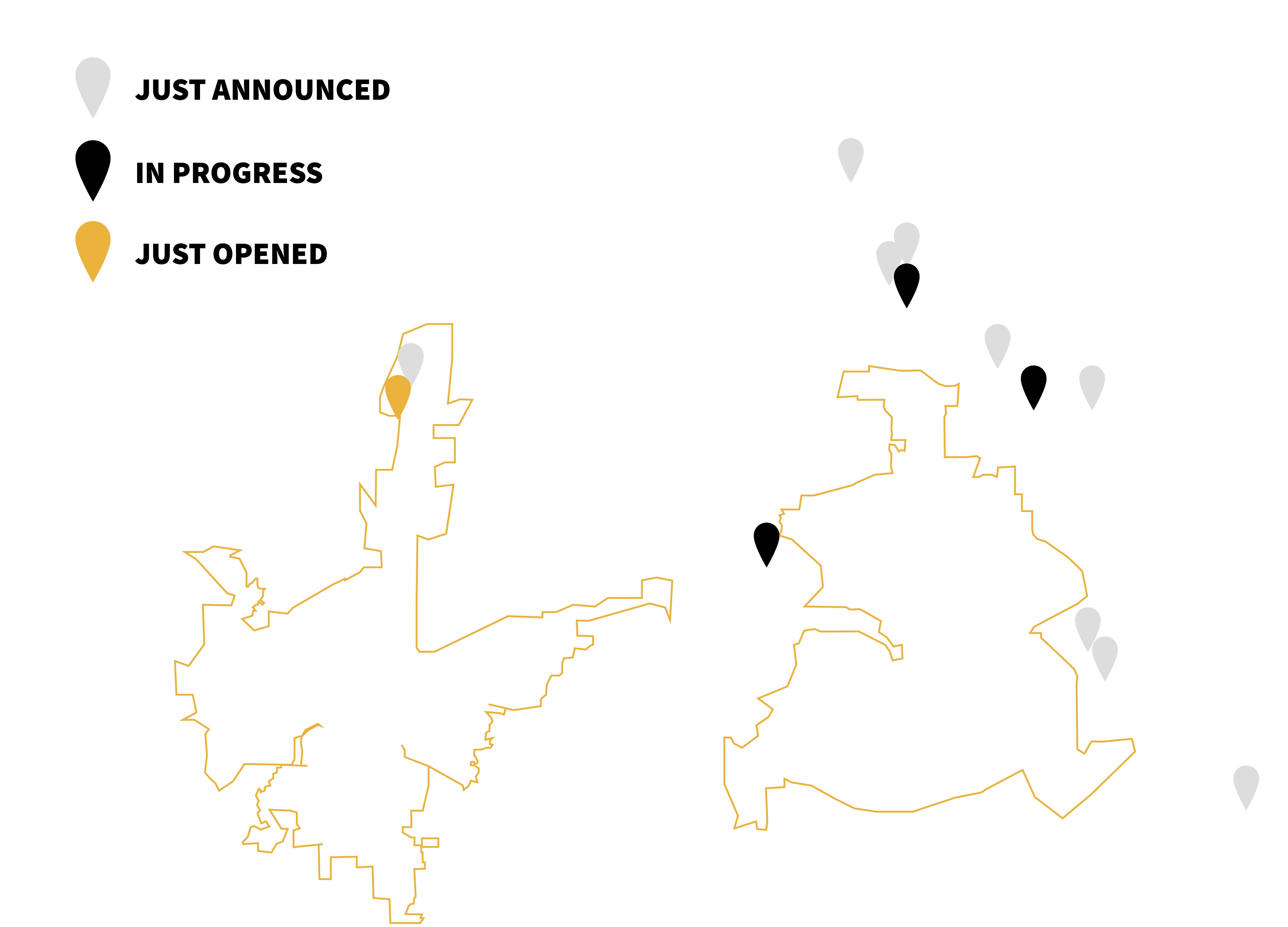 Just Announced
Massive Mixed-Use Developments
The ink was barely dry on a Texas-sized land deal in Frisco when Hunt Realty Investment Inc. and its partners landed an epic anchor for their future mixed-use development. PGA of America, which is relocating from Florida, will be the centerpiece of a 600-acre mixed-use development within the greater 2,544-acre mixed-use development.
In addition to housing PGA's 100,000-square-foot headquarters and education facility, the resort development will include two 18-hole championship golf courses, a nine-hole short course, practice areas, and a clubhouse as well as a 500-room Omni Hotel, conference center, and retail space. Consequently, Frisco will be home to several PGA Championships.
PMB Capital is slated to build The Station, a $250 million mixed-used development in Sachse. Located between Miles and Merritt Roads, the 119-acre project will front both sides of President George Bush Tollway. At build-out, The Station will include 400,000-square-feet of retail and commercial space along with over 600 apartments and more than 250 single-family homes and townhouses built by K. Hovnanian and Ashton Woods.
Moayedi Continues Dallas Development Streak
Developer Mehrdad Moayedi, CEO of Centurion American Development Group, just closed on his purchase of the 37-year-old Collin Creek Mall in Plano, which he plans to redevelop into a $1 billion mixed-use project. Aside from retaining 400,000-square-feet of existing retail space, he projects building condominiums and townhomes, 1 million square feet of offices, and 15 to 20 restaurants.
In Mesquite, Moayedi bought Mesquite Championship Rodeo and Mesquite Arena a year ago, and the City Council recently gave him the greenlight to build Mesquite's first mixed-use development adjacent to Rodeo Center.
Located at LBJ Freeway and Military Parkway, the $116.5 million, 56-acre Iron Horse Village will contain restaurant, retail, entertainment, and office space as well as more than 330 homes ranging from urban rowhomes, single-family bungalows, and townhomes to villas especially for buyers 55 and older.
Growing Business Centers
The Frisco City Council has given developer Craig Hall the thumbs up on his redevelopment proposal to add mixed-use components to Hall Park, the city's largest business center. The sprawling 162-acre development on Dallas North Tollway presently contains 17 buildings that collectively provide the work home to 10,000 employees.
Hall's long-range plan calls for building luxury condo and apartment towers with more than 2,000 units along with service retail and a large Klyde Warren-style park.
Developer Billingsley Co. will soon start the first phase of a new office campus in its International Business Park in Plano. The 300-acre mixed-use development already includes nine office buildings that are 90 percent leased. The first of five new office buildings will be constructed simultaneously with a fitness center, coffee bar, and conference center that will be accessible to the entire business park.
Dallas developer KDC is partnering with Fine Line Diversified Development to build an office campus in the 500-acre Champions Circle master-planned community in Fort Worth. Located across Highway 114 from Texas Motor Speedway, Champions Circle includes several residential communities as well as a 284-room Marriott Conference Center Resort Hotel and Golf Club, the Tanger Outlet Center regional retail complex, and Champions Center shopping center.
The office campus will overlook the golf course and contain over a half dozen buildings. Besides KDC's building and development role, it will be marketing office buildings in the development to companies that need up to 60-acres for corporate campuses.
Grenadier Homes is partnering with Los Angeles-based investor, Resmark Cos., on building two new neighborhoods at Windsong Ranch master-planned community in Prosper. Aside from the villas and townhomes Grenadier has already built at Windsong, the 198 new homes will include 110 two-story townhomes and 88 attached townhomes with one story.
In Progress
Construction is underway on a new mixed-use project at Legacy West in Plano.
Located on the northern end of Legacy West Urban Village, the block-sized development will be a combination office, retail, and apartment building. In addition to a large parking garage, the project encompasses nearly 87,000-square-feet of office space, over 24,000-square-feet of ground-floor retail, and five residential stories with 161 upscale apartments.
Data Centers and Dallas Cowboys
Developer KDC is building a new 130,000-square-foot data center in Richardson's Telecom Corridor. Located in the historic Spring Creek Farms development, the project is south of KDC's $2 billion CityLine development and next door to the State Farm Insurance data center that KDC also built.
Centurion American Development Group is redeveloping the old Dallas Cowboys Valley Ranch Headquarters in Irving into a new home community fittingly called Legends Crossing, and all streets are being named after former star players for the team. The 36-acre development will contain 230 homes ranging from townhouses and villas to smaller bungalows. Pulte is expected to purchase some lots for building urban townhomes and small houses.
Now Open
Champions Center
Champions Center just opened its first phase. Located on Highway 114 in Fort Worth, the shopping center is across from Texas Motor Speedway and part of the 500-acre Champions Circle master-planned community.