Dallas-Ft. Worth Local Life
Dallas Neighborhoods With Lovely Views
Imagine waking up every morning to a glistening skyline or a sunset reflecting on the surface of a clear blue lake. What's inside your home is as important as what you see outside of it. In Dallas, there's plenty of great places to live, but for those who consider great views an important part of choosing a place to call home, check out this guide to the neighborhoods with Dallas' best views.
City Views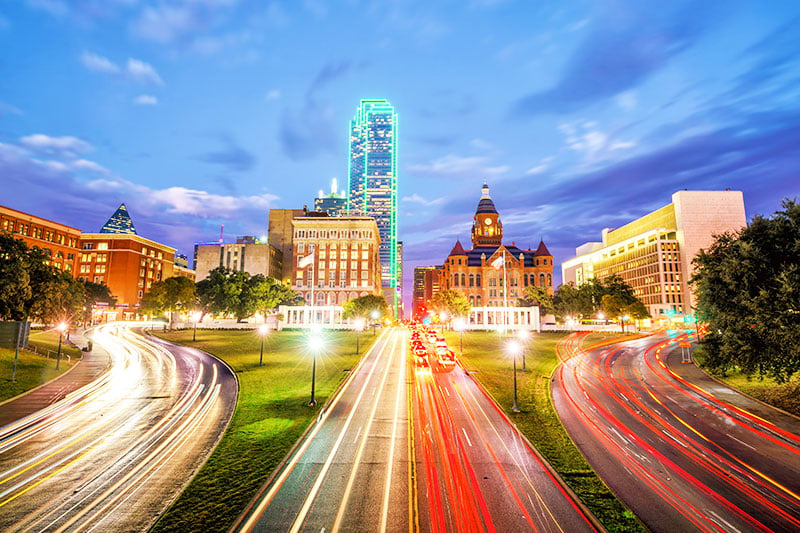 Enjoy the best city views in Dallas from the center of the city—Downtown Dallas. This neighborhood is home to Dallas' biggest high-rises filled with condos and lofts for sale (those can cost you anywhere from the high $100s to $5 million for a penthouse, according to Neighborhoods.com). The higher up you are the better the view, and since downtown is in the middle of the city, you could have views of Uptown, East Dallas, Cedars, and the Trinity River. There are a few high-rise condo buildings outside of Downtown Dallas that offer those great views of the city, and they're mostly located in Victory Park, an entertainment area centered around the American Airlines Center. These high-rise residences will have city views of neighborhoods like the Design District, Oak Lawn, and Uptown.
Lake Views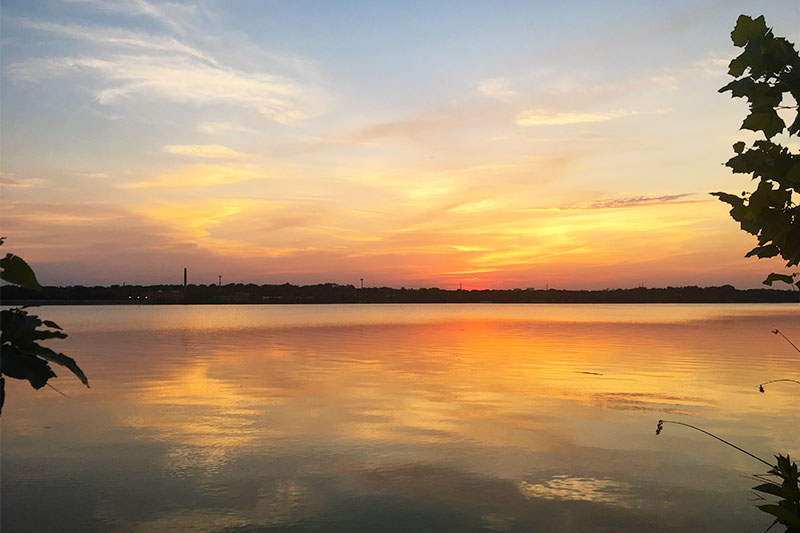 Lake views are coveted whether they're in the middle of Dallas or outside one of Texas' lake towns, and there are some neighborhoods that offer front-row seats to Dallas' few lakes. Those who can afford high-end homes that range between $800,000 and $3 million can consider neighborhoods like Lakewood, Lakewood Hills, Forest Hills, and The Peninsula, which provide views of the beloved White Rock Lake. Those homes closest to the lake are extremely expensive and can cost up to $7 million and typically include more than four bedrooms and four bathrooms.
Just because you can't afford a $1 million home doesn't mean you can't have a Dallas home with lake views. Fish Trap Lake is a small lake with a trail in West Dallas, and while homes don't circle the entirety of the lake, there are parts of the neighborhood on the edge of the lake with midrange homes between $200,000 and $300,000 with three to four bedrooms. Some of these homes offer views of Fish Trap Lake, but know that the pickings are slim. West Dallas is an affordable neighborhood that's making a name for itself as an emerging food and nightlife destination in Trinity Groves.
Kessler is an Oak Cliff neighborhood with a small lake called Lake Cliff. Homes around the lake are somewhat large, with more than three bedrooms and three baths, and have views of Lake Cliff and the greenery that surrounds it. The homes here aren't quite as expensive as those around White Rock Lake but do cost a bit more than those around Fish Trap Lake.
Skyline Views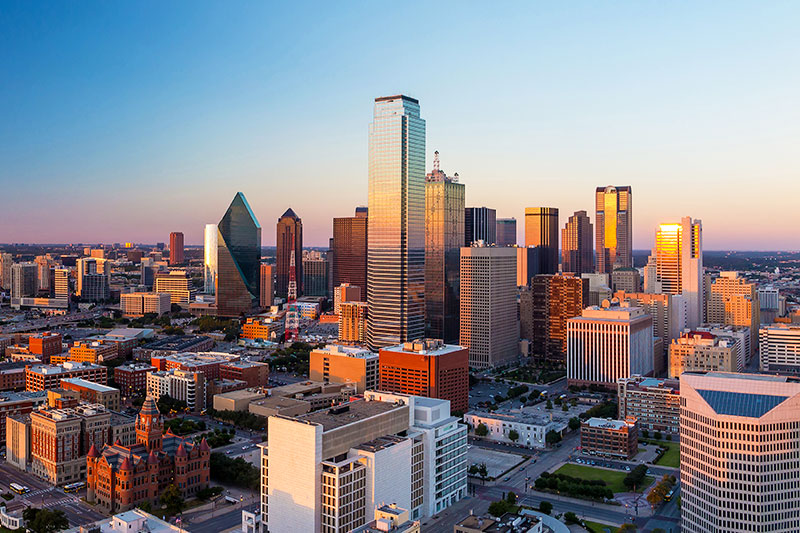 In 2014, USA Today readers voted for Dallas as the best skyline, and thankfully there's plenty of neighborhoods that can view the Downtown Dallas skyline day or night. The Cedars is a South Dallas neighborhood with new condo buildings. Since Downtown Dallas is slightly above the Cedars, you can really see the skyline at night when the buildings are lit in colorful lights.
The same can be said of some of the single-family homes or condos in Kessler, a neighborhood on the north end of Oak Cliff. Deep Ellum, a nightlife district full of galleries, bars, restaurants, and live music venues, has a small inventory of condos with views of the Dallas skyline. However, keep in mind that the skyline views from Deep Ellum are somewhat partial compared to those available in the Cedars and Kessler.
For a higher vantage point of view of the downtown skyline, check out the high-rise condos in Victory Park, a small neighborhood just north of Woodall Rogers Freeway. Finally, Trinity Groves, a West Dallas neighborhood with single-family homes and new condos, offers views of the west side of the Dallas skyline with the Margaret Hunt Hill Bridge in the foreground.
Park Views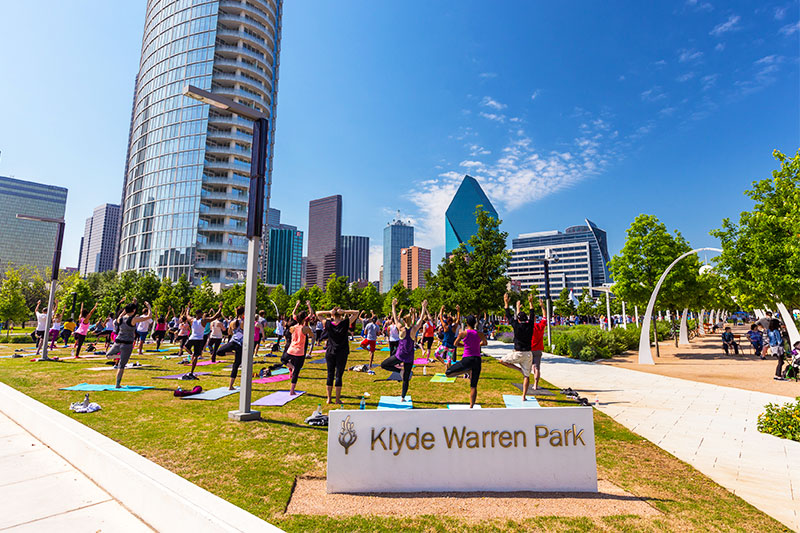 Dallas has some of the loveliest parks in Texas, and those who have residences near them can wake up to green trees and beautiful spaces. Uptown is home to plenty of parks and residences near them. The 588 Lofts features loft-style condos that overlook Griggs Park ranging from $300,000 to $760,000, according to Neighborhoods.com. There are other clusters of condos and townhomes that overlook Cole Park and the Katy Trail.
Oak Lawn, a youthful neighborhood with the popular Cedar Springs nightlife area, has pricey condos overlooking Reverchon Park, while homes in both Oak Lawn and Turtle Creek have views of the parks that surround Turtle Creek. Parks like Turtle Creek and Klyde Warren Park have a smaller pool of residences with park views, so you might want to check out Vickery Meadow, a large neighborhood with a row of homes that line Harry S. Moss Park and the parks along White Rock Creek Trail.