Dallas-Ft. Worth Neighborhood News
Developer Plans Splashy New Redo for Plano's Collin Creek Mall
Developer Mehrdad Moayedi is no stranger at imagining bright new futures for iconic properties. If all goes as planned, one of his next ventures will be modernizing the look and feel of the 37-year-old Collin Creek Mall in Plano.
On July 31, Moayedi's company Centurion American Development Group submitted a contract to acquire the mall-owned portion of the aging 1.1-million-square-foot shopping venue, according to the Dallas Morning News. Since Centurion has 90 days to close on the deal, it could conceivably be looking at a Halloween closing date, which would be quite a treat for Plano officials and regional shoppers.
Since anchor stores own their respective buildings, Moayedi also signed a separate letter of intent on the vacant Macy's building, and he's interested in buying a second structure, according to the News.
Though nothing is ever a done deal in the real estate industry until closing, Moayedi is optimistically moving full steam ahead and discussing his mixed-use construction plans with Plano leaders, including adding residential components to the mix, reconfiguring the mall, and creating some open-air retail space. He told the News he's planning about 800 townhomes, two high-rise condo towers, and an entertainment venue with a "big water feature."
Shopping centers have gone full circle since the 1950s—from open-air centers to enclosed malls and back to open-air centers. By incorporating the two retail variations in his plan, Moayedi is positioning Collin Creek Mall to appeal to both segments of shoppers.
Collin Creek Mall is a model candidate for a new makeover. Since opening in 1981, it has gone from rivaling Dallas' NorthPark Center in terms of high-end retailers and market popularity to becoming one of the mall casualties in North Texas. Blame it on a surge of shiny new shopping venues—like Stonebriar Centre in Frisco—that saturated the surrounding area with shopping options, which ultimately led to two anchor department stores exiting Collin Creek Mall along with other major retailers.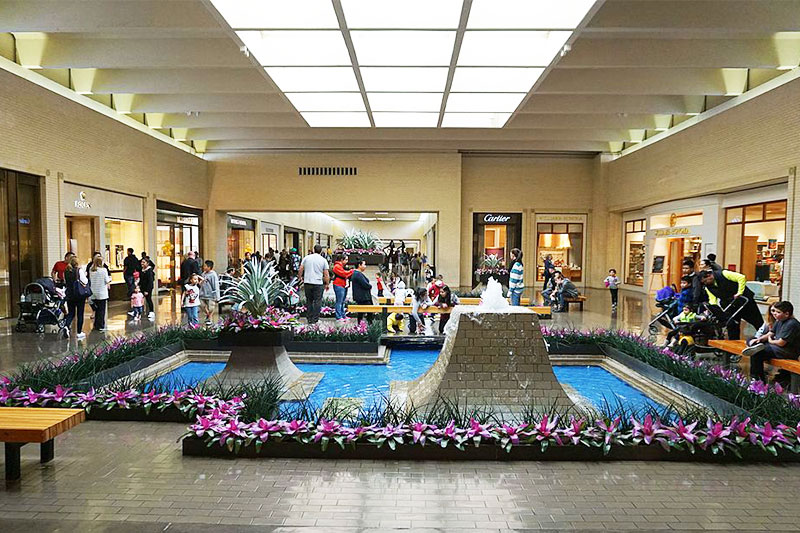 Adrift with Less Anchor Weight
Competition is a double-edged sword for Collin Creek Mall. Anchor stores were the mall's competitive edge for attracting shoppers, but a new breed of retail centers eventually weakened Collin Creek's competitive edge.
The mall opened with five heavyweight anchors: Lord & Taylor, Macy's, Dillard's, JC Penney, and Sears. So shoppers could buy merchandise at Collin Creek that ranged from high-end and moderately-priced apparel and accessories to lawnmowers and appliances. Now, the mall is down to only three anchors: JC Penney, Sears, and Amazing Jake's Indoor Playland and Buffet.
High-end retailer Lord & Taylor closed its Collin Creek store in 1990, which started a revolving door of occupants. While Mervyn's initially occupied the sprawling two-story space, it closed in 2006 when the retailer left the Texas market. Two years later, Amazing Jake's moved in. Dillard's closed its store in 2014, followed by Macy's in 2017.
Through it all, the mall still shares a key parallel with NorthPark in Dallas: They both sit on prime pieces of real estate fronting the heavily travelled North Central Expressway.
The Hunt for a Mall Buyer
During the past decade, several developers have signed purchasing contracts on Collin Creek Mall with the intention of adding their magic to the property's visibility. Before Moayedi came along, developer Sam Ware's Dreien Partners had a nearly $1 billion plan on the table that would transform the look and feel of the old mall to the likes of the River Walk in San Antonio. Ware proposed uncovering Spring Creek, which is buried beneath the mall, and aligning the waterway with 500,000 square feet of retail, restaurants, and open space. But the deal fell through when Ware sued his out-of-state lenders for disclosing confidential information.
To date, only one sale has closed, and that was short-lived. In 2015, the two large shopping center developers that had acquired the mall opted to abandon the project and turn the property over to lenders. Those banks still own the mall.
Moayedi's modus operandi is an ideal fit with Collin Creek Mall. His claim to fame is the $250 million acquisition and redo of the landmark Statler Hotel in Downtown Dallas, and he's currently renovating the iconic Cabana Hotel on Stemmons Freeway. He purchased the Dallas Cowboy's old Valley Ranch facility, which he's redeveloping into a 36-acre new home community. And as the new owner of the Mesquite Rodeo and Arena, he plans on building an adjoining mixed-use development.