Las Vegas Real Estate
Find Unique Homes in These Las Vegas Neighborhoods
Las Vegas is a fantastic place to scour for homes of the rich and famous. The Valley is home to more than a few strange houses, like the house in Henderson that's an exact replica of the one in "The Simpsons" or the hoarder's paradise that's the Hammargren Home of Nevada near Whitney. But where are all the different homes that are not only available for purchase but also in a price range that's attainable for residents who aren't celebrities?
Here are several Las Vegas neighborhoods where you'll find unique homes.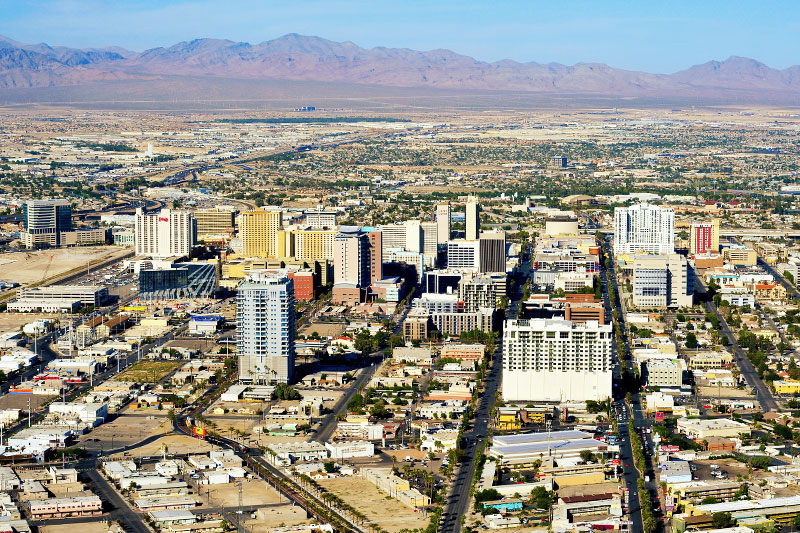 Ferguson's Downtown
Known for its modern designs, Downtown is a great place to live for both millennials and those who want a tight-knit community alongside a metropolitan lifestyle. Not only is the area walkable, but it's also a great place to find tiny homes. Ferguson's Downtown, known as a highly livable tiny home community, includes small houses, Airstreams, and mini apartments for residents who want to scale down living spaces and settle down in a hip community. Created by Zappos CEO Tony Hsieh, this development is home to 31 residents where the average home ranges from 200 to 500 square feet. In each Airstream, you'll find wood paneling and stainless steel appliances, although residents have access to a shared kitchen and community campfire area.
Fremont Street Lofts Townhomes
Another unique community in the Downtown neighborhood is Fremont Street Lofts Townhomes by Urban Lofts. With granite countertops, concrete floors, and a corrugated metal exterior, these lofts are certainly memorable. Although it might seem that a metal exterior would be poor material on a 100 degree day, the coating reduces heat reflectivity and rising temperatures, making it a strong material that doesn't require much maintenance. In these townhomes, you'll find high ceilings, open-concept plans, and spacious interiors that fit right in with the character of Downtown.
The Ogden
Finally, Downtown is also home to open-concept lofts that are just as urban as they are homey. The Ogden is a luxury condo community with units ranging from one to four bedrooms. In a high-rise tower that's one of the largest in Downtown (even if you include the hotels), you'll have scenic views of The Strip and luxury touches like floor-to-ceiling windows and spacious terraces.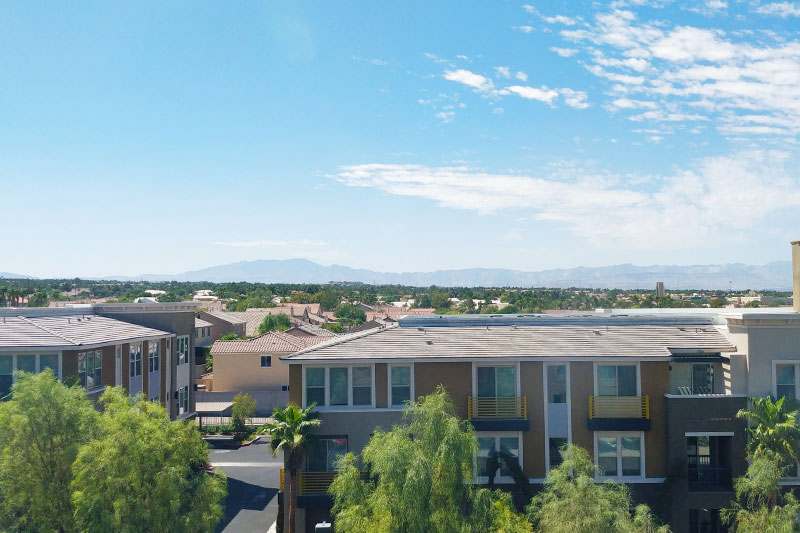 Axis
In Henderson, several neighborhoods are among the best areas in town for luxury real estate. In MacDonald Ranch you'll find homes like Axis by Pardee Homes, a neighborhood where luxury comes at a price tag under $1 million. In the hills overlooking Henderson, the homes of Axis have high-end views of The Strip and revolutionary architecture that you wouldn't typically find in a mass development. While these homes were built by a larger company that could easily build homes in a more traditional style, Pardee breaks the mold with single- and multi-level homes with stonework, driveways that blend into the desert landscape, and features like angled windows with wide panes, private courtyards, and sleek pools that integrate indoor and outdoor living.
Pivot
As a whole, Henderson is a great area to find modern-style homes that break away from the traditional Mediterranean style that Las Vegas has been known for in the past. Pardee's other development called Pivot sits just below Axis. Priced from the low $400s, these homes give all the space a family could need, minus the maintenance of a yard. With shared greenspace and several architectural features similar to Axis (slanted roofs, multi-color exteriors, and outdoor decks), Pivot also has a luxury vibe minus the price tag. Bathrooms include high-end countertops with pops of color, supersized showers, and ceilings that work to highlight the slanted roof on the exterior. If you're looking for a Las Vegas home that has a unique, modern vibe, look no further than Henderson.