Where are all the tiny homes in Las Vegas?
Where are all the tiny homes in Las Vegas?
For anyone interested in home design, HGTV's "Tiny House Hunters" is a must-watch show, especially for the thousands of homeowners who want to give up the burden of maintaining a large home for a smaller living space that's more affordable. Tiny homes are popping up around the country these days. But with all the talk of master-planned communities and luxury condos, where are all the tiny homes in Las Vegas?
Surprisingly, there are a fair number of tiny homes in both Las Vegas and Henderson. Although there are many zoning laws and regulations that prevent tiny home dwellers from setting up house anywhere, this isn't stopping Las Vegans from downsizing. After all, the city treats tiny homes as RVs, so residents don't have to pay housing taxes on them.
The city has some tiny home communities, but for the most part tiny home dwellers strike out on their own. Tiny home contractors like Alternative Living Spaces, which is based in Paradise, make the process easier.
Whether you want to live in a tiny home in Las Vegas, or you're simply curious about where they are in town, here are several neighborhoods where you can find tiny homes.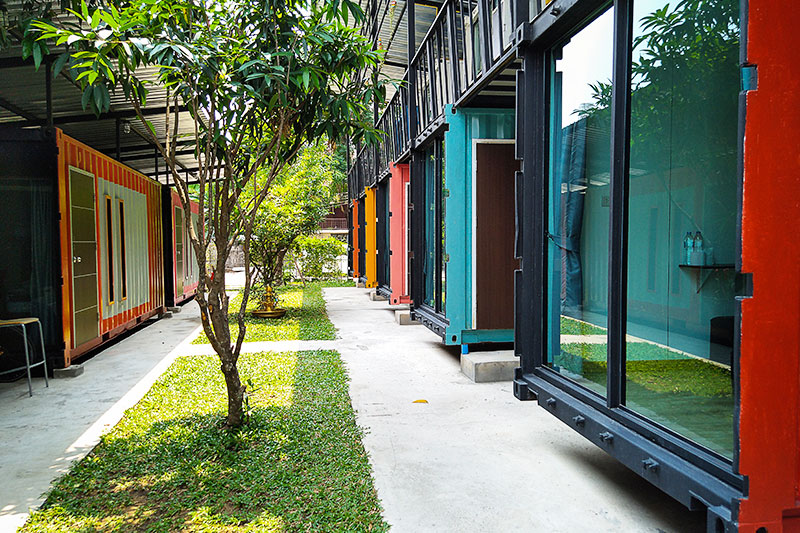 The boutique hotel Oasis at Gold Spike has the Sugar Shack, a tiny home that guests can book, however, this isn't the only option for those interested in the tiny home lifestyle. Downtown is home to a bustling tiny home community that encourages residents to live a more minimalistic lifestyle.
Ferguson's Downtown—also known as Airstream Park or Llamalopolis because of the actual llamas that live there—is a neighborhood where residents live in Airstreams, tiny homes, or micro apartments.
Zappos CEO Tony Hsieh created the one-acre development as an extension of the Downtown Project, and as of March 2018, 31 residents called 15 tiny houses and seven micro apartments home. While studios are 500 square feet, Airstreams and tiny houses are a minimalistic 200-250 square feet.
On the edge of the Arts District is Veterans Village, a tiny home and micro apartment community specifically built for Las Vegas veterans. The structures, built from recycled metal shipping containers, include plumbing and utilities, climate control, skylights, and a sliding glass door. The homes range from 160 to 320 square feet.
While veterans already occupy an apartment complex on site, there's talk of building more tiny homes. There's hope that tiny home communities like Veterans Village will make it possible to provide housing to lower-income and homeless families in the Valley.
Although Henderson doesn't have a tiny home community at the scale of Ferguson's Downtown, there are more than a few tiny home listings in the area for homes that range from $6,500 to $85,000. Other listings include as much as 300 square feet of space, and several are luxury spaces with great amenities that rival traditional homes on the market today.