Foreign Investors Unconcerned by Miami's Sea Level Rise
A report from Bloomberg deems South Florida as having "some of the country's priciest properties—and some of the most vulnerable." But according to NPR, not even troublesome sea level rise statistics are dampening foreign investors' sunny outlook on real estate in greater Miami.
Foreign investors are nothing new in the area: Miami has an extremely international presence in both its existing population and the people who regularly view local real estate from all corners of the world. We even put together a primer on how foreign investors browse and buy real estate in Magic City.
And while sea level rise isn't a new phenomenon either, it's felt more threatening in recent years. Unfortunately, it's not just your imagination: Data published in The Wall Street Journal shows that tide-induced flooding rose 400 percent between 2006 and 2013. Most recently, of course, there was the impact from Hurricane Irma, which drove 6.5 million Floridians from their homes (thankfully, most people who evacuated returned to find minimal damage). NPR cites sea level rise as a chief concern among local property owners—the Bloomberg report estimates nearly half a million Miami-area homes could be submerged by the end of the century. Certainly a sobering consideration, but according to NPR, foreign investors (particularly those with lavish budgets) "shrug off" the threat.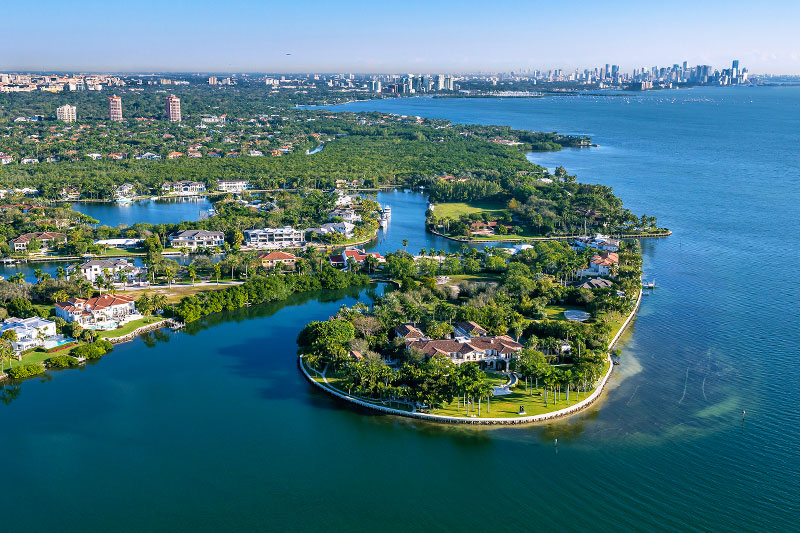 Perhaps that's because Miami is still selling a dream for people in faraway places. That proof is in the transactions: NPR says about 5 percent of South Florida foreign buyers purchase property sight-unseen without even visiting Miami, and often with cash down payments exceeding 80 percent. Another possibility is that, contrasting longtime residents seeking firm roots, foreign buyers view Miami as an investment only, or a very temporary home base.
Prominent local broker Peter Zalewski told NPR that many foreign investors are "going to be in and out. Their horizon is typically three, five, seven years… [sea level rise] is not an issue if you're looking to capitalize on current market trends. It's a trader mentality."
In Irma's aftermath, local homeowners worried about economic strains like rising property taxes and even more expensive flood insurance; records show that home sales stalled and mortgage delinquencies rose sharply in the months following the hurricane. There's also the psychological strain of recognizing your permanent home might not be so permanent, especially as families consider the long-term impact on children and grandchildren.
Fortunately for both short-term foreign investors and those who are in it for the long haul, man-made efforts might help mitigate the toll of sea level rise. Last year, voters passed the Miami Forever bond, funneling some $200 million into projects to help prevent flooding. Overall, Miami is waging a lauded, $500 million war against unwanted water, working to raise the height of streets and sidewalks and add more pumps. Developers are also implementing state-of-the-art technology to nurture what they call "climate resilience," surpassing existing building standards to create flood-proof—even hurricane-proof—buildings and embarking on infrastructure projects to combat the effects of climate change.