Chicago Real Estate Development
Geneva to Embrace Suburban Walkability With New Neighborhood
Geneva, along with St. Charles and Batavia, is a part of the Tri-Cities area. The suburb is known for its views of the Fox River, historic charm, and quality public schools, but—located more than 40 miles from Chicago—you likely wouldn't expect to find the walkability of city neighborhoods here.
But a new development is challenging that perception. StreetScape Development is creating a downtown suburban neighborhood designed with walkability in mind, according to Crain's Chicago Business.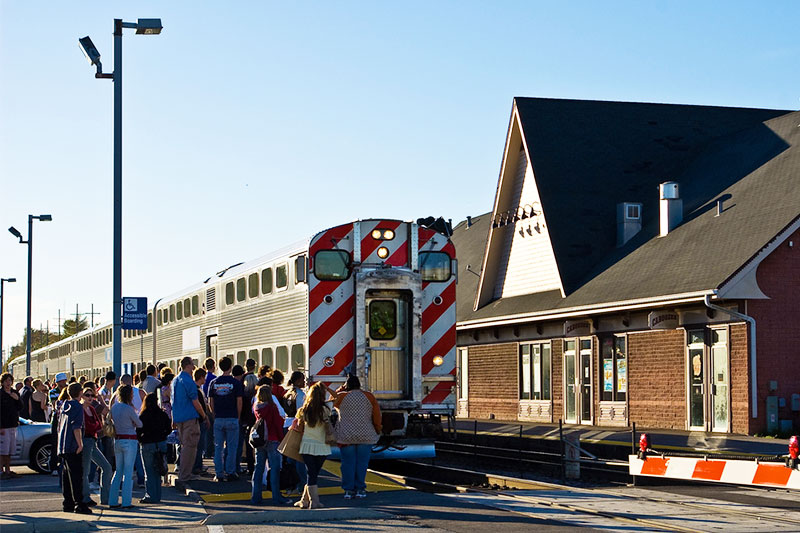 Geneva's New Neighborhood
The former site of an electronics factory, situated at State Street and Richards Street, is just a few blocks from downtown Geneva and soon to be a new suburban neighborhood: Hamilton Place, Crain's reports.
The mixed-used project, led by StreetScape and Karis Capital, calls for 42 new homes. Of those, 16 will be single-family homes facing landscaped courtyards, six will be townhomes, and 20 will be apartments, according to Geneva's website. The single-family homes will each have a two-car garage, and the townhomes will have three bedrooms. Hamilton Place will also include 5,450 square feet of retail space.
The neighborhood will be just a few blocks from Geneva's downtown area, which includes a Metra stop and plenty of restaurants, according to Crain's.
"There's a return to the suburban downtown, but they don't want to maintain a yard or buy a 100-year-old house in the historic district that they have to work on," Jake Finely, Karis Capital principal, told Crain's.
Construction of the project is expected to take two years—completion is slated for the fourth quarter of 2020, according to Geneva's website.
The first phase of the project will include building the single-family homes, while the mixed-use building will go up in the second phase. The townhomes will be built in the third and final phase. Karis Capital is aiming to find a grocery store to occupy the development's retail space, according to the Crain's report.
Also, according Crain's, the single-family homes are expected to be 2,400 to 3,200 square feet and priced at $600,000 to $750,000.
StreetScape Development
Geneva is not the first place StreetScape Development has brought its concept of suburban walkability. Earlier this year, the developer earned approval for its Floral Avenue vision in Skokie.
The Skokie project emphasized walkability, albeit with a different twist. The development's townhomes are designed with a "live/work" concept, which combines residential space with office space. Additionally, the homes will be just a few blocks away from public transit, parks, grocery stores, and restaurants, according to the StreetScape website. The Skokie Plan Commission approved the project in April, according to the Chicago Tribune.
StreetScape has also brought 26 homes to Libertyville. This development, along with its other projects, is designed to "promote a New Urban lifestyle," according to the website. New Urbanism focuses on residential space within walking distance of public spaces and shopping.
Just like the projects in Geneva and Skokie, the Libertyville development is located within walking distance of a train station, restaurants, and parks. All 26 of the homes in the development sold, according to the StreetScape website.
Walking in the Suburbs
StreetScape's projects reflect a growing demand for walkability in the suburbs. An article from the Chicago Tribune highlights just how much homebuyers want to find walkable suburbs. Suburbs with thriving downtown areas are part of this trend.
University of Illinois at Chicago's College of Urban Planning and Public Affairs professor Kheir Al-Kodmany told the Chicago Tribune:
"These suburban downtown places offer alternatives to the city's downtown, which is increasingly expensive, unaffordable, congested, noisy, crowded and polluted. As a result, the suburbs could offer the best of both worlds. Low-density, affordable, peaceful and comfortable living that is accessible to vibrant, busy social places."
While those new developments in Geneva, Skokie, and Libertyville are increasing walkability, those are not the only suburbs you can take to on foot. Berwyn is another pedestrian-friendly spot in the burbs. The suburb is located right along the Metra line—ideal for commuters who need to head into the Loop. And, Walk Score gives it a 75 out 100 ranking, which means most errands can be done on foot.