San Diego Local Life
Get Fit at These Free Fitness Classes in San Diego
Summer is on our heels, and you may have fallen a bit behind on that New Year's resolution of having a beach body by June. Maybe the thought of paying for a pricey gym membership stopped you in your tracks, but what if there were free fitness classes available in San Diego? From running clubs and yoga sessions to boxing classes and Zumba, check out this list of free fitness classes around San Diego.
North Park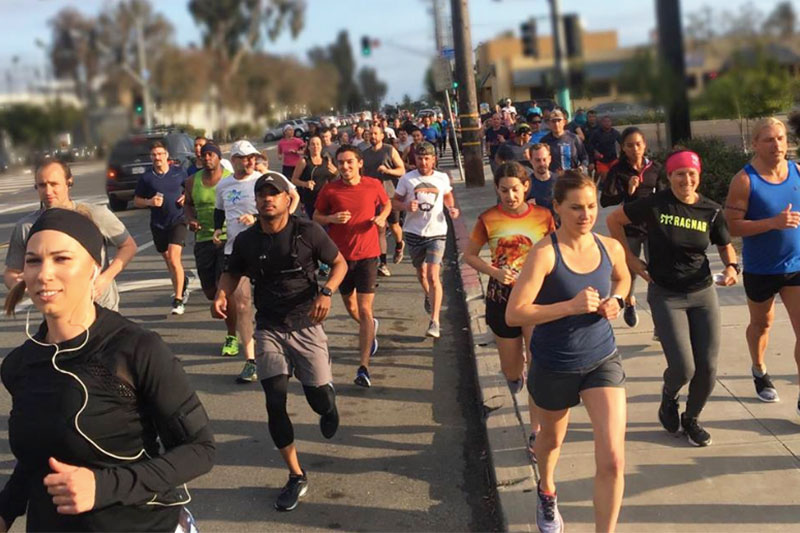 Milestone Running is a shoe store in the San Diego neighborhood of North Park that specializes in running gear. The owners are so passionate that they offer a free weekly running club on Wednesdays at 6 p.m. as well as demonstrations, raffles, and showcasings of different vendors. Usually, the running clubs have about 50 people of all fitness levels, from walkers to joggers to avid runners. They also welcome people with dogs and parents pushing strollers.
Another North Park fitness spot that offers free workouts is Title Boxing Club. Title Boxing Club offers first-time customers a free workout session when they sign up online. "Boxing is a great workout," says the Title Boxing website, "perhaps one of the most challenging of all sports, and we want to bring you the intensity of the training, minus the impact." Classes range from traditional boxing to kickboxing to Mixed Martial Arts.
La Jolla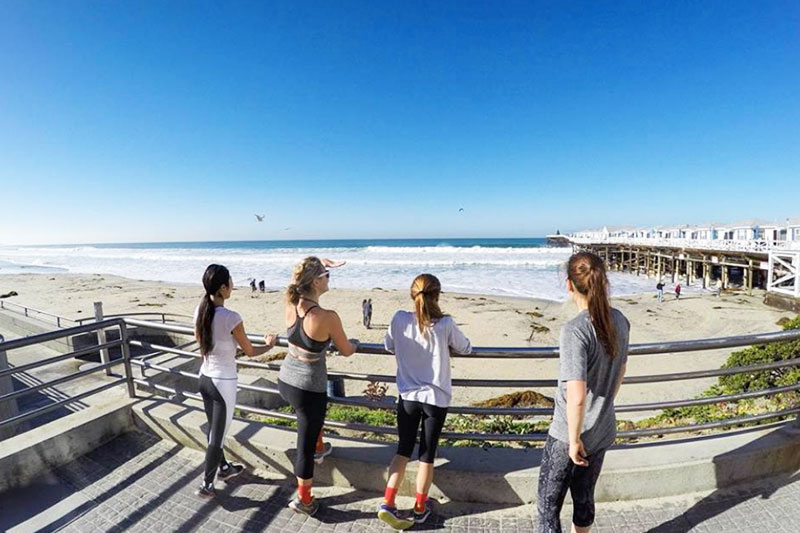 If you want to get a good cardio session in with others then you'll want to join Just Run in La Jolla. The run club meets at the store every Thursday at 6 p.m., and runners trek up and down the coast between Pacific Beach and La Jolla. The run club is open to all ages and levels, and allows participants to mingle with other fellow runners while taking in the beautiful San Diego scenery.
If you want to experience vinyasa, head down to Calumet Park in La Jolla on Sundays for Yoga at the Beach. Local veteran instructor Corie Seibert teaches yogis of all skill levels how to perfect their form as well as how to improve their breathing techniques while enjoying scenic views of the ocean. Although this class is free, a $5 donation is suggested, which still isn't bad.
Encinitas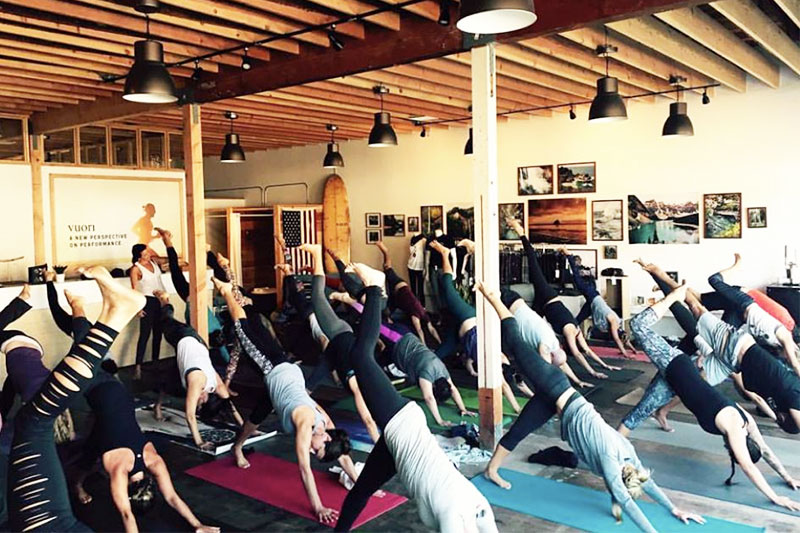 Movin Shoes in Encinitas has everything from track and field shoes to running gear to custom shoe fitting services. The store also has a running club that offers a diverse lineup for its running participants, including endurance runs, neighborhood meet-ups, intervals, and weekly store runs held four days out of the week. Free and open to all runners, they also have a complete training program for marathon runners to help them reach their ultimate goal to the finish line. Movin Shoes also has a location in the Pacific Beach neighborhood, so runners are never too far from joining a local run club.
Vuori Flagship, founded by Joe Kudla, is a performance apparel store influenced by the beach community of Encinitas. With a desire to inspire others, the store features a flagship program that offers not only free weekly yoga sessions, but also boot camp classes, local fundraisers, and monthly art shows.
Pacific Beach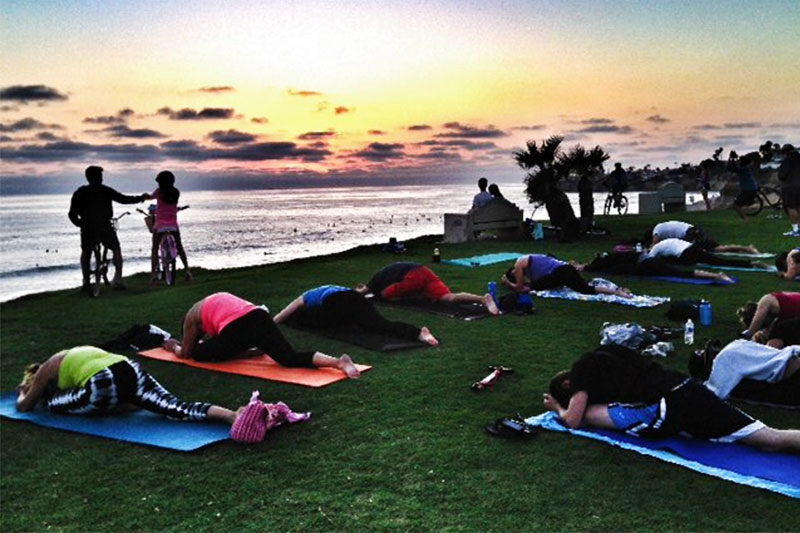 If you're in the Pacific Beach neighborhood and are in search of a free yoga session then you'll want to attend the San Diego Beach Yoga class. This free class, which is an outdoor and donation-based vinyasa class, is held Monday through Thursday from 6 p.m. to 7 p.m. at Law Street Beach in Pacific Palisades Park. The sessions are held on the beautiful beach during sunsets, and occasion classes are also held during a full moon. Just bring your own beach towel or mat (and donation) for this outdoor class.
Hillcrest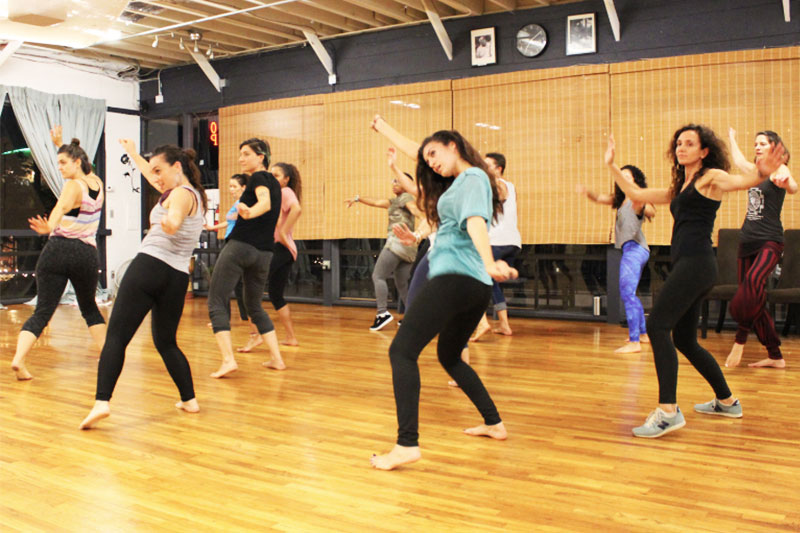 Every Tuesday at the La Vie Dance & Culture center in Hillcrest, check out the Free Zumba World Rhythms Meetup. Zumba is an exciting and fun way to get your heart racing and your body moving with a variety of dance moves and fast-paced tunes for your daily cardio sweat session. All you need to bring is a small towel and water to get you through this free fitness class.