Austin Local Life
Good Neighbor Spotlight: Austin Eastciders Taproom and Collaboratory
In recent years, Austin's reputation as a destination for innovation and originality has reached an all-time high. Trendsetters across the U.S. now head to the Texan capital to sample authentic breakfast tacos and BBQ, attend world-class music festivals, and drink the artisanal libations found all over town. But Austin's cool cache largely comes from its commitment to local businesses and community growth. Homegrown Austin companies take pride in their neighborhood identities, even as their profile rises in faraway places.
One prime example is Austin Eastciders, a craft cider maker based, as its name suggests, on the east side of Austin. Since launching its first cider in 2012, Austin Eastciders became an instant hit at home, soon expanding its distribution to other major cities like NYC, Washington, DC, and Nashville. But in spite of its widening reach, Austin Eastciders remains entrenched in its beloved birth city. The company opened its original cidery in the East Austin enclave of Govalle, a then-sleepy residential area that's since boomed into a hotspot with restaurants, bars, and plenty of recreational activities. Govalle currently hosts Austin Eastciders' Taproom and Collaboratory, a multi-purpose space for cider-making, tasting flights, outdoor drinking, live music and comedy, community events, and so much more.
Neighborhoods.com had the chance to chat with Marc Brenton Smith, Austin Eastciders' Collaboratory manager, and he told us all about the company's deep and abiding love for Austin.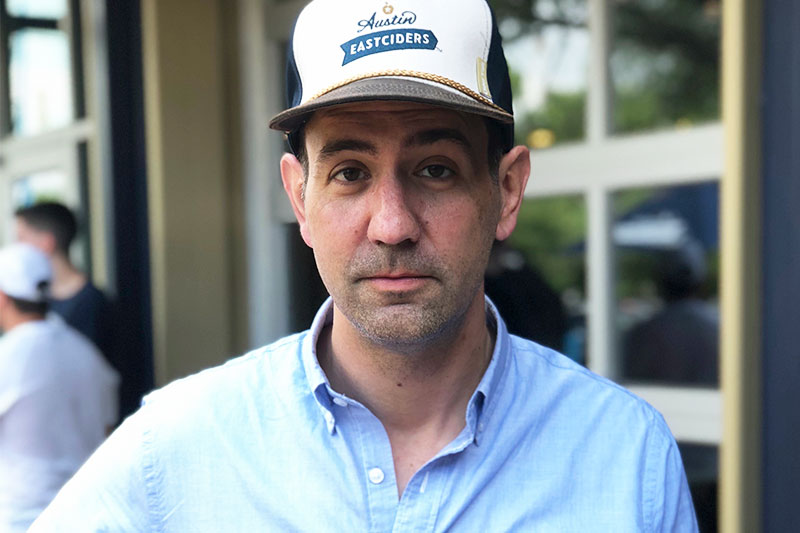 Tell us about Austin Eastciders' connection to Govalle (and East Austin as a whole).
The Collaboratory is actually housed in our original cidery, which is why we're "Austin Eastciders." We were born on the east side of Austin. Our [main production] facilities are now on the south side, but having the Collaboratory [in Govalle] really speaks to our beginnings and, thus, to our name. I like to tell people: "When you put where you're from in the name of what you are, there's an inherent responsibility there." I mean, Coke might be from Atlanta, but it isn't called "Atlanta Coke". So we take that very, very seriously, and we're passionate about community outreach and working with local businesses and the neighborhood. That's why we call it the "collaboratory"—we want to collaborate, collaborate, collaborate.
How has the neighborhood changed since Austin Eastciders first arrived in Govalle?
The neighborhood is a lot more diverse now. There's been gentrification, but in a good way rather than a derogatory way. It's brought amazing restaurants, amazing facilities. I mean, we're located between a bouldering gym and a beer taproom, and having those things on the east side of Austin is amazing and, at one time, would have been unheard-of. So yes, huge changes. Some for the worse... for example, a local urban farm—probably the most famous local urban farm in Austin, Springdale Farm... we collaborated with them on a pear-and-rosemary cider we had a few months ago—unfortunately closed because developers wanted the land and they had to take the offer. But other than that, it's been great and super-positive.
What steps has Austin Eastciders taken to connect with the residents and businesses in your neighborhood?
We've mostly focused our outreach on local businesses and local organizations [since that allows us to connect with the community on a greater scale]. For example, there's a big Austin Police Department precinct just a couple of blocks from the Collaboratory. They do this thing called Operation Blue Santa, where they provide hot meals and collect presents for underprivileged children during the holidays. We have a spiced cider that we're going to roll out in the fall, so a couple of weeks ago, we did a one-day preview of that cider as a "Christmas in July" celebration, and we donated all the sales of the spiced cider to Operation Blue Santa. It was actually our largest sales day, even if you subtract what we donated to the police department. It was a great day for us and for the community. Serious community [unity] with everyone coming in and donating was great.
We also do fun things with our cider and other businesses. There's a local juice company on the east side called JuiceLand, and we collaborated with them on a juice-cider hybrid with orange, yellow beet, and turmeric fermented with our original cider. It's absolutely amazing. Also, there's a local coffee company on the east side called Cuvee, and we collaborated with them on a great cold-brew cider. [It tasted] a lot lighter than you'd think; you'd expect to be really stout-y, but it turned out nice and it absolutely worked. Also, any time we use botanical ingredients, we always try to source from local farms on the east side.
We've also started a pairing series. Antonelli's, a cheesemonger here in town, is working with us on a cider-and-cheese pairing. La Barbecue, one of the top BBQ spots in Austin, is on the east side, and we're doing a cider pairing [with their grilled offerings]. Also, we're launching a collaboration with Torchy's Tacos next month, which will be a lot of fun.
When we barrel-age our ciders, we get all of our barrels donated by local distilleries and wineries. For example, we just made a tequila barrel-aged cider with barrels provided by Dulce Vida, which is a local tequila company. We did a gin barrel-aged cider with barrels from Treaty Oak in Dripping Springs, and we're about to do a whiskey barrel-aged cider with Treaty Oak and Witherspoon Distillery in Dallas. We also get wine barrels from local wineries, and it's been great when we can kind of co-brand.
How does Austin Eastciders use the Collaboratory space to draw in local residents?
[We still use] the back of the space for production. Also, all of our barrel aging is done at the Collaboratory. The space was our original cidery before we almost instantly outgrew it, but then we gutted the front area and added a small stage where we host live music at least twice a week, and we have a comedy show every other Friday. The comedy show is cool because it's booked by two local comedians, but they only book two comedians apiece, and then those two comedians are responsible for booking two comedians of their own, and so on. So it's a completely different show every time, and no one knows what to expect. We get amazing crowds for that. Crowdsourced comedy... it's fun. We also have karaoke nights, open mic nights, so a lot happens on the stage. We also have picnic tables, amazing outdoor patio seating, board games, darts, foosball... the whole point is fun.
Also, there's a brewery next door to us, and we allow people to take drinks back and forth. It's nice, because if someone comes to us but their friend doesn't want cider, they can just go next door. But I love seeing people buy their beer next door and then come over to our space; it's very flattering. And the wonderful thing about [our space]—and I don't know if it's cider drinkers or the space or my staff or a beautiful mixture of them all—but it's always a good time here. The energy's always amazing and positive, no one gets too rowdy, no one gets too drunk...it's just always a really good time. Saturdays and Sundays are my favorite because everyone from the community comes out. We have as many dogs and babies and strollers as we do cider-drinking adults, and it's just a lot of fun.
How can a local business like Austin Eastciders be a "good neighbor" in Austin neighborhoods?
Austin doesn't like exclusivity. I come from an ultra fine-dining background; I ran what was at the time the only four-star restaurant in the city. But because of [the service style], we were a jackets-required establishment, which people [in Austin] really didn't like. [In] Austin, as diverse a town as it is, there's something about things that are exclusive that really turns people off. So having your doors open for absolutely everyone, welcoming everyone, and being positive is the key to it all. The more you stick your nose up in the air and try to be something that you're not, something pretentious... that's when people really turn away. People like mingling in Austin. They like being at a table and knowing the people at the other end of the table. It's that kind of town. I don't think every town is like that, and it's special.
What does Austin Eastciders have "on tap" for the future, in terms of new flavors and products?
I started a cider cocktail program, so that's ongoing. We're doing it with the original cider and [including] sherry, Old Fashioned bitters, and Cava [among many other ingredients]. I also recently did a cider slushie with the grapefruit cider and agave, which turned out awesome. I'm going to be replacing that this month with pineapple and white port [slushies], which are unreal. And then we're coming out with a hopped cider with dry sake, which is out of this world.
Now that Austin Eastciders has expanded its distribution to other major metropolitan areas, does that make it more difficult to hold onto your neighborhood identity, or does it just reinforce the commitment you have to your city?
Oh, it absolutely reinforces it. It all goes back to the responsibility of having East Austin in the name of our company. Keeping the taproom in East Austin just doubles down on that commitment. We didn't put it downtown in a super-touristy part of the city. It's my favorite thing when we have people come in and say "Oh, I see your cider everywhere, so we wanted to come to your part of town!" We're not too far from the airport, and I can't tell you how many times I have people come in and tell me that we're their first stop after they got off the airplane or their last stop before they head to the airport to leave. I think what our sales team and distributors are doing across the country is amazing, and they're keeping the spirit of Austin with the product. I know that because I see it every day when people [from other parts of the country] walk through the door.