15 Cities to Visit on Your California Highway 1 Road Trip
Stretching over 650 miles along the coast of California, California State Highway 1 is not only a major thoroughfare, but also one of the most (some would argue the most) beautiful drives in the country. Also known as Pacific Coast Highway (PCH), Cabrillo Highway, Shoreline Highway, or Coast Highway, depending on where you are, Highway 1 presents the perfect opportunity to road trip through the Golden State.
While the highway stretches from Dana Point in Southern California to Legget in Northern California, this guide will carry you along Highway 1 between the major cities of Los Angeles and San Francisco. And while there is certainly more to see and do than any one guide could ever cover, consider this your starting point for planning the perfect Highway 1 road trip.
Editor's Note: Due to severe weather conditions, some points along Highway 1 may experience road closures. Be sure to check road conditions before planning your trip.
Quick Facts:
Where does Highway 1 start and end? The southern point of the highway starts at Capistrano Beach in Dana Point and ends in Leggett.
How long does it take to drive Highway 1? Well, it depends on the person. Because there is so much to see and the drive is fairly long, it is suggested to break it up between a few days. If you wanted to drive all the way through, it would be about 10 hours—and that's without stopping.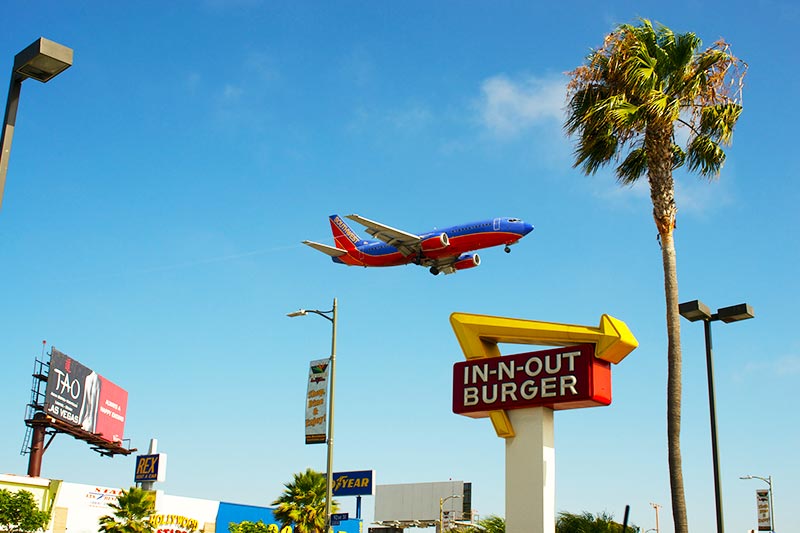 Expect to See: Burgers and Planes
LA is the natural starting point for any adventure up Highway 1. If you are flying into California in order to embark on this grand adventure, you will land at Los Angeles International Airport in the Westchester neighborhood. As your inaugural act, grab some sustenance at the always-crowded In-N-Out just outside the terminals, because every California road trip begins (and typically ends) with In-N-Out.
Now, while there is plenty to explore in this sprawling city, for the purpose of keeping things coastal, kick off your trip in the famous neighborhood of Venice. Venice Beach is everything you expected it to be—somehow magical but overwhelming, coastal but urban, and packed with personality. Stroll the boardwalk, check out some bodybuilders at Muscle Beach Gym, or pop into any of the waterfront eateries before making your way north.
Los Angeles International Airport to Santa Monica Pier: 12 miles
Los Angeles to Santa Monica via Highway 1 drive time: 20-60 mins
Editor's Note: California and especially LA are notoriously known for gridlocked traffic so time estimates can have large ranges depending on the day and time you go.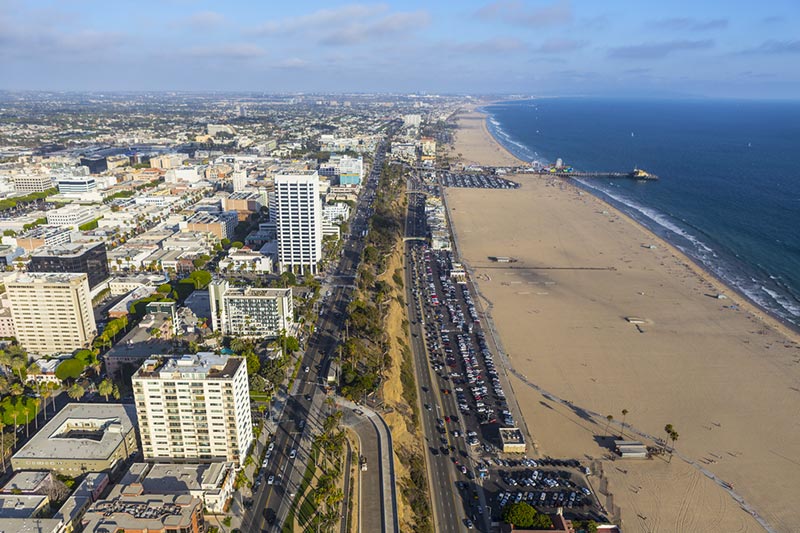 Expect to See: Sandy Beaches
Next stop: Santa Monica. While this is less than 3 miles from your previous destination, LA traffic horror stories are a real thing, so consider renting a bike in Venice (there are too many rental shops to count) and pedaling up to Santa Monica for this portion of the trip.
Ride the roller coaster at the iconic Santa Monica Pier, make friends with the fish at the aquarium, or sway along to live music at Rusty's Surf Ranch. If you're feeling fancy (but still quintessentially beachy) head to The Bungalow to grab a drink and take in some of the Santa Monica scene.
On your way out of Santa Monica, make a quick stop in Pacific Palisades to visit the Getty Villa. This is the second location of the famed J. Paul Getty Museum and showcases Roman and Greek art and architecture.
The Getty Villa to Nobu Malibu: 6 miles
Santa Monica to Malibu via Highway 1 drive time: 20-30 mins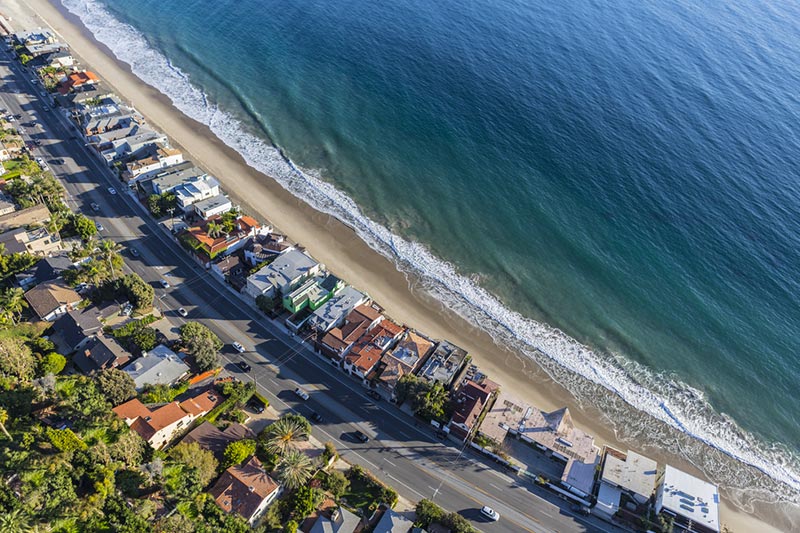 Expect to See: Coastal Homes
Before you cross the somewhat-undefined line separating Southern California and Central California, take in the little sliver of a coastal city that is Malibu. As you journey along Highway 1, try not to be too distracted by the impressive (and expensive) homes staking their claim on the coastline.
But Malibu is far from solely residential—acclaimed restaurants, like the famous Nobu and the decedent Geoffrey's Malibu, dot the coastline as well, providing plenty of places for you to pull over and indulge your appetite while taking in stunning views.
Waterfront homes to State Street: 75 miles
Malibu to Santa Barbara via Highway 1 drive time: 80-100 mins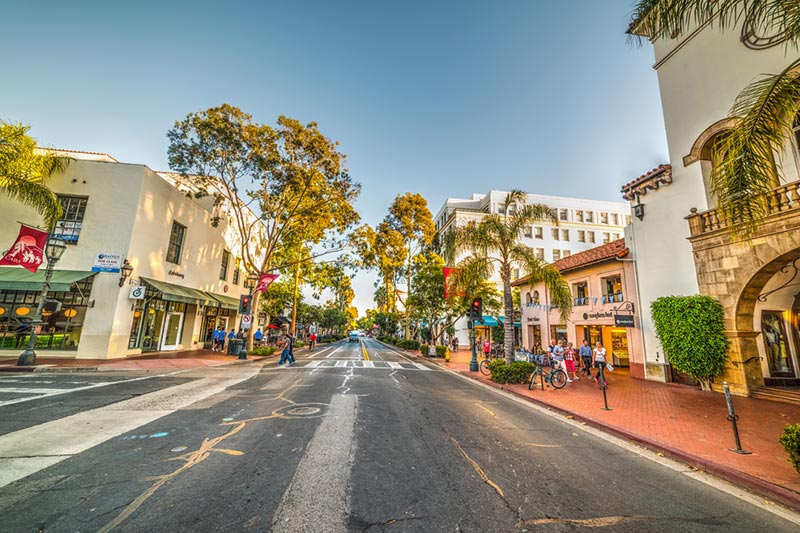 Expect to See: Quaint Shops
Once you have officially made it out of LA County, you reach the idyllic city of Santa Barbara. With a bustling downtown, picturesque parks, miles of coastline, and mountains beckoning in the east, Santa Barbara is not only the perfect destination for dining and entertainment, but also for appreciating the natural beauty of the California coast.
If you're looking for some organized activities, be sure to visit the Santa Barbara Zoo—it's small enough to tour in a few hours but is still home to a wide array of animals—and the Old Mission Santa Barbara, a 1786 landmark and relic of California history.
When it comes time for dinner, drinks, or shopping, make like a UCSB student and head to State Street. Featuring everything from upscale dining to dive bars, State Street is the most obvious choice for a night out on the town. However, if you want to venture ever-so-slightly off the main drag, head to The Funk Zone where wineries and art galleries abound.
If you are bunking down for the night, swap out your standard hotel room for an exceptionally chic (and very Instagramable) Airstream at AutoCamp. It's like camping, except you're not.
The Funk Zone to the Windmill: 106 miles
Santa Barbara to Solvang via Highway 1 drive time: 45-60 mins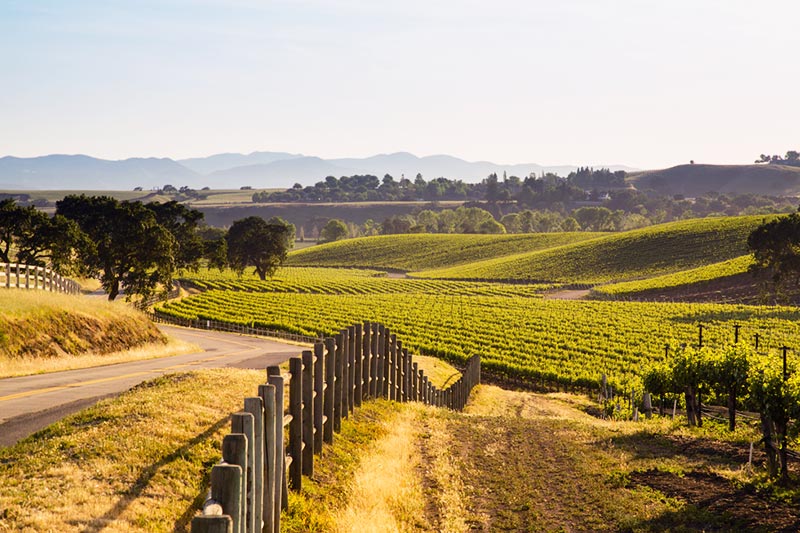 Expect to See: Endless Vineyards
Consider this your wine-tasting trifecta. As you exit Santa Barbara and head up the coast, you will have to forego Highway 1 for just a moment in order to reach these tucked-away cities, but the promise of wine makes the departure worthwhile. Solvang is a charming Danish village that pays serious homage to its culture. From delicious bakeries, to old-world architecture, delightful shops, a prominent windmill, and, of course, wineries, this little town will transport you to another world.
Just past Solvang is Santa Ynez—a picturesque valley boasting more wineries than you dare count (or visit). Sunstone Vineyards & Winery is a popular destination both for its delicious organic wines and its stunning layout, reminiscent of Provencal France.
The final stop, Los Olivos, is a historic town filled with restaurants and vineyards.
Wine tasting to Campgrounds: 55 miles
Los Olivos to Pismo Beach via Highway 1 drive time: 45 mins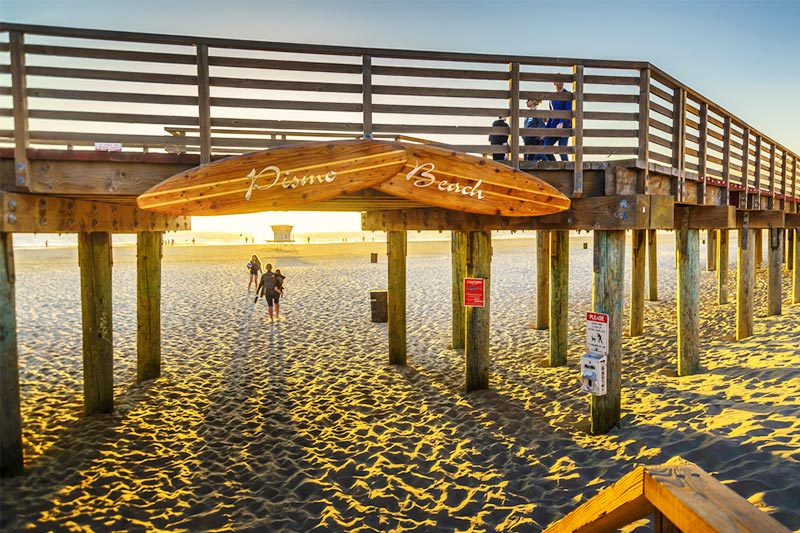 Expect to See: Beaches and Butterflies
As you wave goodbye to your new favorite wineries, you will follow highway one slightly inland for the next leg of the journey. Passing through cities like Lompoc and Guadalupe, you will make your way up the state, cutting back towards the water at Pismo Beach.
If you're ready to do a little camping by the coast, Pismo is the place for you. You can pitch a tent at Pismo State Beach North Campground. While you're there, be sure to visit the Monarch Butterfly Grove and hike through the Pismo Preserve for unbeatable ocean views.
The Butterfly Grove to Bubblegum Alley: 14 miles
Pismo Beach to San Luis Obispo via Highway 1 drive time: 20 mins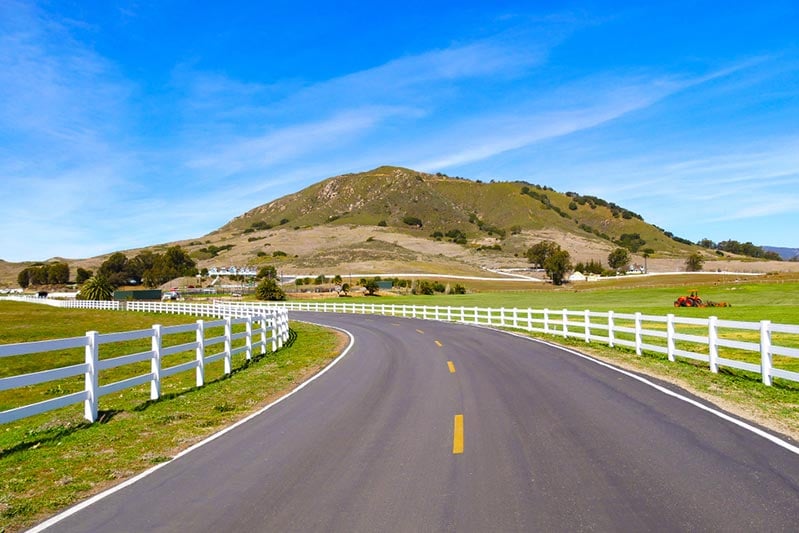 Expect to See: Madonna ... Mountain
Welcome to a quintessential central California city. Here, Highway 1 ducks a little inland and winds through this charming town before jutting back to the coast at Morro Bay (more on that momentarily).
Downtown San Luis Obispo, or SLO as it's affectionately known, offers a bevy of restaurants, bars, and entertainment options, without losing the laid-back vibe that locals and visitors love. This city has great barbecue options, including fan-favorite Firestone Grill (personally, I always order "The Pig Sandwich," but the "Tri-Tip Sandwich" is also hard to beat) and across the street Woodstock's Pizza is a neighborhood mainstay.
Most of the excitement in downtown SLO radiates from Higuera Street. Here you will find restaurants, breweries, shops, and a charming walkway along the San Luis Obispo Creek. Tucked away in a little alley off of Higuera Street between Broad Street and Garden Street you will find Bubblegum Alley, which is exactly what it sounds like: an alley covered in bubblegum. Chewed bubblegum. Head there with your favorite bubblegum of choice and add your initials to the layers and layers that came before you. And don't forget to visit the Mission San Luis Obispo de Tolosa or any of the parks and open spaces before heading out.
Should you choose to spend the night in SLO, head to the Madonna Inn (there's also a mountain) for an experience unlike any other. With themed guest rooms ("Old Fashioned Honeymoon," "Caveman," and "Gypsy Rock," to name a few), onsite horseback rides, live music and dancing, and hot pink tennis courts, this hotel is a vacation in itself. The onsite Cooper Cafe also makes an exceptional ice cream sundae.
As you leave San Luis Obispo, make a pit stop in Morro Bay. The expansive Morro Bay State Park features hiking trails and picnic areas and the statuesque Morro Rock is a central coast landmark. Morro Bay is also a renown surf spot, but be careful, the waters are also known for being a little shark-y.
The Caveman room to real wild life: 48 miles
San Luis Obispo to San Simeon via Highway 1 drive time: 45-60 mins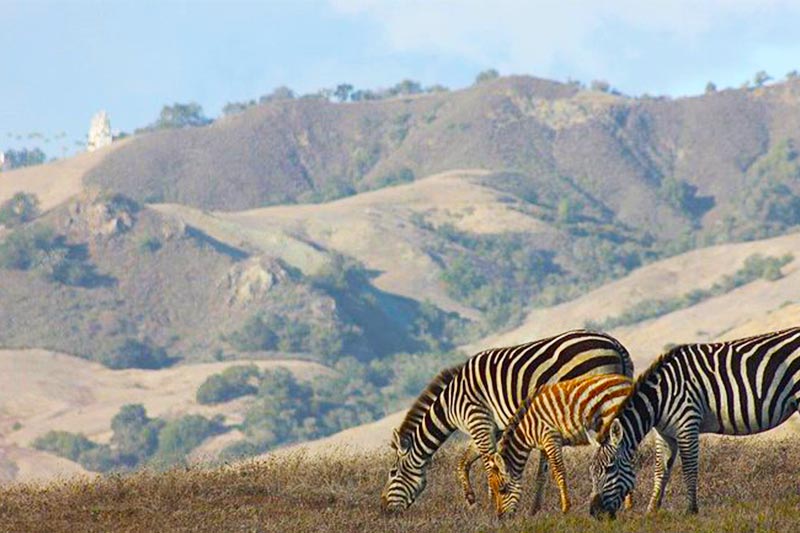 Expect to See: Zebras by the Highway
From SLO, you'll head 50 miles up the coast to San Simeon. There isn't a whole lot on this stretch besides scenic views, so roll down your windows, breathe in the salty air, and just relax until the smell of the ocean is replaced with something a little more potent.
Directly off of Highway 1 you will find Elephant Seal Vista Point, which is, as the name suggests, a viewing area for Elephant Seals. They call this particular stretch of beach "home" and can be found sunning themselves on the sand or rolling around in the waves. And while we're on the subject of wildlife, just before the Vista Point turnoff, be on the lookout for zebras along the eastern side of the highway. They belong to Hearst Castle, the former home of media tycoon William Randolph Hearst, which has now been transformed into a museum. While you will have to venture inland to tour the castle, the grounds, and the zebras who roam them, extend all the way to the highway.
The castle to McWay Falls: 68 miles
San Luis Obispo to Big Sur via Highway 1 drive time: 100 mins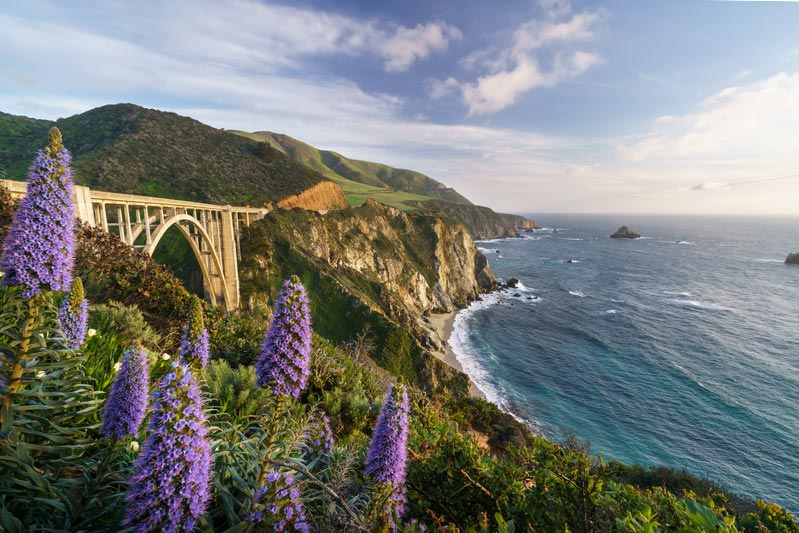 Expect to See: Waterfalls on the Beach
Finally we reach Big Sur. This stretch of coastline is so striking because it is where the lush greenery of Pfeiffer Big Sur State Park directly abuts the ocean. The result is jagged mountains dramatically dropping off onto sandy beaches. You'll want to drive slowly through this stretch, not only because it's a little windy and little narrow, but because it's breathtaking.
There are countless campsites where you can pitch a tent for the evening, or if you're feeling adventurous, try a yurt or "human nest." And don't forget to pull off the road to hike McWay Waterfall Trail—a short (.64 mile) hike (more of a walk) that showcases a waterfall dropping out of the mountains and onto the sand. And don't forget to take your camera out when you cross Bixby Bridge; the architectural masterpiece is right at home in arguably the most picturesque stretch of your Highway 1 drive.
Bixby to Carmel Bakery: 15 miles
Big Sur to Carmel-by-the-Sea via Highway 1 drive time: 40 mins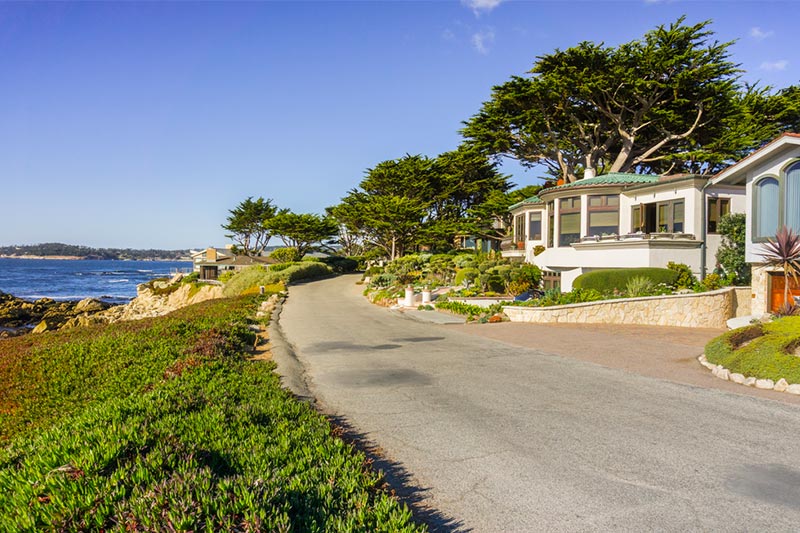 Expect to See: Quiet Beaches and Quaint Cottages
If you're looking for a charming, coastal escape, look no further than Carmel-by-the-Sea. Home to countless bed-and-breakfast spots, a quaint downtown area, and a particularly tranquil stretch of beach, Carmel is an idyllic haven. Start your morning by strolling down the beach before peeking into the shops and restaurants that line Ocean Avenue. The Carmel Bakery & Coffee House is carbohydrate heaven—just try to choose between a massive soft pretzel, buttery croissant, or a perfectly decorated sugar cookie.
As you meander down the beaches of Carmel, you can gaze up at Pebble Beach Golf Link, located in, of course, the neighboring city of Pebble Beach. Golfers from across the country flock to this legendary course, but even if golf isn't really your thing, the greenery is still pretty to look at. Pebble Beach is also home to the beginning of the 17 Mile Drive, a 17-mile roadway that winds along the coastline and will carry you to Monterey. This scenic highway cost $10.25 per vehicle, so make sure to have some cash on you—views this pretty don't come cheap.
It's called the 17 Mile Drive for a reason: 17 miles
Carmel-by-the-Sea to Monterey via Highway 1 drive time: 20 mins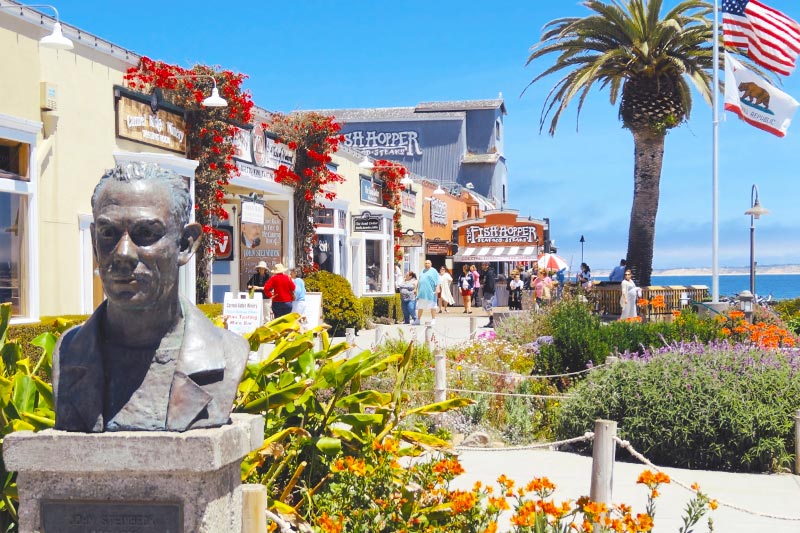 Expect to See: John Steinbeck's Muse
Leaving Carmel, you have two choice for getting to Monterey: the scenic 17 Mile Drive, or you can stay on Highway 1 for the less-scenic-but-more-straightforward highway. Either way, a short jaunt up the coast lands you in the heart of Monterey. One of the city's most famous attractions is the Monterey Bay Aquarium, which absolutely lives up to the hype.
And of course, Monterey is home to Cannery Row, widely popularized by John Steinbeck's 1945 novel and now a cultural destination for activities and entertainment, dining, shopping, and wine tasting. Round out your Monterey experience by heading down the wharf to grab lunch at Crab House, or reclining on Del Monte Beach.
Steinbeck to the Surfing Museum: 45 miles
Monterey to Santa Cruz via Highway 1 drive time: 45-60 mins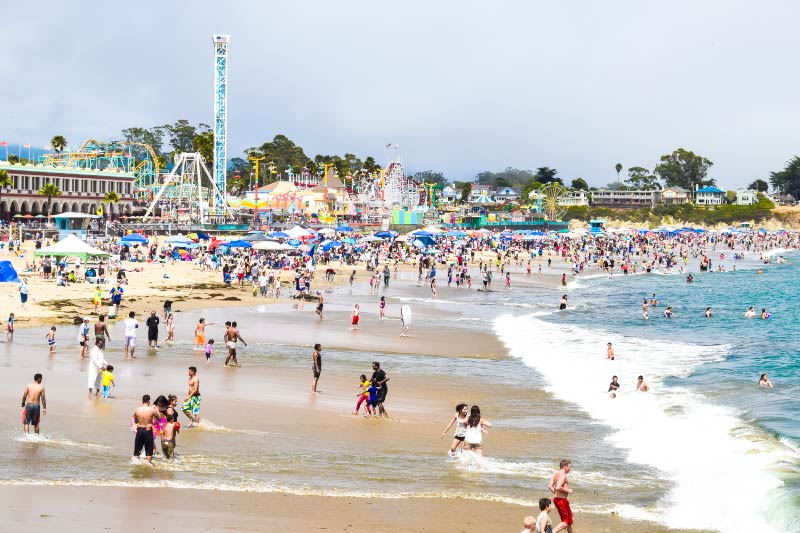 Expect to See: Surfers and Sand, Man
Santa Cruz is your last major coastal city before reaching San Francisco and, as such, is worth spending some time exploring. There are several beaches for your sun-soaking pleasure, and in this city that's known for surfing, they also offer a great chance to jump in the water. If you're new to the sport (or is it a lifestyle?) check out Cowell's or Capitola Jetty. And once you've had your own surfing adventure, be sure to visit the Santa Cruz Surfing Museum.
You will also want to spend some time strolling down the boardwalk (be sure to ride the renowned Giant Dipper), exploring the wharf and making friends with the sea lions that frequent it, and absorbing the natural beauty of the Santa Cruz Riverwalk.
As you start to make your way inland, take advantage of the 11.5 miles of trail winding through Pogonip Park. And if you don't mind a very worthwhile detour, make your way to Henry Cowell Redwoods State Park for a chance to see some of the majestic trees.
But don't worry, this is far from your only chance to see the Redwoods. As you head back out to Highway 1 and make your way north, you will pass by Big Basin Redwoods State Park, Portola Redwoods State Park, and Purisima Creek Redwoods Open Space Preserve—all of which are worth a slight detour from your highway to take in the trees. (And if Redwoods are really your thing, you can camp at Big Basin or Portola).
From hugging Redwoods to riding cable cars: 75 miles
Santa Cruz to San Francisco via Highway 1 drive time: 75-120 mins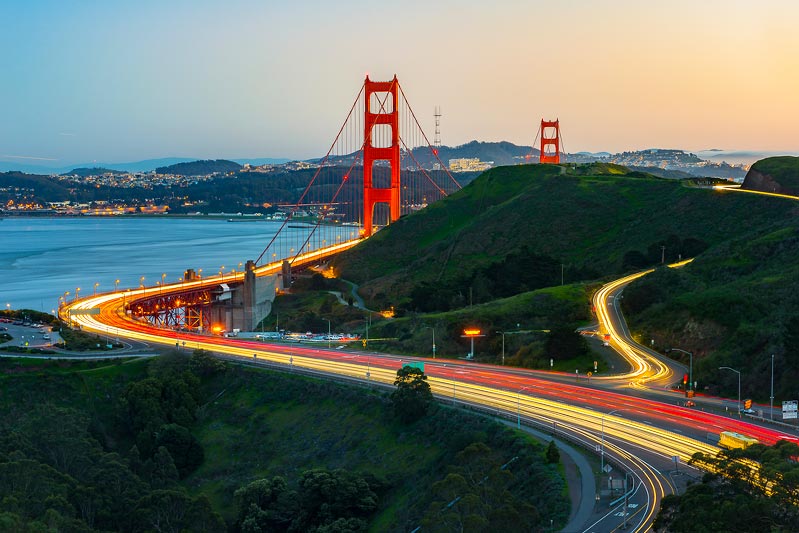 Expect to See: Tourist Destinations Worthy of the Hype
From Santa Cruz to San Francisco is about 78 miles if you remain committed to traveling along the coast. At this point of the journey, it's not uncommon to cut inland in favor of a more direct path to the city, but if you stay true to Highway 1, you get to continue drinking in those ocean views (they really don't get old) and pass through stunning spots like Half Moon Bay and Moss Beach.
And now, you have finally reached your destination (even though we all know this was definitely about the journey). This dense city is packed with iconic California history, a distinct blending of cultures and experiences, a vibrant and diverse food scene and breathtaking parks and views. Walk (or bike) across the Golden Gate Bridge, eat clam chowder at Fisherman's Wharf, ride the cable cars, meander through the farmers market at the Embarcadero, or pay Alcatraz Island a visit.
The opportunities are endless in this bustling city, so whether you are looking for the perfect photo op, hoping to avoid any tourist traps, or are looking to sip a glass of rosé on a rooftop patio, you're guaranteed to find what you are looking for—be sure to stay a while.