Houston Real Estate Development
Houston New Development Drilldown October 2018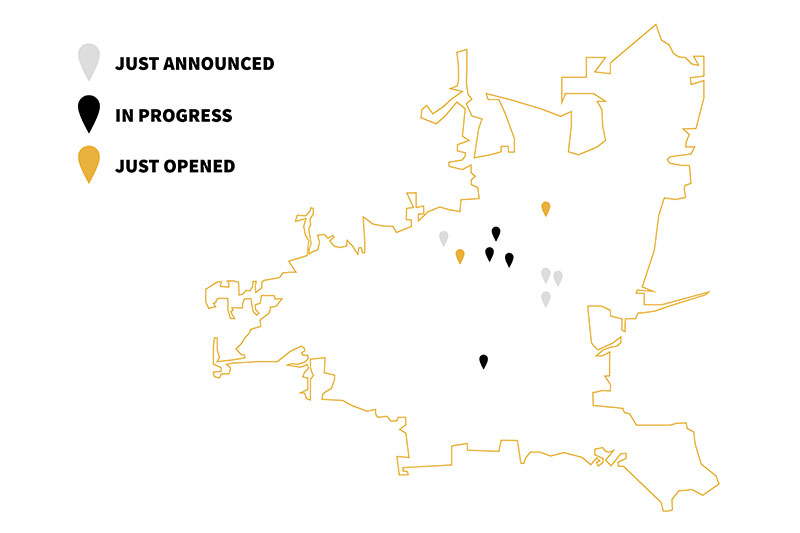 Houston has experienced a full facelift over the last decade and continues to grow. Since 2007, the city added 30 new skyscrapers and 32 million square feet of industrial space. As a result, real estate platform CommercialCafe ranked it first for industrial construction. Houston isn't just leading the way when it comes to commercial development. In 2017, the national housing and research firm Metrostudy ranked Houston second in new home construction with nearly 28,000 new housing starts.
Both commercial and residential projects continue to thrive. Highly sought neighborhoods like EaDo and Oak Forest are expanding housing options to accommodate the surge of residents, a Houston landmark is getting a long awaited remodel, and Downtown is changing the way the city eats. Here's everything you need to know about new developments in Houston.
Just Announced
The Houston Planning Commission approved a program from local developer Frank Liu that will bring affordable housing to EaDo, per the Houston Business Journal. The project calls for upwards of 120 single-family homes, 19 of which will be reserved for residents earning less than 120 percent of the area median income. The remaining units will be sold at market value. Sitting on four acres of land off Harrisburg Boulevard, the build site for the subdivision has been divided into eight sections.
This announcement comes on the heels of a similar one by New Hope Housing, an area nonprofit that opened an affordable housing complex with 175 rental units in April. EaDo is one of Houston's trendiest neighborhoods, but the rapid expansion and influx of residents has caused housing prices and rents to rise. These projects by New Hope Housing and Frank Liu seek to keep the area affordable to longtime inhabitants—whether they're renters or prospective homebuyers.
North of the 610 loop, a new gated community is coming to Oak Forest. Pulte Homes is planning to construct a 77-unit gated community in the Oak Forest area dubbed Oak Forest Manor, according to Houston Business Journal. The company recently opened four gated housing developments in Spring Branch and one in Briar Meadow. Though no prices have been announced yet for Oak Forest Manor, typical price points for recently constructed Pulte properties hover around $300,000. Pulte is known for multi-level detached townhomes featuring open living spaces, large kitchens, built-in storage, and outdoor areas; those proposed in Oak Forest are expected to follow suit. The neighborhood is large and residential; Houstonia Magazine named it one of the best places to live in Houston. A new gated community will fit right in.
After five years of planning, The Montrose Center has received $13.8 million in federal subsidies to fund LGBTQ-affirming housing for low-income seniors. The proposed facility will be the first of its kind not only in Houston but in the Southwest region at large. Though Montrose has long been considered the city's most LGBT-friendly neighborhood, rising rents and property taxes are pricing some seniors out of the area. The apartment complex will be located in the Third Ward, a more affordable neighborhood located only one mile from the Montrose Center.
The complex will feature 112 one- and two-bedroom units, a fitness center, a primary care clinic, and a vegetable garden. Rates will be based on a sliding scale and will not exceed 30 percent of the renter's income. The facility is expected to open in 2020. The project, along with similar ones in the city, intends to mitigate the oncoming "Silver Tsunami" when the number of Americans over the age of 80 will double from 6 to 12 million and create a higher demand for senior housing.
In Progress
A few major commercial developments are currently underway in Houston. In terms of dining, Downtown is set to open four new food halls in the coming year. The city's first underground food hall and beer garden, Conservatory, opened in 2016 and has quickly become a Downtown dining mainstay. Business owners are banking on that same success for their upcoming ventures. Food halls are the modern equivalent of mall food courts reimagined to spotlight local chefs in lieu of chain restaurants.
Downtown will see the arrival of Finn Hall (10 eating establishments plus 2 bars), Lyric Market (a massive multi-level venue with both underground and rooftop space), and Bravery Chef Hall (from the team behind Conservatory) in the latter part of 2018, while recently announced Understory (located in Downtown's underground tunnels) is slated for 2019. These additions are guaranteed to shake up the city's dining scene. Featuring a flurry of restaurants, many of which are outposts of area-favorites, Downtown's new culinary concept will offer residents a chance to sample the city's best dishes without leaving the neighborhood. The surplus of food and drink options should benefit those who live or work in the city center and attract visitors to Downtown who are looking for somewhere to eat that accommodates everyone's tastes.
Also in progress is the resurrection of the Astrodome. Nostalgic Houstonians can breathe a collective sigh of relief knowing that the city's most notable landmark will live to see another day. The so-called "8th wonder of the world" and the first domed sports stadium has been largely vacant for 16 years and was officially closed due to safety concerns in 2008. Over the years, multiple attempts to renovate and repurpose the stadium have failed. In a last ditch effort, the Harris County Commissioners Court approved a $105 million dollar renovation plan in April. Construction is set to begin in October and wrap up in 2020. Once completed, the dome will be used as a multipurpose event space and will include an underground parking lot. The Astrodome area, just south of the Medical District, is a prime location for citywide events including Houston Texans games, major concerts at NRG Park, and the ever-growing Houston Livestock Show and Rodeo which attracted over 2 million visitors in 2018. A revitalized Astrodome should boost the local economy and bring even more businesses and events to the surrounding neighborhoods.
Now Open
Whole Foods Market 365 opened in historic Independence Heights on Aug. 22, becoming the neighborhood's first major supermarket. The store, which is a budget-friendly iteration of the popular organic and natural foods chain, is the first of its kind in the Houston area and only the 10th in the country. Whole Foods 365 is a boon for residents who can now buy fresh produce and groceries without having to drive 10 minutes out of the way. The company hopes to attract new customers to the Whole Foods brand by lowering prices and reaching people in underserved and overlooked neighborhoods. The Independence Heights location features two restaurants: local South African chain Peli Peli Kitchen and Juice Society, an Austin import with cold-pressed juices. The Whole Foods Market 365 is housed in the Yale Marketplace, a 61,000-square-foot shopping center from Fidelis Realty Partners that's nearing completion.