Houston's Most Bike-Friendly Neighborhoods
Houston's Most Bike-Friendly Neighborhoods
Houston's vast sprawl makes it difficult to navigate its neighborhoods by bike—but it might not be this way for long. The Houston Bike Plan, adopted in 2017, is aiming to make Houston a "gold-level bike-friendly city" within 10 years. The Bayou Greenways 2020 project is turning 3,000 underused acres of land along Houston's bayous into linear parks for hiking and biking. A few neighborhoods have already started or completed bike-friendly initiatives and residents are reaping the benefits.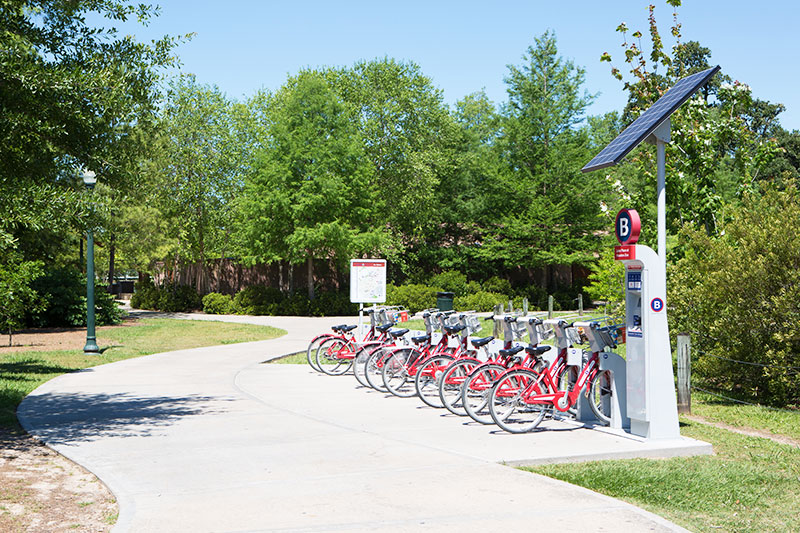 The Medical District is home to over 60 medical institutions. The neighborhood is largely comprised of medical center employees who opt to live near their respective hospitals in case of emergencies. Since medical field workers value healthy living and need a quick, traffic-free route to work, it's no surprise that you'll often see Medical District residents biking to work.
Cutting right through the Medical District, The Brays Bayou Greenway contains 30 miles of interconnected hike and bike trails. Bike commuters living along or near the trail have the benefit of safe off-street travel, and the greenway functions as a bike superhighway leading directly to Houston's mini medical metropolis. University of Houston students living in the Medical District can cycle to class via the Brays Bayou Greenway which links to the Third Ward.
BCycle Houston recently installed four rideshare bike stations in the Medical District with more set to arrive over the next two years. For $9 a month, BCycle members can rent a bike from one station and dock it at another.
Miles and miles of paved trails loop around Hermann Park, a 445-acre park containing a golf course and the Houston Zoo. The open greenspace offers medical workers, students, and other residents a quiet place to exercise and unwind after a long day. Hermann Park also connects to The Brays Bayou Greenway, allowing riders to hop on and off at their convenience, and to Rice University for easy student access.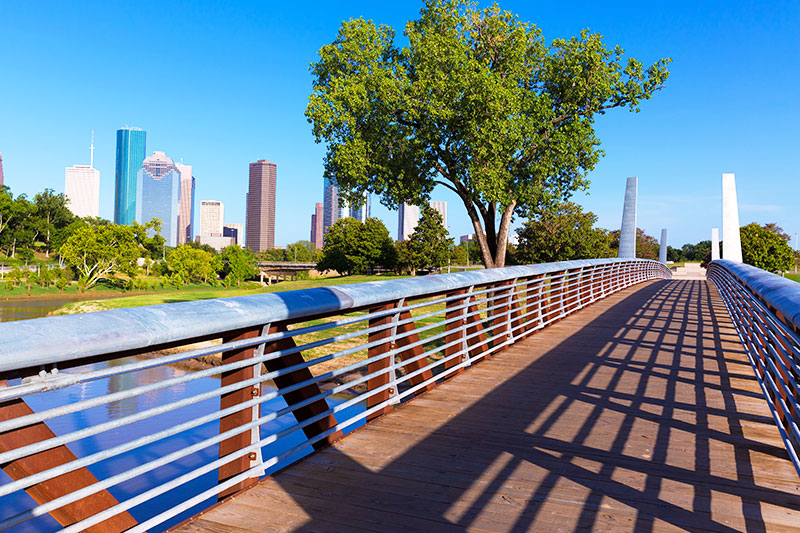 Memorial Park/Washington Corridor is a residential neighborhood that tends to attract millennials, artists, and urban professionals of all ages. Sandwiched between two highly desirable neighborhoods, Montrose and The Heights, Memorial Park/Washington Corridor offers slightly more affordable housing with similar amenities for residents.
Many residents commute downtown and Buffalo Bayou provides direct access via the Sandy Reed Memorial Trail. The paved 10-foot-wide path accommodates all types of bikers.
Buffalo Bayou also intersects the White Oak Bayou Greenway which hugs the border between the Heights and Timbergrove and leads all the way to Garden Oaks outside of the 610 loop. Residents can experience everything those neighborhoods have to offer without worrying about the traffic and construction plaguing the city.
Memorial Park is geared more toward bike enthusiasts and nature lovers than commuters. The Picnic Loop provides a smooth surface for fixed gear, cruisers, recumbent, and road bikes. Memorial hosts weekly bike races on the Picnic Loop during the summer months. Mountain bikers and more adventurous riders will prefer the park's dirt path trail network.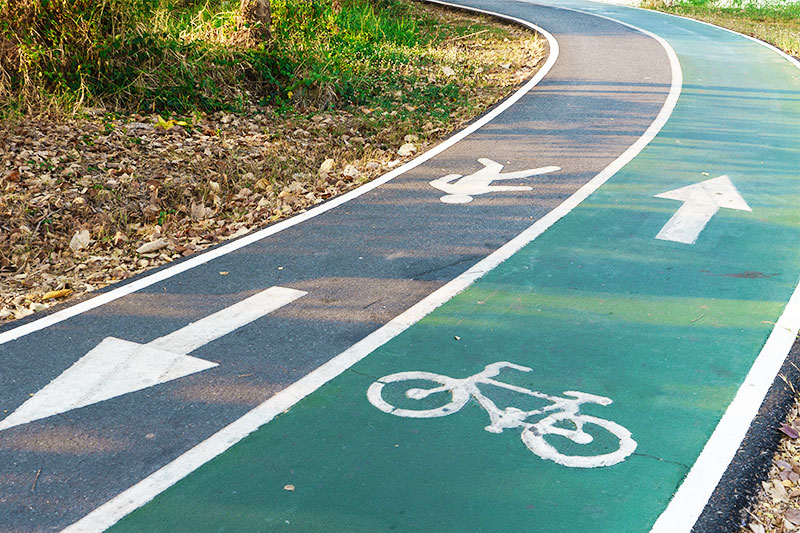 The Greater Heights is popular with families, older established millennials, and urban professionals because it offers a slice of suburbia while spitting distance from Downtown. Single-family bungalows and charming historic homes dot the neighborhood, and the Heights is one of the safest and most proactive neighborhoods for bikers.
The Heights Trail is a paved path along the abandoned MKT railroad. The trail links to Downtown, making it a convenient option for commuters. The White Oak Bayou Greenway and Buffalo Bayou also connect to The Heights Trail, providing a place for leisurely family bike rides and a path to nearby neighborhoods.
Parallel streets Nicholson and Heights Boulevard trace the neighborhood almost from top to bottom. Nicholson, part of the Heights Trail, features an off-street bike path, and Heights Boulevard has dedicated in-street bike lanes. Since many businesses are located on or around these streets, biking to grocery stores, cafes, restaurants, and running other errands in the Heights is a breeze.