How do new stadiums affect neighborhood home prices?
How do new stadiums affect neighborhood home prices?
In recent years, there have been new additions to Major League Soccer (MLS) and a handful of NFL teams have moved. As a result, new stadiums are being built and professional teams are playing in stadiums that had previously hosted college teams, concerts, and whatever else happens in stadiums when there's not a consistent tenant.
Whether or not stadiums provide enough benefit to the community in order to justify their funding is debatable (no one has covered that topic with more vigor or wit than John Oliver). But what if you happen to live in a neighborhood next to a stadium? How can you expect a new or renovated stadium to affect your home price? Let's take a look.
Luckily for us, there's been a flurry of activity in Los Angeles with new and relocating teams. So, just for the sake of having a larger sample size, we'll be spending a decent amount of time in Los Angeles.
Banc of California Stadium (Formerly Los Angeles Memorial Sports Arena)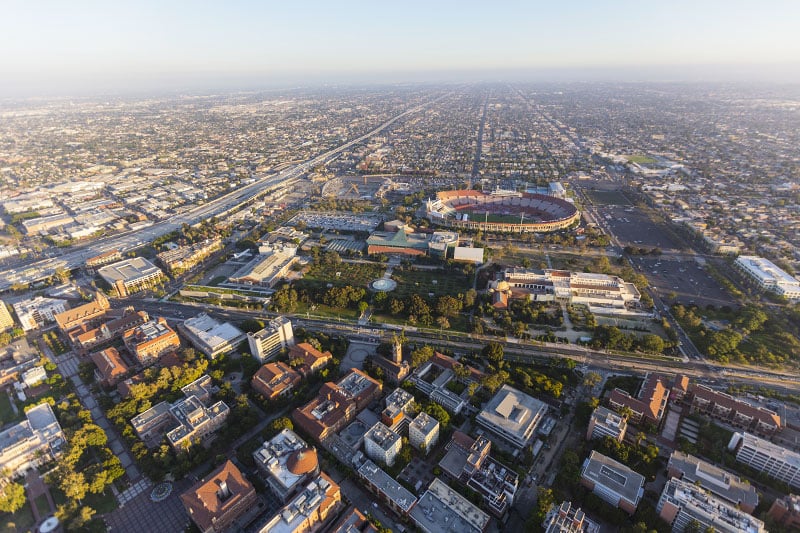 The Banc of California Stadium, located in the Exposition Park, is currently home to the Los Angeles Football Club, LA's new professional soccer team. The team joined the league as part of an expansion, and as soon as they formed, they announced plans for the Banc of California Stadium to be built on the former site of the Los Angeles Memorial Sports Arena. The new, $250-million stadium opened in April of this year.
So, what has a new sports teams and a sparkling stadium brought to the neighborhood? We hope the answer includes an increase in team spirit, but it seems to include a bump in home prices for the Exposition Park neighborhood.
According to data sourced from Neighborhoods.com and FRED Economic Data, in October of 2015 (a few months after the new stadium was announced), the median home price in Exposition Park was $361,000. In September of 2016, that number rose to $463,000. In October of this year, the median price was $600,865. There have been ups and downs over the past three years, but the trend of increasing home prices has been steady.
Exposition Park homes prices in October of this year, when compared to home prices in October of 2015, experienced a 66.4 percent increase. Los Angeles as a whole has maintained a roughly 6 percent annual increase since 2015, according the Los Angeles Home Price Index provided by FRED Economic Data.
Verdict: Boon to the neighborhood.
StubHub Center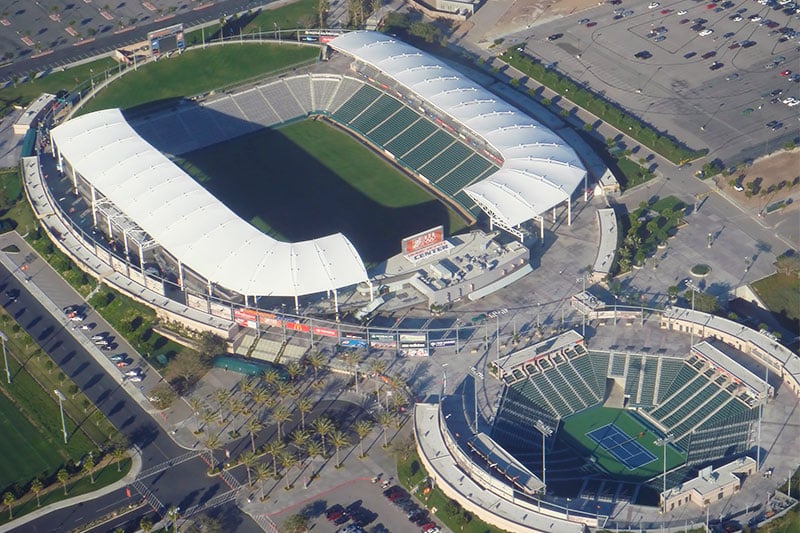 There's not just one, but two displaced (or should we say re-homed?) NFL teams. The Chargers relocated from San Diego, and they have been playing in Carson, California at the StubHub Center in Dominguez Hills while they wait for their new stadium to be completed.
The StubHub Center is located on the California State University Campus, so any changes in home prices could be tied to the university as well. Also, though the stadium opened in 2003, it recently underwent renovations in order to increase its capacity for its newest tenant.
Since the stadium is only a temporary home for the team, the effects may not be long-lasting. So, what's happened since the Chargers moved into StubHub? Well, in October 2015, when the Los Angeles Chargers were but a twinkle in the eye, the average home in Dominguez Hills was $585,000. Not too shabby. That number jumped to $640,000 in the fall of 2017, when the Chargers moved in. However, the median home price since the fall of 2017 has greatly fluctuated. As of October 2018, the median sale price dipped to $582,500.
Dominguez Hills homes prices in October of this year, when compared to home prices in October of 2015, experienced a 0.4 percent decrease.
Verdict: A small, temporary bump in home value.
Los Angeles Stadium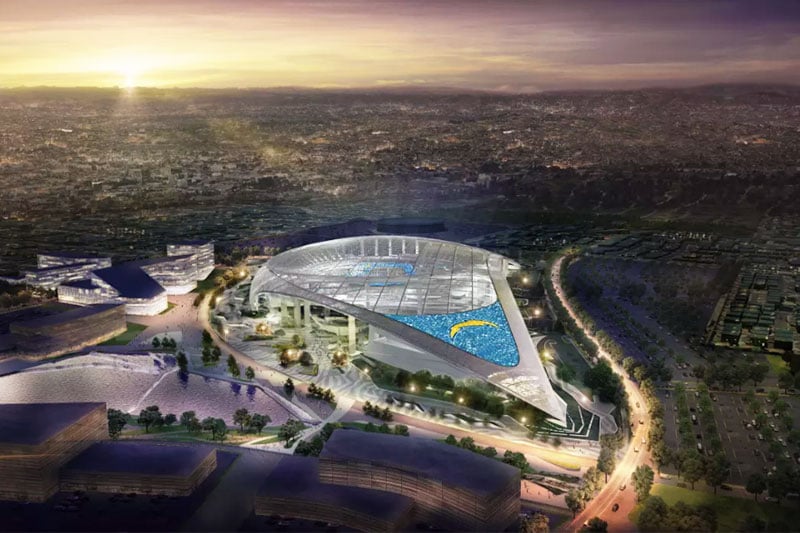 That shiny, new stadium we've been talking about? It's the Los Angeles Stadium. If there's one thing professional sports teams seem to love in Los Angeles, it's new construction and having roommates.
Once it's completed in 2020, the Los Angeles Stadium will welcome both the Chargers and the Rams as permanent residents. We examined the home price trends in Inglewood, specifically Hollywood Park, to see if there have been any changes to home prices since the new stadium was announced and construction started. In October of 2015, the median home price was $373,000. In September of this year, that number had jumped to $535,000.
Again, there have been ups and downs in the Hollywood Park home market, but the new stadium seems to be good news for homebuyers. Homes in Hollywood Park have increased by 43.4%, which is significantly higher than the average increase across Los Angeles.
Verdict: Things are looking promising for home prices in Hollywood Park.
Sam Boyd Stadium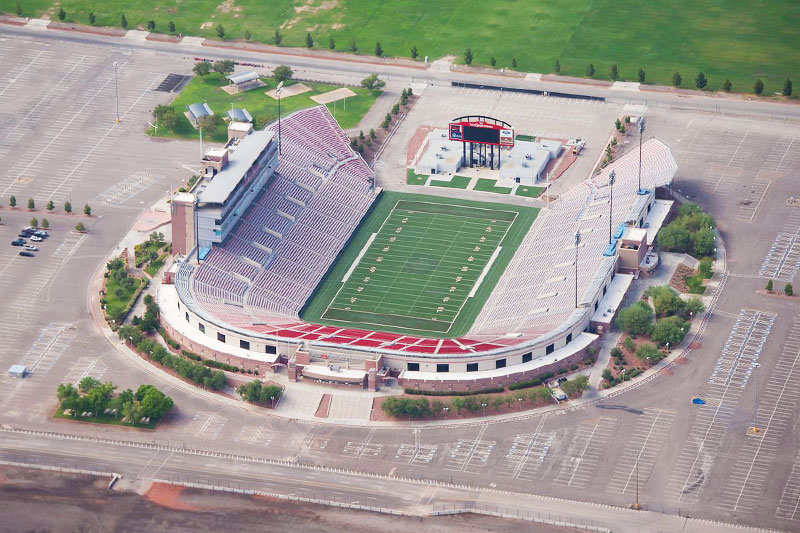 The Sam Boyd Stadium is still in the works. Once it's completed (anticipated finish date is 2020), it'll be home to the Las Vegas Raiders. The Raiders, formerly known as the Oakland Raiders, are set to move to the new stadium once it's completed.
Like a top-notch reality show, the Raiders move from Oakland to Vegas has been filled with drama. The Raiders were scheduled to move to Las Vegas Stadium in the interim, but in a messy twist, the team announced it would stay in Oakland for the 2017 and 2018 seasons. Sam Boyd Stadium won't be completed until 2020. Where they'll play in 2019, no one seems to know yet.
What's happening to home prices in Whitney, the Vegas neighborhood where Sam Boyd Stadium will be located? In September of 2017, home prices averaged $190,300. In August of this year, that number had ticked up to $227,000. So far, it's a relatively small blip, and since the stadium isn't finished yet, we can't say for sure which way the market will trend.
During the first half of this year, the average home price in Las Vegas rose by 16.3 percent compared to 2017, according the Las Vegas Home Price Index provided by FRED Economic Data. Whitney homes prices in October of this year, when compared to home prices in September of 2017, experienced a 19.3 percent increase.
Verdict: The jury is out, but home prices in Whitney seem to be rising in tandem with Las Vegas as a whole.
So will a new stadium increase the value of my house?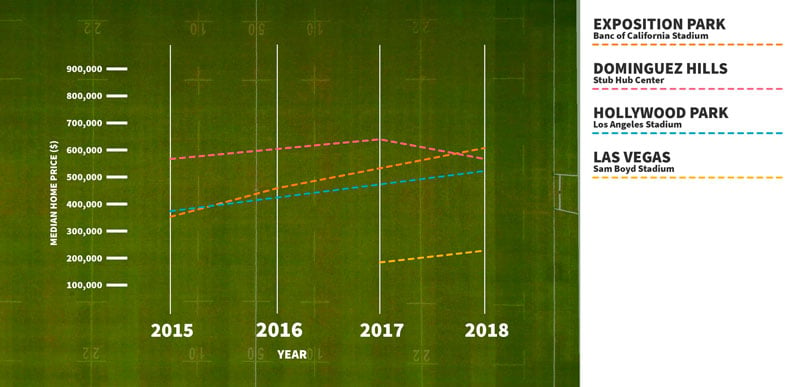 The short answer is: maybe. We've seen a price bump in each of the neighborhoods that have been home to a new stadium or new team. In some cases, it's still too early to tell if that's just the fluctuation of the market or if there's real noticeable change from the development.
Thanks to the love professional teams have for real estate development, there will be more data as the Atlanta United FC moves into Coolray Field and the Minnesota United FC makes Allianz Field their home stadium. For now, if a new stadium opens in your neighborhood (or if you're moving into a neighborhood where a new stadium is being built), you can proceed with cautious optimism about how it will affect your home prices.