Jacksonville Neighborhood Guide
Jacksonville Neighborhood Guide
Sometimes, bigger is better, particularly when it comes to living in Jacksonville. Florida's largest city also happens to be the largest city in the continental United States by land mass at over 800 square miles. It's also the 14th largest city in the U.S. by population.
What does that mean for residents? It means Jacksonville has a little bit to offer everybody, especially those who enjoy recreation, water, history, and culture. The city operates the largest urban park system in the U.S. with over 80,000 acres of parks and community areas. The St. John's River runs through its center, and the city has over 850 square miles of beaches at three beach areas along the Atlantic Ocean: Neptune Beach, Atlantic Beach, and Jacksonville Beach.
With the first Europeans settling along the shores of the St. John's River in the early 16th century, history is a big part of this city. Over the years, Jacksonville has also quietly developed its music and art scene. And one of the best perks of living in this Florida city is its relatively low cost of living. The median home price is $140,000, lower than Florida's at $166,800 and the national average at $184,700.
All of this makes Jacksonville one of the best places to retire in the U.S. But for people of all ages, there's a lot to love about this Florida city.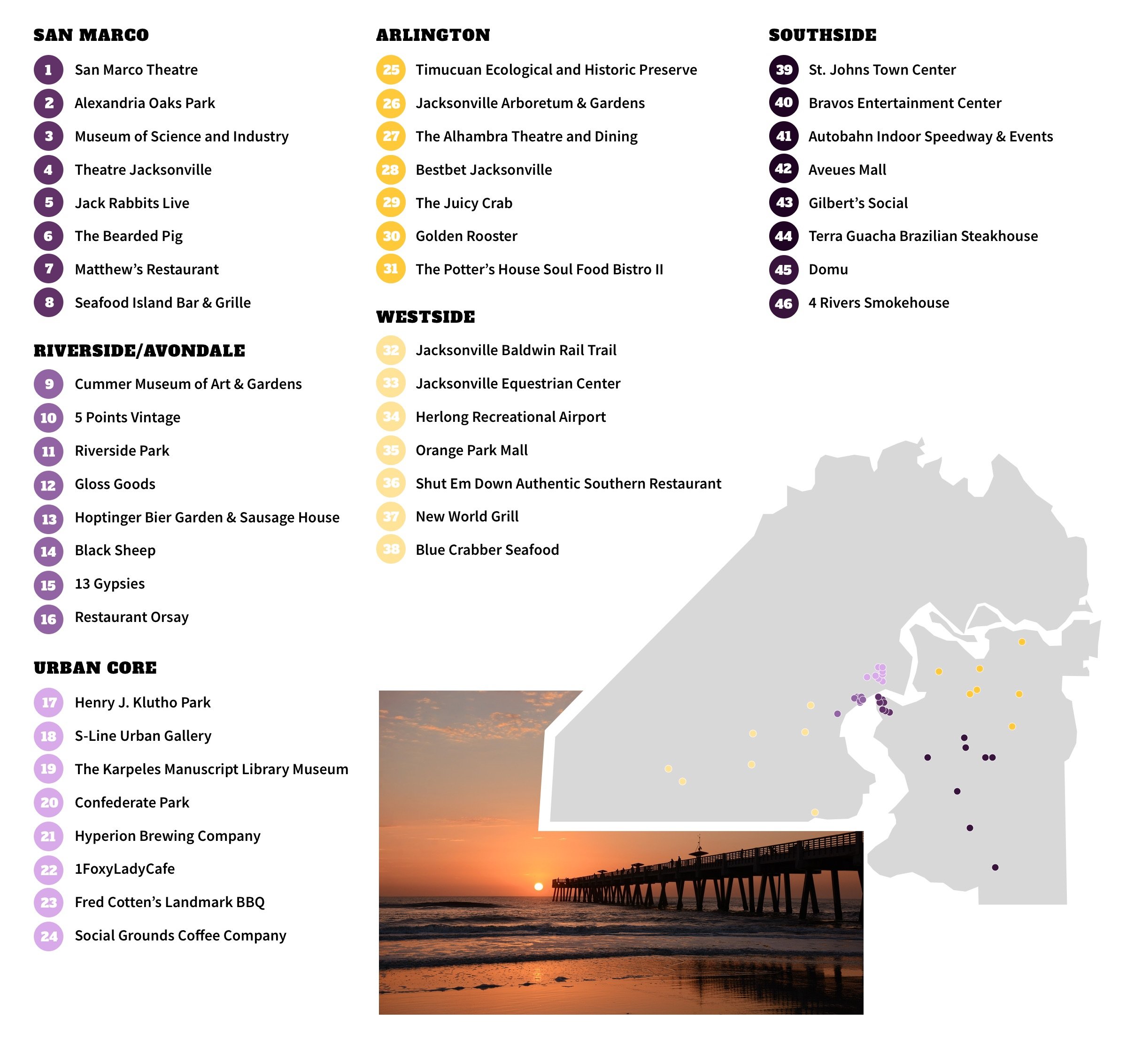 Jacksonville at a Glance
Because of Jacksonville's sprawling size, most residents rely on cars for transportation. However, there are some public transportation options:
Jacksonville Transportation Authority runs bus service to many of the city's neighborhoods, the beaches, and the Jacksonville International Airport. It also offers ferry service from St. George Island to Mayport. The Skyway is a free monorail service that serves points of interest on both the Northbank and Southbank.
The St. Johns River Taxi serves points downtown, although many people use this service more for entertainment than transportation. On Fridays and Saturdays, it offers a 1.5-hour sunset cruise along the river toward Riverside, Avondale, and San Marco.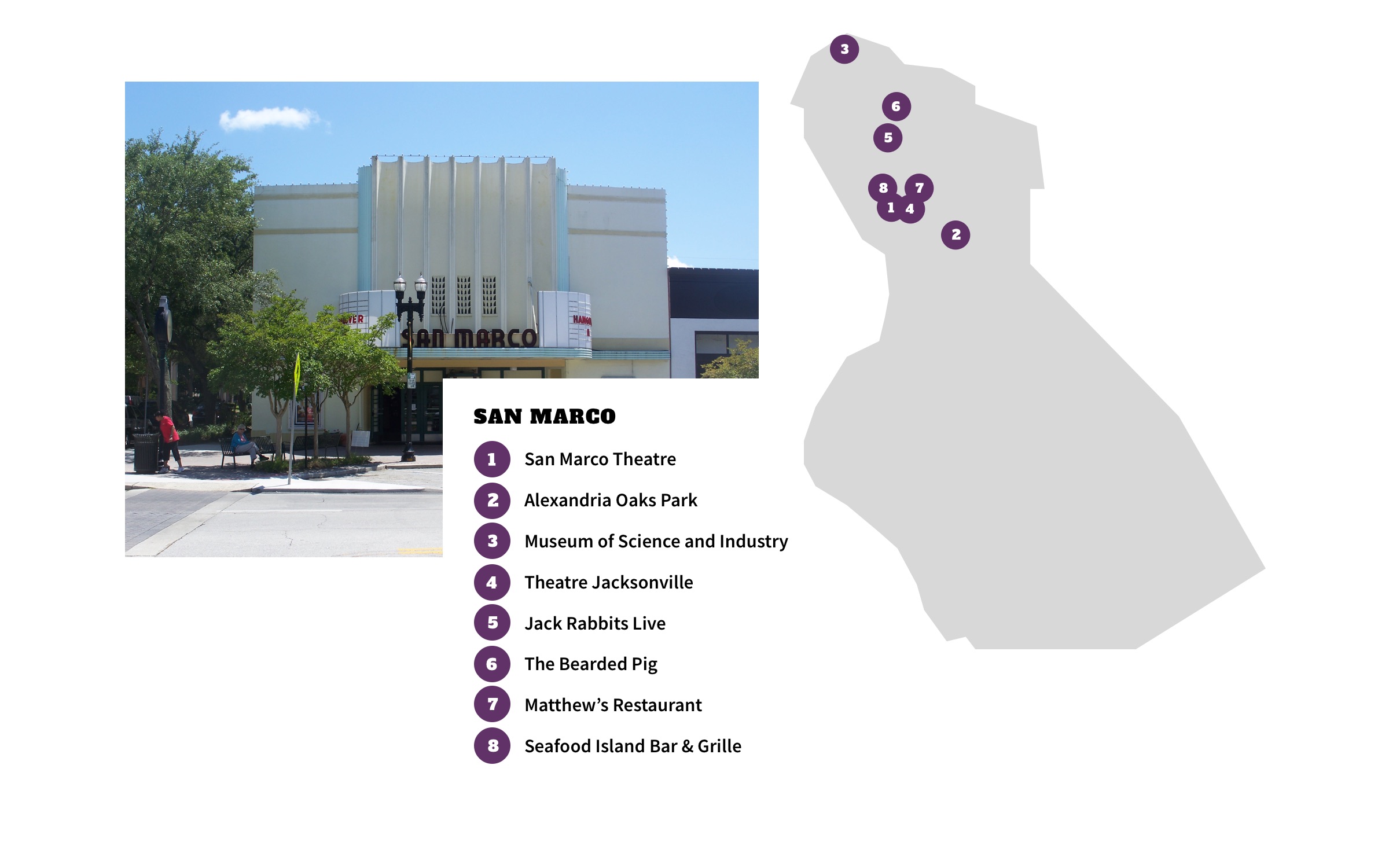 Located minutes away from downtown's Southbank, San Marco is both a historic and a trendy neighborhood. With the nickname "Dinner District," the area has many dining and entertainment options, along with clothing stores and art galleries.
San Marco Square, located along San Marco Boulevard, is the heart of the neighborhood. Modeled after St. Mark's Square in Venice, Italy, it's where you'll find the iconic Three Lions fountain. While high-rise condominiums overlook the St. John's River, the neighborhood also has many single-family homes, making it attractive to a variety of residents.
What to Do
Located in the heart of San Marco Square, this historic Art Deco theater was built in 1938 and restored by its current owners two decades ago. Today, it serves as a charming feature of the neighborhood where you can view the latest films and grab a bite to eat.
This is a large and scenic park in the heart of the neighborhood, and it's perfect for a long, peaceful stroll or a walk with your dog. Aside from park benches, this park doesn't have a lot of amenities—it's more open space than anything—but that's just how residents like it.
This museum is chock full of interactive exhibits where kids can learn about science and history with hands-on demonstrations. The museum also offers discovery camps, outreach programs, and school programs.
This volunteer-based community theater presents a variety of stage productions throughout the year. It also offers educational theater programs for kids of all ages.
For live entertainment in an intimate venue, Jack Rabbits features regional and nationally touring acts. People love its hip atmosphere and the fact that you can get up close and personal with bands.
Where to Eat and Drink
This southern barbecue restaurant and beer garden located on the Southbank of the St. John's River is a neighborhood favorite, offering traditional southern cooking in a casual atmosphere.
This contemporary, upscale restaurant features classically inspired French and Mediterranean dishes, including caviars and truffles, appetizers such as escargot and Maine diver scallops, and entrees such as braised veal cheeks and radiatori pasta.
Even land lubbers will enjoy the extensive menu and large portions in this friendly establishment. Those on a lunch break will love the daily specials—it's easy on the wallet, but still enjoyable.
Why Locals Live Here
Though it's pricier than other neighborhoods, San Marco is quite popular due to its vibrant energy and abundance of dining, recreational, and entertainment options. Despite being minutes from downtown, it has a mostly suburban feel with many single-family homes as well as high-rise condominiums located along the river.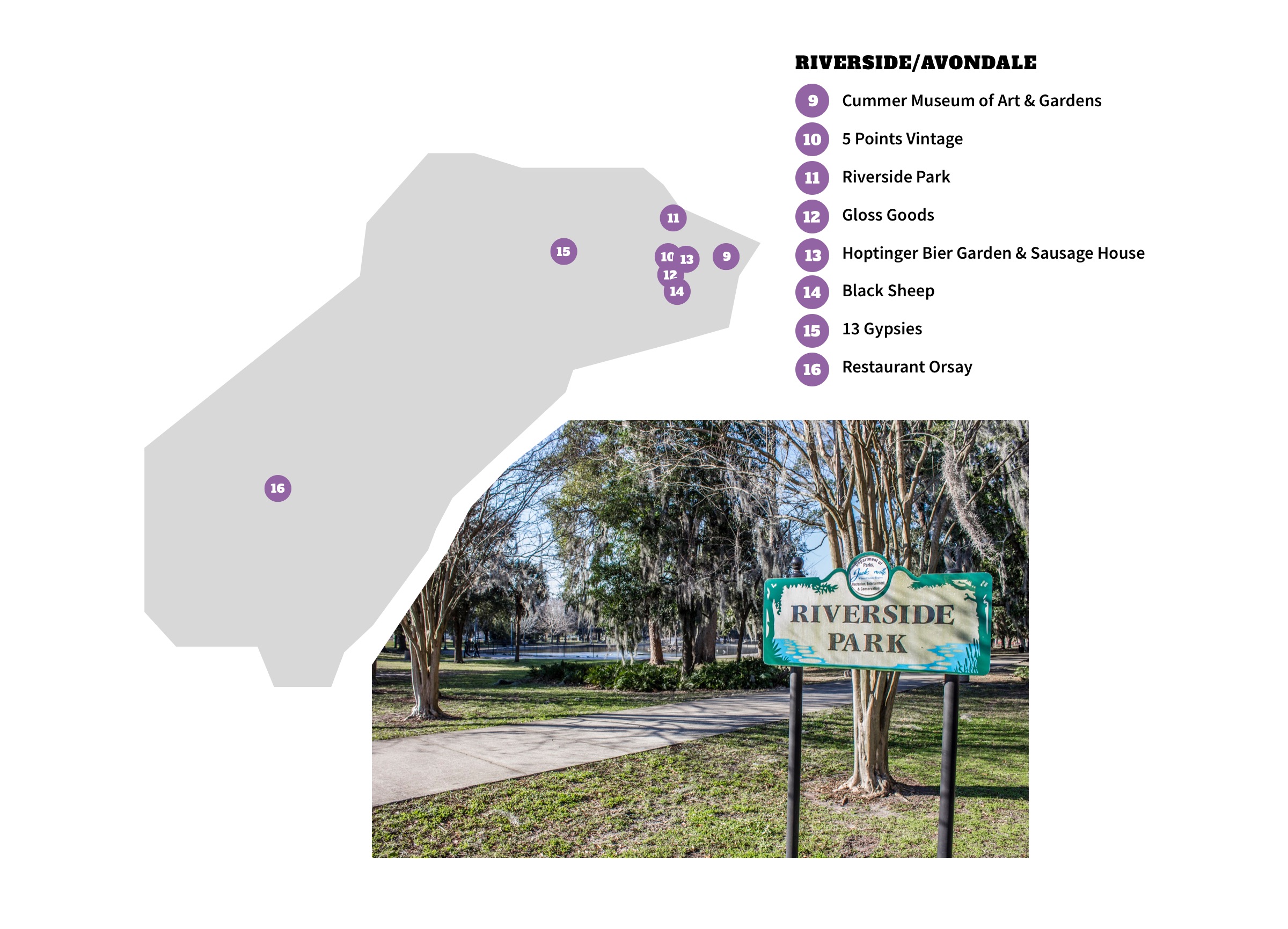 Listed in the National Registry of Historic Places, Riverside is one of Jacksonville's oldest neighborhoods. Together with abutting Avondale (many consider them one, contiguous neighborhood), Riverside and Avondale have a unique mix of charm, history, and modern design.
Housing here consists mainly of single-family homes and high-rise buildings on the waterfront—both of which tend to be on the pricey side—although you'll find more affordable options further inland. Riverside's 5 Points section is regarded as the city's arts and commerce district, with an eclectic mix of boutiques, restaurants, and bars.
What to Do
Featuring art from 2100 BC to the modern day, this museum has more than 5,000 objects in its permanent collection. Its 2.5 acres of gardens are examples of early 20th century garden design, featuring reflecting pools, fountains, arbors, antique ornaments, and sculptures.
Even non-antique lovers can spend hours walking through the aisles and checking out the mix of antiques, collectibles, and odds and ends in this neighborhood favorite.
This 11.4-acre park is located in the heart of Riverside and has historic roots dating back over a century. Today, it's a peaceful place for a walk or you can bring your dog to the dog park.
You'll find unique specialty items—such as cosmetics, pendants, jewelry, and bags—at this shop on Lomax Street. It's a great stop if you're looking for a distinct accessory or a special gift.
Where to Eat and Drink
Beer lovers have over 60 taps of revolving craft beers to choose from as well as a full Bavarian-style menu. For a fun twist, you can order "burger roulette," a burger whose details change with the chef's mood.
Located in the 5 Points section, this casual eatery offers Southern-style cooking, and it's a popular choice for both lunch and dinner.
With a heritage rooted in Spain, this family-owned restaurant serves "peasant" food and makes its own bread, sausage, cheese, and cured meats.
This fine dining establishment serves French cuisine with Southern influences and has topped many lists of best places to eat in the city.
Why Locals Live Here
Known as the city's hip enclave, Riverside and Avondale are the choice of many young professionals and families who relish the artsy, hip vibe of the neighborhood and the funky shopping and entertainment options. Foodies are especially drawn to this area due to the wide assortment of dining options. Like much of Jacksonville, it has a suburban feel, but with the kind of amenities you'd find in more urban settings.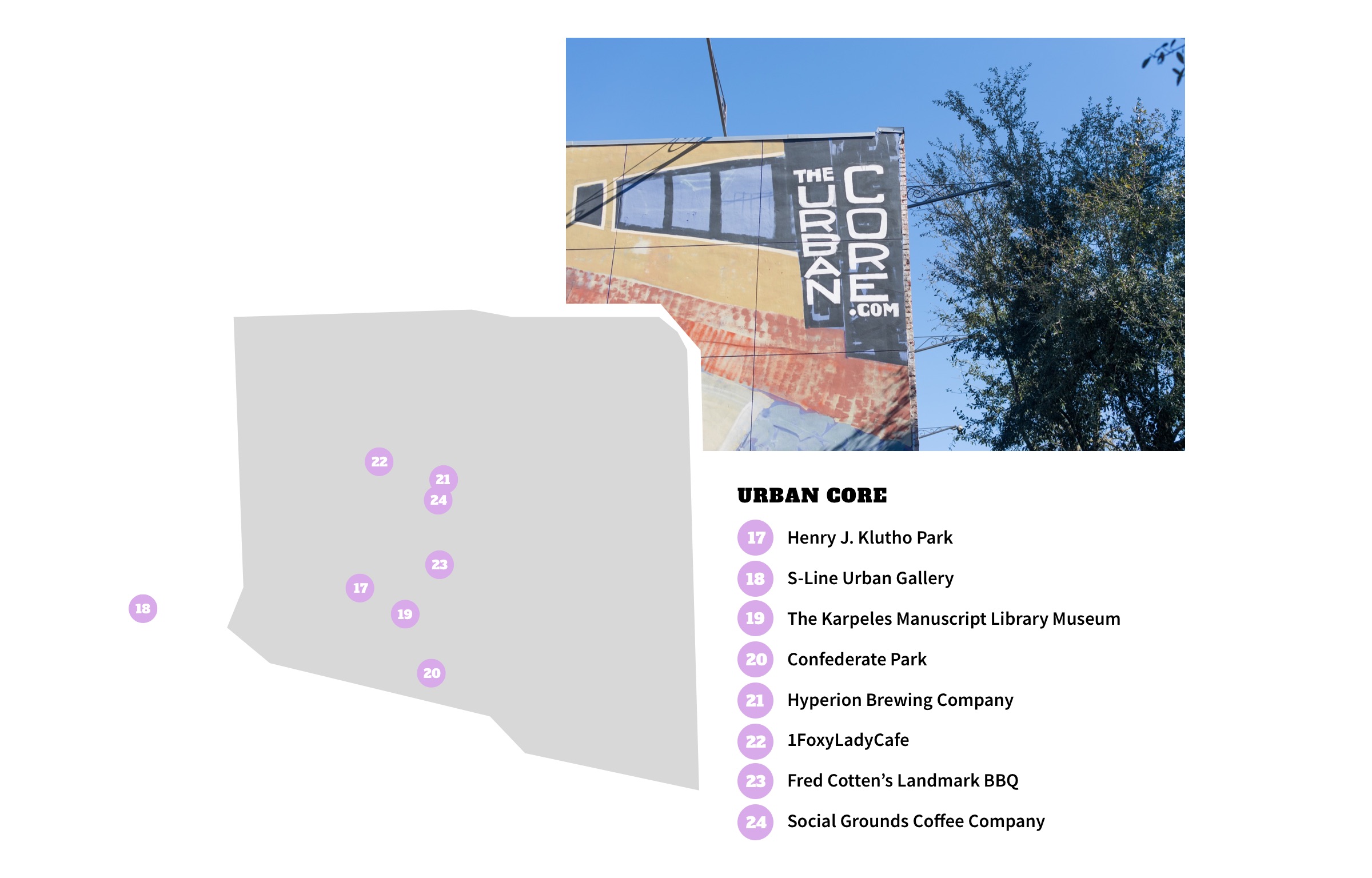 Located just north of the downtown area, the Urban Core/Springfield is an up-and-coming area that has some of the city's oldest architecture and parks. Main Street, the area's main commercial strip, runs through the center of the neighborhood and contains many boutiques, bars, and other attractions.
The neighborhood oozes historic charm with its colorful late 19th and early 20th century bungalows. Each November, Springfield hosts PorchFest, a free family-friendly music festival featuring musicians from a variety of genres. The event draws over 10,000 people to the neighborhood.
What to Do
Formerly known as Springfield Park, this 18.34-acre park is part of a network of parks that parallel Hogans Creek. It's home to the Springfield Disc Golf Course and Sculpture Walk Springfield. It also hosts the main gathering area for PorchFest each year.
Springfield is one of the city's most bikeable areas, and many cyclists like to ride on this 4.8-mile rails-to-trails multi-use path that connects the neighborhood with areas north of it.
This museum—one of 11 Karpeles museums around the county—holds the world's largest collection of original historical manuscripts. Housed in a Greek Revival structure highlighted by Doric columns, the museum overlooks Hogan's Creek and serves as an entrance to Springfield.
First opened in 1907, this park has a playground area for kids, and the dog park has two sections, one for all dogs and another for small dogs.
Where to Eat and Drink
The beer menu changes frequently at this Main Street establishment, but the space is always casual. Visitors give high marks to its friendly staff, live music, and occasional events.
Although the menu changes frequently, this neighborhood jewel specializes in non-traditional Southern comfort food, such as deep pan spaghetti and oxtail grilled cheese. The atmosphere is cozy, and the waitstaff is friendly.
Though it moved locations late last year, the restaurant still serves the traditional barbecue fare—such as ribs, smoked chicken, pulled pork, and sausage—that brings customers back again and again.
This veteran-owned shop is a cozy and casual place for a great cup of coffee and a sweet treat to go with it. You can also buy speciality ground coffee to take home with you.
Why Locals Live Here
Even if you're not a pioneer looking to be part of a changing neighborhood, you may be drawn to the variety of wood-framed houses—many of which can be purchased at reasonable prices. You may also like the homes that have been restored, although they sell at higher price points. New college graduates are drawn to this walkable and bike-friendly area, along with artists and musicians, due to the variety of bars and restaurants on Main Street.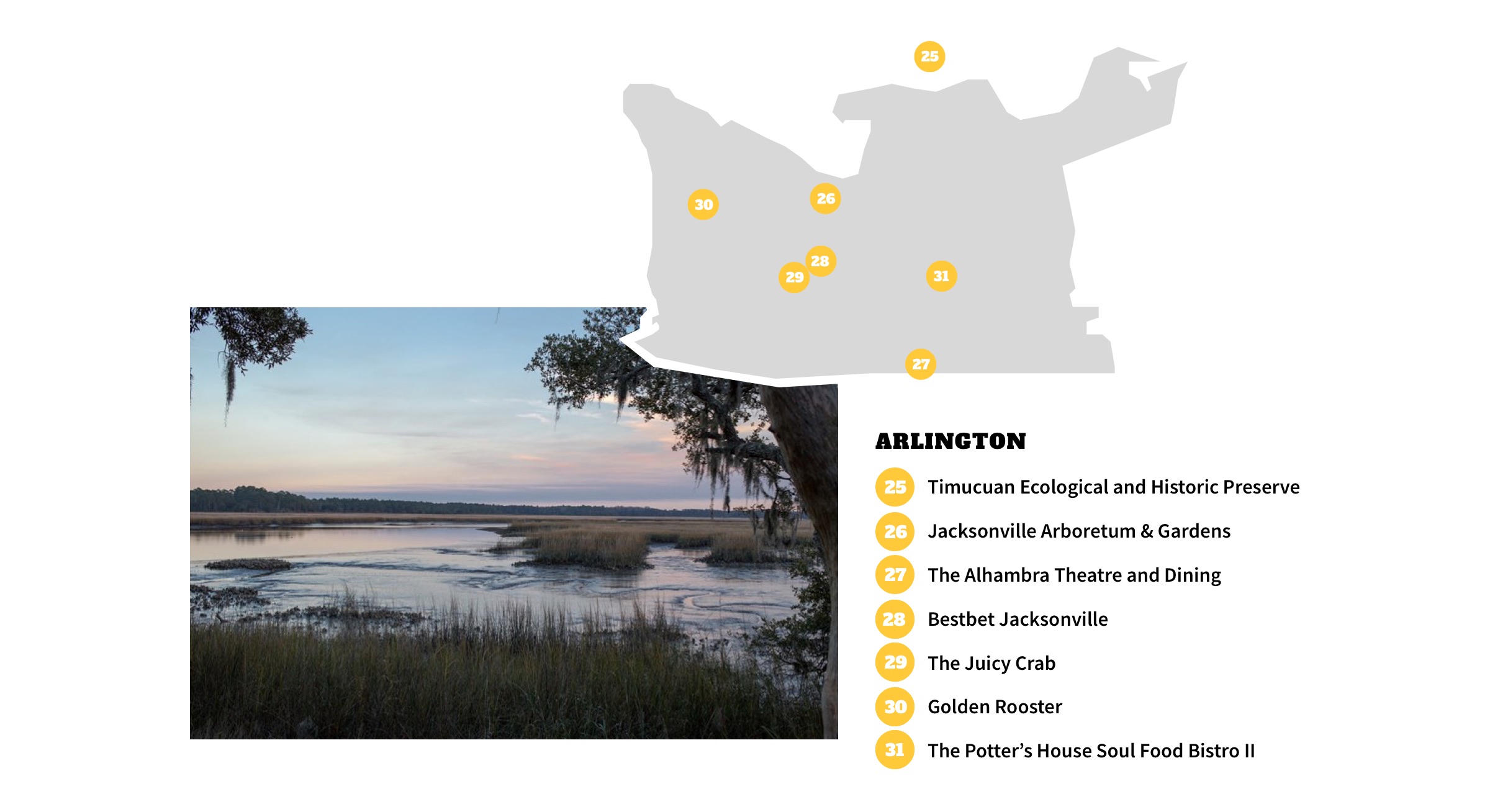 On its surface, Arlington may seem like an average suburban area. But, with a history dating back to when Europeans settled here in the 1500s, it's anything but typical. It was once the site of the French Fort Caroline in 1564, which today is the Fort Caroline National Memorial. It's also home to several large, natural attractions that are great places to hike and convene with nature.
What to Do
History meets nature at this 46,000-acre preserve where you can boat, swim, fish, and hike. It's home to the Fort Caroline National Memorial and Kingsley Plantation, the last remaining plantation house in Florida.
This 120-acre urban woodland features close to 3 miles of hiking trails through a series of distinct ecological habitats. The arboretum is open seven days a week and, on the fourth Saturday of each month, it hosts a free guided nature walk.
You can enjoy Broadway-style live theater and fine dining at the nation's oldest continually operating professional dinner theater. It's also one of the few remaining ones in the country.
With 88 tables in 20,000 square feet, this is the largest poker venue in Florida. It also features a simulcast area that allows visitors to bet on thoroughbred racing around the country.
Where to Eat and Drink
Featuring fresh, locally sourced seafood, the menu features crawfish, king crab legs, Dungeness crab, and other seafood dishes. You can pick which seasoning you'd like, along with the level of spice—from mild to extra hot.
Locals love this hometown bar which features live music by local bands, karaoke on Friday nights, and delicious comfort food. You can come here for the friendly atmosphere, but don't come for the liquor—they only serve beer and wine.
This cafeteria-style eatery features Southern soul food cooking, with braised oxtail, mac and cheese, fried chicken, and other favorites.
Why Locals Live Here
Located east of downtown and the urban core, Arlington is one the closest neighborhoods to the beaches. It's distinctly suburban, with mostly single-family housing suitable for families of all sizes. Residents give high marks to its wide assortment of dining and shopping venues, and Arlington is also home to some of the highest rated schools in the area. You can find a wide assortment of reasonably priced homes; many homes, even new construction, are priced under $250,000.
The Westside neighborhood, comprised of land west of the St. Johns River, features a broad mix of housing, including waterfront mansions, Tudor-style homes, and modest wooden-frame houses that date back to the early 1900s. The further west you go, the lower the home prices. The area is known for its full-service marinas, nautical outfitters, and boating facilities. It's also home to the Naval Air Station Jacksonville and the Blue Angels, the U.S. Navy's flight demonstration team.
What to Do
This trail, one of North Florida's oldest, runs through a rural setting of hardwood uplands, wetlands, and pine flatwoods. Most of the nearly 15-mile path is sheltered by a dense tree canopy, providing welcome shade on hot days.
This 80-acre, multi-purpose facility is said to be one of the best equestrian centers on the East Coast. In addition to horse competitions, it also hosts entertainment events like concerts, mud-runs, and athletic competitions.
Home to Jacksonville's aviation enthusiasts since the 1960s, Herlong Recreational Airport (HEG) is Northeast Florida's primary location for light sport aircraft, skydiving, gliders, and other experimental aircraft.
This mall is located in Bellair-Meadowbrook Terrace, an unincorporated suburban area west of Orange Park. Anchor stores include Dillard's, JCPenney, Sears, Belk, Dick's Sporting Goods, and AMC Theaters.
Where to Eat and Drink
Locals love this restaurant and its rich menu of southern favorites like fish 'n grits, oxtail, smothered pork chops, and ribs.
This restaurant serves traditional American food, like pizza, burgers, and wings, in a casual atmosphere. It's located near a disc golf course so it's the ideal place to grab a bite to eat after a round of golf.
This family-owned establishment serves Maryland steamed crab, garlic shrimp, and crab cakes, among other items in a casual atmosphere.
Why Locals Live Here
Though it's still close to downtown, the Westside offers open space, highly rated schools, and dining and shopping options, making it attractive to families. While houses in the Ortega section of the neighborhood tend to be higher priced, homes in other areas are more affordable.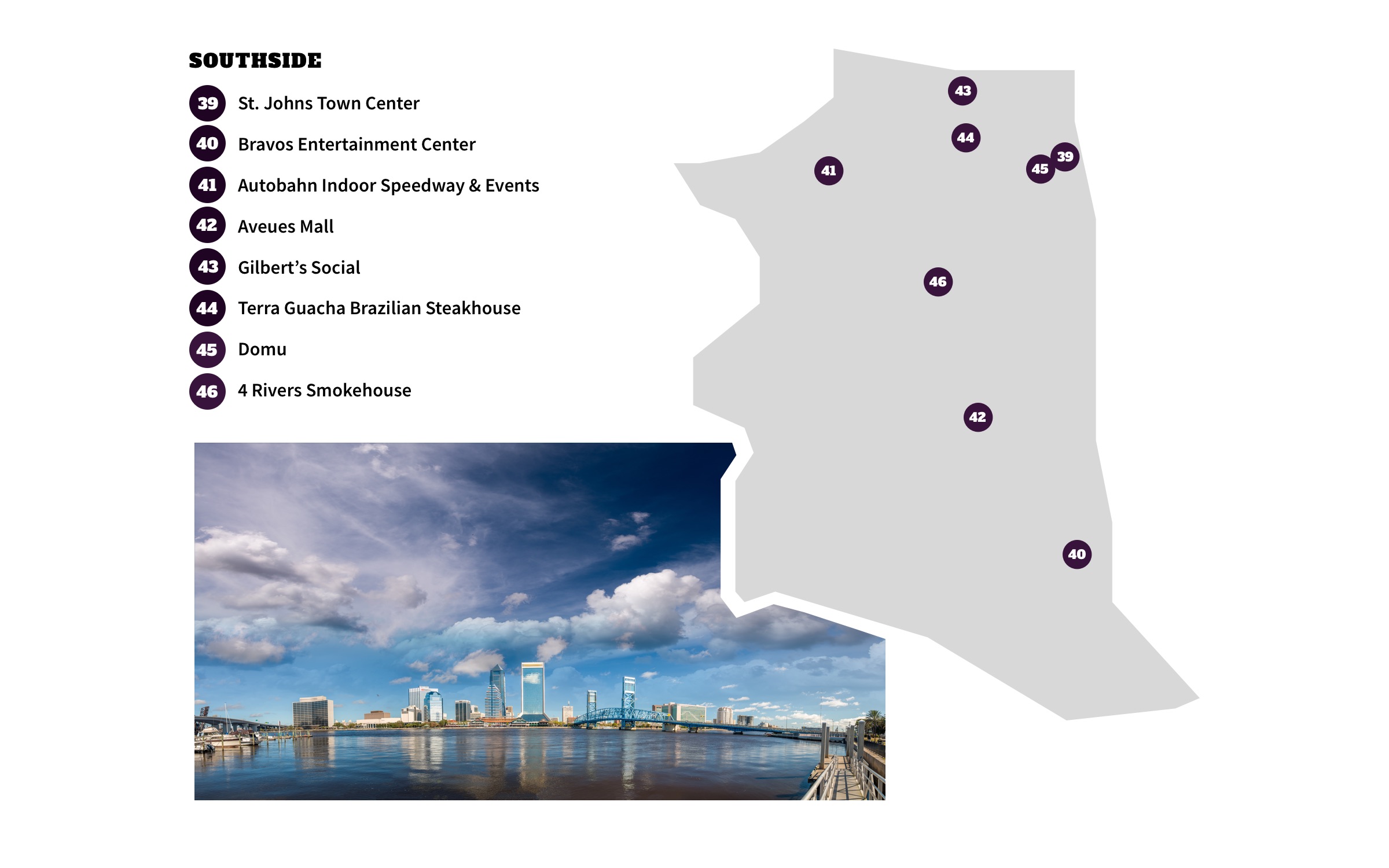 The Southside neighborhood is mostly suburban, comprised of areas south of the St. Johns River, north of Mandarin, and west of the Intracoastal Waterway. Although it's largely residential, in recent years, more business has been coming to the area. For example, the St. Johns Town Center, is a 1.1-million-square-foot open-air lifestyle center with retail, residential, hotel, and dining choices. The Tinseltown area has a movie theater, restaurants, specialty shops, and nightlife.
What to Do
This upscale, open-air mall features over 150 stores (including Louis Vuitton, Apple, and Nordstrom's) and restaurants (such as The Cheesecake Factory, The Capital Grille, and Cantina Laredo).
It's not always sunny in Jacksonville, so when it rains, this indoor activity center is a great place to take the kids. It has 10 unique attractions, such as an "America Ninja Warrior"-style course, an open jump area, laser tag, mini bowling, and more.
You can test your ability behind the wheel of these go-karts and cruise at speeds of up to 50 mph. The tracks are professionally designed, Grand Prix-style tracks with high-tech timing systems.
This 1.1 million-square-foot, multi-level shopping center is a family-friendly destination with more than 150 stores, such as Forever 21, Belk, and Build-A-Bear Workshop.
Where to Eat and Drink
Owned and operated by celebrity chef Kenny Gilbert (he appeared on Bravo's "Top Chef"), this restaurant features modern Southern cooking with international influences.
You won't leave hungry after visiting this Brazilian steakhouse with its "full rodizio experience," including a gourmet salad bar area and unlimited table-side service of fire roasted meats such as beef, lamb, pork, chicken, and seafood.
Located at the St. Johns Town Center, restaurant patrons give high marks to the ramen, and believe it or not, the chicken wings.
Here, the owners celebrate the art of smoking brisket, and customers can get their fill of all things barbecue—from ribs and pulled pork to sweet potato, okra, and cornbread.
Why Locals Live Here
With an abundance of housing options at every price level, great shopping venues, family-friendly entertainment, and some of the highest rated schools in the area, it's no wonder why so many residents choose Southside as their home. There are also many neighborhoods within Southside that offer a range of lifestyles and housing. For example, the Baymeadows area is located inland and offers a mix of mid-century bungalows and high-end townhomes, but it also has several country clubs with more upscale housing. While the Mandarin area, located next to the St. Johns River, is a quiet and mostly residential area that features higher priced homes.