Living in Fort Collins: Everything You Need to Know
Living in Fort Collins: Everything You Need to Know
Just an hour north of Denver lies the charming, mid-sized town of Fort Collins. A former stop along Colorado's section of The Overland Trail, this area has played host to a variety of people passing through, including Arapaho, Canadian Fur Traders, miners, and those making their way out west.
Now, the city's well preserved historic buildings mix and mingle with modern homes, an expanding college campus, popular restaurants, and ample open space. Fort Collins balances a rural, rustic charm with a progressive, artistic flair, fostering a welcoming and inclusive vibe. Considering a move to this cool city? Read on to discover more.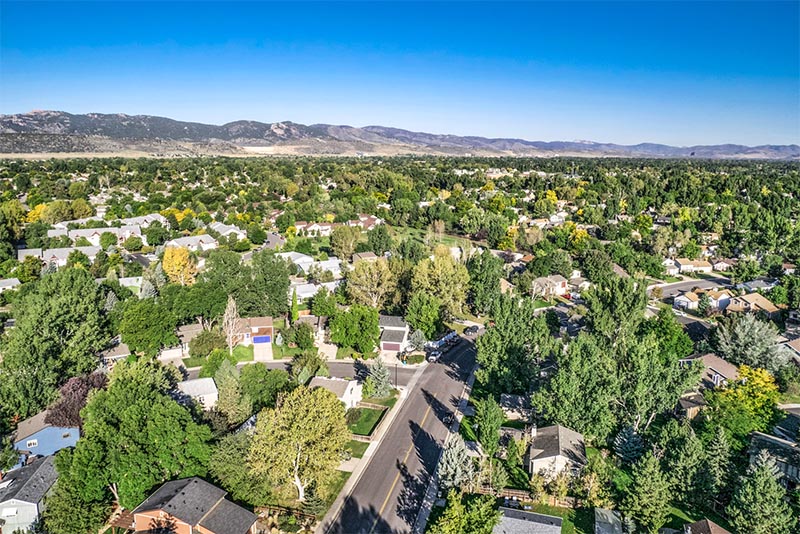 Fort Collins at a Glance
Population: 159,150
Cost of living index: 118.3 (U.S. average is 100)
Median home price: $389,700
Walk Score: 37 - Car-Dependent
Sources: Sperling's Best Places, Walk Score
Fort Collins Real Estate
At the end of 2019, the National Association of Realtors identified Fort Collins as one of 10 cities expected to outperform over the next three to five years. Additionally, they found that 17% of Fort Collins residents were recent transplants. The report cited the city's solid economic growth, housing appreciation, and relatively affordable prices—all of which make this a great spot for first-time homebuyers or those looking to relocate to Colorado but who can't afford price tags in Denver or Boulder (those cities have a median home price of $426,200 and $738,400, respectively).
Single-family homes, multi-story apartments, and modern condos are all available throughout downtown and suburban Fort Collins. Historic brick homes sit majestically along North Grant and Mountain Avenue while charming bungalows pepper South Washington and West Olive. Those looking to purchase land, hobby farms, or ranches have access to these types of investments in the smaller towns of Laporte, Bellevue, and Wellington that sit adjacent to Fort Collins.
Old Town
The city sprung up from this area of downtown, so Fort Collins newcomers should start here to see a microcosm of the city. Old Town gives Fort Collins a small-town vibe reminiscent of its settlers' past while its bustling night-life spots, acclaimed restaurants, and diverse retail sector offer big-city amenities.
As Old Town grew, historic preservationists went to great lengths to protect its aging structures. In 1978, it earned a spot on the National Register of Historic Places, sealing its status as the most picturesque neighborhood in Fort Collins. Hop aboard the trolley that runs from City Park to Downtown Fort Collins and take in the sights that inspired Disneyland USA's Main Street.
Ghost stories and western legends are aplenty in this former crossroads town; Old Town is rife with old basements that played host to bootleggers, smugglers, and the like while this area's elegant mansions open their doors to the public each year for the historic homes tour. During the holidays, thousands of white lights adorn the numerous trees that line Old Town's streets, and a skating rink takes up residence in the recently renovated Square.
Outdoor Recreation
Outdoor recreation is a top priority for many FoCo residents, and with the Poudre Canyon, Horsetooth Reservoir, and Red Feather Lakes nearby, there's always plenty to do in nature.
Whitewater kayakers and rafters have a famous river right in their backyard: the Cache La Poudre. Named for stores of gunpowder hidden by French-Canadian trappers, this swiftly moving river races down the Poudre Canyon, giving kayakers plenty of challenging thrills.
Climbers can find new routes throughout various points in the canyon or can head up to Red Feather Lakes for a crag all their own. From beginner sport climbs to advanced, multi-pitch routes, those looking to enjoy the outdoors, test their mettle, and get a sweat on can find plenty of rocks to scale just outside of town.
Paddlers, boaters, and other water-sports enthusiasts can soak up some sun and take the boat out on Horsetooth Reservoir. Just west of town lies a large body of bright blue water, nestled in soft rolling hills. Sweeping views of Fort Collins and the mountains can be had from various points around the reservoir. Ample hiking and mountain biking trails wind around Horsetooth inviting adrenaline junkies to get their fix during a midday lunch break.
Craft Beer Central
With over 20 craft breweries and the country's fourth-largest (New Belgium), Fort Collins is known for its beer scene. People travel from all over the country to participate in brewery tours, meet the head brewers behind their favorite brews, and sample rare, limited-edition batches straight from the source.
Labor Day takes on a whole new meaning in Fort Collins. Thousands of bike riders and beer fans don their craziest costumes and take to the streets for Tour De Fat. Hosted by New Belgium, this unique festival gives everyone an excuse to shut down the streets for a day, travel on two wheels, and drink beer in front yards all over town.
Flourishing Music Scene
As a city whose unofficial motto is bikes, beers, and bands, it's got the third in spades. Talented local musicians find loyal fan bases and awesome venues here. The Mishawaka Amphitheatre, located along the banks of the Poudre River, is a former 1900's dance hall turned famous venue that has showcased artists including Joan Baez, Arlo Guthrie, Ziggy Marley, and others.
Downtown bursts with music venues from large theaters, like Washington's and The Aggie, to smaller venues, like The Magic Rat and The Armory. Summertime brings plenty of outdoor festivals with a slate of talented artists that run the gamut of musical genres.
Colorado State University
While Fort Collins has so much more to offer than its collegiate scene, CSU contributes greatly to the city's youthful, lively vibe. With over 30,000 students, the college plays a large part in offering stable employment and bolstering the real estate, service, and hospitality sectors. Because of its rural location, the college offers students unique opportunities, like ample agriculture-related programs that focus on sustainability.