National Real Estate
Living in Orlando: Everything You Need to Know
Orlando is often disregarded as being solely made up of theme parks, oranges, and sunburn. But outside those castle gates lies an entire town that is bursting at the seams with energy, creativity, and passion.
If you're thinking of ditching the colder weather in favor of some sunshine, Orlando may just be the next place you call home.
Where to Live
Just like the theme parks that call it home, Orlando is a big city. In fact, even without traffic, it can take an hour just to get from one end to the other. The city is sprawling, and in every single corner there is a hidden gem and a neighborhood to match the personality of future residents.
Downtown Orlando, located about half an hour from Disney World, spreads from Amway Stadium to Lake Eola. It's a great location for those looking for that classic city experience.
Spend Saturday nights strolling down Orange Avenue, which shuts down multiple blocks just to throw a big party. Then, wake up Sunday morning and head to the Orlando Farmers Market at Lake Eola. It's a great place to stock up on your weekly fruits and veggies while getting to meet some local artists.
The median home price in Downtown Orlando is in the high $200s, according to neighborhoods.com data, with prices ranging under $150,000 for one-bedroom condos and up to just under $3 million for a luxe penthouse unit.
Just north of Downtown are the neighborhoods of Mills 50, Ivanhoe Village, and the Milk District. These districts constitute a cultural hub with ever-expanding music and art scenes, with murals bringing color to every street corner. Breweries, concert venues, and restaurants have all opened up shop in these districts, including boba (try Royaltea), Korean fried chicken, and taco spots like popular Tako Cheena.
South of downtown lies SoDo, a small district that is exploding in popularity. Property owners and merchants have revitalized the district, which used to be distinguished as the business hub of the city and home to the Orlando Health hospital. It's now a mixed-use community with major chain stores, independent shops, and luxury apartments.
Where to Eat and Drink
If there's one thing Orlando loves, it's the foodie culture. Craft & Common, right outside Downtown, is the perfect spot to grab a specialty coffee, tea, espresso, and seasonal beverage. For those looking to set up shop for a remote workday or to grab a quick bite, Craft & Common also carries breakfast and lunch options, with an herbaceous backdrop to get that perfect Insta pic.
With multiple (yet somehow still not enough) locations, local taco chain Tin & Taco offers trendy tacos and a variety of craft beers. Specialties include a buffalo chicken taco, a Caesar salad taco, and a cheddar bacon cheeseburger taco. Oh, and the taco shells are parmesan-crusted.
Gideon's Bakehouse in Winter Park satisfies a sweet tooth with their signature half-pound cookies. Stick with the classic chocolate chip, or try one of their seasonal favorites which range from a monster mash-up cookie to more classic flavors, such as coffee toffee chocolate chip. Just make sure to get there before they sell out.
How to Get Around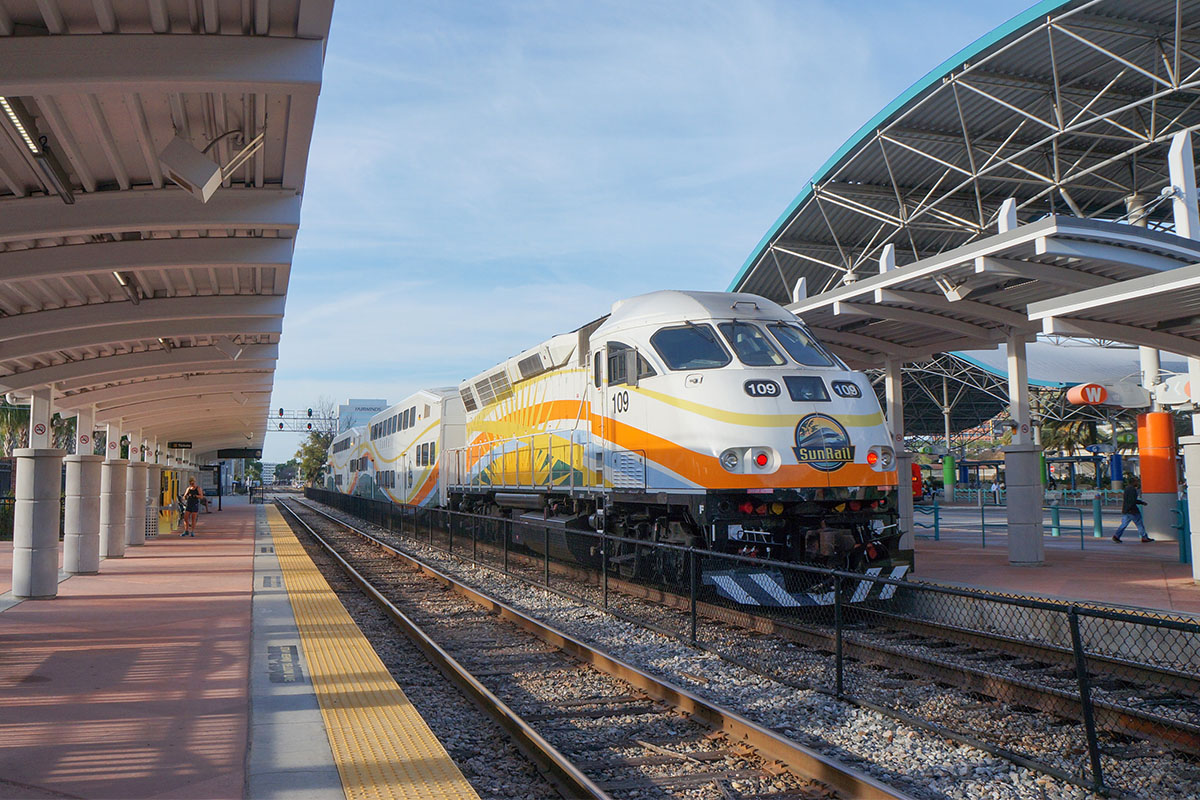 While Orlando is car-dependent city, getting around Orlando without one is becoming a little easier thanks to a growing public transportation system. The SunRail connects Downtown Orlando to both Volusia and Osceola counties, with future plans to extend it to the Orlando International Airport.
Along with the SunRail, you'll find the Lynx bus. Lynx services the greater Orlando area, including Orange, Seminole, and Osceola counties, with limited services to Polk county. Lynx buses even have bike racks for the eco-friendly traveler.
Whether you choose public transportation or car travel, expect at least a little bit of traffic during your commute. I-4, the Orlando population's unified grieving point, is known for delays thanks to its never ending construction, but toll roads are available for those looking to get to their destination a bit faster.
Things to Do in Orlando
When people think of Orlando, they think of rollercoasters, castles, and water parks. And while most residents have at least one annual pass, there are plenty of activities to do in Orlando that don't include going to theme parks.
Artifact Candle Foundry in Thornton Park is where you can pour your own candle. The Central Florida Ale Trail is a network of over 25 local breweries that span several neighborhoods.
If you're looking for a break from city life, take a canoe out onto the Wekiva River, or stroll through the garden paths found at the Harry P. Leu Gardens.
When it comes to shopping, Orlando offers almost too many options. The Orlando Premium Outlets offers brands such as Tommy Hilfiger, Adidas, Michael Kors, and more at discount prices. For those wanting to keep it local, Orlando has a different market almost every single week. The Evening Exchange brings local vendors to Audubon Park every third Friday of the month.
In Downtown, the The Indoor Farmers Market provides a shaded, air-conditioned opportunity to pick up your weekly groceries, and the Orlando Flea Market is full of booze, bites, and art.
Other Orlando Tips
With hurricane season spanning from June to November, there are plenty of opportunities to stock up on the essentials. Just don't disregard a Category 3 warning; the second that Category 4 alarm sounds, finding water, food, or alcohol becomes as difficult as finding buried treasure. It's helpful to always have a case or two of water and some non-perishable snacks in your closet—just in case.