Los Angeles Real Estate Development
Los Angeles New Development Drilldown February 2019
With the new year came new strides in Los Angeles real estate development. Most people know that there are dozens of development projects currently rising in Downtown Los Angeles; several of these projects are actually starting to take shape, and a few are even nearing their grand opening.
Meanwhile, the DTLA-adjacent neighborhood Koreatown is experiencing its own residential boom, with condominium complexes and mixed-use developments breaking ground. Additionally, long-awaited projects in the city are also coming to fruition in central Los Angeles. While all this development news was happening, no one really anticipated the unexpected hotel and mixed-use developments taking over Hollywood.
With so much crane action going on throughout LA's central and eastside neighborhoods, the city may be difficult to recognize in a few years. Here's what you need to know about LA's most anticipated real estate developments.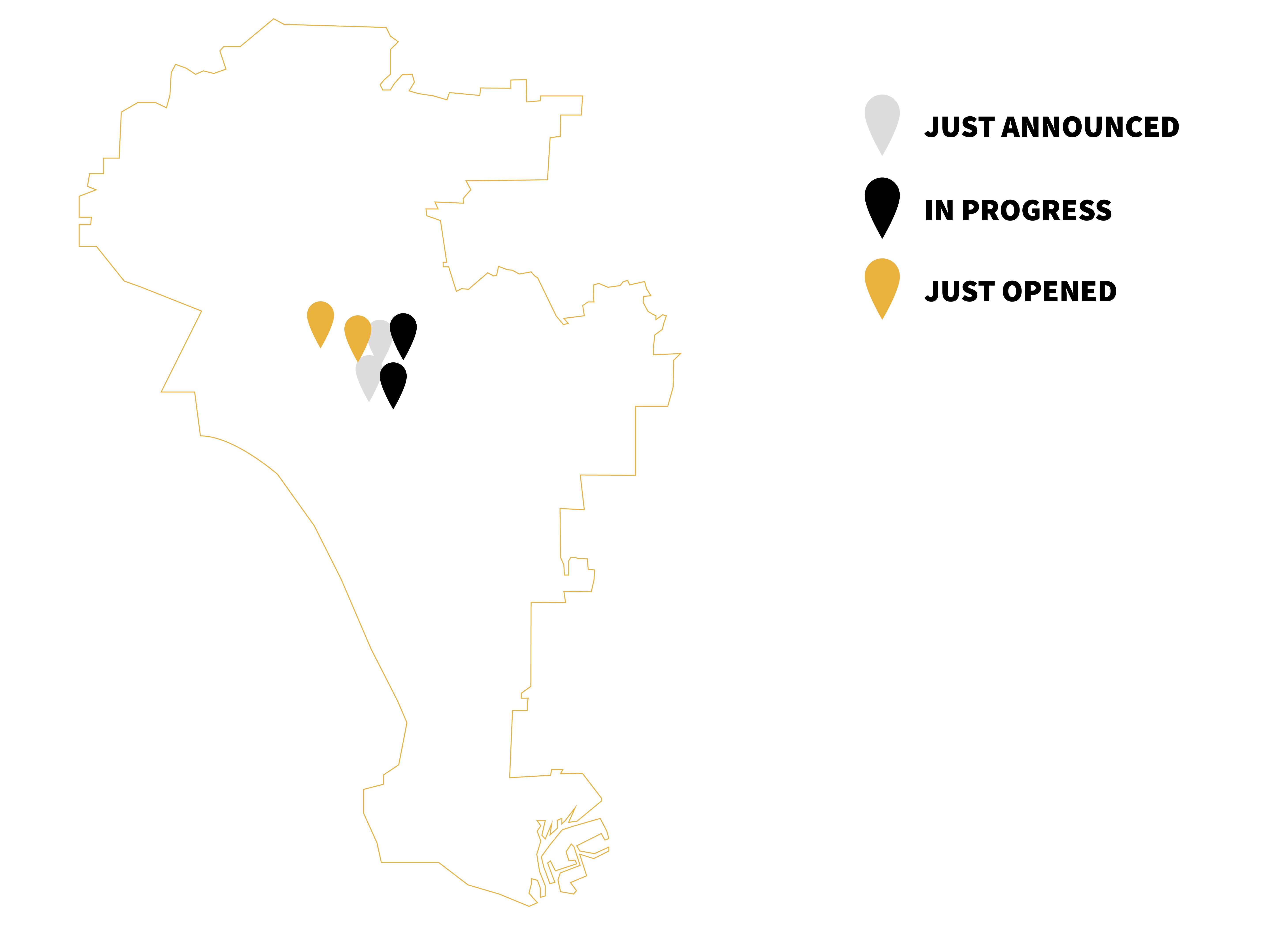 Just Announced
Sunset Gordon Tower
According to Urbanize, the Sunset Gordon Tower project in Hollywood has been facing threats and legal opposition since 2015, which has left the 22-story building vacant since 2015. It was during this time when the project's permits were revoked because the developer, CIM Group tore down an on-site structure that was meant to be preserved—causing outrage from the Coalition to Preserve LA.
After years of being stalled, LA City Council recently granted the project's approval permits to reopen the structure. Although the Sunset Gordon Tower has been reapproved, it looks like the Coalition might have another lawsuit lined up. However, if the project moves forward, Hollywood would see approximately 299 new apartments, 45 affordable housing units, nearly 40,000 square feet of office space, 7,700 square feet of ground-floor retail space, and a parking structure to hold up to 428 vehicles.
3800 W 6th Street
Hollywood isn't the only neighborhood in LA seeing new developments. The property on 3800 W 6th Street in Koreatown was purchased last year for nearly $10 million dollars. Ushered by the President for Wilshire Center Management, Leo Lee, this new mixed-use tower has received "verbal approval" from the city's zoning administrator, and it will rise 21 stories high, according The Real Deal.
This new project would blend a hotel along with new condominiums, and construction for the development would start as early as this year. LARGE Architecture is already slated to develop the tower's design. At completion, the 21-floor building would include 122 condominium units, a 192-room Hyatt Centric Hotel, and nearly 15,000 square feet of commercial space. This new development is expected to be completed sometime in 2021.
In Progress
Vermont Corridor Project
While the 6th Street Tower has only recently been announced, another high-profile 21-story tower has been attracting attention in Koreatown as well. The $453-million Vermont Corridor Project in Koreatown officially broke ground between 4th and 6th streets back in October, replacing a number of older government buildings. In its place will be new office space, residences, and community areas. With the Dallas-based Trammel Crow Company at the helm of the project, this massive development is set to transform the Vermont Avenue corridor by adding a huge, glassy, futuristic-looking development in the neighborhood.
The developer expects to divide this project into several phases, and at completion, the Vermont corridor would include a new six-story senior housing complex with 72 units, a 13,000-square-foot community center, and the renovation of an existing 12-story structure into 172 residences. The entire project is expected to finish up sometime in 2023.
The Grand
Just east of the Walt Disney Concert Hall in Downtown Los Angeles's Bunker Hill district, locals and visitors can find the long-awaited Frank Gehry project called The Grand, which will introduce a new mixed-user to the neighborhood.
According to Curbed, demolition of an existing parking structure on the Grand Avenue site began back in November, and construction on the project is now currently in the works. The entire project has been a rather pricey endeavor, with developers securing $630 million for construction—despite the project's value of $1 billion. However, at completion, the new development featured a 39-story residential tower with approximately 128 condominiums, 214 market-rate apartments, and 86 affordable residential units. The other structure would include a 20-story hotel filled with retail and entertainment space. The development is expected to finish in 2021.
Just Opened
The Godfrey Hotel Hollywood
The Cahuenga retail corridor in Hollywood will soon be welcoming The Godfrey Hotel Hollywood in the next month or so, and the contemporary and luxurious development will include highly anticipated restaurants, boutique retailers, and world-class nightlife and entertainment. The hotel and retail development will also feature a steakhouse, as well as two floors of indoor-outdoor event areas dedicated to nightlife.
In January, the developer, Oxford Capital Group and Oxford Hotels & Resorts will polish off the structure by completing the building envelope. After finishing off the building's insulation, the hotel will be nearly ready for a spring 2019 opening. According to Curbed, the new hotel will also feature state-of-the-art technology-friendly guest rooms with private terraces, and the completed design will include "interactive" metallic sculptures and glass statues.
The Motion Picture Academy's Saban Museum
And just a few minutes away from all of the Hollywood development action is the LA neighborhood Miracle Mile, which is known for its stretch of Wilshire Boulevard that's home to Museum Row. Although the Academy of Motion Pictures Arts and Sciences in the Miracle Mile neighborhood is set to fully open sometime this year, The Academy has officially opened its Saban Building. Named after the philanthropic couple Cheryl and Haim Saban, who generously donated $50 million to the museum, the Saban Building will serve as the museum's main exhibition space.
In a first-look unveiling of the newly restored event building back in December, several Hollywood A-listers gathered to support the museum, including Tom Hanks, Rita Wilson, Ron Meyer, and Ted Sarandos. When the structure is fully completed, it will showcase an eye-catching lobby, a 130-foot dome-shaped terrace and theater, as well as several translucent paseos. The museum is set to fully open late 2019.