Los Angeles Real Estate Development
Los Angeles Real Estate: The Future of South Park in Downtown Los Angeles
In recent years, Los Angeles has been experiencing loads of development throughout various neighborhoods, including an explosion of new commercial businesses in Century City as well as an influx of tech startups in the city's Westside. According to our latest real estate digest, communities such as Silver Lake, Highland Park, and Koreatown have emerged as some of LA's most popular and amenity-rich communities, while neighborhoods such as Playa Vista attracted those looking for newly constructed luxury homes.
However, one of the most standout results from Neighborhoods.com data revealed that the high-profile Downtown Los Angeles (DTLA) community of South Park isn't just home to dozens of development projects, it's also poised to become LA's most rapidly changing neighborhood. While construction is currently underway throughout the city, it seems no other community is receiving as much attention as the DTLA neighborhood of South Park.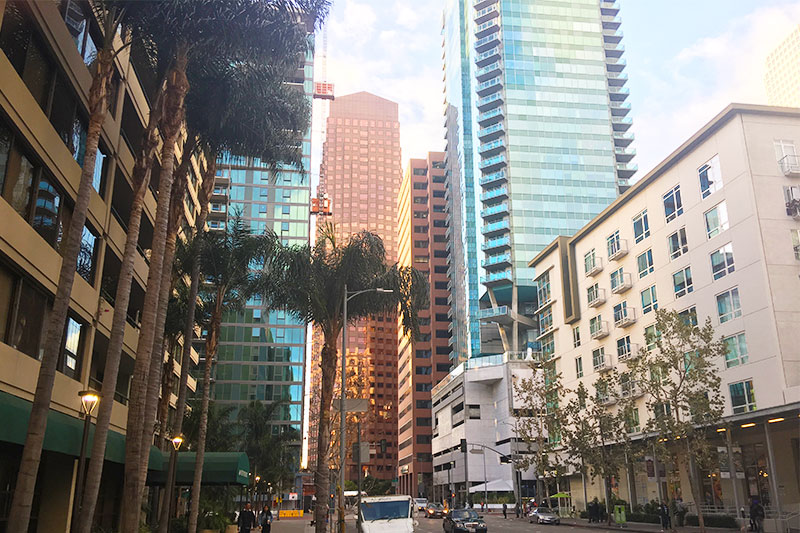 South Park is located on the southside of Downtown Los Angeles, close to Exposition Park and Pershing Square. Home to popular attractions, such as L.A. Live, Staples Center, and L.A. Convention Center, South Park remains a center of entertainment and amenities for both visitors and residents.
Expert Opinion
Donald T. La, Vice President and commercial real estate broker at San Gabriel-based Growth Investment Group, spoke with Neighborhoods.com about the future of Downtown Los Angeles. Specializing in commercial real estate throughout Los Angeles County, La admitted that the attention on DTLA's South Park is difficult to overlook.
"South Park is definitely experiencing a large amount of growth, and there's so much going on in that area," La said.
Convenient Location
The booming entertainment district doesn't just offer premiere theaters and venues, it's also evolving into one of the most pedestrian-friendly and transit-friendly communities in all of LA. With grocery stores, cafes, and trendy bars popping up over the past year or two, and all within walking distance, South Park residents can easily complete their day-to-day errands on foot. While attributing much of the community's growth to the arrival of new developments, La also acknowledged the community's growing accessibility.
"The area is getting more convenient as well, especially with the new Purple Line," says La. "so residents can now go to Century City, Westwood, and UCLA without worrying about driving."
In fact, more DTLA residents find themselves leaving their car at home and heading to one of the Metro stations or bike shares instead.
Fluctuating Prices
Even though most communities in Downtown LA are offering new residences for prices of close to a million per listing, the neighborhood of South Park still has a wide variety of home prices and styles. According to our data, homes in this community range from the high $200s to over $1 million for a one-bedroom unit. In a city where homebuyers are constantly searching for affordable property, South Park is among one of LA's most scrutinized. Although South Park is still relatively affordable now, home prices are expected to skyrocket by 2020.
Dozens of Projects in the Works
In general, there's a clear explosion of development coming out of Downtown LA. However, the community of South Park has the most projects in the works by far. According to a report by real estate analyst CoStar, South Park is expected to gain at least 7,000 more residences by 2020. Towering development projects such as Olympia, the Shenzhen Hazens Towers, Oceanwide Plaza, and the Figueroa Centre are all set to usher in a new wave of homes, commercial spaces, and amenities to the transforming district.
Just Opened
La, who works with major residential and commercial developers, shared that Greenland USA alone is already working on several high-rises in the South Park area. Two major Greenland projects that just opened in South Park include the Metropolis Tower II and Circa LA. While Metropolis is still being built, with three out of four towers completed, the mixed-use development is already opening its doors to new residents. Adjacent to the popular L.A. Live is South Park's newest luxury mixed-use complex, Circa LA.
"Circa LA isn't even completed yet, but I've had a client move-in just this month, and the amenities there are extraordinary," stated La.
While amenities at Metropolis include a fitness facility, a children's play area, and a 1.5-acre sky garden, the Circa complex comes equipped with shop access, restaurants, and even a private two-acre rooftop park.
LA Summer Olympics 2028
Despite all the development and crane action, Los Angeles is also gearing up to host the LA Summer Olympics in 2028. This worldwide sporting event is set to take place in various neighborhoods throughout the city, but the heart of these festivities will take place in South Park venues, including the Staples Center, LA Convention Center, and Microsoft Theater. However, this international event may have some side effects.
Anne Orchier, an organizer and avid opposer to the LA Games 2028, told Curbed, "we're not saying Olympics cause gentrification, but they accelerate it."
Indeed, after the Olympics announcement, the Metro scrambled to speed up completion of its current city projects.
The Future of Downtown
From ghost town to one of Los Angeles' top destinations, Downtown Los Angeles has clearly changed throughout the years and will continue to evolve throughout the next decade. When asked what his predictions for South Park would be, La stated, "I think there's going to be a lot more construction going on—even after 2020, and I believe the future of DTLA is more density."
Although experts can debate about the future of DTLA for years to come (whether the housing bubble will finally pop or if the arrival of new developments will attract more demand for property), there's a common agreement that the popular district is still in a state of transition. While the future of Downtown is still uncertain, there's no doubt that the area will continue to rapidly evolve.