Miami Real Estate
Miami Real Estate: What You Need to Know About the Neighborhoods of Downtown Miami
If you're considering buying a home in Downtown Miami, you're not alone. In recent times, Downtown has been—by far—the most active Miami neighborhood in terms of home sale activity As of this writing, there are over 2,000 homes on the market in Downtown Miami, according to Neighborhoods.com listings.
While the luxurious high-rise condominiums with eye-popping views and splashy amenities may grab all the headlines, they don't necessarily reflect the taste—or wallet—of all buyers. As such, the neighborhood cannot be viewed through a single homebuying lens.
If you're considering a move to Downtown, you might want to research individual neighborhoods within Downtown, along with the different types of homes and prices offered within.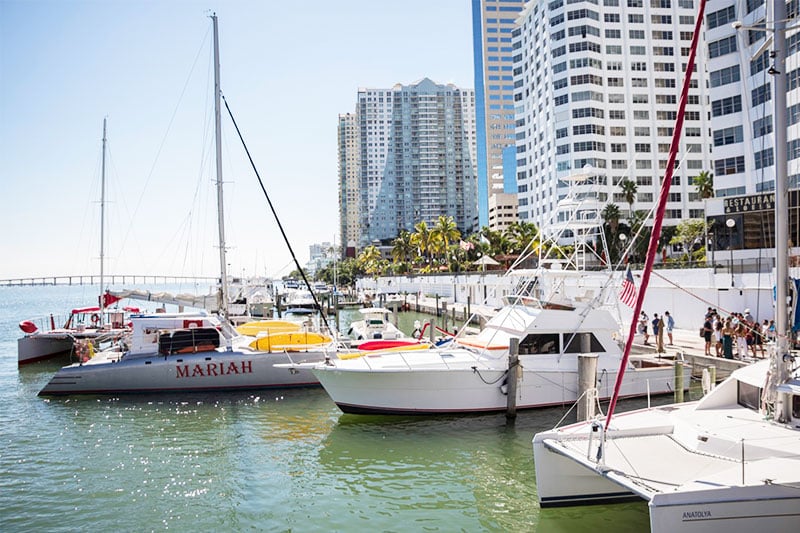 Depending on who's drawing the map, Downtown can include a variety of areas, even those as far north as Midtown Miami. But there's a universal agreement that Brickell, the city's financial district, is an ever-evolving part of Downtown.
While prices have been trending downwards in recent years (from a median sales price of $412,000 in November 2017 to $365,000 so far in November 2018), prices are still high when compared to many, more suburban areas of the city.
Still, many choose this area because it's considered the "Manhattan" of Miami with close proximity to entertainment, dining, and recreation offerings that attract young and "young at heart." Those very familiar with the neighborhood distinguish between NorBrick (north of 15th Road), which offers a more urban experience, and SoBrick (south of 15th Road), which offers a more laid-back lifestyle.
New construction has slowed considerably in this area, but one high-profile project currently under construction is the 47-story Una Residences. Developed by OKO Group and designed by Adrian Smith & Gordon Gill Architecture, it will feature 135 residences ranging in size from 2 to 5 bedrooms. The project is expected to welcome its first residents soon.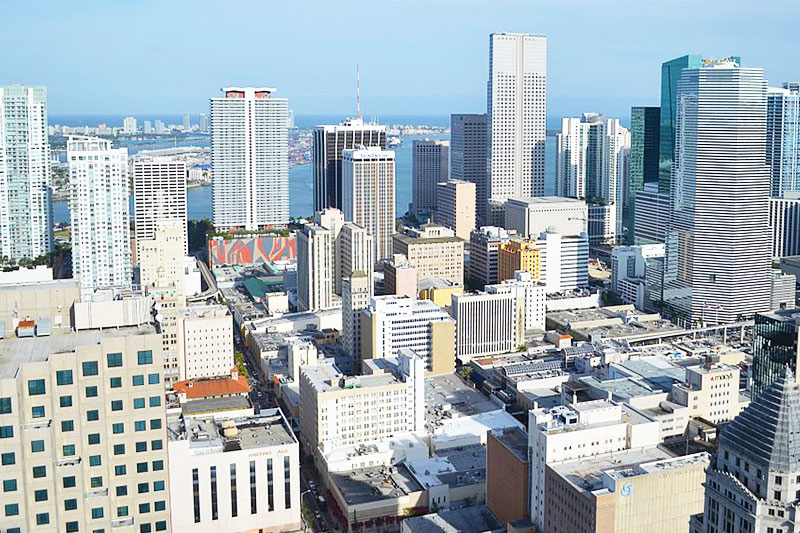 Just north of Brickell is the Miami's Central Business District, which is technically the city's "Downtown," although most people consider Downtown Miami a much larger area.
Bounded by Biscayne Boulevard, Bayfront Park and Museum Park on the east, the Miami River to the south, North 6th Street to the north, and Interstate 95 to the west, the Central Business District is home to many of the city's biggest draws, such as American Airlines Arena and Miami-Dade College. The Metromover Inner Loop is entirely within the CBD as is Metrorail's Government Center station.
When compared to other Downtown areas, it's more affordable. There are dozens of units currently on the market priced under $350,000 and even some listed under $200,000. For example, at Vizcayne Condominiums for sale units are priced as low as $215,000, with several units priced under $350,000.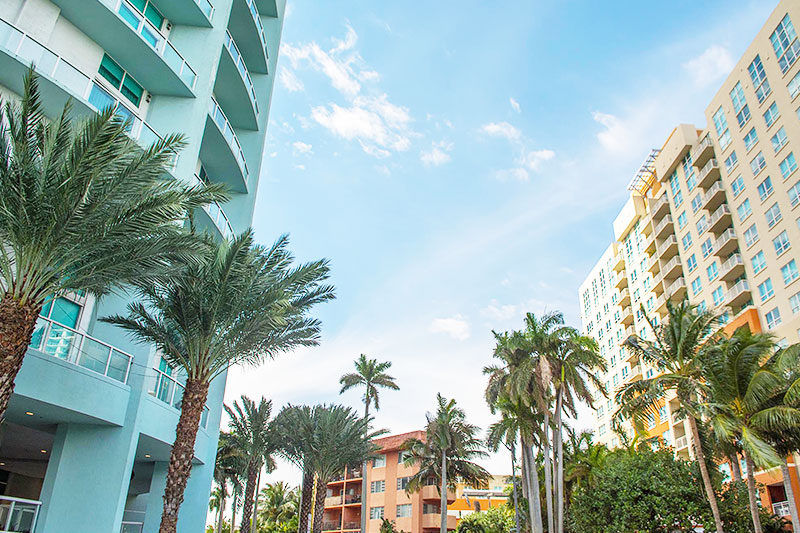 Although it's located north of the Central Business District, many people consider Edgewater part of Downtown. In recent years, it's become one of the trendiest neighborhoods in Miami and has attracted the attention of developers and foreign investors. That might explain why prices have been trending slightly upward from a median sales price of $358,500 in November 2017 to $390,000 in November 2018.
For some buyers, sweeping oceanfront views are one of the neighborhood's biggest draws, so buying a property east of Biscayne Boulevard on the water is paramount to their search. However, most properties that fit this description come with hefty price tags—often over $1 million. Those seeking lower prices should consider properties west of the boulevard.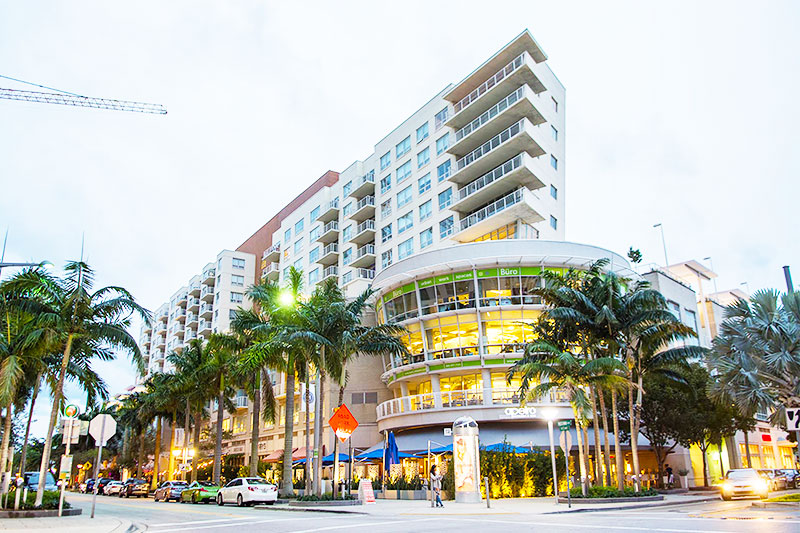 Wynwood, the neighborhood that sits west of Edgewater and east of I-95, has also drawn a lot of attention in recent years partly because of its rich art scene and trendy bars. For that reason, it tends to draw younger professionals seeking diverse cultural offerings in close proximity to their homes.
At $374,000, the median sales price of homes is slightly higher than Edgewater, which is $325,000, but the housing stock is slightly more diverse. Here, you'll find more single-family homes than in Edgewater. Like its neighbor to the east, Wynwood has attracted the attention of developers, so you'll find newer housing along with older buildings that offer lower prices.
The Future for Downtown Miami Condos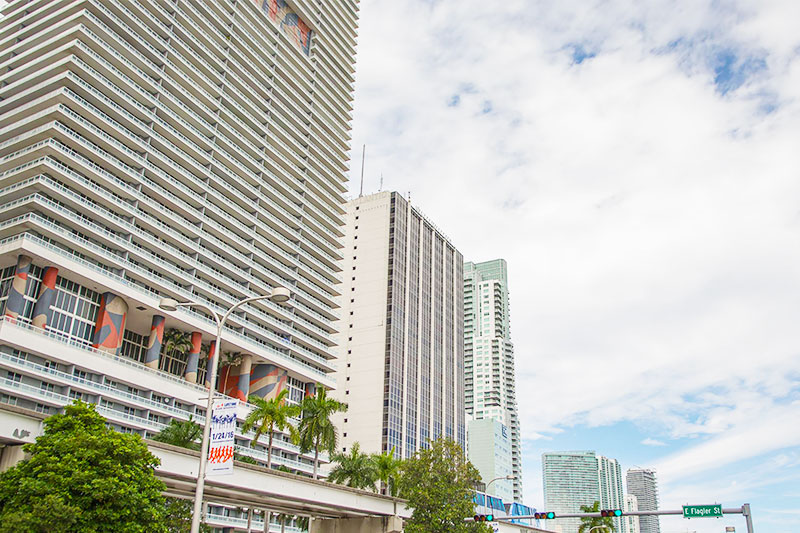 For the past two decades, new condominiums have been sprouting up in Downtown Miami in what seems to be a never-ending cycle. The market seems healthier than the previous slow down after the Great Recession, but many officials believe this current cycle may be nearing its end.
According to a report by the Miami Downtown Development Authority (DDA) prepared by Integra Realty Resources, condo construction is slowing. However, many believe the market is better prepared than in previous years because, generally speaking, there's more equity in projects.
Developers generally require 50 percent deposits from buyers and banks generally require projects be 50 percent sold before issuing construction loans. The DDA defines Downtown as including the neighborhoods of the Central Business District in Downtown Miami, Brickell, Arts & Entertainment District, Edgewater, Midtown Miami, and Wynwood.
The report found that there were 3,849 units under construction by mid-year 2018, down from nearly 5,000 units at the end of 2017. By the second quarter 2018, there were nearly 28,000 condo units in the pipeline, up 5 percent year over year. The average resale prices for condos fell to $392 per square foot from $405 per square foot at the end of 2017—a sign that per-square-foot prices are returning to 2014 levels.